WFMU
PO Box 5101
Hoboken, NJ 07030
broadcasting from Jersey City 91.1 FM/90.1 FM
Audio Feed and Archives: www.wfmu.org
Podcasts: podcast.wfmu.org
Blog: blog.wfmu.org
Facebook: www.facebook.com/wfmuradio
Twitter: http://twitter.com/#!/wfmu
Brian Turner, Music Director: bt@wfmu.org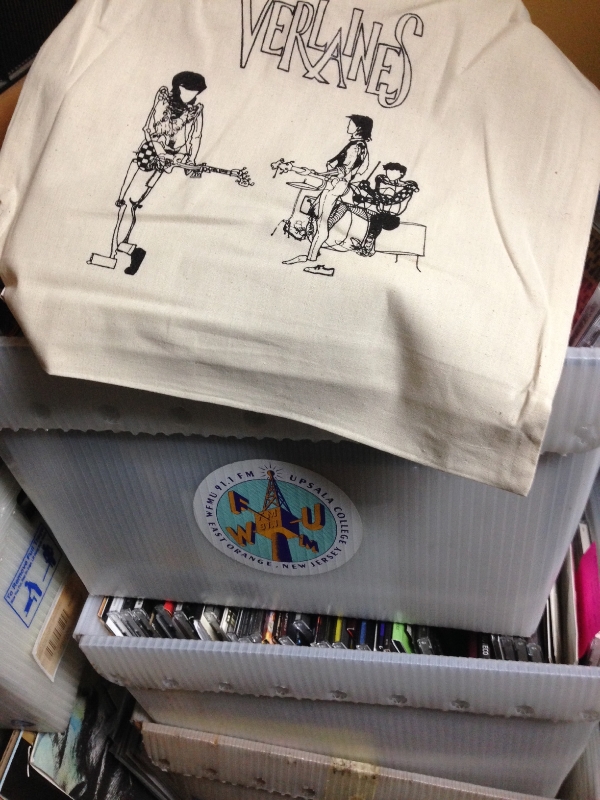 Heavy Airplay, December 18. 2013
VARIOUS - Looking Good: 75 Femme Mod Soul Nuggets (RPM)
KELOMPOK KAMPUNGAN - Mencari Tuhan (Strawberry Rain)
VARIOUS - Dangerhouse Complete Singles Collected 1977-1979 (Munster)
ANDY KAUFMAN - Andy and His Grandmother (Drag City)
DESTRUCTION UNIT - Deep Trip (Sacred Bones)
RASPBERRY BULBS - Deformed Worship (B.E.B.)
VARIOUS - Ku-Pow!: British Instrumental Guitar Music Of The Sixties (El)
KING KHAN & THE SHRINES - Idle No More (MERGE)
SCORCHED EARTH POLICY - Going Thru a Hole In the Back of Your Head (Siltbreeze)
TOILING MIDGETS - Live At The Old Waldorf, July 21, 1982 (Ektro)
VARIOUS - The South Side of Soul Street: Minaret Soul Singles 1967-1976 (Omnivore)
BIRD NEST ROYS - Me Want Me Get Me Need Me Have Me Love (Captured Tracks/Flying Nun)
HAMMERED SATIN - Glamorama (Burger)
THE NOMADS - Solna (Career)
SIX ORGANS OF ADMITTANCE - Electric Six Organs: Lost Album (Silver Current)
HEAVY TIMES - Fix It Alone (HoZac)
VERMA - Ragnaraak (HoZac)
HEAVY LIDS - Gravity Reverse 7 (Pelican Pow Wow)
VENOM P. STINGER - 1986-1991 (Drag City)
WHITE HILLS - So You Are...So You'll Be (Thrill Jockey)
GLITZ - It'z Glitz (White Zoio)
THE DENTISTS - Some People Are On The Pitch They Think It's All Over Now (Trouble In Mind)
ENSEMBLE ECONOMIQUE / HEROIN IN TAHITI - No Highway / Black Vacation (No Fire)
SOUNDTRACK - Brasslands (Meerkatmedia)
JULIA HOLTER - Loud City Song (Domino)
VARIOUS - The Big E: A Salute To Steel Guitarist Buddy Emmons (Warner Music Group)
SWAMP DOGG - Total Destruction To Your Mind (Alive)
JULIANNA BARWICK - Nepenthe (Dead Oceans)
TAMIKREST - Chatma (Glitter Beat)
CLAIRE WELLES - I Can't Believe It's Not Better (No Label)
LA LA BROOKS / THE PIGGIES - Split 7 (Norton)
ORCHESTRE NATIONAL DE MAURITANIE - Orchestre National de Mauritanie (Sahel Sounds)
THE WRONG WORDS - Everything Is Free (Trouble In Mind)
NAGAMATZU - Shatter Days (Dark Entries)
KUUPUU - Sisar (EM)
TRUE SONS OF THUNDER - Stop And Smell Your Face (Little Big Chief)
VOX POP - Cab Driver 7 (Munster)
ERKIN KORAY - Elektronic Turkuler (Pharaway Sounds)
WINDHAND - Windhand (Forcefield)
FRAK - Studio Jams (Bennifer Editions)
BERNARD PARMEGIANI - De Natura Sonorum (INA-GRM / Editions Mego)
WOO - Whichever Way You Are Going, You Are Going Wrong (Emotional Rescue)
ENGLISH HERETIC - Anti Heroes (No Label)
THE CLEAN - Vehicle / In A Live (Captured Tracks/Flying Nun)
R. STEVIE MOORE - Personal Appeal (Care In The Community)
TY SEGALL - Sleeper (Drag City)
JACUZZI BOYS - Jacuzzi Boys (Hardly Art)
TV GHOST - Disconnect (IN THE RED)
CALIFONE - Stitches (Dead Oceans)
THE UNDERGROUND ELECTRICS / THE GENERATION GAP - Hey Jude / Up Up and Away (Gear Fab)

Medium Airplay
ELEVEN POND - Assemblage (Dark Enrties)
SHIGETO - No Better Time Than Now (Ghostly International)
DARK DAY - Hands In the Dark (Dark Entries)
ZACHARY CALE - Blue Rider (All Hands Electric)
THE BLACK WATCH - The End Of When (Pop Culture Press Records)
JOHN BELLOWS - Fast Hits (Special Needs)
JOHN FOXX AND THE BELBURY CIRCLE - Empty Avenues (Ghost Box)
VALERIE JUNE - Pushin' Against a Stone (Concord )
MICHEL MAGNE - Musique Tachiste (Finders Keepers)
DEEP MAGIC - Reflections Of Most Forgotten Love (Preservation)
THE IMPOSSIBLE NO GOODS - Stealth Mode (Baboso Recording Co.)
SUPERCHUNK - I Hate Music (Merge)
ZOLA JESUS - Versions (Sacred Bones)
MEDICINE - To The Happy Few (Captured Tracks)
ELVIS PRESLEY - Elvis At Stax (RCA)
WANDA JACKSON - The Best of the Classic Capitol Singles (Omnivore)
LUMERIANS - The High Frontier (Knitting Factory)
DON & STEVIE - Don & Stevie (Finders Keepers)
CROCODILES - Crimes of Passion (French Kiss)
MAURICE DEEBANK - Inner Thought Zone (1972)
THE WOOLEN MEN - Dog Years (Dog's Table)
CO LA - Moody Coup (Mexican Summer)
TOWNES VAN ZANDT - Live At The Old Quarter, Houston, Texas (Fat Possum)
ROBBIE FULKS - Gone Away Backwards (Bloodshot)
GIZMOS - Go To Purdue: Live 1979 (Gulcher)
MARCOS VALLE - Previsao Do Tempo (Light In the Attic)
THE GENTLEMEN - The Gentlemen (Mr. Bongo)
MV & EE WITH THE GOLDEN ROAD - Live at Zebulon (Three Lobed)
COP CITY CHILL PILLARS - Gift Shop (HoZac)
RICH CROOK - Tonight, Alright (PTrash)
ASIA ARGENTO - Total Entropy (Nunn)
KAREL GOEYVAERTS - Pour Que Les Fruits Murissent Cet Ete (Finders Keepers)
THE LEGENDARY PINK DOTS - The Gethsemane Option (Metropolis)
THE THREE O'CLOCK - The Hidden World Revealed (Omnivore)
CLEVELAND EATON - Plenty Good Eaton (Black Jazz)
ARRINGTON DE DIONYSO & KUDA LUMPING - Trance Music of East Java (No Label)
KINGDOM OF SUICIDE LOVERS - Distant Waves (Super Secret)
TONAL SHRINE - Live In 1999 (Silver Current)
VARIOUS - Air Texture Volume III (Air Texture)
THE SPOTNICKS - Out-A Space: The Spotnicks In London (El)
JACK DANGERS - Bathyscaphe Trieste (Primary-Numbers)
SHAHEED & DJ SUPREME - Knowledge Rhythm & Understanding (Communicating Vessels)
EARTHLESS - From The Ages (Tee Pee)
DEATH HYMN NUMBER 9 - 3rd Degree Moon Burns (Alternative Tentacles)
DON RICH - That Fiddlin' Man (Omnivore)
GRUMBLING FUR - Glynnaestra (Thrill Jockey)
ZYGMUNT KRAUZE - Spatial Music (Bolt)
JOE HIGGS - Unity Is Power (One Stop)
OPPONENTS - Telepathic Times (Prison Tatt)
CELER - Close Proximity and the Unhindered Care-All (Sentient Recognition Archive)
CX KIDTRONIK - Krak Attack 2 (No Label)
DAVID KILGOUR & THE HEAVY 8'S - Christopher Columbus (Merge)
EARTH DIES BURNING - Songs From The Valley Of The Bored Teenager (1981-1984) (Captured Tracks)
THESE NEW PURITANS - Field of Reeds (PIAS)
WHATEVER BRAINS - Whatever Brians (Sorry State)
TECHNICOLOR TEETH - Blood Pool / Drips 7 (Accidental Guest)
YUPPIES - Yuppies (Dull Tools)
ATLANTIC THRILLS - A Day At the Beach (Almost Ready)
VOM - Altered States (At War With False Noise)
ELEANOR MURRAY - Bury Me Into The Mtn (Self Released)
HENRY FRANKLIN - The Skipper at Home (Black Jazz)
THE MOUNTAIN GOATS - All Hail West Texas (Merge)
SALVADOR TRIO - Salvador Trio (Mr. Bongo)
JUXTAVOICES - Juxanother Antichoir From Shefflied (Discus)
CHARLES WATERS QUARTET - Chroma Colossus: 13 Visions Of The City (Amish / Required Wreckers)
HALLOCK HILL - There He Unforseen (No Label)
CHRIS WELCOME - Wasteland, Untitled, Colors (Empty Room)
GEN KEN MONTGOMERY - The One Sided Triangle: Berlin 88 (Generator)
CHEER - Red Walk (Drifting Falling)
BRUCE GILBERT AND BAW - Diluvial (Touch)
DAN MELCHIOR - The Heron Doesn't Care When The Woman Stamps Her Boot (Limited Appeal)
GUERILLA TOSS / SEDIMENT CLUB - Split LP (Sophomore Lounge/Feeding Tube)
JOHN ZORN - Dreamachines (Tzadik)
TROPICAL TRASH - 7 (Sophomore Lounge)
NOHOME - Nohome (Trost)
NASHAZ - Nashaz (Ziryab)
WOODEN WAND & THE WORLD WAR IV - s/t (Three Lobed)
FAMOUS L. RENFROE AS THE FLYING SWEET ANGEL OF JOY - Children (Big Legal Mess)
BREN'T LEWIIS ENSEMBLE - Rapture Piles (BUFMS)

Light Airplay
JEAN JACQUES PERRY - Prelude Au Sommeil (No Label)
ACID MOTHERS TEMPLE & THE MELTING PARAISO UFO - Iao Chant From the Melting Paraiso Underground Freak Out ( Riot Season)
BLOOD STEREO - Palatine Arches/Tape Hiss For Brainwash/The Gither (Chocolate Monk)
REYOG PONOROGO - Vol. 4 (No Label)
VELCRO LEWIS GROUP - Bernadette (Beyond Beyond Is Beyond)
USTAD VILAYAT KHAN - The Genius Of Vilayat Khan (El)
DAVID GRUBBS - The Plain Where the Palace Stood (Drag City)
NO AGE - An Object (Sub Pop)
JERRY HUNT - Haramand Plane: Three Translation Links (Pogus Productions)
SUJO - Ondan (Inam)
PHIL FLOWERS & HIS UNITED FAMILY - Alpha and Omega (Funky Delicacies)
HECKER - Chimarisation (Editions Mego)
METAL ROUGE - Soft Erase (Emerald Cocoon)
PHIL MINTON + AUDREY CHEN - By the Stream (Sub Rosa)
VARIOUS - What Have We Wrought? A Mike Atta Benefit Compilation (Munster / Gasatanka / Burger)
EXHUMED - Necrocracy (Relapse)
THE BEVIS FROND / THEBROTHEREGG - Split 7 (Totally Punk)
REVEREND DOUGLAS BELL & THE STAGE CRUISERS - Nuclear Blast (Big Legal Mess)
VARIOUS - Grime 2.0 (Big Dada)
SABIR MATEEN / SIRONE / ANDREW BARKER - Infinite Flowers (Sagittarius A-Star)
BERND LOHAUS - El Nacimento Del Huevo (Ultra Eczema)
ULTRALYD - Average Human Being (No Label)
JONATHAN ULIEL SALDANHA - The Earth As Floating Egg (Balleteatro/Soopa)
DECIMUS - Glass Tetany (Nna Tapes)
KAWABATA MAKOTO - Shruti Box Drone (No Label)
JOHNNY ALF - Johnny Alf (Mr. Bongo)
SUSANA SANTOS SILVA / TORBJORN ZETTERBERG - Almost Tomorrow (Clean Feed)
NAOMI PUNK - The Feeling (Captured Tracks)
RONNIE WALKER - Nothing's Gonna Change (Impact)
COMETS ON FIRE - Knitting Factory 9/8/06 (Silver Current)
MICHAEL BISIO / MATTHEW SHIPP - Floating Ice (Relative Pitch)
ARIEL PINK / JORGE ELBRECHT - Hang On To Life 7 (Mexican Summer)
METROPOLE ORKEST - Perfect Vision: The Esquivel Sound (Basta)
TWO DOGS IN A HOUSE - Eliminator (L.I.E.S.)
HEDONIC ISLANDS - Alien Abduction (Gematria / Planaria)
DIMINISHED MEN - Capnomancy (Abduction)
TENGGER - Electric Earth Creations (Tennger Records)
CLIPD BEAKS - To Realize (Lovepump United)
SHIH-HUI CHEN - Returning Souls (New World)
GELBART - World War I Hamster Diorama (Defekt)
TITINA - Canta B. Leza (Astral Music/Sterns)
BETH SORRENTINO - Would You Like To Go: A Curt Boettcher Songbook (Basta)
PEELANDER Z - Metalander Z (Chicken Ranch)
JOE MORRIS / AGUSTI FERNANDEZ / NATE WOOLEY - From the Discrete To the Particular (Relative Pitch)
JOHN CAGE - Shock Vol. 1 (EM)
M. GEDDES GENGRAS - The Empty Space (Stunned)
NOXAGT - Checkpoint Charlie, Stavanger 08.03.03 (Dridmachine)
THE PHANTOM CHEESE - Will Play For Root Beer (Cheese Mouse)
PITSIOKOS / WALTER / ANDERSON - Maximalism (Eleactic)
SIGGUR BERG SIGMARSSON & TOM SMITH - Heralds of the New Momumentality (Karl Schmidt Verlag)
NECRO DEATHMORT - EP1 (Distraction)
JENKS MILLER - Spirit Signal (Northern-Spy)
TU-KI - Pre:Seed (No Label)
TIM CARROLL - Opening Up (Gulcher)
ERI YAMAMOTO TRIO - Firefly (AUM Fidelity)
HIS ELECTRO BLUE VOICE - Ruthless Spam (Sub Pop)
MALCOLM TENT - Nada Chants (Gold Stain)
PITY FUCKS - Oaks Bottom (Felony Fidelity)
VARIOUS ARTISTS - 1986 (Sakura Wreckords)
KIV ORCHESTRA - Whole (Auris Media)
CENTURY PLANTS - Century Plants (Tape Drift)

RPM List
SHIGETO - No Better Time Than Now (Ghostly International)
JOHN WIZARDS - John Wizards (Planet Mu)
VARIOUS - Kill Yourself Dancing: The Story of Sunset Records Inc. (Still Music)
LAUREL HALO - Chance of Rain (Hyperdub)
RON MORELLI - Spit (Hospital Productions)
MACHINEDRUM - Vapor City (Ninja Tune)
FOUR TET - Beautiful Rewind (Text)
THE FIELD - Cupid's Head (Kompakt)
SHIFTED - Under a Single Banner (Bed of Nails)
KID 606 - Happiness (Tigerbeat 6)

7" Singles List
VERMA - Ragnaraak (HoZac)
HEAVY LIDS - Gravity Reverse (Pelican Pow Wow)
LA LA BROOKS / THE PIGGIES - Split (Norton)
VOX POP - Cab Driver (Munster)
RICH CROOK - Tonight, Alright (Ptrash)
COP CITY CHILL PILLARS - Gift Shop (HoZac)
ATLANTIC THRILLS - Day At the Beach (Almost Ready)
TECHNICOLOR TEETH - Blood Pool (Accidental Guest)
DAVID KILGOUR & THE HEAVY 8's - Christopher Columbus (Merge)
TROPICAL TRASH - 7" (Sophomore Lounge)
VELCRO LEWIS GROUP - Bernadette (Beyond Beyond Is Beyond)

Jazz List
HENRY FRANKLIN - The Skipper At Home (Black Jazz)
CHARLES WATERS QUARTET - Chroma Colossus: 13 Visions of the City (Amish/Required Wreckers)
JOHN ZORN - Dreamachines (Tzadik)
NOHOME - Nohome (Trost)
SABIR MATEEN / SIRONE / ANDREW BARKER - Infinite Flowers (Sagittarius A-Star)
SUSANA SANTOS SILVA / TJORBORN ZETTERBERG - Almost Tomorrow (Clean Feed)
JOE MORRIS / AGUSTI FERNANDEZ / NATE WOOLEY - From the Discrete To the Particular (Relative Pitch)
VARIOUS - Mobilisation Generale: Protest and Spirit Jazz From France 1970-76 (Born Bad)
SALON KINGSADORE - Anti-Borneo Magic (Sarang Bang)
WILLIAM PARKER - Wood Flute Songs (AUM Fidelity)

Loud List
DESTRUCTION UNIT - Deep Trip (Sacred Bones)
RASPBERRY BULBS - Deformed Worship (Blackest Ever Black)
WINDHAND - Windhand (Forcefield)
TONAL SHRINE - Live in 1999 (Silver Current)
EARTHLESS - From the Ages (Tee Pee)
NOHOME - Nohome (Trost)
EXHUMED - Necrocracy (Relapse)
IMPALERS - Impalers (540)
CARCASS - Surgical Steel (Nuclear Blast)
GNAW - Horrible Chamber (Seventh Rule)

World List
KELOMPOK KAMPUNGAN - Mencari Tuhan (Strawberry Rain)
SOUNDTRACK - Brasslands (Meerkatmedia)
TAMIKREST - Chatma (Glitter Beat)
ORCHESTRE NATIONAL DE MAURITANIE - s/t (Sahel Sounds)
ERKIN KORAY - Elektronic Turkuler (Pharaway Sounds)
MARCOS VALLE - Previsao Do Tempo (Light In the Attic)
THE GENTLEMEN - The Gentlemen (Mr. Bongo)
ARRINGTON DE DIONYSO & KUDA LUMPING - Trance Music of East Java (No Label)
JOE HIGGS - Unity Is Power (One Stop)
REYOG PONOROGO - Vol. 4 (No Label)

Hip-Hop List
SHAHEED & DJ SUPREME - Knowledge Rhythm & Understanding (Communicating Vessels)
CX KIDTRONIK - Krak Attack 2 (No Label)
VARIOUS - Grime 2.0 (Big Dada)
TU-KI - Pre-Seed (No Label)
JANELLE MONAE - The Electric Lady (Atlantic)
LOUIS LOGIC - Look On the Blight Side (Fake Four)
JEL - Late Pass (Anticon)
RJD2 - More Is Than Isn't (RJ's Electrical Connections)
DANNY BROWN - Old (Fool's Gold)
CANNIBAL OX - Gotham (IGC)

Cassette List
FRAK - Studio Jams (Bennifer Editions)
DECIMUS - Glass Tetany (NNA Tapes)
M. GEDDES GENGRAS - The Empty Space (Stunned)
VARIOUS - 1986 (Sakura Wreckords)
NOXAGT - Checkpoint Charlie, Stavanger (Dridmachine)
LE FRUIT VERT - Passiflore (Los Discos Enfantasmes)
LUDO MICH - Qu Tche Boo B (House of Alchemy)
KATIE GATELY - Blue Eight (Blue Tapes)
SUR - Sur (Sleeping Giant Glossolalia)
TULUUM SHIMMERING - Tuluum Shimmering (Red Bird Messenger)
DANIEL HIGGS - Surrender To Love (Wild Sages)

Upcoming Special Programs on WFMU
Last updated: December 17th at 12:54 PM

(Go here for upcoming fill-ins.)

Joe Frank - In the Dark: "A Natural Disaster"
Wednesday, December 18th, 3pm - 6pm
on Irwin's show
Installments of Joe Frank's radio series IN THE DARK air each Wednesday at 4pm (Eastern) on Irwin's program. The episode entitled "A Natural Disaster" airs Weds. December 18th at 4pm (Eastern). On this program about natural catastrophes, Joe recites a list of historic earthquakes and their death tolls. A man trapped in his house following an earthquake, calmly phones for help and describes the wonders of making love in the rubble. Joe seeks vengeance on nature by stabbing the earth with a knife and imprisoning air in a balloon and passing it through a filthy vacuum cleaner.

Emily Danger
Thursday, December 19th, 3am - 6am
on Dark Night of the Soul with Julie
Emily Danger, now a duo, returns to spend Christmas with us again. The original lineup's trademarks -- Emily's powerful voice, Cameron's staggering violin skills -- remain, but the stripped down sound gives a starker more electronic feel to their dark rock sound.

Rick Wartell
Thursday, December 19th, Noon - 3pm
on Diane's Kamikaze Fun Machine
Rick Wartell, guitarist and founder of Chicago's doom pioneers Trouble, will be Diane's PEER PRESSURE guest at 1pm. Listeners will be able to ask Rick questions via the playlist. Trouble has recently released its' 9th full length: "The Distortion Field," featuring vocals by ex-Exhorder (and ex-Trouble) vocalist Kyle Thomas who recently rejoined the band. Tune in at 1pm!

Keith Richards 70th Birthday Special with co-host Ted Barron
Thursday, December 19th, 2pm - 5pm
on Matt Fiveash (on Give the Drummer Radio stream)
Keith Richards turns 70 this week. He and his Rhythm & Blues combo the Rolling Stones, in their long and checkered career, have managed to encapsulate, at their best, everything we love about Rock & Roll, and at their worst everything we hate about it. Ted Barron joins Matt this week for a special 3-Hour program to argue, rant, and play Stones bootlegs and try to make sense of it all.

Live From Homeboy Sandman's Uptown Apartment
Friday, December 20th, 7pm - 8pm
on Put The Needle On The Record with Billy Jam
WFMU broadcasts live from the living room of Homeboy Sandman's apartment when Billy Jam visits the uptown Manhattan, Inwood district home of the Stones Throw Records artist where other emcee guests will include Tone Tank, I Am Many, and YC the Cynic.

Hearty White fills in for Jim Price
Monday, December 23rd, 3pm - 3:01pm
on Jim Price's show

Pepper Laramie
Tuesday, December 24th, 6am - 9am
on Marty McSorley's show
Dinosaur erotica audio book voice artist Pepper Laramie comes by the show to talk about her most recent work that includes titles such as "Ravished by the Triceratops," "Taken by the Pterodactyl," and "Raptors Beneath the Big Top."

Tired of slouching towards Bethlehem? (Tim Lacy fills in for Ken)
Wednesday, December 25th, 9am - Noon
on Music from Daddy's Hideaway
Welp, you can just cancel those other plans, set your widening gyre on automatic, and tune into WFMU for Music From Daddy's Hideaway (Tim Lacy fills in for Ken) on Wednesday, December 25, from 9am to Noon, Western Civilisation Time. Hardly are these words out, before Tim will ask the musical question: Whose Lion Is It Anyway?

Joe Frank - In the Dark: "God"
Wednesday, December 25th, 3pm - 6pm
on Irwin's show
Installments of Joe Frank's radio series IN THE DARK air each Wednesday at 4pm (Eastern) on Irwin's program. The episode entitled "God" airs Weds. December 25th. Joe meets a hooker who, along with her customary practices, provides stenography services with her fee. So Joe dictates a letter to his seriously ill Uncle Murray. But there's a lot he doesn't know about Murray. He soon finds out.

Jason Rosenberg, Part 2
Thursday, December 26th, 8pm - 9pm
on Sinner's Crossroads with Kevin Nutt
Jason Rosenberg returns to Sinner's Crossroads for another hour of amazing gospel rarities, whose scarcity is only exceeded by their excellence. (Qualities not often found in tandem in such situations.) If you missed the first part of this special aired on December 12th, be sure to check out the archives to catch that broadcast, too.

Spazz Xmas Fiasco: Holiday Hangover Edition!
Thursday, December 26th, 9pm - Midnight
on Music To Spazz By with Dave the Spazz
Local rock 'n' roll superstars drop by to give the holidays one final musical kick in the Santa pants!

Chinese Beatboxer Conrad Ma
Friday, December 27th, 7pm - 8pm
on Put The Needle On The Record with Billy Jam
Born and raised in Yantai, Shandong in China, Conrad Ma was drawn to the hip-hop style of beatboxing from the very first moment he encountered it at age eleven. Ever since then he has been both an avid fan and practitioner, dedicating all of his free time to perfecting this form of vocal percussion, even adding his own style and flavor to it: his specialties include creating helicopter, water, owl, and electronic sounds. He has done countless performances and entered (and won) such competitions as the Chinese High School Beat Box contest. A year ago at age 17 he moved to the United States to finish his final year of school in North Carolina. Later this month, while in NYC to do a series of shows at the Nuyorican Poets Cafe and the Village Underground, Conrad Ma will join Billy Jam in the studios of WFMU for an interview and live performance on "Put The Needle On The Record" on WFMU on Friday December 27th at 7pm.

Pizza Underground
Tuesday, December 31st, 6am - 9am
on Marty McSorley's show
The ultimate Velvet Underground / Pizza tribute band stops by for a radio pizza party. With hits like "Waiting for the Delivery Man," "Take a Bite of the Wild Slice" and "All the Pizza Parties" you will be sure to get your fill.

Joe Frank - In the Dark: "Tomorrow"
Wednesday, January 1st, 2014, 3pm - 6pm
on Irwin's show
Installments of Joe Frank's radio series IN THE DARK air each Wednesday at 4pm (Eastern) on Irwin's program. The episode entitled "Tomorrow" airs Weds. January 1st. It's a story about sickness, betrayal, infidelity, hubris, death, and other forces of renewal. Happy New Year.

Kevin Howlett, author of The Beatles: the BBC Archives: 1962-1970
Saturday, January 4th, 2014, 11am - 1pm
on Michael Shelley's show
Michael chats with Kevin Howlett, author of The Beatles: the BBC Archives: 1962-1970 which draws on previously unpublished transcripts of interviews from the BBC television and radio archives and interviews with presenters, producers, and studio staff to reveal the creative and personal evolution of the band and the stories behind the performances.

Lee Ranaldo and The Dust
Tuesday, January 7th, 2014, 3pm - 6pm
on Brian Turner's show
Sonic Youth guitarist/co-founder returns to Brian's show for a live session amidst a busy year of world travels, and making his latest Matador Records release Last Night On Earth. Since last visit, Lee's live sets and recordings have definitely taken on a dynamic of a more developed band relationship; players Steve Shelley on drums, Tim Luntzel on bass, and second guitarist Alan Licht still explore expansive electric jams, but also have worked to frame Lee's songcraft and lyrical poeticism into even sharper realms. Lee and the Dust headline at the Bell House in Brooklyn January 11th, with Steve Gunn and Spectre Folk also on the bill.

Dot Wiggin Band
Friday, January 10th, 2014, 3pm - 6pm
on Miniature Minotaurs with Kurt Gottschalk
The unthinkable happened at a WFMU benefit last winter when Dot Wiggin took the stage and performed songs by her notoriously wonderful modern primative pop band the Shaggs. Dot and her sisters have rarely even spoken publicly about their 1969 homespun album and the reputation as both wonderful and abysmal that it has achieved over the years. But with the encouragement of WFMU DJ Jesse Krakow, Dot not only returned to the spotlight but stayed there. Now fronting a band (with Krakow as bassist and director), Dot has a new album and is mounting a concert tour, which she kicks of with this appearance on Miniature Minotaurs followed by a set the following night at Brooklyn Bazaar. Click here for more information.

Speed the Plough
Monday, January 13th, 2014, 9pm - Midnight
on Airborne Event with Dan Bodah
New Jersey's Speed the Plough are longtime musical accomplices of WFMU. They return to our studios for a live performance on Airborne Event on January 13th. Speed the Plough was born in the infamous 1980s haze of lush acoustic instrumentation and psychedelic tunes that also gave us the related groups The Feelies and The Trypes. In 2010, the band was revitalized with the addition of a second generation -- the kids of some original members joined, and the group reopened the music spigot and let the new songs pour out. Their recent collection "The Plough & The Stars" pairs a best-of CD from their first 4 records with vinyl split between new tunes and a 1993 WFMU session.


---

Want to see all the past events? Go here.

All times listed are Jersey City time, EST.
Questions? E-mail Brian or call (201) 521-1416
To report problems with this page, e-mail the page administrator.