We've upgraded our twice-monthly mailouts of WFMU's Heavy Airplay Lists! Now, we will include everything that's been flowed through WFMU's new bin and list comprehensive heavy-to-light listings, so you can get a better idea over the top 30 of what we've been playing here, and the genre lists are back. If you have any problems viewing, or questions in general, feel free to hit me up at bt@wfmu.org. And please keep sending materials for review to the address below.
WFMU
PO Box 5101
Hoboken, NJ 07030
broadcasting from Jersey City 91.1 FM/90.1 FM
Audio Feed and Archives: www.wfmu.org
Podcasts: podcast.wfmu.org
Blog: blog.wfmu.org
Facebook: www.facebook.com/wfmuradio
Twitter: http://twitter.com/#!/wfmu
Brian Turner, Music Director (201) 521-1416 x223, bt@wfmu.org)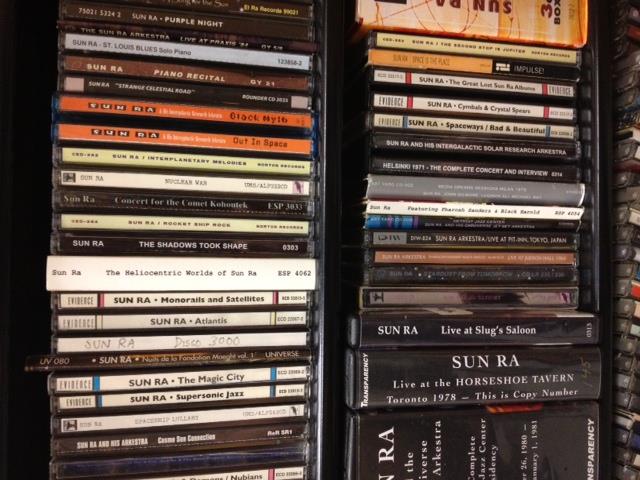 Heavy Airplay, June 5, 2013
SPRAY PAINT - Spray Paint (S.S.)
TOWNES VAN ZANDT - Sunshine Boy: Unheard Studio Sessions & Demos 1971-72 (Omnivore)
MATMOS - The Marriage Of True Minds (Thrill Jockey)
VARIOUS - R&B Hipshakers Vol. 3: Just A Little Bit Of The Jumpin' Bean (Vampi Soul)
BILLY BOYS - Anthology (Ektro)
WARM SODA - Someone For You (Castle Face)
THE ORANGE PEELS - Sun Moon (Minty Fresh)
YOSHI WADA - Singing in Unison (EM)
LENA HUGHES - Queen of the Flat Top Guitar (Tompkins Square)
JD EMMANUEL - Time Traveller (Aguirre)
MEDUSA - First Step Beyond (Numero)
CULTS PERCUSSION ENSEMBLE - Cults Percussion Ensemble (Trunk)
ICE AGE - You're Nothing (Matador)
VERONICA FALLS - Waiting for Something to Happen (Slumberland)
PISSED JEANS - Honeys (Sub Pop)
GROUPER - The Man Who Died In His Boat (Kranky)
NEGRO SPIRITUALS - Black Garden (A Wicked Company)
NOTHING PEOPLE - Walk On/C'mon Girl (S.S.)
THE STARK REALITY - Acting Thinking Feeling (Now-Again)
BANQUE ALLEMANDE - Willst du Chinese Sein (S.S.)
CC RIDERS - CC Riders (Spacecase)
JOZEF VAN WISSEM & JIM JARMUSCH - Apokatastasis (Incunabulum)
SUN ARAW / SPACEMEN 3 - Split 7 (The Great Pop Supplement)
THE ABOVE - Georgia Peach (Boppa Do Down)
VARIOUS - The Sound of Geri Reig (Kernkrach)
NU CREATIVE METHODS - Superstitions (Music a la Coque )
PEACH KELLI POP - Peach Kelli Pop (Burger)
NICK CAVE AND THE BAD SEEDS - Push the Sky Away (Bad Seed Ltd.)
WICKED LESTER - You Are Doomed (Numero)
VARIOUS - The Karindula Sessions: Tradi-Modern Sounds from Southeast Congo (Crammed Discs)

Medium Airplay
VARIOUS - Movements (Tramp)
PRETTY - Moustache In Your Face (Numero)
FRANK BANGO - Touchy Feely (Sincere)
EIVIND OPSVIK - Overseas IV (Loyal Label)
OOGA BOOGAS - Ooga Boogas (Aarght)
SHOES - Pre-Tense: Demos 1978-1979 (Numero)
PAZY AND THE BLACK HIPPIES - Wa Ho Ha (Secret Stash)
CYANIDE PILLS - Still Bored (DAMAGED GOODS)
VARIOUS - Eccentric Soul: The Dynamic Label (Numero)
CHORA(S)SAN TIME-COURT MIRAGE - Live at the Grimm Museum Vol. 1 (Sonic Acts / Important)
JOSEPH BYRD - NYC 1960-1963 (New World)
TRANSMUTEO - Earth Plane Frequency Hub (Aguirre)
FADENSONNEN - PD2 (Fadensonnen)
THE BLACK TWIG PICKERS - Rough Carpenters (Thrill Jockey)
JAGWA MUSIC - Bongo Hotheads (Crammed Discs)
BEACH FOSSILS - Clash The Truth (Captured Tracks)
COMO ASESINAR A FELIPES - Comenzara de Nuevo (Koolarrow)
AGF - Source Voice (Line)
ORCHEATRA SUPERSTRING - Easy (Dionysus)
VARIOUS - Boddie Recording Company, Cleveland, Ohio (Numero)
THE GO - Fiesta (Burger)
MASTON - Shadows (Trouble In Mind)
IVAN THE TOLERABLE/KALEIDOSCOPE DEATH - Split (White Label)
AKI ONDA - South of the Border (Important)
FOOT VILLAGE - Make Memories (Northern Spy)
MV & EE - Fuzzweed (Three Lobed)
DEPTH & CURRENT - Make It Home (Little Mafia)
SRCH PARTY - Bear Attack (Drink More)
DAN FRIEL - Total Folklore (Thrill Jockey)
DON RICH - Sings George Jones (Omnivore)
DAVE PHILLIPS - A Collection of Hair (HCB)
BETTIE SERVEERT - Oh, Mayhem! (Second Motion)
BOMBA ESTEREO - Elegancia Tropical (Soundway)
MICHAEL NYMAN - Vertov Sounds (MN)
FELA KUTI AND HIS AFRICA 70 - My Lady Frustration (Knitting Factory Records)
TARAF DE HAIDOUKS & KOCANI ORKESTAR - Band Of Gypsies 2 (Crammed Discs)
RAN BLAKE & SARA SERPA - Aurora (Clean Feed)
TOTAL NORMAL - Tales of The Expected (Momental)
THE FINDERS - Finders Keepers (Cheap Rewards)
SALVADOR TRIO - Salvador Trio (Mr. Bongo)
APACHE DROPOUT - Magnetic Heads (Family Vineyard)
RUST N' RAGE - Showdown (Ektro)
CIRCLE - Golem (Ektro)
MUTILATION RITES - Empyrean (Gilead Media)
ULTRA S/C - !4!7 Roberts Ave (Cass)
THEE MIGHTY FEVERS - Fuck'in Great R'n'R (Dead Beat)
VON HIMMEL - Rock N Roll Animal (Donkeydisx)
CHARAN PO RANTAN - Charan Po Rantan (Lawson HMV)
REALLY RED - Crowd Control (CIA Records)
HEIDI VOGEL - Turn Up The Quiet (Far Out)
VOIGT & VOIGT - Die Zauberhafte Welt Der Anderen (Kompakt)
CCR HEADCLEANER - CCR Headcleaner EP (Caesar Cuts)
VARIOUS - Studio One Ironsides (Soul Jazz)
SEAVEN TEARS - Power Ballads (Northern-Spy)
SOKEA PISTE - Valikasi (Ektro)
FLOURISHING - Intersubjectivity (The Path Less Travelled)
KRALLICE - Diotima (Profound Lore)
STRANDED HORSE - Transmission (Talitres)

Light Airplay
HAMMERING THE CRAMPS - Ghosts (Wormwood Grasshopper)
VARIOUS - Khat Thaleth (Stronghold Sound)
BOBBY BARE - Hard Time Hungrys (Omni)
PETER KING - African Dialects (Secret Stash)
ZYANOSE - Noise Philia 2005 - 2011 (540)
LA MONTE YOUNG AND THE THEATER OF ETERNAL MUSIC - Raag Bhairava Pts 1 & 2 (White Label)
SPACEBONG - The Death of Utopia (Out Recordings)
VARIOUS - KFJC: Live From the Devil's Triangle Vol. 15 (KFJC)
MAJUTSU NO NIWA - Volume V, Part 1: The Visionaries' Sand Zone (There Musik Atlach)
STATIC EYES - Trouble (Windian )
DEEP WHERE ALL DROWN - Movement / The Marianas (No Label)
MYSTICS - Play Your Game (Boppa Do Down)
TEMPEST STORM - The Intimate Interview (Third Man)
PETER EVANS / JOHN HEBERT / KASSA OVERALL - Peter Evans / John Hebert / Kassa Overall (More Is More)
THE CAVE DWELLERS - Run Around (Numero)
THE RAMONES - Slug (Sire)
DIVORCE - Jailhouse Fuck (Six Six Sixties)
ELEH - Retreat (Important)
THE MCELROY BROTHERS - Can't You See Me Smilin (Sing Sing)
HOLISM GAEA - Blakesian Williamness (Heart & Crossbone)
DAY ONE / EARLY ONE - Split 12 (Duppy Gun)
KIKUCHI YUKINORI + TIM OLIVE - Base Material (Test Tone)
VARIOUS - The Gospel According To Budgie (Budgie Edit)
UN FESTIN SAGITAL - Bestias Solares (Black Horizons)
BOBB AND THE KIDS - Take Me Home Vienna (Mighty Mouth)
HELCARAXE - Red Dragon (Regimental )
BARGHEST/FALSE - Split (Relic/Universe)
MICAH GAUGH - The Blue Fairy Mermaid Princess (Africantape)
THE DESIGNATED MOURNER - Clarinet Quartets (Fedora Corpse)
CAN CAN HEADS - Last Supper at Brick Factory (Kissankusi)
ICE AGE - Ecstasy (Escho)
SPROT - Summer of Sprot (Wormwood Grasshopper)
DEBRIS - Play My Heart (Little Mafia)
SHOCKWAVE RIDERZ - 12 (No Label)
RUSTED RAINBOW - Machine Translation of Texts (Tigerasylum)
WILLIAM BASINSKI + RICHARD CHARTIER - Aurora Liminalis (Line)
MATS GUSTAFSSON/PAL NILSSEN-LOVE/MESELE ASMAMAW - Baro 101 (Terp)
HAIRYBONES - Snakelust (to Kenji Nakagami) (Clean Feed)
KDRT - Naalprs (267 Lattajjaa )
THE CAVE SINGERS - Naomi (Jagjaguwar)
MAKOTO KAWABATA - Glissando Guitar (White Label)
LOREN CONNORS - A Fire (Family Vineyard)
HISKO DETRIA - 100000 Terahertz (Illegal )
COLD PUMAS - Persisten Malaise (Faux Discx / Gringo / IBB)
MICHAEL CHAPMAN - The Resurrection and Revenge of the Clayton Peacock (Rural Retreat)
+DOG+ - The Family Music Book Vol. 1 (Love Earth Music)
JOHN CAGE - Shock Vol. 3 (EM)
HORACE TAPSCOTT - The Tapscott Sessions Vol. 8 (Nimbus)
YOUNG HO SHU - Ajaeng Sanzo (Akdang Eban)
THE CHEAP SMOKES - Life's A Drag (Unread)
ANDY HAAS - Paradise of Ashes (No Label)
SUDO - Caligula (Ektro)
VARIOUS - Gospel Funk (Secret Stash)
DAVID KENNETH NANCE - Lush Bruises Suck Rice and Barley (Unread)
VARIOUS - Land Of Nod: Atlanta Punk & Hardcore Omnibus (Scavenger Of Death)
STOIC VIOLENCE - Stoic Violence (Video Disease/Katorga Works)
JUSTICE YELDHAM - Popped in the Head All The Time Now (Feeding Tube)
DMZ - Torture Ninja (Tanzprocesz)
THE ROCKERS - The Rockers EP (Cheap Rewards)
BALKAN ARTS 701 - Bulgarian Folk Dances (Evergreene Music)
SIMON JOYNER - A Rag of Colts: Disgraced Songs 1987 - 2012 (Unread)
ERO BABAA - Live Series Vol. 9 (Tanzprocesz)
LUMERIANS - The Weaning and the Dreaming (S/M 37 )
UPCOMING SPECIALS ON WFMU:
DJ Greg Belson
Thursday, June 6th, 8pm - 9pm
on
Sinner's Crossroads with Kevin Nutt
Sinner's Crossroads is in Revival. Greg Belson, host of the Divine Chord Gospel Show on dublab.com, guest DJ's on Sinner's Crossroads this evening. O Man. Greg has brought the goods, a pile of righteous gospel 45 artifacts including what must be the greatest garage gospel groove track of all time. All sinners will be seated. Bring the sick.
My Castle of Quiet Finale, with Psychic Limb live
Friday, June 7th, Midnight - 3am
on Wm. Berger presents My Castle of Quiet
Hearing Psychic Limb's "Queens" (2011) is nothing short of a grind revelation, like the first time one hears Circle of Dead Children's The Genocide Machine, or Pig Destroyer's Terrifyer. The record is a sonic rollercoaster, pulling you forward in a thrill-ride of shameless intensity and gutsy human energy, a musical trip akin to poring through your first Bukowski novel. This band has flawless chops, and great songs to spare. A live Psychic Limb appearance on My Castle of Quiet has been long in the discussion phase, almost didn't happen, but as fortune would have it, the band will be guesting on the last-ever MCoQ weekly broadcast, and we're honored to have a band of such great prowess escort our four-year run off of WFMU's weekly airwaves. Fill-ins to come this Summer / Fall, with live guest-spots by Verglas and The Black Twilight Circle tour. HUGE thanks to Psychic Limb—this promises to be a night to remember, so don't miss it!
Brian Chase
Friday, June 7th, 9am - Noon
on The Long Rally with Scott McDowell
Drummer/composer Brian Chase, (from the Yeah Yeah Yeahs) comes through to play live versions of the music heard on his solo Pogus release called Drums & Drones. The record features up-close investigations of the resonant properties and drone capabilities of the various drums and techniques of the trapset, which in turn unfurl into compelling sonic textures and compositions in their own right. Tune in for this unique close study, and you may never look at a drumset the same way again.
Fanfare Ciocarlia Live at Pace
Saturday, June 8th, 6pm - 9pm
on Transpacific Sound Paradise with Rob Weisberg
It's a Romanian speed-brass blast from the recent past and a taste of brass to come! Last September, legendary Romani (Gypsy) band
Fanfare Ciocarlia
whipped a packed house at
Pace University's Schimmel Center
into a frenzy with its trademark breakneck speed brass onslaught. If you missed the mayhem, fear not: We'll broadcast that Sept 22
New York Gypsy Festival
concert in its entirety tonight, remixed superbly for radio by engineer extraordinaire
Don Wood
. And you'll have another chance to be blown away by Fanfare Ciocarlia in person, when they play
Central Park Summerstage
with New York's own Indian-style brass wizards
Red Baraat
on Sunday afternoon July 14th.
Black Pus
Sunday, June 9th, 6am - 9am
on
Dangerous For The Brain with Thomas Storck
Black Pus is the furious solo project of drummer Brian Chippendale from Lightning Bolt. Overload your earballs.
Giorgio Moroder
Monday, June 10th, 9am - Noon
on Liz Berg's show
Liz interviews electronic music hero Giorgio Moroder! It's hard to believe that one man is singularly responsible for schlager-pop/bubblegum tracks like "Yummy Yummy Yummy" and "Mah-Na-Mah-Na," Donna Summer's top disco hits, moog experimentations like Einzelganger, and soundtracks to films like "Scarface" and "The Never Ending Story." Giorgio has collaborated with everyone from Blondie to Bowie to Freddy Mercury to Sparks, and most recently he's begun a DJ career, written a song with Daft Punk, and scored a video game by Google. With a career so varied and prolific, Giorgio's sounds are woven into the very fabric of popular culture. Tune in to find out what's next for this dynamo.
Billy Colliton
Monday, June 10th, 8pm - 9pm
on
Minor Music with Jesse Krakow
The imaginary offspring of Wesley Willis, Daniel Johnston, Brian Wilson, & Chuck Berry, singer/guitarist Billy Colliton will be stopping by to sing, strum, and steal your hearts in his radio debut. A musical visionary, rock 'n roll aficionado, and the future of outsider music.
Sun Ra Arkestra's Marshall Allen and Danny Ray Thompson (Part 2)
Tuesday, June 11th, 3pm - 6pm
on
Brian Turner's show
Two legends of Sun Ra's Arkestra performing today live! A visit to Brian's show from Marshall Allen (alto sax) and Danny Ray Thompson (baritone sax) from the Arkestra, joined by Ed Wilcox on drums and vocals, Jerry Mayall (both longtime members of Temple of Bon Matin) on upright bass, plus electronic music pioneer Charles Cohen. This newly-expanded, active working band has evolved out of Wilcox's five European tours with Allen, and we're severely honored to have them make music in the WFMU studios at last! This is part two of the marathon live session, part one of which airs June 4th.
The Oblivians
Tuesday, June 18th, 3pm - 6pm
on
Brian Turner's show
They've been off record since 1997, but the kings of Memphis soul-punk have returned to heap another tinnitus-inducing set of songs on the unsuspecting public. Despite a few reunion gigs over the years, The Oblivians had yet to record a new album, but that's all changed with "Desperation" out on In the Red Records. Ripped on to Dan Auerbach's Skully 8-track tape machine in Nashville, the band's no-fi live sound preserved for another go-around, and they're touring as well! Join Greg, Jack, and Eric for a blowout on Brian's show, and New Yorkers can catch them live on Friday, June 7th at the South Street Seaport!
Ben Seretan
Monday, June 24th, 9pm - Midnight
on
Airborne Event with Dan Bodah
Ben Seretan is a Brooklyn-based drone musician focused on joy. He plays electric guitar, sings, and makes "long music" in the attempt to find heaven with delay pedals. When he gets there, he'll seek out John Fahey and Alice Coltrane so they can bliss out together forever. His recording New Song came out in November of 2012 and he regularly plays in NYC.
Windhand
Tuesday, June 25th, 3pm - 6pm
on Brian Turner's show
Windhand hail from Richmond, Virginia, and their split release on Relpase Records with the band Cough (with whom they share a member) is one of the most massive sounding doom releases in a long time. Live today on Brian's show, and also at St. Vitus in Greenpoint on Friday, June 7th.
Broadcloth
Monday, August 12th, 9pm - Midnight
on
Airborne Event with Dan Bodah
Broadcloth is a chamber trio consisting of vocalist Anne Rhodes, cellist Nathan Bontrager, and accordionist Adam Matlock. The trio improvises and plays from nontraditional scores including graphic scores hand-embroidered by Anne. All of the members also work closely in other groups, including various projects with composer Anthony Braxton.