WFMU
PO Box 5101
Hoboken, NJ 07030
broadcasting from Jersey City 91.1 FM/90.1 FM
Audio Feed and Archives: www.wfmu.org
Podcasts: podcast.wfmu.org
Blog: blog.wfmu.org
Facebook: www.facebook.com/wfmuradio
Twitter: http://twitter.com/#!/wfmu
Brian Turner, Music Director: bt@wfmu.org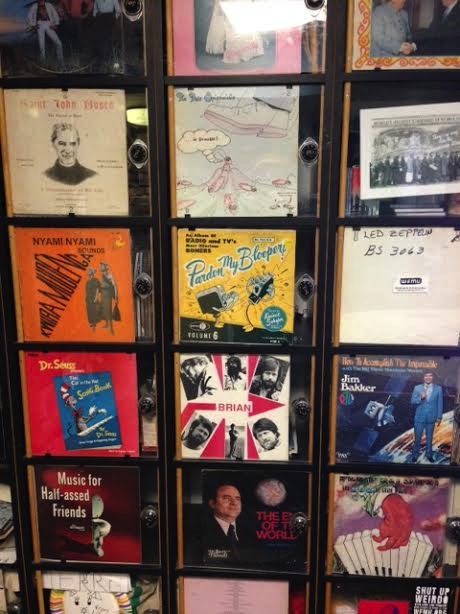 Heavy Airplay, January 22, 2014
THE BLIND SHAKE - Key To A False Door (Castle Face)
LONNIE HOLLEY - Keeping A Record Of It (Dust To Digital)
WHITE MYSTERY - Telepathic (White Mystery)
VARIOUS - Classroom Projects (Trunk)
VARIOUS - Longing For The Past: The 78 rpm Era In Southeast Asia (Dust To Digital)
TERRY MALTS - Nobody Realizes This Is Nowhere (Slumberland)
THE LEO BUGARILOVES - Hits & Misses (Karkia Mistika/Ektro)
NOBUNNY - Secret Songs: Reflections From The Ear Mirror (Goner)
YOKO ONO PLASTIC ONO BAND - Take Me To The Land Of Hell (Chimera)
THE VICTOR DIMISICH BAND - The Victor Dimisich Band (Siltbreeze)
BOOGARINS - As Plantas Que Curam (Other Music)
LA FEMME - Psycho Tropical Berlin (Born Bad)
ROKY ERICKSON - Don't Slander Me (Light In the Attic)
WAU Y LOS ARRRGHS!!! - Todo Roto (Slovenly)
THE RESONARS - The Greatest Songs Of The Resonars (Trouble In Mind)
LINDA THOMPSON - Won't Be Long Now (Pettifer Sounds)
DON MURO - It's Time (Flannelgraph/Sine Wave)
VARIOUS - Luk Thung: Classic & Obscure 78s From The Thai Countryside (Dust To Digital)
SEEFEEL - Quique (Medical)
THE RENDERIZORS - Vivid Cloud/Lucky Din (Grapefruit)
BILL CALLAHAN - Dream River (Drag City)
NEKO CASE - The Worse Things Get, The Harder I Fight, The Harder I Fight, The More I Love You (Anti-)
THE MARTHA'S VINEYARD FERRIES - Mass. Grave (Kian)
THE OBITS - Bed & Bugs (Sub Pop)
DIVISION FOUR - 1983 Demo Cassette (Smartguy)
RICK POTTS - Lilies (Of The Uncanny Valley) (Chocolate Monk)
DUSTIN WONG - Mediation Of Ecstatic Energy (Thrill Jockey)
BODY/HEAD - Coming Apart (Matador)
FRANCOIS DE ROUBAIX - Cristaux Liquides (Born Bad)
ARNOLD DREYBLATT & MEGAFAUN - Appalachian Excitation (Northern Spy)
THE HERMS - Drop Out Vol. 1 (Castleface)
VEX RUFFIN - Vex Ruffin (Stones Throw)
KISSKISS KARATE PASSION - I Can't (Les Disques Steak)
THE FUTURE PRIMITIVES - Into The Primitive (Voodoo Rhythm)
COSMIC DEALER - Child Of Tomorrow (World in Sound)
PSYCHIC RALLY - Transmission 104.5 1989-1995 (Blossoming Noise)
COSMIC PSYCHOS - Go The Hack (Goner)
ALEX CHILTON - Electricity By Candlelight / NYC 2.13.97 (Bar None)
KELLEY STOLTZ - Double Exposure (Third Man)
NATIONAL WAKE - Walk In Africa 1979-81 (Light In the Attic)
THE YOUNG TRADITION - Oberlin 1968 (Fledg'ling)
MAZZY STAR - Seasons Of Your Day (Fontana)
LAME DRIVERS / WOOLEN MEN - Split 7 (Sleeping Giant Glossolalia)

Medium Airplay
THEE ICEPICKS - Hypothermiaddicts (Chickpea)
SMELLY TOUNGES - Slack Heep (Urinal Cake)
BAILTER SPACE - Trinine (Fire)
BILL DIREEN & THE HAT - The Flavour Of The Meat (Grapefruit)
CRYSTAL STILTS - Nature Noir (Sacred Bones)
JONATHAN RADO - Law And Order (Woodsist)
PLAY - Red Movies (Medical)
VARIOUS - Afrobeat Airways 2 - Return Flight To Ghana 1974-1983 (Analog Africa)
THE CHAMBERMAIDS - Whatever Happened Tomorrow (Guilt Ridden Pop/OBW)
SUSPKABOOM KARAVAN - Hokus Fokus (Miasmah)
SUSPICIOUS BEASTS - Never Bloom (Alien Snatch)
THE STRANGER - Watching Dead Empires In Decay (Modern Love)
HARRY NILSSON - Flash Harry (Varese Sarabande)
CURSORY - La Sorciere (Tested Souls)
MAMADOU KELLY - Adibar (Clermont)
VARIOUS - District Of Noise Vol.6 (Sonic Circuits)
H.O.A./BADNAAM - Split (That's Cool)
MAD NANNA - I Wanna See You b/w The Nectarine Tree (Soft Abuse)
EMILIANA TORRINI - Tookah (Rough Trade)
THE DEAD C - Armed Courage (Ba Da Bing!)
WHITE MANNA - Dune Worship (Holy Mountain)
RICHARD BUCKNER - Surrounded (Merge)
ONEOHTRIX POINT NEVER - R Plus Seven (Warp)
AMEN DUNES - Spoiler (Perfect Lives)
TARTIT WITH IMHARHAN - Live From The Sahara (Clermont Music)
SEWN LEATHER - Roach Fingerzz Vs. Rock Slingerzz (Phase!)
AKOS ROZMANN - Images Of The Dream And Death (Editions Mego)
FAIRFIELD SKI - Fairfield Ski (Guerssen)
VARIOUS - The East Village Other (ESP-Disk)
DISAPPEARS - Era (Kranky)
SUMMER TWINS - Forget Me (Burger)
NAT BALDWIN - Dome Branches : The MVP Demos (Western Vinyl)
JOY WELLBOY - Yorokobi's Mantra (Bpitch Control)
MIKE ADAMS AT HIS HONEST WEIGHT - Oscillate Wisely (Flannelgraph)
CAVERN OF ANTI-MATTER - You're An Art Soul EP (Associated Electronic Recordings)
CUNTZ - Solid Mates (Homeless)
BLOUSE - Imperium (Captured Tracks)
VARIOUS - Singing At The Moon (Singing Knives)
KID ICARUS / COLD COFFEE - Split LP (Summersteps)
BILL ORCUTT - Solidarity Forever b/w When You Wish Upon A Star (Palilalia)
SKY NEEDLE - Debased Shapes (Bruit Direct Disques)
FRANCIS BEBEY - Remixed (Born Bad)
A STORM OF LIGHT - Nations To Flames (Southern Lord)
LUDO MICH / WATARU KASAHARA / KIYOHARU KUWAYAMA - Les Archives De L'Univers Amnesique Illustre (Discombobulate)
F'KE BLOOD - The Band That Bled Real Blood (Urinal Cake / UFO Factory)
LAUGH CLOWN LAUGH - Laugh Clown Laugh (Medical / Crispy Nuggets)
CHRISTICIDE - Upheaval Of The Soul (Hospital Productions)
TOUGH AGE - Tough Age (MINT)
SEBADOH - Defend Yourself (Joyful Noise)
BALINESE BEAST / WHAM JAH - Split (Phase!)
PLANKTON WAT - Drifter's Temple (Thrill Jockey)
DYLAN NYOUKIS - The Acrylic Widow (Discombobulate)
FRANKIE ROSE - Herein Wild (Fat Possum)
THE PINK NOISE - Greedy Heart (Skrot Up)
JESSY LANZA - Pull My Hair Back (Hyperdub)
DINO VALENTE - Dino Valente (Tompkins Square)
ANTON HEYBOER - Rules Of The Universe (Kye)
LAKE - The World Is Real (K)
OUT COLD - Invasion Of Love (Heavenly / PIAS)
KING KRULE - 6 Feet Beneath The Moon (True Panther)
APM - Sprint Mill (ICR)
VON HIMMEL - Von Himmel (Donkey Disk)
LOVE INKS - Generation Club (Monofonus Press)
JOAN JETT & THE BLACKHEARTS - Unvarnished (Blackheart)
RICHARD YOUNGS - Summer Through My Mind (Ba Da Bing!)
BL'AST! - Blood! (Southern Lord)
PERERA ELSEWHERE - Everlast (Friends Of Friends)
RAN SLAVIN - Showing Light (False Industries)
RLW - Sechs Abstande (Blossoming Noise)
CHARLIE BOYER AND THE VOYEURS - Clarietta (Heavenly / PIAS)
COSMIN TRG - Gordian (50Weapons)
CHEESE BORGER AND THE CLEVELAND STEAMERS - S/T (Smog Veil)
CHELSEA WOLFE - Pain Is Beauty (Sargent House)
PRETTY LIGHTS - A Color Map Of The Sun (8 Minutes 20 Seconds)
SATAN'S SATYRS / OHMWAR - Split 7 (At War With False Noise)
SPEED THE PLOUGH - The Plough & The Stars (Bar None)

Light Airplay
BRIDESMAID - Breakfast At Riffany's (No Label)
THE BLOW - The Blow (Kanine)
EVIL MOISTURE - Goo (Blossoming Noise)
EUGON PASKAT / ABORTTI 13 - Vahvaa Vetoa EP (Killer)
OOOOO - OOOOO (267 Lattajjaa)
MINOT - The Ringing Silence Between Your Ears (The Mylene Sheath)
VARIOUS - Feeling Nice Vol. 2 (Tramp)
GIRLS AGAINST BOYS - The Ghost List (No Label)
SISU - Blood Tears (Mono Prism)
SAND RATTLE KINS - 13 Steps From Kava Conch (Chocolate Monk)
GAMBLES - Trust (No Label)
ANDREA BELFI - Wege (Room40)
HEIDI MORTENSON - Mork (Rump Recordings)
EDDIE HORAN - I'm Gonna Speak Out (HDM)
DAWN OF MIDI - Dysnomia (Thirsty Ear)
SUBTERRANEANACT - Subterraneanact (Z6)
THE LOVE STORY - U$ Drone (No Label)
THE STEPKIDS - Troubadour (Stones Throw)
WHAM JAH - Heads (Phase!)
BRUISER QUEEN - In Your Room b/w Ms. Everything (Certified PR)
NATE WOOLEY SEXTET - (Sit In) The Throne Of Friendship (Clean Feed)
KEN CAMDEN - Space Mirror (Kranky)
AISHA BURNS - Life In The Midwater (Western Vinyl)
WORLD'S FAIR - Bastards Of The Party (Fool's Gold)
IS TROPICAL - I'm Leaving (Kitsune)
CHEVALIER AVANT GARDE - Resurrection Machine (Fixture Records)
VARIOUS - Finntengs 2 (Oligarkia Mistengs Disks)
SUDDEN INFANT - Inner Storm (Blossoming Noise)
STONEFIELD TRAMP - Dreaming Again (Riverman Music)
CLEAN GIRLS - Last House (No Label)
PLAYERS TO BE NAMED LATER - S/T EP (No Label)
SAINT RICH - Beyond The Drone (Merge)
GOOD AREA - French Antarctica (Kye)
TV GHOST - The Amputee b/w The Mold (Kind Turkey)
LE SHAT NOIR - Try To Listen To This (PreOp)
THE CRAZY SQUEEZE - Rock 'N' Roll 101 (No Front Teeth / Rapid Pulse)
KANGDING RAY - OR (Raster-Noton)
THE GOLDEN OAKS - We Enter These White Woods (Music Your Mind Will Love You)
ANDY FITTS - Smoky Wilds (No Label)
SEABAT - Scattered Disc (Seabat Worldwide)
KHAIRA ARBY - Timbuktu Tarab (Clermont Music)
YOUTH CODE - Youth Code (Dais)
LEFT LANE CRUISER - Rock Them Back To Hell! (Alive)
DJ MISTAKES - Untitled (Phase!)
RUBY PINS - Ruby Pins (M'Lady's)
MIKAEL JORGENSEN & GREG O'KEEFFE - S/T (Butterscotch)
KIDD JORDAN & HAMID DRAKE - A Night In November (Valid)
DON FORTISSIMO - January (No Label)
TRAAMS - Grin (Fatcat)
J-ZONE - Peter Pan Syndrome (Old Maid Entertainment)
LILY KERSHAW - Midnight In The Garden (Nettwerk)
WILLIS EARL BEAL - Nobody Knows. (Hot Charity)
OFFERINGS / REQUIEM - Stream Of Unconsciousness Vol. 11 (Stand Up Tragedy)
VARIOUS - Viva Africando (Sterns Music)
C.K. STRONG - C.K. Strong (World in Sound)
REV. NORB & THE ONIONS - 7 (Rocket )
SIDI TOURE - Alafia (Thrill Jockey)
MERCENARY - Demo 2013 (Scavenger Of Death)
FPR - All At Once (Relative Pitch)
CLAUDE VONSTROKE - Urban Animal (Dirtybird)
JARED WHITHAM - Jared Whitham Goes To Wall-Mart (No Label)

7" Singles List
FRANCOIS DE ROUBAIX - Cristaux Liquides (Born Bad)
LAME DRIVERS/WOOLEN MEN - Split 7" (Sleeping Giant Glossolalia)
MAD NANNA - I Wanna See You (Soft Abuse)
CURSORY - La Sorciere (Tested Souls)
SUMMER TWINS - Forget Me (Burger)
EUGON PASKAT/ABORTII 13 - Split 7" (Killer)
STINK BUGS - Supernatural (Swashbuckling Hobo)
DWIGHT TWILLEY BAND - Shark (Hozac)
OSCAR YOUNG BAND - Damp Circuits: The Golden Synthesizers of East Asia (Sham Palace)
SNEAKY PINKS - I'm Punk (Almost Ready)
RPM List
SEEFEEL - Quique (Medical)
FRANCOIS DE ROUBAIX - Cristaux Liquides (Born Bad)
JOY WELLBOY - Yorokobi's Mantra (Bpitch Control)
JESSY LANZA - Pull My Hair Back (Hyperdub)
COSMIN TRG - Gordian (50 Weapons)
BANGERS AND ASH - Split 12" (Best Available Technology)
PATRICK COWLEY - School Daze (Dark Entries)
VARIOUS - Livity Sound (Livity Sound)
VARIOUS - L.I.E.S. Presents Music for Shut-ins (Long Island Electrical Systems)
RON MORELLI - Spit (Hospital Productions)
Jazz List
DAWN OF MIDI - Dysnomia (Thirsty Ear)
NATE WOOLEY SEXTET - (Sit In) The Throne of Friendship (Clean Feed)
KIDD JORDAN & HAMID DRAKE - A Night In November (Valid)
DOUG CARN - Revelation (Black Jazz)
TIGER HATCHERY - Sun Worship (ESP Disk)
SOUND AND FURY - Pusacion (Ektro)
HARMUT GEERKEN'S ROCK AND FREE JAZZ GROUP KABUL - Live at Goethe Institute 1976 (Holidays)
TACO BELLS - Vadelma/Hawaii (Ikuisuus)
VARIOUS - Mobilisation Generale: Protest and Spirit Jazz From France 1970-76 (Born Bad)
WILLIAM PARKER - Wood Flute Songs (AUM Fidelity)
World List
VARIOUS - Longing For the Past: The 78 RPM Era in Southeast Asia (Dust To Digital)
VARIOUS - Luk Thung: Classic and Obscure 78s From the Thai Countryside (Dust To Digital)
NATIONAL WAKE - Walk In Africa 1979-81 (Light In the Attic)
VARIOUS - Afroabeat Airways 2: Return Flight To Ghana 1974-1983 (Analog Africa)
MAMADOU KELLY - Adibar (Clermont)
TARTIT WITH IMHARHAN - Live From the Sahara (Clermont)
FRANCIS BEBEY - Remixed (Born Bad)
VARIOUS - Choubi Choubi Vol. 2: Folk and Pop Sounds From Iraq (Sublime Frequencies)
DVA - Hu (Indies)
LOBI TRAORE - Bamako Nights (Glitterbeat)
Loud List
WAU Y LOS ARRRGHS!!! - Todo Roto (Slovenly)
PSYCHIC RALLY - Transmission 104.5 1989-1995 (Blossoming Noise)
COSMIC PSYCHOS - Go the Hack (Goner)
CUNTZ - Solid Mates (Homeless)
CHRISTICIDE - Upheaval of the Soul (Hospital)
BL'AST! - Blood! (Southern Lord)
MAMMATUS - Heady Mental (Spiritual Pajamas)
IMPALERS - Imaplers (540)
CARCASS - Surgical Steel (Nuclear Blast)
GNAW - Horrible Chamber (Seventh Rule)
Hip-Hop List
RJD2 - More Is Than Isn't (RJ's Electrical Connections)
JEL - Late Pass (Anticon)
MURO: KING OF DIGGIN' - Diggin OST (Octave/Ultra-Vibe)
LOUIS LOGIC - Look On the Blight Side (Fake Four)
DAEDELUS - Drown Out (Anticon)
PROLYPHIC & BUDDY PEACE - Working Man (Strange Famous)
DAM FUNK/SNOOPZILLA - 7 Days of Funk (Stones Throw)
CANNIBAL OX - Gotham (IGC)
KWES - Ilp (Warp)
DEATH GRIPS - No Love Deep Web (Third Worlds)
UPCOMING SPECIALS ON WFMU
Detroit Techno Mafia
Thursday, January 23rd, Midnight - 3am
on
Nickel and Dime Radio with $mall ¢hange
Doc Matthews and T.Linder of the Detroit Techno Mafia crew invade the studios. DTM is a record label and DJ collective dedicated to preserving the legacy of true Detroit electronic music, and usually performs with multiple DJs at the same time. Small Change caught them in Detroit for the Movement festival and they always kill it...
Cottaging
Tuesday, January 28th, 7pm - 8pm
on Distort Jersey City with Reed Dunlea
This week on Distort Jersey City we are joined by Cottaging from Providence RI. Noisy and fuzzed out punk through a post-Big Black, post-Chrome lens. Two thirds of the band come from the same Florida scene that brought the world Merchandise, Neon Blud, American Snakeskin, Slavescene, etc. Members of The Ukiah Drag, Cult Ritual, Diet Cokeheads, and Libyans. After recording this session, we ate at Benny Tudino's and a member of the band bought a bong at the head shop next store. So yeah, there's that.
Joe Frank - Work in Progress: "Dreams of the River"
Wednesday, January 29th, 3pm - 6pm
on
Irwin Chusid
One-hour radio dramas by Joe Frank air every other Wednesday at 4pm (Eastern) on Irwin's program. On Weds. January 29th we'll air "Dreams of the River," from Joe's WORK IN PROGRESS series. The episode chronicles a promising college student admired by his classmates for his wit and mischievous pranks. But his sense of invincibility begins to fray as he ages and drifts through life, hired and fired from menial jobs, lacking any sense of purpose, and envying the freedom of the homeless.
Two for Tennis hosts Tim 'Love' Lee and 'Coach' Messenie
Thursday, January 30th, Midnight - 3am
on
Nickel and Dime Radio with $mall ¢hange
Tim 'Love' Lee is the man behind the Tummy Touch label, and also has been hosting a radio show on East Village Radio for some time with 'Coach' Messenie. Expect a mixed bag of groovy goodies from these veteran selecters.
John Morton
Tuesday, February 4th, 3pm - 6pm
on Brian Turner's show
Aside from wearing a safety-pin-riddled, torn-up jean jacket in 1971 and playing soon after in the pioneering Cleveland punk band Electric Eels, John Morton is an accomplished visual artist and has also been part of bands like The Styrenes, Amoeba (Raft Boy), Johnny and The Dicks, and a number of other outfits. One of them was X___X, who put out two 45's on Drome Records and played out four times with drummer Anton Fier, later of The Feelies, and Golden Palominos. With Finland's Ektro label about to reissue a retrospective disc of X___X, Morton stops by Brian's show today for a chat on that band's legacy and whatever else he's been up to lately.
Cousin Cole
Thursday, February 6th, Midnight - 3am
on
Nickel and Dime Radio with $mall ¢hange
Cousin Cole has been producing a heap quality tracks and edits in a myriad of styles, blending funk, bmore, new wave, electro, soul, rock, dancehall and tropical vibes, and has played alongside some of the biggest DJs out there. Looking forward to having this NYC pro come down and his do his thing...
Joe Frank - Somewhere Out There: "Bible Salesman"
Wednesday, February 12th, 3pm - 6pm
on
Irwin Chusid
One-hour radio dramas by Joe Frank air every other Wednesday at 4pm (Eastern) on Irwin's program. On Weds. February 12th we'll air "Bible Salesman," from Joe's SOMEWHERE OUT THERE series. Joe travels door-to-door peddling defective Bibles to support his mother in a nursing home. He recalls his mother's anti-religious fervor and his father's failed suicide attempt. Along the way, Joe sells drugs to help nuns in Montana save their convent from bankruptcy. Then he searches for peace through the catacombs of Rome and the shipyards of Rio, before finding success as an actor playing Jesus.
Richard Baskin
Saturday, February 22nd, 11am - 1pm
on
Michael Shelley's show
Michael chats with singer, songwriter, film director and music producer Richard Baskin about his work as Music Supervisor on the soundtrack to Robert Altman's seminal 1975 film "Nashville."