WFMU
PO Box 5101
Hoboken, NJ 07030
broadcasting from Jersey City 91.1 FM/90.1 FM
Audio Feed and Archives: www.wfmu.org
Podcasts: podcast.wfmu.org
Blog: blog.wfmu.org
Facebook: www.facebook.com/wfmuradio
Twitter: http://twitter.com/#!/wfmu
Brian Turner, Music Director: bt@wfmu.org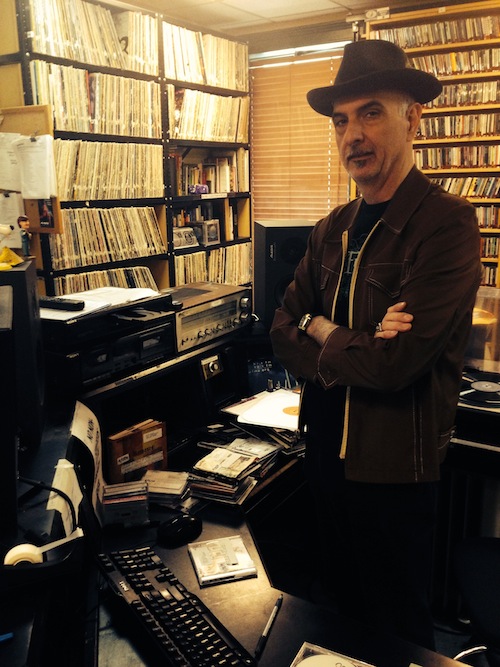 (pictured, DJ Fabio is sternly disappointed that the Haysee Fantaysee Demos 3LP has not been added yet)

Heavy Airplay, April 30, 2014
GIUDA - Let's Do It Again (Damaged Goods)
VARIOUS - Punk 45: Kill the Hippies Kill Yourself (Soul Jazz)
THE FROWNING CLOUDS - Whereabouts (Anti Fade)
THE STUDENT TEACHERS - Invitation To...The Student Teachers: 1978-1980 (Nacional)
MAGIK MARKERS - Surrender To the Fantasy (Drag City)
THE LIMINANAS - Costa Blanca (Trouble In Mind)
ROBERT WYATT - '68 (Cuneiform)
PATRICK COWLEY - School Daze (Dark Entries)
MARGARETH KAMMERER - Why Is the Sea So Blue (Mikroton)
THE SPACE LADY - Greatest Hits (Nigh School)
CIBO MATTO - Hotel Valentine (Chimera Music)
VARIOUS - I Heard the Angels Singing: Electrifying Black Gospel From the Nashboro Label 1951-1983 (Tompkins Square)
KEVIN MORBY - Harlem River (Woodsist)
GLAXO BABIES - Put Me On the Guest List (Superior Viaduct)
BLANK REALM - Grassed Inn (Fire)
ORCHID SPANGIAFORA - Flee Past's Ape Elf (Feeding Tube)
SENSATIONS' FIX - Fragments Of Light (Superior Viaduct)
THE SERVANTS - Small Time (Captured Tracks)
UNDER THE HILLS AND NEARBY - Under the Hills and Nearby (No Label)
TODD CLARK GROUP - Flame Over Philadelphia (Primal Pulse)
JEFFREY NOVAK - Lemon Kid (Trouble In Mind)
EMERALD WEB - The Stargate Tapes 1979-82 (B-Music)
BRIGITTE FONTAINE - Est...Folle (Superior Viaduct)
BIL VERMETTE - Katha Visions (Permanent/Galactic Archive)
GELBART - Vermin (Gagarin)
THEE MIGHTY CAESARS - Beware the Ides of March / Acropolis Now (Damaged Goods)
DEVIN, GARY & ROSS - Honeycomb of Chakras (Feeding Tube)
SILVER CHALICE - Wasted (Munster)
CONRAD SCHNITZLER - Conrad Schnitzler (Grey) (Bureau B)
THE FLESHTONES - Wheel of Talent (Yep Roc)
THE VELVET UNDERGROUND - White Light White Heat: 45th Anniversary Deluxe Edition (Polydor/Universal)
STEVE WYNN - Up There Home Recordings 2000 to 2008 (Short Run)
MESA COSA - Infernal Cakewalk (Off the Hip)
SOUNDTRACK (EDUARD ARTEMIEV) - Solaris (Superior Viaduct)
ADAM AND THE ANTS - Family of Noise (Pure Sound)
THE HAMBURGLARS - The Hamburglars (No Label)
THE VERLAINES - Juvenilia (Captured Tracks/Flying Nun)
PHILIP PERKINS - Drive Time (Body Double)
PROTO IDIOT - You're Wrong (Trouble In Mind)
HOSPITALITY - Trouble (MERGE)
CARTER TUTTI - Remix Chris & Cosey (Conspiracy International)
CLAIRE CHASE - Density (No Label)
GISELE RICARD - Electroacoustique (1980-1987) (Tenzier)
VARIOUS - L.I.E.S. Presents Music For Shut-Ins (Long Island Electrical Systems)
SABINA - Toujours (Bar None)
POW! - Hi-Tech Boom (Castle Face)
HOT LUNCH - Uprooted (TYM )
THE RENDERERS - Measured Strychnine Invitations (Exiled)
LAS CHINAS - Amor En Frio (Munster)
Medium Airplay
STRANGULATED BEATOFFS - The White Album (Skin Graft)
VARIOUS - Yesterday, Perhaps: Songs of the Kitchen Cynics (ENF 100)
NICO - Abscheid (No Label)
VIDEO - (Join the) Hate Wave (Total Punk)
NOVELLER - No Dreams (Important)
MOGWAI - Rave Tapes (Sub Pop)
CAMEL HEADS - Anoluz (Captcha)
EASTLINK - Angel Gun (In the Red)
SUN RA AND HIS ARKESTRA - My Way Is the Spaceways: Space Poetry Vol. 4 (Norton)
MICHAEL HURLEY - Hi Fi Snock Uptown (Future Days)
NAKED LUNCH - Naked Lunch (World in Sound)
VARIOUS - Livity Sound (Livity Sound)
MICK TURNER - Don't Tell The Driver (Drag City)
WAYNE MASON - Vague Directives (No Label)
THE YOLKS - $2 Out the Door (Randy)
THE MEMORIES - American Summer (Randy)
ROLAND YOUNG - Hearsay I-Land (Palto Flats)
HOT & COLD - Border Area (Moniker)
7 DAYS OF FUNK - 7 Days of Funk (Stones Throw)
DAVID NOVICK - David Novick (God?)
CYBOTRON - Sunday Night At the Total Theatre (Dual Planet)
ROBERT BEATTY - Soundtracks For Takeshi Murata (Glistening Examples)
MAMMATUS - Heady Mental (Spiritual Pajamas)
HELEN AND THE HORNS - Footsteps At My Door: BBC Sessions and More (Damaged Goods)
GENTLEMEN - Sex Tape (Homeless)
ROBERT POLLARD - Blazing Gentlemen (Guided By Voices Inc.)
JOE HIGGS - Life of Contradiction (Pressure Sounds)
HISS GOLDEN MESSENGER - Bad Debt (Paradise of Bachelors)
BREN'T LEWIIS ENSEBLE - Gloria (BUFMS)
R. WEIS - Excitable Audible (No Label)
DEBRUIT & ALSARAH - Aljawal (Soundway)
C. SPENCER YEH / OKKYUNG LEE / LASSE MARHAUG - Wake Up Awesome (Software)
HEAVENLY BEAT - Prominence (Captured Tracks)
MURO: KING OF DIGGIN' - Diggin' OST (Octave / Ultra-Vibe)
HARMUT GEERKEN'S ROCK AND FREE JAZZ GROUP KABUL - Live at Goethe Institute 1976 (Holidays)
ARRINGTON DE DIONYSO - Songs of Psychic Fire Vol. 3 (No Label)
SAADA BONAIRE - Saada Bonaire (Fantasy Memory)
FREDERICK MICHAEL ST. JUDE - Here Am I (Drag City)
ERNEST GIBSON - Island Records (Skrot Up)
VARIOUS - Adventures In Afropea 3: Afro-Portugal (Luaka Bop)
AKI ONDA - South of the Border: Cassette Memories Vol. 3 (Important)
SKEPTICS - Amalgam (Captured Tracks/Flying Nun)
ALMA AFROBEAT ENSEMBLE - Live No Get Dublicate (Slow Walk)
SNOWBIRD - (Moon) (Bella Union)
THE REBEL SET - How To Make a Monster (Silver Hornet)
ANNABELLE'S GARDEN - Time's No Measure (1987-1993) (Dais)
SAPPHIRE SLOWS - Allegoria (Not Not Fun)
SPHERES & CONSTELLATIONS - Farthest South (Farthest South)
BEST AVAILABLE TECHNOLOGY - Bangers and Ash (Styles Upon Styles)
ELENI MANDELL - Let's Fly a Kite (Yep Roc)
STEVE MAXWELL VON BRAUND - Monster Planet (Dual Planet)
TWINK - Happy Houses (No Label)
MASTER MUSICIANS OF BUKKAKE - Far West (Important)
STEPHEN MALKMUS & THE JICKS - Wig Out at Jagbag's (Matador)
GUARDIAN ALIEN - Spiritual Emergency (Thrill Jockey)
WALTER MARCHETTI - Per La Sete Dell'orecchio (Alga Marghen)
JOHNNY DOWD - Do the Gargon (Mother Jinx)
THE FOUR WINDS AND DITO - The Four Winds and Dito (Electro Harmonix)
JUANECO Y SU COMBO - The Birth of Jungle Cumbia (The Vital Record)
ENDLESS BUMMER - Ripper Current (In the Red)
BRUNO COULAIS - OST: Microcosmos (Varese Sarabande)
BOTANY - Lava Diviner (Truestory) (Western Vinyl)
BILL ORCUTT - 10 x 7" Box (Pallilalia)
NEGATIVE TREND - 7" (Superior Viaduct)
VARIOUS - Big Itch Club (Bachelor )
SULPHUR LIGHTS - Cowboy (No Label)
EIKO ISHIBASHI - Imitation of Life (Drag City)
PRIMITIVE CALCULATORS - I Can't Stop It (Desire)
ANGIE - Turning (Rice Is Nice/Easter Bilby)
EMILY JANE WHITE - Blood/Lines (Important)
GRAVEL SAMWIDGE - Medicinal Requirements (Swashbuckline Hobo)
LONNIE HOLLEY - Just Before Music (w/Bonus Live at WFMU) (Dust To Digital)
HISATO HIGUCHI - Otomeyama Bottoms (Ghost Disc)
THE LONDON DIRTHOLE COMPANY - The Sounding Alley Tapes (Phono Erotic)
VARIOUS - KFJC: Live from the Devil's Triangle 16 (KFJC )
DLS VS. SP - Repent Replenish Repeat (Strange Famous)
DESTROY DATE - Inner Dialogue (Love Earth Music)
CHROME HOOF - Chrome Black Gold (Cuneiform)
CURTIS PLUM - Call My Cellphone (Strange Famous)
THE CLAUDIA QUINTET - September (Cuneiform)
SOUND AND FURY - Pulsacion (Ektro)
DANIEL LOVGREN - Self Titled (No Label)
GRISHA SHAKHNES - Leave / Trace (Glistening Examples)
RESIDUAL ECHOES - Secret Museum of Kind Men Vol. 3 (Casual Acid Tea)
MARCOS CABRAL - False Memories (Long Island Electrical Systems)
MIRRORISM - Night Flight (Trouble In Mind)
FALCON (EX-CIRCLE) - Frontier (Ektro)
VARIOUS - Live At Caffe Lena (Tompkins Square)
MATT BALDWIN - Imaginary Psychology (Spiritual Pajamas)
LORD TIME - Black Hole at the End of the Tunnel (Universal Consciousness)
SAX RUINS - Blimmguass (Skin Graft)
SNEAKY PINKS - I'm Punk (Almost Ready)

Light Airplay
PONTIAK - Innocence (Thrill Jockey)
BURIAL - Rival Dealer (Hyperdub)
PSYCHIC TV THREE - Greyhounds of the Future (Angry Love)
RYLEY WALKER - The West Wind (Tompkins Square)
RAYMOND SCOTT - Suite For Violin And Piano (Basta)
SAGE FRANCIS - Sick To D(eat)h (Strange Famous)
AA - Voyager (Northern Spy)
TOTAL LIFE - Radiator (Important)
ALVARO - Alvaro (Squeaky Shoes)
THE STATON EMBASSY - From My Head To Yours (Uuhngreh Schpuggenuh)
BOBBY DRAINO - Brain Drain (100% Silk)
DODOS - Carrier (Polyvinyl)
SEWERS - Hoisted (Homeless)
DESOLATING THE CURSE - Desolating the Curse (Nice Up)
BORN OF SIX - Svapiti (Important)
VARIOUS - Various: The Sixth KFJC Battle of the Surfbands (KFJC)
CHRIS WILSON - It's Flamin' Groovy (Twenty Stone Blatt)
MAKEOUTS - Back To Sleep (Bachelor )
EARTHLESS - Live In Guadalest (Silver Currant)
SISSY SPACEK - Dash/Anti-Clockwise (Gilgongo)
20.SV - The Great Sonic Wave (Cavity)
SISSY SPACEK - Incomprehensible Dehumanization (Gilgongo)
LOVELY LEGS - Broad Daylight (Swashbuckling Hobo)
I AM THE LAKE OF FIRE - s/t (Unread)
LUCINDA WILLIAMS - Lucinda Williams (25th Anniversary Reissue) (Thirty Tigers)
NAKANY KANTE - Saramaya (Slow Walk)
CASSORLA - Amigos EP (No Label)
VARIOUS - Ex Yu Electronica Vol II (Subkulturni Azil)
CHAT LOGS - Am I Right or Am I Right? (No Label)
SHADOWLUST - Trust In Pain (Long Island Electrical Systems)
KALEIDOSCOPE DEATH - Rest of the Drum Tracks / Deadrum (Uuhngreh Schpuggenuh)
BOB BELLERUE - Brokelyn (Love Earth Music)
BASIC CABLE - I'm Good To Drive (Permanent)
EBO TAYLOR & UHURI YENZU - Nkru! (Mr. Bongo)
SALVADOR TRIO - Salvador Trio (Mr. Bongo)
ARU - DPV3.5 (Captcha)
ANTHRO REX - Middle Raged (Breaking World)
CONRAD SCHNITZLER - Zug (Reshaped and Remodeled By Ricardo Villalobos & Max Loderbauer) (M=Minimal)
JOHN BUTCHER, TONY BUCK, MAGDA MAYAS, BURKHARD STANGL - Plume (Unsounds)
JOHN BUTCHER / THOMAS LEHN / JOHN TILBURY - Exta (Fataka)
MICHAEL HURLEY - Watertrain (Tompkins Square)
DHOW - Dhow (Inam)
SILENI - Riders On the Conquering Worm (No Label)
MAKOTO KAWABATA - Drone (No Label)
NO JOY - Pastel and Pass Out EP (Mexican Summer)
WILDERNESS ROAD - Sold For Prevention of Disease Only (Real Gone Music)
ROSS JOHNSON AND JEFFREY EVANS - Vanity Session (Spacecase)
EAST-WEST COLLECTIVE - Humeurs (Rogue Art)
DEATH GRIPS - No Love Deep Web (Third Worlds)
EMIL BEAULIEU / JASON LESCALLEET - Absurd #33 (Void)
7" Single List
TODD CLARK GROUP - Flame Over Philadelphia (Primal Pulse)
SILVER CHALISE - Wasted (Munster)
PROTO IDIOT - You're Wrong (Trouble In Mind)
HOT LUNCH - Uprooted (TYM)
EASTLINK - Angel Gun (In the Red)
VIDEO - Join the (Hate) Wave (Total Punk)
THE YOLKS - $2 Out the Door (Randy)
THE MEMORIES - American Summer (Randy)
ENDLESS BUMMER - Ripper Current (In the Red)
VARIOUS - Big Itch Club (Bachelor)
RPM List
PATRICK COWLEY - School Daze (Dark Entries)
CONRAD SCHNITZLER - Conrad Schnitzler (Grey) (Bureau B)
CARTER TUTTI - Remix Chris & Cosey (Conspiracy International)
VARIOUS - L.I.E.S. Presents Music For Shut-Ins (Long Island Electrical Systems)
VARIOUS - Livity Sound (Livity Sound)
BEST AVAILABLE TECHNOLOGY - Bangers and Ash (Styles Upon Styles)
MARCOS CABRAL - False Memories (Long Island Electrical Systems)
BURIAL - Rival Dealer (Hyperdub)
BOBBY DRAINO - Brain Drain (100% Silk)
ECHOLOGIST - Storming Heaven (Prologue)
Jazz List
SUN RA AND HIS ARKESTRA - My Way Is the Spaceways: Space Poetry Vol. 4 (Norton)
ROLAND YOUNG - Hearsay I-Land (Palto Flats)
HARMUT GEERKEN'S ROCK AND FREE JAZZ GROUP KABUL - Live at Goethe Institute 1976 (Holidays)
THE CLAUDIA QUINTET - September (Cuneiform)
SOUND AND FURY - Pulsacion (Ektro)
JOHN BUTCHER, TONY BUCK, MAGDA MAYAS , BURKHARD STANGL - Plume (Unsounds)
BORBETOMAGUS - Vole Lotta Love (Verdura)
MATT BAUDER - And Day In Pictures (Clean Feed)
"A" TRIO - Live In Nicklesdorf (Roaratorio)
LEONG LAU - Dragon Man (Strawberry Rain)
Loud List
HOT LUNCH - Uprooted (TYM)
ROBERT BEATTY - Soundtracks For Takeshi Murata (Glistening Examples)
MAMMATUS - Heady Mental (Spiritual Pajamas)
PRIMITIVE CALCULATORS - I Can't Stop It (Desire)
LORD TIME - Black Hole at the End of the Tunnel (Universal Consciousness)
SEWERS - Hoisted (Homeless)
DESOLATING THE CURSE - Desolating the Curse (Nice Up)
EARTHLESS - Live In Guadalest)
SISSY SPACEK - Dash/Anti-Clockwise (Gilgongo)
20.SV - The Great Sonic Wave (Cavity)
World List
BRIGITTE FONTAINE - Est...Folee (Superior Viaduct)
JOE HIGGS - Life of Contradiction (Pressure Sounds)
DEBRUIT & ALSARAH - Aljawal (Soundway)
JUANECO Y SU COMBO - The Birth of Jungle Cumbia (The Vital Record)
EBO TAYLOR & UHURI YENZU - Nkru! (Mr. Bongo)
SALVADOR TRIO - Salvador Trio (Mr. Bongo)
MUSI-O-TUNYA - Give Love To Your Children (Now-Again)
IBIBIO SOUND MACHINE - s/t (Soundway)
TINARIWEN - Emmaar (Anti)
KOUDEDE - Guitars From Agadez Vol. 7 (Sublime Frequencies)
Hip-Hop List
7 DAYS OF FUNK - 7 Days of Funk (Stones Throw)
MURO: KING OF DIGGIN' - Diggin' OST (Octave/Ultra-Vibe)
DLS VS. SP - Repent Replenish Repeat (Strange Famous)
SAGE FRANCIS - Sick To D(eat)h (Strange Famous)
SLEAFORD MODS - Austerity Dogs (Harbinger Sound)
PHAROAHE MONCH - PTSD: Post Traumatic Stress Disorder (W.A.R. Media)
AWOL ONE & GEL ROC - The Cloaks (Abalano Records)
MOBONIX - Machine Man (XIL)
DJ PLANTURN - So This Is De La Heaven Vol. 2 (Platurn/The 45 Sessions/Oakland Faders/Manifest)
VARIOUS - Hit and Run Presents 777 (Hit and Run)
Cassette List
DESOLATING THE CURSE - s/t (Nice Up)
I AM THE LAKE OF FIRE - s/t (Unread Tapes)
RODMAN MELCHIOR / MELCHIOR RODMAN - s/t (Fabrica)
CHAUCHAT - Wreckage (Unread)
CHARLES B. DUBE - Publics (Augurari)
THE TENSES & GUZO - Full-On Rager (Obsolete Units)
CITY YELPS - Cheap Psych (Horsey Music)
BLUDDED HEAD - Bludded Death (Sleeping Giant Glossolalia)
DANE PATTERSON - Ghosting (Fabrica)
BOB BELLERUE - Fine Phenomena (Robert & Leopold)
UPCOMING SPECIALS ON WFMU:
Peter Stormare on Ramases
Thursday, May 1st, 9am - Noon
on
Surface Noise with Joe McGasko
Actor, musician, and producer Peter Stormare drops by Surface Noise to talk about psychedelic mystery man Ramases, who recorded two classic albums in the early '70s for Vertigo Records,
Space Hymns and Glass Top Coffin
. Stormare's Stormvox Records has issued an amazing 6-CD set of Ramses recordings called
Complete Discography
, which includes the albums as well as a huge amount of previously unreleased material. We'll hear cuts from the release and find out more about the man behind them.
Somnambulism by Serena-Maneesh
Thursday, May 1st, 3pm - 6pm
on
Strength Through Failure with Fabio
On thursday, May 1, Fabio will air a recording from a unique live performance of Somnambulism by Serena-Maneesh and vocal ensemble -- an homage to Norwegian composer Arne Nordheim, which was part of the Ultima Festival at Issue Project Room on April 26. Thursday, May 1st, 3-6pm on Strength through Failure.
Arpan: A New Generation of Indian Classical Virtuosos
Saturday, May 3rd, 6pm - 9pm
on Transpacific Sound Paradise with Rob Weisberg
Arpan
is a youthful all-star ensemble of Indian classical instrumentalists led by harmonium player and composer Kedar Naphade. Arpan's FMU session previews the group's participation in a very special yearly happening:
The 15th annual all-night Indian classical concert
, Saturday night May 10th (into Sunday morning) at the Society for Ethical Culture in Manhattan.
Hallock Hill
Monday, May 5th, 9pm - Midnight
on Airborne Event with Dan Bodah
Tom Lecky has been releasing meditative improvised music under the name Hallock Hill since 2011. Hallock Hill's music is primarily made with guitar and, lately, piano, but other instruments and production elements also make appearances. It's careful music full of questioning -- curious, even wide-eyed, though never naive. The music is abstract, but it communicates in a narrative and visual way that's unusual for improvisation. A very special surprise guest will also join Hallock Hill in the studio.
Kevin Morby
Tuesday, May 6th, 9am - Noon
on
This Is The Modern World with Trouble
The wonderful Kevin Morby does a gorgeous solo set on This is the Modern World with Trouble. Kevin will perform a few songs from his super fab "Harlem River" record, AND a few brand new titles! Gasp, sooooo good.
The Safes
Tuesday, May 6th, Noon - 3pm
on Three Chord Monte with Joe Belock
It's punk rock and roll family style with the safes as Chicago's O'Malley brothers return to WFMU for the third time, touring behind their new album, 'Record Heat.'
SEA to SEA
Wednesday, May 7th, 7pm - 10pm
on Bodega Pop Live with Gary Sullivan
(on
Give the Drummer Radio stream
)
Bollywood-influenced Kampuchean synth, French pop made by Southeast Asian immigrants in Paris, rippin' Lao metal-hip hop, obscure collections by Luk Thung giants and never-heard-before '60s Cambodian rock — from CDs Gary recently plucked off the shelves of Phnom Penh Market and Vientiane Asian Grocery Store in one of Seattle's most diverse ZIP codes.
Zombie Zombie
Thursday, May 8th, 3am - 6am
on Dark Night of the Soul with Julie
Don't let the name fool you, Zombie Zombie is no horror band. They may have become known for their interpretations of the music from John Carpenter films but now they're the ones creating the score. Playing primarily instrumental pieces built around analog synth, drums and other noises, Zombie Zombie is a world apart from previous Dark Night guests but you'll never forget your trip to space with them.
Sam Moss
Saturday, May 10th, 6am - 9am
on
Shrunken Planet with Jeffrey Davison
Songwriter and string player Sam Moss stopped by WFMU recently, during a long-overdue trip to New York, and recorded a set of mostly original tunes. His latest album, No Kingdom, is his eighth solo release. A track of his was also included on Tompkins Square's Imaginational Anthem, Volume 4, and Sam went on to curate the following volume. The series has featured the very best contemporary guitarists. Sam is also a member of more than one old-timey outfit, including the Howling Kettles. He will be returning to the area for a gig at Pete's Candy Store on Sunday, June 8th.
La Nuit Obscure de L'âme Part Deux with special guest DJ Glockabelle
Thursday, May 15th, 3am - 6am
on
Dark Night of the Soul with Julie
The French once again invade the Dark Night of the Soul as Glockabelle returns live to combine her French music collection with Julie's to give an advanced lesson in une marelle musicale française (French freeform) taking you beyond the rudiments of Gainsbourg, Gall & Piaf.
Joel Selvin, author of the new Bert Berns biography "Here Comes The Night"
Saturday, May 17th, 11am - 1pm
on Michael Shelley's show
Michael welcomes Joel Selvin author of "Here Comes The Night" which chronicles the life and short but prolific career of Bert Berns, the force behind over fifty chart singles including work with Solomon Burke, The Drifters, Emma Franklin, The Isley Brothers, Lulu, Van Morrison, Wilson Picket and tons more!
Joe Bataan and Harvey Averne
Tuesday, May 20th, 9am - Noon
on
This Is The Modern World with Trouble
The triumphant return of boogaloo super heroes Joe Bataan and Harvey Averne to This is the Modern World. Trouble promises to learn to speak Spanish for their morning visit. No really. DJ extrodinaire Pat Longo will man the wheels of steel. Guaranteed fantabulous stories from the past and plans for the boogaloo future!
The New Lines
Tuesday, May 27th, 9am - Noon
on
This Is The Modern World with Trouble
This is the Modern World welcomes the New Lines! May 23rd they will be rowing across the Hudson, dinghy overflowing with vintage organs, to officially ring in NYC Popfest week. 60's and early 70's pop psych sounds for our alien landscape. Viva la revolution! But first buy your tickets for NYC Popfest - May 29-June 1.
Coffins
Tuesday, May 27th, 3pm - 6pm
on Brian Turner's show
Japan's contemporary masters of downtuned, doom-tinged death metal arrive in Jersey City today on Brian's show. Dirty riffage, harrowing vox, these guys are a crushing live experience to behold; check them out on air today or at St. Vitus in Greenpoint on May 20th.
Dead Leaf Echo
Thursday, May 29th, 3am - 6am
on Dark Night of the Soul with Julie
Dreampop, shoegaze, ambient, all these words can be used to describe the Brooklyn four-piece, but they aren't easily confined. Centered around LG Galleon's echoing electric twelve string and featuring male often combined with female vocals, DLE's sound focuses more on the ethereal dreaminess reminiscent of '90s era 4AD than the distorted noise common in shoegazers. Dead Leaf Echo will be playing a tribute show for their frequent collaborator Christo Buffam at the Silent Barn on May 31st.