WFMU
PO Box 5101
Hoboken, NJ 07030
broadcasting from Jersey City 91.1 FM/90.1 FM
Audio Feed and Archives: www.wfmu.org
Podcasts: podcast.wfmu.org
Blog: blog.wfmu.org
Facebook: www.facebook.com/wfmuradio
Twitter: http://twitter.com/#!/wfmu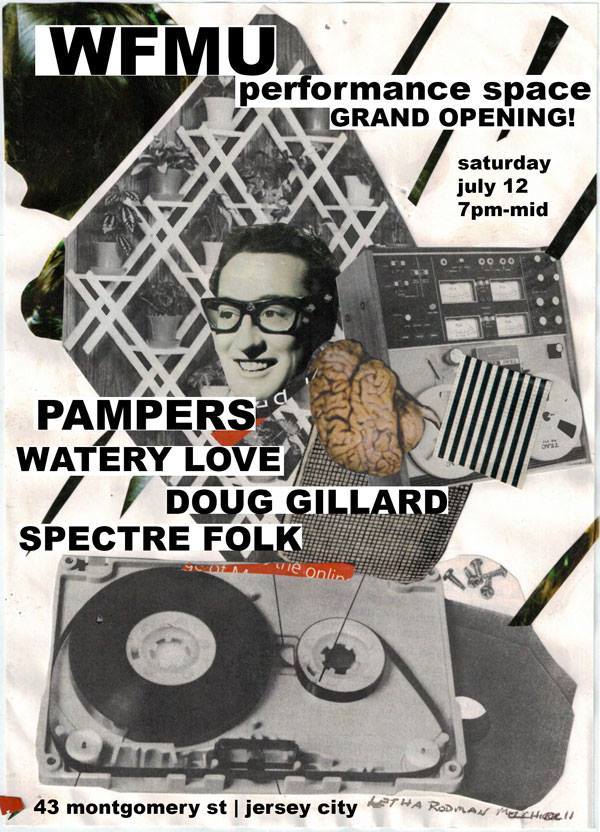 Heavy Airplay, June 27, 2014
VARIOUS - Wayfaring Strangers: Darkscorch Canticles (Numero)
VARIOUS - Bombay Disco: Disco Hits From Hindi Films 1979-1985 (Cultures of Soul)
NENEH CHERRY - Blank Project (Smalltown Supersound)
DVA - Nipomo (HomeTable)
VARIOUS - Punk 45 Vol. 2: Underground Punk and Post-Punk in the UK 1977-81 (Soul Jazz)
CARSICK CARS - 3 (Maybe Mars)
VARIOUS - Sombras: Spanish Post Punk & Dark Pop 1981-1986 (Munster)
MOUNT CARMEL - Get Pure (Alive)
PHAROAHS - Moan (Burger)
FAMILY FODDER - Monkey Banana Kitchen (Staubgold)
BOONLORM - String Figures (Ultra Vybe/Snow Dog/Wilde Calm)
VARIOUS - Who's a Punk? Very Best of British Punksplotation (Punk)
THE FALL - The Remainderer EP (Cherry Red)
LINDA PERHACS - The Soul of All Natural Things (Asthmatic Kitty)
LAURENCE VANAY - Galaxies (Societe Francaise)
MEANER PENCIL - Senza Amanti (Blue Dragon Moon)
DOUG GILLARD - Parade On (Nile Mile)
SEX CLARK FIVE - WFMU Session Monster Strum & Drum Hits (Records To Russia)
CHEVEU - Bum (Born Bad)
R MILLIS - Relief (Helen Scarsdale Agency)
BRETT SMILEY - Va Va Voom (Sing Sing)
THE STEVENS - A History of Hygiene (Chapter Music)
ORANGE JUICE - Rip It Up (Domino)
KOUDEDE - Guitars from Agadez Vol. 7 (Sublime Frequencies)
SOULJAZZ ORCHESTRA - Inner Fire (Strut Records)
SID SELVIDGE - The Cold of the Morning (Omnivore Recordings)
VARIOUS - Eccentric Soul: The Forte Label (Numero)
THE NOTWIST - Close To The Glass (Sub Pop)
VARIOUS - Haiti Direct: Big Band, Mini Jazz & Twoubadou Sounds, 1960-1978 (Strut)
WASNT WISNT - Steel Cut (No Label)
DEX ROMWEBER DUO - Images 13 (Bloodshot)
PULSE EMITTER - Planetary Scale Synth Hypnosis (Metal Postcard )
FA BONX - Jilto Boy (What's Yr Rupture?)
TINARWIEN - Emmaar (Anti-)
VARIOUS - Only 4U: The Sound of Cajmere & Casual Records 1992-2012 (Strut)
SPIKE - Orange Cloud Nine (Golf Channel)
DJ FEMALE CONVICT SCORPION - Clash Ups IV (No Label)
VARIOUS - Peru Maravilloso: Vintage Latin, Tropical & Cumbia (Strut / Tigers Milk)
CROW - The Best of Crow (Sundazed)
GONGA - Concrescence (Tonehenge)
DIE SCHACHT - Halber Selbstbetrug (Siltbreeze)
SPARKS - New Music for Amnesiacs: The Essential Collection (Lil Beethoven)
NATURAL CHILD - Dancin' With Wolves (Burger)
MORGAN DELT - S/T (Trouble In Mind)
NOX BOYS - Get Hip Recordings (GET HIP)
SWEET APPLE - The Golden Age of Glitter (Tee Pee)
SOLEX - Solex Ahoy! The Sound Map of the Netherlands (Series Aphonos)
BURNT SKULL - Sewer Birth ( 12XU)
CHALACHEW ASHENATI & ILITA BAND - Famo (Terp )
KRZYSZTOF KOMEDA - Dance of the Vampires (Series Aphonos)
MARY OCHER - Eden (Hairy Spider Legs)
CHRISTINA VANTZOU - No 2 (Kranky)
THE INSULTS - Population Zero (Last Laugh)
BUD POWELL - Birdland 1953 (ESP Disk)
FELIX KUBIN - Zemsta Plutona (Gagarin)
LIQUID STONE - Here Comes The Weekend (Sing Sing)
ALEK ET LES JAPONAISES - Kokekokko (No Label)
ALOA - Aloa (Medical )
THE MEN - Tomorrow's Hits (Sacred Bones)
SANDRA RHODES - Where's Your Love Been (Omnivore Recordings)
Medium Airplay
DOUG TUTTLE - S/T (Trouble In Mind)
DANIELE BRUSASCHETTO - Rapida E Indolore (Bosco)
AKKORD - Akkord (Houndstooth)
CHERRY GLAZERR - Haxel Princess (Burger)
OVVL - Vintage Hard-Rocking Metal of Doom (Storm Spell)
DAMAGED BUG - Hubba Bubba (Castle Face)
ENBILULUGUGAL - Noizemongers For Goatserpent (Crucial Blast)
THE SEE SEE - Days, Nights & Late Morning Lites (Sundazed)
DEEKAY JONES - Jones Comin' Down (Shaddock)
VARIOUS - Crystallized Celebrating 15 Years of Rocket Recordings (Rocket)
DINMACHINE - Dance Is Reason (Yocto Yotta)
DICK DIVER & LOWER PLENTY - Altona (Matador)
VARIOUS - Mountains of Tongues: Musical Dialects of the Caucasus (Living Music Dupli-Cation)
THE BAD LOVERS - Wild Times (Burger)
LOST KIDS - Cola Freaks (Sing Sing)
THEE TSUNAMIS - Delerium and Dark Waters (Magnetic South)
GUITAR WOLF - Beast Vibrator (Ki Oon / Guitar Wolf)
KUCHARCZYK - Best Fail Compilation (Monotype)
BIG RICHARD INSECT - Cop Out Animals (Major Crimes)
MULTIPLE MAN - Body Double (Major Crimes)
SPECIAL REQUEST - Soul Music (Houndstooth)
VARIOUS - Live at Amarrass Desert Music Festival 2011 (Amarrass)
TETUZI AKIYAMA & ANLA COURTIS - Naranja Songs (Public Eyesore)
TEISCO - Chitarra, Moog, Tastiere, Basso Elettrico, Percussioni & Effetti Particolari (Dual Planet)
FABIO FRIZZI - Zombie Flesh Eaters (Death Waltz)
PSYCHIC ILLS - Radar Eyes (Sacred Bones)
LOVEYDOVE - S/T (LA's Fine)
MV & EE WITH THE GOLDEN ROAD - Shade Crown (Child of Microtones)
INFANTS - Giant Leg (Tiger Trap)
CHARLES ALBRIGHT - The First Four Years (No Label)
JACCO GARDNER - The End Of August (Trouble In Mind)
STEVEN R. SMITH / ULAAN KHOL - Ending / Returning (Immune)
CHEATER SLICKS - Live Vol. 3 (Columbus Discount)
JOHN CARPENTER - Prince Of Darkness (Death Waltz)
THE UNSEMBLE - The Unsemble (Ipecac)
CHICAGO UNDERGROUND DUO - Locus (Northern-Spy)
VARIOUS - I Am the Resurrection: A Tribute To John Fahey (Vanguard)
BARDO POND - Shone Like a Ton (Three Lobed)
JESSE SPARHAWK & ERIC CARBONARA - Tributes & Diatribes (VHF)
WOODSMAN - Firetalk (Never Better)
KLAUS JOHANN GROBE - Nicht Zu Stoppen (Trouble In Mind)
BOHREN & DER CLUB OF GORE - Piano Nights (Ipecac)
UV RACE - Demos (Carpet Doctor)
AVA LUNA - Electric Ballroom (Western Vinyl)
ACTRESS - Ghettoville (Werkdiscs)
DAVID LYNCH - Bad The John Boy (Bobkind)
CITY YELPS - Cheap Psych (Horsey Music)
SPEEDY ORITZ - Real Hair (Carpark)
ANNE HYTTA - Draumsyn (Carpe Diem)
SHOES THIS HIGH - Straight To Hell (Siltbreeze)
VOCOKESH / KRAMPUSO - Split LP (After Music Recordings)
GENTLEMEN - Cholera (Jeth-Row Records)
SHOUKICHI KINA / PASCAL PLANTINGA - Washinnayo (Atatak)
MATT KING - Songs For the Offering (Cosmic America)
COHO LIPS - Less of Everything (Matador)
MUSI-O-TUNYA - Give Love To Your Children (Now-Again)
IRON DOGS - Wild and Free (Dying Victims)
CORRECTIONS HOUSE - Last City Zero (Neurot Recordings)
G*PARK - Sub (23five)
THE REVALATIONS - The Revalations (Schema)
SUMIE - Sumie (Bella Union)
UFOMAMMUT - Oro: Opus Alter (Neurot Recordings)
THE HOWLING WIND - Of Babylon (Profound Lore)
EINSTURZENDE NEUBAUTEN - Klaviermusik (Musterhaus)
OILY BOYS - Majesty (Disinfect)
VARIOUS - Musique Concrete Soundtracks To Experimental Short Films Vol. 1-3 (New England Electric Music Company)
LEATHER STRIP - Teenage Demos (Dark Entries)
UNWOUND - Kid Is Gone (Numero)
REINALDO LADDAGA - Things That A Mutant Needs To Know (Unsounds)
OFFICER! - Ossification (Megaphone/Knock Em' Dead)
EMITER - Air / Field / Feedback (Monotype)
POTPIE VS. KRYSZTOF - Potpie Vs. Krysztof (Backporch Revolution)
SULTAN BATTERY - Sultan Battery (Slovenly)
KETAMINES - Take Me To Your Leader (Leaning Trees)
DIGITAL PRIMITIVES - Lipsomuch (Hopscotch)
CASTEVET - Obsian (Profound Lore)
RICHARD YOUNGS - Stolen (Dirty Knobby)
CURLY PUTMAN - Curly Putman's World (Omni)
DREKKA - Ekki Gera Finniefnum (Dais)
GANESH ANANDAN / JOHN GZOWSKI - Shruti Project (Actuelle)
HAVE A NICE LIFE - The Unnatural World (The Flenser)
THE MANDATES - The Mandates (Mammoth Cave Recording Co.)
DEATH VESSEL - Island Intervals (Sub Pop)
PIERRE SOGOL - Et En (Entheogenic )
TEETH OF THE SEA - Master (Rocket )
VASAELETH - All Uproarious Darkness (Profound Lore)
MATTIN - Songbook #5 (Disembraining What Is Not Music)

Light Airplay
D. CHARLES SPEER & THE HELIX - Doubled Exposure (Thrill Jockey)
OU - Pisces Crisis (No Label)
THALIA ZEDEK BAND - Six (Thrill Jockey)
DJ PLATURN - So This Is De La Heaven Vol. 2 (Platurn / The 45 Sessions / Oakland Faders / Manifest)
MUDHONEY - Live at Third Man Records (Third Man)
JOHNNY ILL BAND - Post Office (Dusty Medical)
THE DEVIL - S/T (Copy)
TOWSON GLEN ARM FREAKOUTS - Towson Glen Arm Freakouts 2 (No Label)
DARK BARGAIN / VOLTIGEURS - No Title - Seven Inch Split (Turgid Animal)
CORTEX - Vol. 2 (Trad Vibe)
THE SHRINE - Bless Off (Tee Pee)
THE SOFT MOON - Feel (No Label)
FIRE! - You Liked Me Five Minutes Ago (Rune Grammofon)
MARK MCGUIRE - Along The Way (Dead Oceans)
TRICK MAMMOTH - Floristry (Fishrider)
GRAVEN RITE - Jewels of Gwahlur Vol II (Stormspell)
MICHAEL WOHL - Solo Guitar (Nite King)
OUTER SPACES - I Was Divided (Matador)
VIGILANTE - Jewels of Gwahlur Vol IV (Stormspell)
SAM SHALABI - Music for Arabs (Majmua)
MISS LANA REBEL - All I Need (Wantage USA)
SACRED PRODUCT - Wastex (Quemada)
BELFI / GRUBBS / PILIA - Dust & Mirrors (Blue Chopsticks)
RED RED KROVVY - 7 (R.I.P Society)
MASSIMO FALASCONE - Variazioni Mumacs (Public Eyesore)
CLOUD NOTHINGS - Red Alert Jailbreak! (Square)
PETER HAMMILL - GARY LUCAS - Other World (Cherry Red)
PSEUDO NIPPON - Colorama (Tigertrap)
AZIZA BRAHIM - Soultak (Glitterbeat)
DENITA AND SENE - His and Hers (Input/Snow Dog)
LAMBCHOP - Nixon (MERGE)
THE HUNT - The Hunt Begins (Sacred Bones)
THE SMITHEREENS - Play The Beatles Washington, D.C February 11, 1964 Concert (No Label)
GHETTO GHOULS - Ghetto Ghouls (Monofonus Press)
HEADLOCK - Headlock (Sci-Fi and Fantasy)
AWAKEN! - Awaken! (No Label)
CARLENE CARTER - Carter Girl (Rounder)
LAVENDER COUNTRY - Lavender Country (Paradise of Bachelors)
THE WRONG MAN - Keep Face (Swashbuckling Hobo)
THE BO-KEYS - Electraphonic Singles (Electraphonic)
DIAT - Everyday (Iron Lung)
RAZORLEGS - Razorlegs (No Label)
DANE PATTERSON - Ghosting (Fabrica)
SOLIDS - Blame Confusion (Fat Possum)
SEEDED PLAIN - Provincial Stammer (Bug Incision)
ACUALLI - Pact Of Possession (Crepusculo Negro)
RODMAN MELCHIOR / MELCHIOR RODMAN - Rodman Melchior / Melchior Rodman (Fabrica)
INHALT - Occupations (Dark Entries)
PENGUIN FEET & THE TEARDROP KID - Penguin Feet & The Teardrop Kid (HDM)
DOUG PAISLEY - Strong Feelings (No Quarter)
THE UNQUIET GRAVE - When the Smoke Cleared (No Label)
ANNA HOLMER & SYLVIA HALLETT - The Many Moods Of Bread & Shed (The Orchestra Pit)
CHUCK BERRY WHITE HOUSE - Christmas/FC (No Label)
MARK LANEGAN - Has God Seen My Shadow? An Anthology 1989-2011 (Light In the Attic)
JOHN DAVIS - Ask The Dust (Got To Groove)
JIMMIE DRIFTWOOD - Jimmie Driftwood Sings Newly Discovered Early American Folk Songs (Omni)
WILD BEASTS - Present Tense (Domino)
BERNIBAS MILICIEA - Nevieta (AAD)
AXXA / ABRAXAS - Axxa / Abraxas (Captured Tracks)
RON TUBMAN - SUGARM - Ron Tubman - Sugarm (Hausu Mountain)
SILVER CYPHER - Adfectus Infernus (No Label)
REVOLUTIONARY SNAKE ENSEMBLE - Live Snakes (Accurate)
NUMBSKULL - Final Days of Torture (My Mind's Eye Records/Collinwood)
STANLEY SCHUMACHER - No Technique For Three Trombones (Musikmacher Productions)
TATVAMASI - Parts Of The Entirety (Cuneiform)
JOHN BAIZLEY / NATE HALL / MIKE SCHEIDT - Songs of Townes Van Zandt Vol. 2 (Neurot Recordings)
ILLUM SPHERE - Ghosts of Then And Now (Ninja Tune)
GARDENS & VILLA - Dunes (Secretly Canadian)
LAWNMOWR - Lawnmowr (No Label)
MATT BAUDER - And Day In Pictures (Clean Feed)
AMENRA - Mass V (Neurot Recordings)
POD BLOTZ - Radar And Nest (Chocolate Monk)
SUBROSA - More Constant Than the Gods (Profound Lore)
JUCIFER - There Is No Land Beyond the Volga (Alternative Tentacles)
VARIOUS - Hit and Run Presents (Hit and Run)
GENERATION LOSS - Generation Loss (Cut-Rate Records)
THOMAS TILLY - Script Geometry (Aposiopese)
TIM HODGKINSON - Onsets (MODE)
WHITE HILLS - The Process (Sonic Meditations)

7" Singles List
BRETT SMILEY - VaVaVoom (Sing Sing)
THE INSULTS - Population Zero (Last Laugh)
LIQUID STONE - Here Comes the Weekend (Sing Sing)
FA BONX - Jilto Boy (What's Yr Rupture?)
DICK DIVER & LOWER PLENTY - Altona (Matador)
DIE SCHACHT - Halber Selbstbetrug (Siltbreeze)
MULTIPLE MAN - Body Double (Major Crimes)
BIG RICHARD INSECT - Cop Out Animals (Major Crimes)
PSYCHIC ILLS - Radar Eyes (Sacred Bones)
THEE TSUNAMIS - Delerium and Dark Water (Magnetic South)
RPM List
BOONLORM - String Figures (Ultra Vybe/Snow Dog/Wide Calm)
VARIOUS - Onl
y 4U: The Sound of Cajmere & Casual Records 1992-2012 (Strut)
DJ FEMALE CONVICT SCORPION - Clash Ups IV (No Label)
FELIX KUBIN - Zemsta Plutona (Gagarin)
AKKORD - Akkord (Houndstooth)
SPECIAL REQUEST - Soul Music (Houndstooth)
ACTRESS - Ghettoville (Werkdiscs)
ECHOLOGIST - Storming Heaven (Prologue)
VARIOUS - Hyperdub 10.1 (Hyperdub)
DJ DIAMOND - Flight Muzik Reloaded (Planet Mu)
Jazz List
CHICAGO UNDERGROUND DUO - Locus (Northern-Spy)
DIGITAL PRIMITIVES - Lipsomuch (Hopscotch)
FIRE! - You Liked Me Five Minutes Ago (Rune Grammofon)
GILSON ET MALAGASY - Gilson et Malagasy (Jazzman)
ANDREW RAFFO DWAR - Interactions Quartet (Rastascan)
JOHN CARTER & BOBBY BRADFORD - Tandem (Emanem)
NELS CLINE SINGERS - Macroscope (Cryptogramophone)
HANNIBAL - The Tribe (Kindred Spirits)
JACQUES COURSIL/ALAN SILVA - FreeJazzArt Sessions for Bill Dixon (Rogue Art)
VARIOUS - Creative Music Studio: Archive Selections Vol. 1 (Innova)
World List
DVA - Nipomo (HomeTable)
VARIOUS - Sombras: Spanish Post Punk & Dark Pop 1981-86 (Munster)
KOUDEDE - Guitars From Agadez Vol. 7 (Sublime Frequencies)
VARIOUS - Haiti Direct: Big Band, Mini Jazz & Twoubadou Sounds 1960-78 (Strut)
TINARIWEN - Emmaar (Anti-)
VARIOUS - Peru Maravilloso: Vintage Latin, Tropical & Cumbia (Strut/Tigers Milk)
CHALACHEW ASHENATI & ILITA BAND - Famo (Terp)
VARIOUS - Mountains of Tongues: Musical Dialects of the Caucasus (Living Music Dupli-Cation)
VARIOUS - Live at Amarrass Desert Music Festival 2011 (Amarrass)
MUSI-O-TUNYA - Give Love To Your Children (Now-Again)
Loud List
GONGA - Concrescence (Tonehenge)
BURNT SKULL - Sewer Birth (12XU)
OVVL - Vintage Hard-Rocking Metal of Doom (Stormspell)
ENBILULUGUGAL - Noizemongers For Goatserpent (Crucial Blast)
IRON DOGS - Wild and Free (Dying Victims)
DARK BARGAIN / VOLTIGEURS - No Title - Seven Inch Split (Turgid Animal)
VIGILANTE - Jewels of Gwahlur Vol IV (Stormspell)
POD BLOTZ - Radar And Nest (Chocolate Monk)
TOMBS - Savage Gold (Relapse)
FLOOR - Oblation (Season of Mist)
Hip-Hop List
DEEKAY JONES - Jones Comin' Down (Shaddock)
MOBONIX - Machine Man (XiL)
OMID WALIZADEH - Modern Persian Speech Sounds (Bta'arof)
CYNE - All My Angles Are Right (Home Tapes)
GRIEVES - Winter & the Wolves (Rhymesayers)
SLEAFORD MODS - Divide and Exit (Harbinger Sound)
SOULS OF MISCHIEF - 93 Til Infinity (Get on Down/RCA)
ATMOSPHERE - Southsiders (Rhymesayers)
SWOLLEN MEMBERS - Brand New Day (Battle Axe)
SAGE FRANCIS - Copper Gone (Strange Famous)
Cassette List
CITY YELPS - Cheap Psych (Horsey Music)
MICHAEL WOHL - Solo Guitar (Night King)
CHUCK BERRY WHITE HOUSE - Christmas/FC (No Label)
ACUALLI - Pact of Possession (Crepusculo Negro)
DANE PATTERSON - Ghosting (Fabrica)
RODMAN MELCHIOR / MELCHIOR RODMAN - s/t (Fabrica)
WHITE HILLS - The Process (Sonic Meditations)
TASHI DORJI - Blue Twelve (Blue Tapes)
ZAIMPH & YEK KOO - L'interieur de la Vue (Obsolete Units)
A HANDFUL OF DUST - From a Soundtrack To the Anabase of St-John Perse (Imminent Frequencies)
WFMU's Performance Space officially opens its doors to the public on Saturday, July 12th!
Tickets are on sale
for our grand opening party, with live sets by
Pampers, Watery Love, Doug Gillard, and Spectre Folk
. Admission is $12, and all proceeds from ticket and beverage sales go to WFMU.
UPCOMING SPECIALS ON WFMU:
Put The Needle on The LP, LIC
Friday, June 27th, 7pm - 8pm
on
Put The Needle On The Record with Billy Jam
Following two recent live broadcasts from California Billy Jam and the WFMU remote broadcast unit return to the East Coast for a live radio show from endangered community arts space LP (Local Project) in Long Island City, Queens, NY where this Friday WFMU will broadcast live for one hour during an art opening. Guests on the mic will include LP curator Carolina Penafiel, local spoken word artists including Leon Marin, and visiting "krip-hop" act Wheelchair Sports Camp from Denver Colorado. Formerly at nearby 5POINTZ until being displaced from that graffiti mecca in late 2013, LP is currently located at 11-27 44th Road, Long Island City, Queens, NY 11101 - free and open to the public.
Scott Ligon of NRBQ
Saturday, June 28th, 11am - 1pm
on Michael Shelley's show
Michael welcomes NRBQ's Scott Ligon to discuss the band's new album "Brass Tacks" and their current tour, which brings them NYC's BB Kings July 21st.
Vanya Zhuk and heavy mensches: Psychedelic Russian punk klezmer
Saturday, June 28th, 6pm - 9pm
on Transpacific Sound Paradise with Rob Weisberg
Klezmer is a big part of Moscow's growing world and roots music scene. But Vanya Zhuk's band
Nayekhovichi
stands apart with its rock and roll sound and spirit. Vanya's music combines traditional and original Yiddish and Russian songs with psychedlia, punk and lots more. Vanya crossed the pond along with fellow Muscovite Garik B. for the annual
Jet Lag Russian roots & rock festival
in upstate NY, and a gig at
Barbes
in Park Slope on Sunday July 6th. And they team up with an all-star trio of NY/NJ-based klez-rockers for a raucous one-of-a-kind FMU session tonight.
Beth Sorrentino
Monday, June 30th, Noon - 3pm
on Irene Trudel's show
In the early 1990's, Beth Sorrentino had a good run with the pop trio suddenly, tammy! before going the solo route. Sorrentino became a singer-songwriter by night, and by day, a creative arts director and piano teacher at several acclaimed public and private schools in the NYC area. Beth's back with "Would You Like To Go: A Curt Boettcher Songbook," a fun collection of '60s sunshine pop by the late songwriter best known for his work with The Association, Saggitarius and The Millennium. Beth Sorrentino plays some of those great tunes (and maybe a few of her own) live on Irene's show.
Father Murphy
Monday, June 30th, 3:01pm - 6pm
on Scott Williams's show
Trevino duo
Father Murphy
brings all the weight of its Catholic Italian upbringing into deep dark sonic explorations of fear, failure, and guilt. Julian Cope calls them exemplars of the "new Italian Occult Psychedelia", and the phrase is somewhat apt. There will be giallo organs in a minor key. Catch them live on Scott's show, Monday June 30, 3:01-6pm.
Ben Seretan
Monday, June 30th, 9pm - Midnight
on Airborne Event with Dan Bodah
Ben Seretan returns to Airborne Event for a live performance of "Three Sisters," an extended guitar suite inspired by his time in Alaska last summer. Tune in for blissful summer sounds.
Nox Boys
Tuesday, July 1st, Noon - 3pm
on Three Chord Monte with Joe Belock
The "Nox" comes from their hometown of Blawnox, Pa. and these crazy suburban Pittsburgh teens, boosted by veteran slide guitarist Bob Powers, channel the energy and insanity of the patron garage saints of their region, the Swamp Rats. Their debut self-titled LP on Get Hip is an instant 21st-century classic, tune in and hear what they can do live!
ONO
Tuesday, July 1st, 3pm - 6pm
on Brian Turner's show
A visit to Brian's show from this seasoned experimental unit from Chicago. ONO first appeared on the scene in the 1980's and have resurrected in recent years to record and tour anew. Self-depicted as "industrial noise gospel", the band traverses lines between free jazz, Pere Ubu, Suicide, Beefheart and Throbbing Gristle, and are on tour behind their recent fourth album, Diegesis, on Moniker Records.
Musician/photographer Paul Zone
Wednesday, July 2nd, 9pm - Midnight
on The Evan "Funk" Davies Show
Paul Zone's new book
Playground: Growing Up in the New York Underground
documents a transitional time in New York music history: the years when a bridge from the glam-rock of the New York Dolls to the straight-up punk of The Ramones was being built by bands like The Mumps, Milk 'n' Cookies, The Miamis and The Fast. A teenaged Paul Zone was the singer in The Fast; he also became the resident DJ at Max's Kansas City, and went to numerous shows at the Mercer Arts Center, CBGB, Club 82 and other soon-to-be-legendary venues. Paul Zone's photos include on-stage and off-stage shots of Blondie, Suicide, Lydia Lunch, the Dead Boys, and many others -- including, perhaps more importantly, other prominent acts of that era that remain lesser-known today. After numerous worldwide exhibits his photos are collected for the first time in this exciting new book. Tune in at 9pm Wednesday night, July 2, as Paul Zone shares the stories behind the images with WFMU listeners.
Valerie Gentile & Abbey Nex
Thursday, July 3rd, 3am - 6am
on
Dark Night of the Soul with Julie
The musical resumes of
Valerie Gentile
&
Abbey Nex
read like a who's who of contemporary goth and industrial: Cruxshadows, Black Tape for a Blue Girl, Angelspit, Combichrist, Genitorturers. But now they've joined forces as a duo, mingling Valerie's upbeat goth-pop with Abbey's darker industrial sound.
Inflatable Minotaur Carcass, 4th of July Special
Friday, July 4th, 3pm - 6pm
on
Miniature Minotaurs with Kurt Gottschalk
Tune in on the afternoon of the Fourth of July as the inimitable Rich Hazelton descends into the minotaur lair in an effort to find, if not love for country, then at least love for patriotic song. The ballyhooed Bruce Springsteen / John Cougar Mellencamp challenge, however, will most likely be postponed at least until Armistice Day.
Gabriel Kahane
Monday, July 7th, Noon - 3pm
on Irene Trudel's show
With the release of his "Craigslist Lieder" Gabriel Kahane created the perfect blur between mundane social media and mock artsong. Since then, Kahane has created increasingly gorgeous chamber-pop, showcasing his sweet vocal style, but always finding the beauty and humor in life. Gabe's latest album, "The Ambassador," draws inspiration from "Bruce Willis' hair, detective fiction, modernist architecture, and race riots... a meditation on the underbelly of Los Angeles." Gabriel Kahane plays live on WFMU.
Brian Beattie
Wednesday, July 9th, 3pm - 6pm
on
Irwin Chusid
Brian Beattie will be Irwin's guest on July 9th. Formerly with the avant-pop Austin band Glass Eye, Beattie has produced albums by the Dead Milkmen, Daniel Johnston, Okkervil River, Shearwater, Amy Annelle, and Bill Callahan. His projects have been unpredictable, and his latest is no different. Beattie and his wife, artist Valerie Fowler, created "Ivy and the Wicker Suitcase," which they call an "illustrated ear-movie musical." It's a depression-era folkmyth in music, song, narration and sound effects, packaged in a lavishly illustrated hard-cover book. Performers include Daniel Johnston, Bill Callahan, Will Sheff, K. McCarty, James Hand, and Grace London. Brian Beattie and Valerie Fowler are taking "Ivy and the Wicker Suitcase" on tour, and will appear on WFMU on Weds. afternoon July 9th to explain how you promote an "Illustrated Ear-movie Musical."
Larry Tamblyn of The Standells
Saturday, July 12th, 11am - 1pm
on Michael Shelley's show
Michael welcomes Larry Tamblyn of archetypal 1960's L.A. garage rockers, The Standells - best know for their songs 'Dirty Water' and "Sometimes Good Guys Don't Wear White."
Michaela Anne
Monday, July 14th, Noon - 3pm
on Irene Trudel's show
Country music convert Michaela Anne turned away from her dissatisfying time as a jazz student after meeting bluegrass musician Michael Daves. She's been making people take notice at festivals like the Telluride Bluegrass Festival, Merlefest, and SXSW with her sweet soprano and plain-spoken songs. "Ease My Mind" is her resulting album, full of the turbulence of being a young woman in making her own path in America. Michaela Anne Plays live on Irene's show.
Second Annual Hostage Situation, Loss Leaders Edition (fill-in for Doug 9am-noon)
Friday, July 18th, 9am - 3pm
on
Hinky Dinky Time with Uncle Michael
(on
Give the Drummer Radio stream
)
Doug Schulkind takes a rare Friday morning off, once again leaving Uncle Michael holding a six-hour bag. Uncle Michael will fill it sharing favorites from his collection of Warner Brothers "Loss Leaders" samplers, spanning the complete history of the series.
Alien Whale
Monday, July 21st, 9pm - Midnight
on Airborne Event with Dan Bodah
Alien Whale is Colin Langenus (USAisaMonster), Matt Mottel (Talibam!), and Nick Lesley (Necking) and what they are doing in Alien Whale is as much a mystery as the ocean depths. Is this psychedelic metal hullaballoo? Is it jazzed-up muzak dirt bike rock? Proto avant primal scream prog? Don't ask, just tune in and hear its name with your own ears. The Alien Whale 10" EP is on Care in the Community Records.
People Who Only Need Another Beat
Wednesday, July 23rd, 9pm - Midnight
on
The Evan "Funk" Davies Show
Last year, three of WFMU's in-house drummers -- Dave Mandl, Irwin Chusid and Evan "Funk" Davies --
gathered to play songs featuring some of their own favorite time-keepers
. This year the rhythm section reconvenes with the addition of WFMU's own Dennis Diken, an Actual Professional Drummer! Irwin, Dennis and Dave will take turns presenting their favorite panjandrums of paradiddles and rulers of rolls, with EFD primarily acting as MC this time around. Tune in at 9pm on Wednesday July 23 for this three-hour drum throwdown on WFMU!
Tom Doyle author of the Paul McCartney biography "Man on the Run"
Saturday, July 26th, 11am - 1pm
on Michael Shelley's show
Michael Shelley welcomes author Tom Doyle whose new book "Man on the Run" chronicles Paul McCartney's life in the 1970's when the ex-Beatle was forced to redefine himself - releasing eccentric solo albums, embarking on a hippie lifestyle, forming a new band, and eventually helping define arena rock superstardom.
Al Margolis
Sunday, July 27th, 9pm - Midnight
on
World of Echo with Dave Mandl
On Sunday, July 27th, Dave Mandl welcomes musician, label-head, and experimental-music pioneer Al Margolis to FMU for their annual summer broadcast. Al runs the great avant-garde label Pogus Productions, performs live as "If, Bwana," and has been a key figure in the worldwide experimental music network for years. He'll be bringing a stack of rare and wonderful LPs, CDs, and cassettes to play for you.
Bobby Patterson
Saturday, August 2nd, 11am - 1pm
on
Michael Shelley's show
Michael Shelley chats with soul music ledged Bobby Patterson about his new album 'I Got More Soul!' and his August 10th show, outdoors at the Damrosch Park Bandshell in Manhattan.
P.F. Sloan
Saturday, August 9th, 11am - 1pm
on Michael Shelley's show
Michael Shelley welcomes songwriter/performer P.F. Sloan whose his hits including "Eve of Destruction" for Barry McGuire, "You Baby" for The Turtles, "A Must to Avoid" for Herman's Hermits and "Secret Agent Man" for Johnny Rivers and hundreds more. His new album "My Beethoven" has just been released.
Vicky and the Vengents
Tuesday, August 19th, Noon - 3pm
on Three Chord Monte with Joe Belock
Blasting out of Southern California with a love for all things dramatic and loud, Vicky and the Vengents throw girl-groups, guitars, grease and garage into the blender to come up with their own amazing sound!
Deke Dickerson
Saturday, October 25th, 11am - 1pm
on Michael Shelley's show
Michael Shelley chats with noted author, mind blowing guitarist, crack song writer, road warrior and member of show business Deke Dickerson about his career and new collaborative album "Los Straitjackets: Deke Dickerson Sings The Instrumental Hits" (released October 7) and tour (which brings the super group to Brooklyn's Bell House 10/31).
---
Want to see all the past events? Go here.
All times listed are Jersey City time, EDT.
Questions? E-mail
Brian
or call (201) 521-1416
To report problems with this page,
e-mail
the page administrator.