WFMU
PO Box 5101
Hoboken, NJ 07030
broadcasting from Jersey City 91.1 FM/90.1 FM
Audio Feed and Archives: www.wfmu.org
Podcasts: podcast.wfmu.org
Blog: blog.wfmu.org
Facebook: www.facebook.com/wfmuradio
Twitter: http://twitter.com/#!/wfmu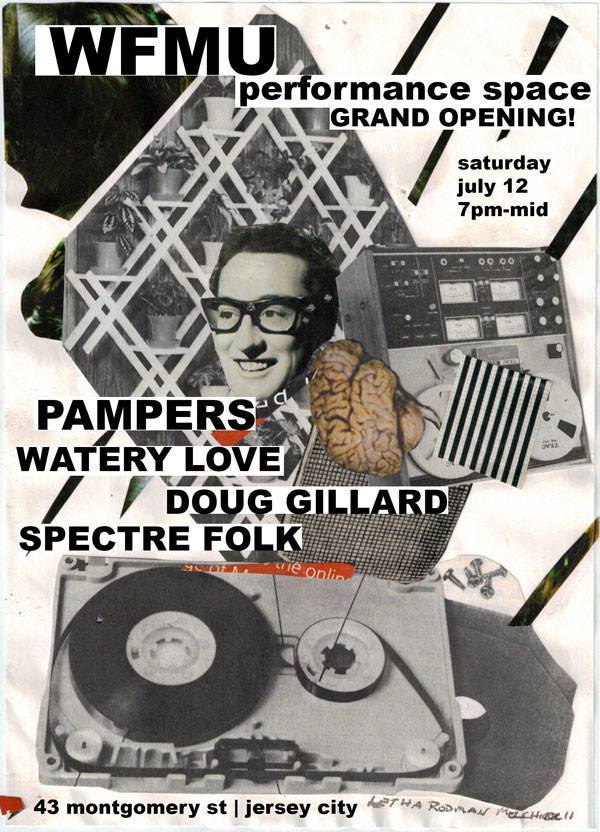 Heavy Airplay, July 16, 2014
LAURA CANTRELL - No Way There From Here (Thrift Shop Recordings)
VARIOUS - Hello Everyone: Popsike Sparks From Denmark Street 1968-70 (Grapefruit)
WARM SODA - Young Reckless Hearts (Castle Face)
JOHNNY NOISE - The Day Is Coming (Siltbreeze)
CHARLES COHEN - A Retrospective (Morphine)
VARIOUS - Poppsaga: Iceland's Pop Scene 1972-1977 (RPM)
VARIOUS - The Beat Generation Boxed (Enlightenment)
1-800-BAND - Diver Blue (Almost Ready)
TINY RUINS - Brightly Painted One (Bella Union)
ROKY ERICKSON - Gremlins Have Pictures (Light In the Attic)
JOHNNY CASH - Out Among the Stars (Legacy )
ALASTAIR GALBRAITH / JEAN JACQUES PALIX / DAVID WATSON - Pure Speculation (La Station Radar )
CHRISTOPHER BISSONNETTE - Essays In Idleness (Kranky)
ROCKFIRE FUNK EXPRESS - People Save the World (Third Man )
THE AXEMEN - Derry Legend (Luxury Products)
ALVARIUS B / SIR RICHARD BISHOP - If You Don't Like It...Don't! (Three Lobed)
BRAN FLAKES / EVOLUTION CONTROL COMMITTEE / GO HOME PRODUCTIONS - Raymond Scott Rewired (Basta)
THE PEOPLE'S TEMPLE - Musical Garden (HoZac)
ECHOLOGIST - Storming Heaven (Prologue )
PIAD GUYVESSANT - Volume 1 (Gold Bolus)
DIANE CLUCK - Boneset (Important)
WILD BILLY CHYLDISH - All Our Forts Are With You (Damaged Goods)
ELECTRIC EELS - Jaguar Ride (HoZac)
SUN RA & HIS ASTRO-INFINITY ARKESTRA - Other Strange Worlds (Roaratorio)
VARIOUS - Happy Machine: Standard Music Library 1970-2010 (Public Information)
DAVE VAN RONK - Down In Washington Square (Smithsonian Folkways)
CHEETAH CHROME - Solo (Dead Plowboy)
SUN KIL MOON - Benji (Caldo Verde)
VARIOUS - South Texas Rhythm 'N' Soul Revue (Kent / Ace)
CRASH COURSE IN SCIENCE - Signals From Pier Thirteen (Dark Entries)
PETER WALKER - Second Poem To Karmela or Gypsies Are Important (Light In the Attic)
VARIOUS - Tunnels (Unsound Festival NYC Sampler) (Unsound)
GEZAN - Katsute Uta Toiwaretasore (Important)
STEFAN JAWORZYN - Drained of Connotation (Blackest Ever Black)
THIEVERY CORPORATION - Saudade (ESL Music)
RUINED FORTUNE - Ruined Fortune (HoZac)
JAAP BLONK - Mixed From Heaven (Plant Migration)
SUN ARAW / RALPH WHITE - Split 12 (Momofonus Press)
VARIOUS - Purple Snow: Forecasting the Minneapolis Sound (Numero Group)
OFF! - Wasted Years (Vice )
LUZMILA CARPIO - Yuyay Jap'ina Tapes (Almost Musique)
DESTRUCTION UNIT - Void (Jolly Dream)
GEN KEN MONTGOMERY - Gen Ken Greatest Hits (DeFrabriek)
CHROME - Angel of the Clouds (King of Spades)
CONNECTIONS - Year One (Anyway)
JULIE BYRNE - Rooms With Walls and Windows (Orindal)
GREG ASHLEY - Another Generation of Slaves (Trouble In Mind)
THE COATHANGERS - Suck My Shirt (Suicide Squeeze)
LAMORT - Purge (HCB/Vulva Productions)
PEDER MANNERFELT - Lines Describing Circles (Digitalis Industries)
VARIOUS - Beat From Badsville Vol. 3 (Stag-O-Lee)
KLARA LEWIS - Ett (Editions Mego)

Medium Airplay
COMET CONTROL - Comet Control (Tee Pee)
VARIOUS - Rhythm 'N' Bluesin' By the Bayou (ACE)
LAKE - Circular Doorway (Water Island)
SORE EROS & KURT VILE - Jamaica Plain (Care In The Community)
MARCUS SCHMICKLER & JULIAN ROHRHUBER - Politiken der Frequenz (Editions Mego)
STEVE GUNN + MIKE GANGLOFF - Melodies For a Savage Fix (Important)
NELS CLINE SINGERS - Macroscope (Cryptogramophone)
LARAAJI - Two Sides of (All Saints)
WITHERED HAND - New Gods (Slumberland)
THOMAS EDISUN'S ELECTRIC LIGHT BULB BAND - The Red Day Album (Gear Fab)
TRIN TRAN - Far Reaches (Castle Face)
VARIOUS - Wire Tapper 34 (The Wire)
RICHARD YOUNGS - Regions of the Old School (Mie)
999999999 - White Devils (HoZac)
VARIOUS - Wolf Party: New Zealand Werewolf Sounds From Stink Magnetic (Voodoo Rhythm)
GINO AND THE GOONS - Troubled (Total Punk)
NEW BUMS - Voices In a Rented Room (Drag City)
GABOR SZABO - 1969 (DCC)
CAROL OF HARVEST - Carol of Harvest (Prog Temple )
VARIOUS - Danse Sacrale (Finders Keepers)
WALTER BISHOP JR. - Keeper of My Soul (Black Jazz)
LORELLE MEETS THE OBSOLETE - Chambers (Captcha )
GENE RUSSELL - Talk To My Lady (Black Jazz)
HIGH RISE II - High Rise II (Warded Halls)
IBIBIO SOUND MACHINE - Ibibio Sound Machine (Soundway)
THE BROTHERS AND SISTERS - Dylan's Gospel (Light In the Attic)
GIUSEPPE IELASI / ANDREW PEKLAR - Holiday For Sampler (Planam)
PICASTRO - You (Static Clang)
BURNT ONES - Gift (Castle Face)
SEC_ - Outflow (dEN / Toxo / HCB)
LIARS - Mess (Mute)
DRAGGING AN OX THROUGH WATER - Panic Sentry (Eggy / Mississippi)
BO ANDERS PERSSON - Love Is Here To Stay (Subliminal Sounds)
PSYCHE - Re-Membering Dwayne (Dark Entries)
PRIZEHOG - Re-Unvent the Whool (Eolian Empire)
LEONG LAU - Dragon Man (Strawberry Rain)
HORACE ANDY / PHIL PRATT - Get Wise (Piccadilly)
TOUMANI DIABATE & SIDIKI DIABATE - Toumani & Sidiki (World Circuit)
LENZ - Frozen Touch (Volar)
MELVINS - Live at Third Man Records (Third Man)
GUINEA WORMS / THE IN-OUT - Split 7 (Botulism Music)
NURSE WITH WOUND - Bar Maldoror (United Jnana)
VARIOUS - Let Know One Judge You: Early Recordings From Iran, 1906-33 (Honest Jons)
MILLIE & ANDREA - Millie & Andrea (Modern Love)
BRUNO SPOERRI - Teddy Bar / Lilith (Finders Keepers)
BUNNY LEE & FRIENDS - Good News (King Spinna)
WAYLON JENNINGS - Right For the Time (BCR)
VARIOUS - Bob Dylan In the 80's Vol. 1 (ATO)
SCORTILLA - 1981-1983: Nervous Wave From Genova (Synthetic Shadows)
DECIMUS - 10 (Further)
BUCK BILOXI AND THE FUCKS - Holodeck Survivor (Total Punk)
MARISA ANDERSON - Mercury (No Label)
GOLDEN PELICANS - Burn Everything (Pelican Pow Wow)
SMART BOYS - A Different World Now (Matador)
RADAR EYES - Positive Feedback (HoZac)
THOU - Heathen (Gilead Media)
CHEAP DINOSAURS - Triangle Trash (No Label)
BACK MAGIC - Chorus Line To Hell (Milvia Son)
GLENN KOTCHE - Adventureland (Cantaloupe Music)
FINE STEPS - All Day Long (Volar)
LURISTS - Volume One: Red & Blue (Dekorder)
THE NEW SURFSIDERS - Smile Medley (Norton )
ARAWAK - Accade A....... (Golden Pavillion / Light In the Attic)
TEENAGE BURRITOS - Danya (Volar)
YAABA FUNK - My Vote Dey Count (Sterns Music)
MANIAC - Dim Sum (La-Ti-Da)
VARIOUS - The Golden Groups: Best of Norton Records Volume 2 (Norton)
RUFUS THOMAS - Bear Cat (Third Man / Sun )
JACQUES LEJEUNE - Blanche Neige (Creel Pone)
CAMERON MICHAEL NICHOLS-RAGE - Let's Play! (Readymade Tapes)
SLEAFORD MODS - Austerity Dogs (Harbinger Sound)
VERTICAL SCRATCHERS - Daughter of Everything (Merge)
DAN MELCHIOR - Slow Down Tiger (Starlight Furniture Co.)
KAJA DRAKSLER - The Lives of Many Otehrs (Clean Feed)

Light Airplay
PERFECT PUSSY - Say Yes To Love (Captured Tracks)
JASON LESCALLEET - This Is What I Do Volume One (No Label)
TORN HAWK - Bad Deadlift (Long Island Electrical Systems)
SONNY KNIGHT & THE LAKERS - Hey Girl (Secret Stash)
CURRENT 93 - I Am the Last of All the Field That Fell (Durtro)
SOUNDTRACK - Ms. 45 (Death Waltz)
XIU XIU - Angel Guts: Red Classroom (Polyvinyl)
JEAN-CLAUDE RISSET - Music From Computer (Recollection GRM)
MALACHAI - Beyond Ugly (Double Six)
ATOM TM & MARC BEHRENS - Bauteile (eMego)
MIIKA TOIVANEN - Yin, Not Yang (No Label)
LYLA FOX - Mirrors the Sky (Sub Pop)
COURTIS / MOORE - KPPB (Earbook)
LIZ ALLBEE / HANS GRUSEL'S KRANKENKABINET - Split LP (Resipiscent)
GIBBY HAYNES - Paul's Not Home (Third Man)
ENTHRONING SILENCE - Throned Upon Ashes of Dusk (Dusktone)
GEORGES TEPERINO / CECIL LEUTER - TV Music (Creel Pone)
DAWN OF HUMANS - Head Process (Toxic State)
HORACE TAPSCOTT - The Tapscott Sessions Vol. 9 (Nimbus West)
NICOLE MITCHELL'S BLACK EARTH ENSEMBLE - Intergalactic Beings (FPE)
LA MISMA - 7 (Toxic State)
VBA - Demos 3/14 (No Label)
NAT BALDWIN - In the Hollows (Western Vinyl)
HTRK - Psychic 9-5 Club (Ghostly International)
ROOSEVELT SYKES - Music Is My Business (Fat Possum)
PALIX / COULTER / JUN - Live at the 64 (Subjam)
CODEINE - When I See the Sun (Numero Group)
LA MISA NEGRA - Misa De Medianoche (Nam Entertainment)
LE QUATUOR DE JAZZ LIBRE DU QUEBEC - 1973 (Tenzier)
WHORE PAINT - Second Shift (Anchor Brain)
VARIOUS - I Made It Over: Manning's Gospel Productions (Manning )
LATTIE MURRELL / WILLIAM FLOYD DAVIS / BOOTLEGGER - Live at the Bootleggers (Sutro Park)
LIVING MUSIC - To Allen Ginsburg (Roundtable)
CIRCUS DEVILS - When Machines Attack (Happy Jack)
BOBBY BARE JR. - Young Criminals' Starvation League (Blooodshot)
T.O.M.B. - Pennhurst Xesse (Crucial Blast )
LEYLAND KIRBY - Breaks My Heart Each Time (Apollo)
STAER - Staer (Gaffer)
O-TYPE - Darling (Milvia Son)
BORBETOMAGUS - Vole Lotta Love (Verdura)
NOVY SVET - Doce (Kill Shaman)
NO BALLS - I'm So Happy I Can Die (Drid Machine)
WHITBY BAY - Unextinguishable Candle (No Label)
HANS CHEW - Life & Love (At the Helm)
AJ & THE JIGGAWATTS - AJ & the Jiggawatts (Ged Soul)
CIAN NUGENT & THE COSMOS - Hire Purchase (Matador)
C. STROM - New Grave Old Tunes (Unrecord )
MAGIC CARPATHIANS PROJECT - Noise To Silence (World Flag)
LEE RANALDO AND THE DUST - Last Night On Earth Demos and Rehearsals (Lazy 8)
ARU / BB JR - Deadly PA (Personal Archives)
ALEC SEWARD - Late One Saturday Evening (Fat Possum)
MESSIAH OF EVIL - Forced Into Femininity (Human Contact)
LUCKY BONE - Borderline (In Four Parts) (Eh?)
GRIEVES - Winter & the Wolves (Rhymesayers)
AFGHAN WHIGS - Do To the Beast (Sub Pop)
BOB BELLERUE - Butcher's Broom (Prison Tatt)
SPONTANEOUS MUSIC ENSEMBLE - New Surfacing 1978 & 1992 (Emanem)
TACO BELLS - Vinterstrossel (Ikuisuuus / Karkia Mistika / Kauriala Society)

7" Singles List
ROCKFIRE FUNK EXPRESS - People Save the World (Third Man)
ELECTRIC EELS - Jaguar Ride (HoZac)
999999999 - White Devils (HoZac)
GINO AND THE GOONS - Troubled (Total Punk)
LENZ - Frozen Touch (Volar)
GUINEA WORMS/THE IN-OUT - Split 7" (Botulism Music)
GOLDEN PELICANS - Burn Everything (Pelican Pow Wow)
SMART BOYS - A Different World Now (Matador)
BUCK BILOXI & THE FUCKS - Holodeck Survivor (Total Punk)
FINE STEPS - All Day Long (Volar)
RADAR EYES - Positive Feedback (HoZac)
NEW SURFSIDERS - Smile Medley (Norton)

RPM List
BRAN FLAKES / EVOLUTION CONTROL COMMITTEE / GO HOME PRODUCTIONS - Raymond Scott Rewired (Basta)
ECHOLOGIST - Storming Heaven (Prologue)
VARIOUS - Happy Machine: Standard Music Library 1970-2010 (Public Information)
CRASH COURSE IN SCIENCE - Signals From Pier Thirteen (Dark Entries)
LARAAJI - Two Sides of (All Saints)
MILLIE & ANDREA - Millie & Andrea (Modern Love)
TORN HAWK - Bad Deadlift (Long Island Electrical Systems)
VENETIAN SNARES - My Love Is a Bulldozer (Planet Mu)
VARIOUS - Hyperdub 10.1 (Hyperdub)
VARIOUS - Footprints (Jazz & Milk)

Jazz List
VARIOUS - The Beat Generation Boxed (Enlightenment)
SUN RA & HIS ASTRO-INFINITY ARKESTRA - Other Strange World (Roaratorio)
NELS CLINE SINGERS - Macroscope (Cryptogramophone)
GENE RUSSELL - Talk To My Lady (Black Jazz)
LEONG LAU - Dragon Man (Strawberry Rain)
NICOLE MITCHELL'S BLACK EARTH ENSEMBLE - Intergalactic Beings (FPE)
LA QUATUOR DE JAZZ LIBRE DU QUEBEC - 1973 (Tenzier)
SPONTANEOUS MUSIC ENSEMBLE - New Surfacing 1978 & 1992 (Emanem)
TACO BELLS - Vinterstrossel (Ikuisuus/Karkia Mistika/Kauriala Society)
ANGLES 9 - Injuries (Clean Feed)

World List
LUZMILIA CARPIO - Yuyay Jap'ina Tapes (Almost Musique)
IBIBIO SOUND MACHINE - s/t (Soundway)
HORACE ANDY/PHIL PRATT - Get Wise (Picadilly)
TOUMANI DIABATE & SIDIKI DIABATE - Toumani & Sidiki (World Circuit)
MERIDIAN BROTHERS - Salvadora Robot (Soundway)
VARIOUS - Tropical Disco Hustle (Cultures of Soul)
VARIOUS - Calypso: Musical Poetry in the Caribbean 1955-69 (Soul Jazz)
OUMAR KONATE - Addog (Clermont Music)
DONA ONETE - Feiticia Cabocio (Mais Um Discos)
VARIOUS - Role: New Sounds of Brazil (Mais Um Discos)

Loud List
GEZAN - Katsute Uta Toiwaretasore (Important)
LAMORT - Purge (HCB/Vulva Productions)
COMET CONTROL - Comet Control (Tee Pee)
HIGH RISE II - High Rise II (Warded Halls)
SEC_ - Outflow (dEN/Toxo/HCB)
PRIZEHOG - Re-Unvent the Whool (Eolian Empire)
MELVINS - Live at Third Man Records (Third Man)
THOU - Heathen (Gilead Media)
ENTHRONING SILENCE - Throned Upon Ashes of Dusk (Dusktone)
DAWN OF HUMANS - Head Process (Toxic State)

Hip-Hop List
SLEAFORD MODS - Austerity Dogs (Harbinger Sound)
KELIS - Food (Ninja Tune)
ATMOSPHERE - Southsiders (Rhymesayers)
MADLIB - Rock Konduckta Parts 1 & 2 (Rappcats/Madlib Invasion)
SWOLLEN MEMBERS - Brand New Day (Battle Axe)
MOBONIX - Machine Man (XiL)
OMID WALIZADEH - Modern Persian Speech Sounds (Bta'arof)
CYNE - All My Angles Are Right (Home Tapes)
GRIEVES - Winter & the Wolves (Rhymesayers)
SOULS OF MISCHIEF - 93 Til Infinity (Get on Down/RCA)

Cassette List
NO BALLS - I'm So Happy I Could Die (Drid Machine)
MESSIAH OF EVIL - Forced Into Feminitiy (Human Contact)
SLUSHY - All the Rad Dudes (Manic Static)
LAME DRIVERS/WOOLEN MEN - Split Cassette (Eggy)
TASHI DORJI - Blue Twelve (Blue Tapes)
BLUES CONTROL - Summer Games/Studio 69 (Managing Expectations)
BAD AURA - Bad Aura (No Label)
DANMELCHIOR -Live at Philly Record Exchange (Stale Heat)
ROBERT CURGENVEN - Transfixed (The Tapeworm)
NORYMBERGA - Norymberga (BDTA)

THANK YOU TO EVERYONE who came to our Grand Opening of Monty Hall, WFMU's ground floor performance space, on July 12th. It was SOLD OUT, and we had excellent sets from SPECTRE FOLK, DOUG GILLARD, WATERY LOVE, and PAMPERS. Stay tuned to our home page for future info on what will be going on with this new space, which we're still getting fully together.

UPCOMING SPECIAL PROGRAMS ON WFMU:

I Love Vinyl crew guest DJs
Thursday, July 17th, Midnight - 3am
on Nickel and Dime Radio with $mall ¢hange
$mall ¢hange invites the I Love Vinyl crew to guest on Nickel and Dime radio. I Love Vinyl is a bi-weekly all vinyl freeform dance party, founded by Ben Goldfarb aka DJ Scribe, that began in 2009 in New York City and has grown into an institution known worldwide. The DJs, Scribe, Jon Oliver, Amir Abdullah, OP! and Shawn Dub, are all heavyweight collectors and accomplished DJs in their own right. Check ilovevinyl.org for more information.

Suzi Quatro
Thursday, July 17th, 3am - 6am
on Dark Night of the Soul with Julie
50-year rock and roll veteran Suzi visits the dark night via phone from her Essex living room. From an all-girl band started with her sisters and friends, to a string of solo hits produced by Mickie Most, to a reoccurring role on as Leather Tuscadero on American sitcom Happy Days, to BBC-2 radio DJ, there's little Suzi hasn't done in her life. At age 64, she still tours extensively with no sign of slowing down. There's far too much in Suzi's history to touch on in a short interview, but lifelong fan Julie attempts to hit on some of the highlights.

John Otway
Thursday, July 17th, 9am - Noon
on Surface Noise with Joe McGasko
The legendary John Otway bills himself as "Rock 'n' Roll's Greatest Failure," but few musicians have had such a long and colorful career with so many artistic successes. One of the great jesters of the punk era, famous for songs like "Beware of the Flowers 'Cause I'm Sure They're Going to Get You Yeah" and "Really Free," Otway could also deliver a tender ballad with the best of them. He's also staged some of the most memorable publicity stunts in the history of the industry, such as ensuring a Top 10 hit by having 900 fans sing back-up on his single (which, naturally, every one of them bought several copies of). Next week in New York, a documentary about his life called "Rock 'N' Roll's Greatest Failure: Otway the Movie" premieres, and we'll talk to John about the film and his 40-plus years of insanity.

Second Annual Hostage Situation, Loss Leaders Edition (fill-in for Doug 9am-noon)
Friday, July 18th, 9am - 3pm
on Hinky Dinky Time with Uncle Michael (on Give the Drummer Radio stream)
Doug Schulkind takes a rare Friday morning off, once again leaving Uncle Michael holding a six-hour bag. Uncle Michael will fill it sharing favorites from his collection of Warner Brothers "Loss Leaders" samplers, spanning the complete history of the series.

Shirley Collins
Saturday, July 19th, 6am - 9am
on Shrunken Planet with Jeffrey Davison
UK folk music legend Shirley Collins, without doubt one of the greatest British musicians of the 20th Century, played a pivotal role at a time when folk music was undergoing unparalleled revival and revolution. Though out of the music scene for more than three decades, her music nevertheless continues to be a source of inspiration for many. However, probably due in part to her enforced retirement in the late 1970s, her legacy is not as widely known as it should be. Musician David Tibet has been a key figure in bringing Shirley Collins' music once again to its rightful place. (And frankly, WFMU DJs have always had a place for her music.) Now, filmmakers Tim Plester and Rob Curry are raising funds on Kickstarter for "The Ballad of Shirley Collins", inspired in part by her poignant 2004 memoir "America Over The Water" and the connection her music has to the film "O Brother, Where Art Thou?" There simply is no musician more deserving of this growing renewal on interest and I would urge you to assist the filmmakers in their endeavor. Donations can be made up to July 22nd. The interview with Ms. Collins will focus mostly on the forthcoming documentary and the American sojourn which led both to her book and the film. For your additional enjoyment, there is also a tribute album coming out shortly, "Inspired by Shirley".

Alien Whale
Monday, July 21st, 9pm - Midnight
on Airborne Event with Dan Bodah
Alien Whale is Colin Langenus (USAisaMonster), Matt Mottel (Talibam!), and Nick Lesley (Necking) and what they are doing in Alien Whale is as much a mystery as the ocean depths. Is this psychedelic metal hullaballoo? Is it jazzed-up muzak dirt bike rock? Proto avant primal scream prog? Don't ask, just tune in and hear its name with your own ears. The Alien Whale 10" EP is on Care in the Community Records.

Blaire Alise and the Bombshells
Tuesday, July 22nd, Noon - 3pm
on Three Chord Monte with Joe Belock
Teen sensations from Detroit take all of those classic Motor City influences and rev it into a 21st -century engine built for speed - garage, girl groups, Motown, etc. The city may be bankrupt but still has a rich musical output!

The Clientele PLUS Joe Frank - Somewhere Out There: "God Only Knows"
Wednesday, July 23rd, 3pm - 6pm
on Irwin Chusid
The Clientele will perform on Irwin's show, Weds. July 23 around 3:15pm (Eastern). The band is now a trio of Alasdair MacLean on vocals and guitar, Mark Keen on drums, and James Hornsey on bass. The UK-based ensemble will play at Baby's All Right in Brooklyn on Saturday July 19. Other US dates include July 20 in Philadelphia, July 22 in Washington DC, July 23 in Charlottesville VA, and some west coast gigs. Check their full tour schedule at TheClientele.co.uk.

One-hour radio dramas by Joe Frank air alternate Wednesdays at 4pm (Eastern) on Irwin's program. On Weds. June 25th we'll air an episode entitled "God Only Knows," from Joe's SOMEWHERE OUT THERE series. In this episode, Joseph thinks his fiancée Mary is cheating on him. When she gets pregnant, he's certain of it. After Mary gives birth to the Son of God, Joseph is furious and humiliated that he has been cuckolded by God. He falls into a deep depression and starts drinking. That's just the first three minutes of this one-hour Joe Frank episode.

People Who Only Need Another Beat
Wednesday, July 23rd, 9pm - Midnight
on The Evan "Funk" Davies Show
Last year, three of WFMU's in-house drummers -- Dave Mandl, Irwin Chusid and Evan "Funk" Davies -- gathered to play songs featuring some of their own favorite time-keepers. This year the rhythm section reconvenes with the addition of WFMU's own Dennis Diken, an Actual Professional Drummer! Irwin, Dennis and Dave will take turns presenting their favorite panjandrums of paradiddles and rulers of rolls, with EFD primarily acting as MC this time around. Tune in at 9pm on Wednesday July 23 for this three-hour drum throwdown on WFMU!

The Harrow
Thursday, July 24th, 3am - 6am
on Dark Night of the Soul with Julie
The Harrow don't just play music, they bathe in it. DJ, Blogger and member of numerous bands Frank Deserto is joined by singer and internet DJ Vanessa Irena, '80s goth veteran Greg Fasolino (The Naked and the Dead) & keyboardist/remixer Barrett Hiatt. They make no secret of their influences harkening back to the darker side of 80s post-punk and coldwave. A dark and moody sound that would make Ian Curtis proud.

Bobby Blitz
Thursday, July 24th, Noon - 3pm
on Diane's Kamikaze Fun Machine
Diane's Peer Pressure guest this week will be the vocalist for NJ thrash metal legends Over Kill: BOBBY BLITZ. They have just released their 17th album, "White Devil Armory on Nuclear Blast," and he'll chat about it and pick a couple of tunes as well. They'll be touring worldwide in the fall for the record. Check out all news on the band here.

Tom Doyle author of the Paul McCartney biography "Man on the Run"
Saturday, July 26th, 11am - 1pm
on Michael Shelley's show
Michael Shelley welcomes author Tom Doyle whose new book "Man on the Run" chronicles Paul McCartney's life in the 1970's when the ex-Beatle was forced to redefine himself - releasing eccentric solo albums, embarking on a hippie lifestyle, forming a new band, and eventually helping define arena rock superstardom.

Al Margolis
Sunday, July 27th, 9pm - Midnight
on World of Echo with Dave Mandl
On Sunday, July 27th, Dave Mandl welcomes musician, label-head, and experimental-music pioneer Al Margolis to FMU for their annual summer broadcast. Al runs the great avant-garde label Pogus Productions, performs live as "If, Bwana," and has been a key figure in the worldwide experimental music network for years. He'll be bringing a stack of rare and wonderful LPs, CDs, and cassettes to play for you.

Bobby Patterson
Saturday, August 2nd, 11am - 1pm
on Michael Shelley's show
Michael Shelley chats with soul music ledged Bobby Patterson about his new album 'I Got More Soul!' and his August 10th show, outdoors at the Damrosch Park Bandshell in Manhattan.

P.F. Sloan
Saturday, August 9th, 11am - 1pm
on Michael Shelley's show
Michael Shelley welcomes songwriter/performer P.F. Sloan whose his hits including "Eve of Destruction" for Barry McGuire, "You Baby" for The Turtles, "A Must to Avoid" for Herman's Hermits and "Secret Agent Man" for Johnny Rivers and hundreds more. His new album "My Beethoven" has just been released.

Peter Doolan: Monrakplengthai
Wednesday, August 13th, 7pm - 10pm
on Bodega Pop Live with Gary Sullivan (on Give the Drummer Radio stream)
Over half a decade of curating Monrakplengthai, Peter Doolan has established himself as one of the greatest international music bloggers on the planet. Back in the States after a lengthy sojourn to Bangkok where he worked cataloging Thai records for a public university library, Peter will join Gary to talk about Southeast Asian music and spin some of the most awesome luk thung, molam and other regional delights you've ever heard.

Vicky and the Vengents
Tuesday, August 19th, Noon - 3pm
on Three Chord Monte with Joe Belock
Blasting out of Southern California with a love for all things dramatic and loud, Vicky and the Vengents throw girl-groups, guitars, grease and garage into the blender to come up with their own amazing sound!

Fade Kainer
Thursday, August 28th, Noon - 3pm
on Diane's Kamikaze Fun Machine
The voice and textural contributor in Batillus, member of Theologian, InSwarm, plays live with Jarboe and is a multi instrumentalist and audio engineer. We wonder how he will have time to actually make an appearance, but will be psyched to hear the music he has picked! He will be live and listeners will be able to ask him questions via our live playlist and comments board!

Deke Dickerson
Saturday, October 25th, 11am - 1pm
on Michael Shelley's show
Michael Shelley chats with noted author, mind blowing guitarist, crack song writer, road warrior and member of show business Deke Dickerson about his career and new collaborative album "Los Straitjackets: Deke Dickerson Sings The Instrumental Hits" (released October 7) and tour (which brings the super group to Brooklyn's Bell House 10/31).

---
Want to see all the past events? Go here.