WFMU
PO Box 5101
Hoboken, NJ 07030
broadcasting from Jersey City 91.1 FM/90.1 FM
Audio Feed and Archives: www.wfmu.org
Podcasts: podcast.wfmu.org
Blog: blog.wfmu.org
Facebook: www.facebook.com/wfmuradio
Twitter: http://twitter.com/#!/wfmu
Brian Turner, Music Director, bt@wfmu.org (201) 521-1416 x223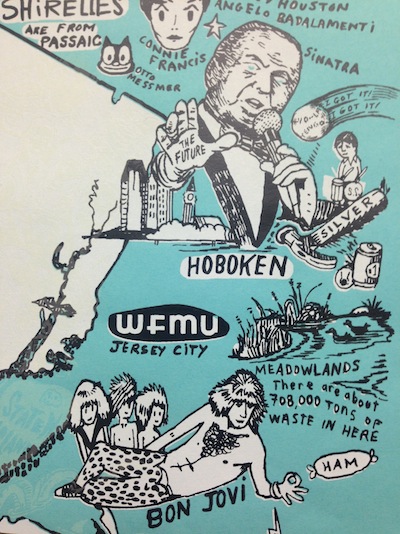 Heavy Airplay, September 17, 2014
MIRIAM - Nobody's Baby (Norton)
THE BLACK HIPPIES - The Black Hippies (Academy/Voodoo Funk)
PUSSY CAT - Boof! The Complete Pussy Cat 1966-1969 (Cherry Red)
BRIAN ENO - The BBC Sessions (Il Cane Lento)
MAMMAN SANI - Taaritt (Sahel Sounds)
SPACEHEADS - Trip To The Moon EP (Electric Brass)
NIGHTMARES ON WAX - N.O.W. Is The Time (Warp)
THE VAMPIRES - Vampires Underground (Pharaway Sounds)
SONORHC - Purf (Fractal)
COCK SPARRER - Shock Troops/Runnin Riot In 84 (Step-1)
MALAYEEN - Malayeen (Anniyaha)
AUS DECLINE - Fluxion (Synthetic Shadows)
STALINS OF SOUND - Tank Tracks (Slovenly)
BLACK HAT - Thought of Two (Hausu Mountain)
BROWNOUT - Brown Sabbath (Ubiquity)
DRUNK ELK - Oceanus Procellarum (Wormwood Grasshopper)
YO LA TENGO - Super Kiwi (Matador)
RAT COLUMNS - Leaf (RIP Society)
GORDON ASHWORTH - S.T.L.A. (Orindal)
THE SOFT PINK TRUTH - Why Do The Heathen Rage? (Thrill Jockey)
CHARLES BRADLEY - Changes (Daptone)
UNHOLY TWO - Talk About Hardcore (12XU)
HOT AND COLD - Any Monkey is Dangerous (Maybe Mars)
HYRROKKIN - Pristine Origin (Sick Room)
HI SHERIFFS OF BLUE - NYC 1980 (Feeding Tube)
IRON MAN - Generation Void (Brainticket)
GROUP A - Initiation (No Label)
VARIOUS - Role: New Sounds Of Brazil (Mais Um Discos)
VARIOUS - Creative Music Studio: Archive Selections Vol. 1 (Innova)
HOBOCOP - Half Man Half Cop (Slovenly)
HIGH MOUNTAIN TEMPLE - Gnosis (Lotus House)
BRANDON SEABROOK - Sylphid Vitalizers (New Atlantis)
BI-HOUR - An Accident (Vacant Valley)
LOW LIFE - Dogging (Disinfect/RIP Society)
VARIOUS - Zoomin' Night Live (Maybe Mars)
SCRAPS - Secret Paradise (Disembraining)
JAKE MEGINSKY - L'appel Du Vide (Open Mouth)

Medium Airplay
KIM FOWLEY - Technicolor Grease: Lost Treasures From The Vaults 1959-69 V. 4 (Norton)
FLOOR - Oblation (Season Of Mist)
NRBQ - Brass Tacks (Clang!)
KYLE BOBBY DUNN - Kyle Bobby Dunn and the Infinite Sadness (Students Of Decay)
CIRCLE - Kumiluoti - Liian Paljob Liimaa (Ektro)
VARIOUS - Hells Headbangers Volume 7 (Hells Headbangers)
H. USUI - Sings the Blues (VHF)
MEATBODIES - Wahoo - Steps (In the Red)
ARRINGTON DE DIONYSO'S MALAIKAT DAN SINGA - Trance Punk Manifesto Vol. II (Lathe Cut )
MIND OVER MIRRORS - High and Upon (Aguirre)
ODEYA NINI - Vougheauxyice (Voice) (pfMentum)
VARIOUS - DJ Andy Smith's Jam Up Twist U.S.A. (Culture of Soul )
ELISA FAIRES - Photosynthesis (Erototox)
VARIOUS - Too Slow to Disco (How Do You Are?)
PARQUET COURTS - Sunbathing Animal (What's Your Rupture?)
GREYHOUNDS - Accumulator (Ardent)
EVA POLGAR & SANDOR VALY - Gilgamesh (Ektro)
KING TEARS MORTUARY - Asleep at the Wheel of Fortune (Vacant Valley)
HARASSOR - Into Unknown Depths (Dais)
CORTEX - Pourquoi (Trad Vibe)
MICHAEL OOSTEN - Michael Oosten (Lion Productions)
HEITKOTTER - Black Orckid (Now-Again)
THE NO TOMORROW BOYS - (Do The) No Tomorrow Twist (Teen-Age Riot)
DEAR ELOISE - The Words That Were Burnt (Maybe Mars)
TOMBS - Savage Gold (Relapse)
PINKCOURTESYPHONE - A Ravishment of Mirror (Dragons Eye)
TAIGA REMAINS - Works For Cassette (Helen Scarsdale Agency)
DEAD MOON - Defiance (M'Lady's)
KONSTRUKTIVIST - A Dissembly (Klanggalerie)
THE PINKS QUIETER - Pinks Quieter (Metal Postcards)
DJ DIAMOND - Flight Muzik Reloaded (Planet Mu)
VARIOUS - Hyperdub 10.1 (Hyperdub)
COLIN SHERMAN - Indeterminate (No Label)
JOHN CARTER & BOBBY BRADFORD - Tandem (Emanem)
KK NULL - The Noiser (Monotype)
CITIZEN BLAST KANE - The Lobster Dinner Demos (Reduced Lunch)
DOUG CARN - Spirit of the New Land (Snowdog-Black Jazz)
NICK FREUND - The News Is You: The Sacred & Secular Music of Nick Freund (Lion)
MAYHEM - Esoteric Warfare (Seasons of Mist)
CRIOLO - No Na Orelha (Sterns)
BRUCE RUSSELL - Icestorm - Birdling (Even More Important)
WHITE LUNG - Deep Fantasy (Domino)
COFFINS - The Fleshland (Relapse)
LUST FOR YOUTH - International (Sacred Bones)
RANCID HELL SPAWN - Abolition of the Orgasm (WRENCH)
THE ONE AND NINES - Just Your Fool (Cotter)
ALICJA-POP - I Play The Fool - Water Death (Certified PR)
SLY & ROBBIE - Underwater Dub (Groove Attack)
VARIOUS - Border Wars (Melting)
HEROIN IN TAHITI - Peplum (Yerevan)
VARIOUS - Musique Concrète Soundtracks To Experimental Short Films Volumes 4-6 (New England Electric Music Company)
SODA EAVES - Like Drapes Either Side (No Label)
CUTLASS DANCE BAND - Don't Commot Me (Academy/Voodoo Funk)

Light Airplay
TARAB - I'm Lost (23five)
LOWER - Seek Warmer Climates (Matador)
THE FRIENDSTERS - Every Street - Drain My Blood - Shark Bait - Revenge Is The Best Revenge (Eternal Soundcheck)
MICHAEL MORLEY - CNDYSYS/STPHNSYS (Even More Important)
SLUSSENANALYS - Livets Spindlar - Knappt Fornimbar (Full Contact)
YABBY YOU - Deeper Roots Part 2 (Pressure Sounds)
COLOURMUSIC - May You Marry Rich (Memphis Industries)
MONTANA EXTENDIDA & MARIO NAVARRO - Laboratorio Rojo (Hueso)
M.O.B. - M.O.B. (RIP Society)
THE STICKMEN - Man Made Stars (Homeless)
S.O.A. - 12/29/80 First Demo (Dischord)
CREEPOID - Yellow Life Giver (Phonographic Arts)
HYGIENE - Recruitment (Going Underground)
THE SNOW - Memory Loss - Joy of Life (Captured Tracks)
HEIKKI HAUTALA - Pyovelin Vaatteet (Ektro/Future Lunch)
THE JAZZ BUTCHER - Last of the Gentleman Adventurers (No Label)
JESTERS OF DESTINY - Fun At The Funeral (Full Contact)
HOPEAJARVI - Rakennetaan Kaupunki - Oikein, Oikein (Ektro)
HYSTERICS - Hysterics (M'lady's)
LEAH BEEFERMAN/STEPHEN VITIELLO - Field Variations - Scraped and Bowed (Textual)
BAD AURA - Bad Aura (No Label)
GUIGUISUISUI - Black Books (Metal Postcards)
THE NOTWIST - Run Run Run + 3 EP (Sub Pop)
BENEATH - Vobes (Pan)
XAMBUCA - カムィ (Erototox)
ERIC BOROS - No Thanks - Ultrason (Vialka)
ANDREW RAFFO DEWAR - Interactions Quartet (Rastascan)
VARIOUS - Freeload Soundtrack (Killertree)
PALO! - Live (Rolling Pin)
BRUNO MADERNA - Music in Two Dimensions: Works for Flute (Mode)
KEIJI HAINO / JIM O'ROURKE / OREN AMBARCHI - Only Wanting To Melt Beautifully Away Is It a Lack of Contentment That Stirs Affection (Black Truffle)
A.D. SKINNER - On The Pod - Sex Pest - Nobody Knows - Loose Ends (3xReaper)
SKY NEEDLE - Creepertown (No Label)
A HANDFUL OF DUST - From A Soundtrack To The Anabase Of St-John Perse (Imminent Frequencies)
FUSHITSUSHA w/PETER BROTZMANN - Nothing Changes No One Can Change Anything, I Am Ever-Changing Only You Can Change Yourself (Utech)
YANN NOVAK - Snowfall (Dragons Eye)
THE CUBBY PREACHERS - Cubby Preachers 4 (Cubby Control)
GEN KEN MONTGOMERY - Sonic Periscope (Noise Below)
GRAVEL SAMWIDGE - Trough (Long Gone)
MUURA - Untitled (Wormwood Grasshopper)
THE GEARS - When Things Get Ugly (Wondercap)
SWOLLEN MEMBERS - Brand New Day (Battle Axe)
THE HORRORS - Luminous (XL)
JEFF COSGROVE, MATTHEW SHIPP, WILLIAM PARKER - Alternating Current (Grizzley)
DREDD FOOLE, STEVE BACZKOWSKI, CHRIS CORSANO, BILL NACE, PAUL FLAHERTY - Wrong Number (Open Mouth)
CEPUS ALEKSANDER - Stand By Comedy (No Label)
NEKROFILTH - Devil's Breath (Hells Headbangers)
REMNANTS - Tonal Fragments (Imminent Frequencies)
HAVENS FUGLE - Havens Fugle (Yoyooyoy)
DUBMARINE - Laser Sound Beam (Vitamin)
HARD STRIPES - Duress (Vinyl Conflict)
HEDVIG MOLLESTAD TRIO - Enfant Terrible (Rune Grammofon)
WHITE MURDER - Harold's Place - The Tell-All (Tru-Vow)
GOOSEBUMPS - Scared To See a Doctor (Katorga Works)
LIBYAN HIT SQUAD / ROUND EYE - Split 12 (Ripping)
NUMBSKULL - Paranoid Problem (My Mind's Eye Records/Collinwood)
ALVARO - Reaching For the Masses (Hueso Records)
GUILLAUME MAUPIN - Kohe4ho (Saintonge)

7" Singles List
YO LA TENGO - Super Kiwi (Matador)
CHARLES BRADLEY - Changes (Daptone)
SCRAPS - Secret Paradise (Disambraining)
CIRCLE - Kumiluoti - Liian Paljob Liimaa (Ektro)
MEATBODIES - Wahoo (In the Red)
KING TEARS MORTUARY - Asleep At the Wheel of Fortune (Vacant Valley)
THE NO-TOMORROW BOYS - (Do the) No Tomorrow Twist (Teen-Age Riot)
HEROIN IN TAHITI - Peplum (Yerevan)
BRUCE RUSSELL - Icestorm (Even More Important)
RANCID HELL SPAWN - Abolition of the Orgasm (Wrench)

RPM List
NIGHTMARES ON WAX - N.O.W. Is the Time (Warp)
DJ DIAMOND - Flight Muzik Reloaded (Planet Mu)
VARIOUS - Hyperdub 10.1 (Hyperdub)
VARIOUS - Tropical Disco Hustle (Cultures of Soul)
VARIOUS - Lectric Sounds 1 (Lectric Sounds)
MOIRE - Shelter (Ninja Tune)
ROMAN FLUGEL - Happiness is Happening (Dial)
THE ACID - Liminal (Infectious)
ERIC SIDAY - The Ultra Sonic Perception (Dual Planet)
FHLOSTON PARADIGM - The Phoenix (Hyperdub)
Jazz List
VARIOUS - Creative Music Studio: Archive Selections Vol. 1 (Innova)
JOHN CARTER & BOBBY BRADFORD - Tandem (Emanem)
DOUG CARN - Spirit of the New Land (Snowdog-Black Jazz)
ANDREW RAFFO DEWAR - Interactions Quartet (Rastascan)
HAVENS FUGLE - 7" (Yoyooyoy)
HAL RUSSELL NRG ENSEMBLE + CHARLES TYLER - Generation (Nessa)
LAWNMOWER - Lawnmower II (Clean Feed)
FRANCOIS TUSQUES / ALEXANDRA GRIMAL / SYLVAIN GUERINEAU - La Jungle Du Dounaier Rosseau (Improvising Beings)
SKADEDYR - Kongekrabbe (Hubro)
VARIOUS - Spiritual Jazz 5 (Jazzman)

Loud List
IRON MAN - Generation Void (Brainticket)
UNHOLY TWO - Talk About Hardcore (12XU)
FLOOR - Oblation (Season of Mist)
VARIOUS - Hells Headbangers Vol. 7 (Hells Headbangers)
HARASSOR - Into Unknown Depths (Dais)
TOMBS - Savage Gold (Relapse)
KK NULL - The Noiser (Monotype)
MAYHEM - Esoteric Warfare (Season of Mist)
COFFINS - The Fleshland (Relapse)
S.O.A. - 12/29/80 First Demo (Dischord)

World List
THE BLACK HIPPIES - The Black Hippies (Academy/Voodoo Funk)
MAMMAN SANI - Taaritt (Sahel Sounds)
THE VAMPIRES - Vampires Underground (Pharaway Sounds)
VARIOUS - Role: New Sounds of Brazil (Mais Um Discos)
CUTLASS DANCE BAND - Don't Commot Me (Academy/Voodoo Funk)
YABBY YOU - Deeper Roots Part 2 (Pressure Sounds)
PALO! - Live (Rolling Pin)
SENYAWA - Acaraki (Dual Plover)
VARIOUS - 1970's Algerian Folk and Pop (Sublime Frequencies)
GIRMA YIFRASHEWA - Love and Peace (Unseen Worlds)

Hip-Hop List
MADLIB - Rock Konducta Pt 1 & 2 (Rappcats/Madlib Invazion)
SHABAZZ PALACES - Lese Majesty (Sub Pop)
RATKING - So It Goes (HXC)
BIG FREEDIA - Just Be Free (RMM Media)
DILATED PEOPLES - Directors of Photography (Rhymesayers)
CLIPPING - Clppng (Sub Pop)
QUANTIC - Magnetica (Tru Thoughts)
HOMEBOY SANDMAN - Hallways (Stones Throw)
THE UNDERACHIEVERS - The Cellar Door: Terminus Ut Exoridum (Dream Free)

Cassette List
BAD AURA - Bad Aura (No Label)
GEN KEN MONTGOMERY - Sonic Periscope (Noise Below)
A HANDFUL OF DUST - From A Soundtrack To The Anabase Of St-John Perse (Imminent Frequencies)
GRAVEL SAMWIDGE - Trough (Long Gone)
REMNANTS - Tonal Fragments (Imminent Frequencies)
WARGTHRON - Demo I (Tapeworship)
COUNTER INTUITS - Get On... 'The Right Side of History' (Loki)
NORYMBERGA - Norymberga (BDTA)
SUN CITY BOYS - Soilent Gringa: A Tribute To the Sun City Girls (No Label)
HIGH ON DRACULA - High on Dracula (House of Alchemy)

UPCOMING SPECIALS ON WFMU:

Kid Congo Powers
Thursday, September 18th, Noon - 3pm
on Diane's Kamikaze Fun Machine
Enroute to the Pink Monkey Birds show in Kingston, NY, Kid Congo will be checking in from the road! Let's hope this legendary guitarist keeps his seat belt on while chatting with Diane about his latest effort: Haunted Head, the band's upcoming show at Glasslands Gallery in Brooklyn on Friday Sept 19th, and his colorful history with The Cramps, the Gun Club, Nick Cave & The Bad Seeds and many, many more! Listeners can post their questions to him on the live interactive playlist!

Dante Boon and Varispeed live from Monty Hall
Friday, September 19th, 3pm - 6pm
on Miniature Minotaurs with Kurt Gottschalk
Miniature Minotaurs takes Monty Hall for two performances and a live broadcast from 3-6 pm on Sept. 19. Pianist Dante Boon of the Walndelweiser collective will play compositions by Tom Johnson, Taylam Susam, Jürg Frey and himself and the ensemble Varispeed will perform an original arrangement of "The Bank" from Robert Ashley's serial opera "Perfect Lives." The public is invited to attend, tickets will be $5 at the door. Dante Boon's appearance is made possible in part by the support of the Performing Arts Fund NL.

Put The Needle On The Roc Raida
Friday, September 19th, 7pm - 8pm
on Put The Needle On The Record with Billy Jam
On September 19th, 2009 DJ extraordinaire Roc Raida of the X-Ecutioners tragically died from cardiac arrest at the age of 37. Since then the legacy of the world renowned New York City DJ/producer, who is among the handful to have been bestowed with the Grandmaster title, has grown greatly. In honor of the fifth anniversary of Grandmaster Roc Raida's passing Billy Jam will pay tribute to the artist by playing his music, airing a never broadcast 2005 interview with Roc Raida, along with interviews with others, such as Mista Sinista and Red Alert, offering their thoughts on Roc Raida.

Joel Hodgson
Monday, September 22nd, 7pm - 8pm
on Night People
Tune in to a very special Night People as Mystery Science Theatre 3000 creator Joel Hodgson checks in to discuss everything from his career as a stand-up comic to his work with Cannae's impossible space drive.

Arrington de Dionyso & Greg Saunier
Monday, September 22nd, 9pm - Midnight
on Airborne Event with Dan Bodah
Arrington de Dionyso (ex-Old Time Relijun) is a multi-instrumentalist and throatsinger from the West Coast who's taken to singing Indonesian translations of William Blake poems, blasting trance saxophone improvisations over backing tracks on lathe-cut plastic dinner plates, and generally creating a transcendental din of inspired rapture. He'll stop by WFMU to play in a duo with lightning drummer Greg Saunier of Deerhoof while visiting NYC for a handful of shows later this month.

Alice Boman (and friends)
Tuesday, September 23rd, 3am - 6am
on Dance With Me, Stanley with DJ Stashu
Tune in to a very special DWM,S as Alice Boman and 3 others from Malmo Sweden check in to grace us with ghostly voices, ethereal sounds and down tempo upbeat lullabies.

Doom
Tuesday, September 23rd, 3pm - 6pm
on Brian Turner's show
The kings of crust are here today. Starting in 1987 in Birmingham, Doom tore up the British touring circuit and John Peel programs with their pioneering style of anarcho metal and proto-grindcore, swerving into a heavier punk direction upon departure of Mick Harris for Napalm Death. Along with Discharge, few UK heavies have had such a worldwide influence on extreme music as Doom, who toured heavily into the '90s. After the passing of singer Wayne Southworth in 2005, the band remained dormant until 2010 and now with vocalist Denis locked in continue their worldwide assault with NYC shows at the Wick on Sept 19th and the Acheron on the 20th, and on Brian's show today.

Winkie
Thursday, September 25th, 3am - 6am
on Dark Night of the Soul with Julie
More than your average shoegaze band, this duo frames a classic wall of noise with melodic female vocals and a fuzzy bass line. Relying on synth and bass instead of droning guitars, Winkie goes from the dark and moody to ethereal upbeats. Noisy and haunting, turn it up and wake the neighbors.

Humble Tripe
Saturday, September 27th, 6am - 9am
on Shrunken Planet with Jeffrey Davison
Humble Tripe is the musical project of Shawn Luby, who at one point walked away from music altogether. A classically-trained guitarist, Luby left performing for nearly a decade and somehow this brought him to a place where he felt he could express himself as a songwriter. His songs are deeply heartfelt, perhaps especially so, as they come from someone who has, in essence, re-discovered himself. His current collaborator, the other half of the band, is Stud Green, another musician with serious chops, and as a result they create a kind of Americana whose sound does not fit neatly into any category.

Peter Jefferies
Tuesday, September 30th, 3pm - 6pm
on Brian Turner's show
Throughout the 1980's and 1990's Peter Jefferies created a stunning body of work via assorted New Zealand combos like Nocturnal Projections, This Kind of Punishment and Plagal Grind, as well as collaborating with various staples of Bruce Russell from the Dead C's legendary Xpressway label. His sound blended the somber richness of John Cale with raw minimalist power amped up by the utilization of basic recording means; his first stateside release in 1990 "Last Great Challenge in a Dull World," and the 1994 "Electricity" LP have just seen vinyl reissues by DeStijl and Superior Viaduct respectively. Last September in Auckland Brian saw Peter's first show in 11 years (opening for Amanda Palmer who had been championing him again), and he was in great form; it's great thrill to have him back in the States and stopping by the show today for some live songs and an interview on the eve of his Issue Project Room show October 1st.

John Strausbaugh
Wednesday, October 1st, 3pm - 6pm
on Irwin Chusid
John Strausbaugh is the author of the widely acclaimed history of Greenwich Village, The Village: 400 Years of Beats and Bohemians, Radicals and Rogues. One of Kirkus Review's Best Books of 2013, it has just been reissued in paperback. On Thursday Oct 9, Strausbaugh will celebrate the paperwork edition with a talk and book signing at Cornelia Street Cafe in the heart of the Village, at 6pm. Strausbaugh will visit Irwin's show on Weds. Oct. 1, from 5-6pm, to share colorful chronicles about the Village's heralded history.

The Pink Tiles
Thursday, October 2nd, 9am - Noon
on Surface Noise with Joe McGasko
Fresh from Melbourne, Australia come The Pink Tiles, a band whose sound is neatly encapsulated by their name: bubblegum pop with a hard edge. Today they appear on Surface Noise playing songs from their just released self-titled LP. Don't miss!

Mark Stewart
Thursday, October 2nd, Noon - 3pm
on Diane's Kamikaze Fun Machine
After 35 years of un-reissued silence, the Pop Group is finally doing it! They are re releasing We Are Time as well as a new collection, Cabinet of Curiosities later this year. Diane will speak to him about the releases, the Pop Group reunited and what it means to him to be with this seminal band that made an impact on so many to come, while the band members were still in their teens.

The Kate Bush Reunion Special with special guest Zohra Atash
Thursday, October 9th, 3am - 6am
on Dark Night of the Soul with Julie
At the great expense of time, blood and money,international fans flocked to the first Kate Bush concerts in 35 years. Zohra (Azar Swan, Religious to Damn) and Julie are two of those crazy people. It'll be a belated Katemas as Zohra and Julie compare KT notes and play songs from Kate's long but relatively unproductive career. Warning:may contain non-Kate content.

Torturing Twitter with Adachi Tomomi
Friday, October 10th, 3pm - 6pm
on Miniature Minotaurs with Kurt Gottschalk
"Torturing Twitter" is an interactive performance by Berlin-based Japanese performer/composer/sound poet Tomomi Adachi. Singing and reciting a realtime stream of Twitter hashtags and search words Adachi will do a "destructive reading" live on the air on Miniature Minotaurs, 3-6 pm on Friday, October 10. The Twitter timeline becomes a realtime text generator and live score for the performance. Listeners will be invited to attempt to shape the performance by tweeting using a hashtag that will be announced during the show.

Dennis McNally's author of "On Highway 61: Music, Race and the Evolution of Cultural Freedom"
Saturday, October 11th, 11am - 1pm
on Michael Shelley's show
Michael welcomes Dennis McNally's author of "On Highway 61: Music, Race and the Evolution of Cultural Freedom."

The Gizmos
Tuesday, October 14th, 3pm - 6pm
on Brian Turner's show
When you drop the phrase proto-punk, Bloomington, Indiana's Gizmos are synonymous with The Electric Eels, Styrenes and Rocket From the Tombs in terms of Midwest-bred, Creem-magazing-reading, Stooge-oid worshipping innovation. Now, the original 1976 Gizmos are coming to the East Coast following their return to the Midwest in June and an upcoming appearance at Gonerfest in Memphis. Founders Ken Highland and Eddie Flowers will bring the Gizmos experience to New York City on October 11 and Boston on October 12, and laying it down at WFMU on the 14th for Brian's show. As an added bonus, Flowers (who's also been active in chronicling great underground rock through the years via his Slippytown site, Gulcher Record label, writing, and his L.A. band Crawlspace) is gonna reprise his WIUS Bloomington radio show "Divine Decadence" with Ken and transport everybody back to 1974 with some obscuro heavy jams!

Singles Going Steady: Punk & New Wave Special
Friday, October 24th, 3pm - 6pm
on Miniature Minotaurs with Kurt Gottschalk
They said it couldn't be done. Or at least they said Kurt couldn't do it without messing it up. And indeed he hasn't done it yet. Tune in to Miniature Minotaurs on from 3 to 6 pm on Friday, Oct. 24 to see if Kurt can hold true to his word and play three hours of vintage anti-hippie vinyl.

Deke Dickerson
Saturday, October 25th, 11am - 1pm
on Michael Shelley's show
Michael Shelley chats with noted author, mind blowing guitarist, crack song writer, road warrior and member of show business Deke Dickerson about his career and new collaborative album "Los Straitjackets: Deke Dickerson Sings The Instrumental Hits" (released October 7) and tour (which brings the super group to Brooklyn's Bell House 10/31).

Miniature Minotaurs Halloween Special
Friday, October 31st, 3pm - 6pm
on Miniature Minotaurs with Kurt Gottschalk
What's scarier than classical and classic rock?


---
Want to see all the past events?
Go here
.
All times listed are Jersey City time, EDT.
Questions? E-mail
Brian
or call (201) 521-1416
To report problems with this page,
e-mail
the page administrator.