WFMU
PO Box 5101
Hoboken, NJ 07030
broadcasting from Jersey City 91.1 FM/90.1 FM
Audio Feed and Archives: www.wfmu.org
Podcasts: podcast.wfmu.org
Blog: blog.wfmu.org
Facebook: www.facebook.com/wfmuradio
Twitter: http://twitter.com/#!/wfmu
Brian Turner, Music Director, bt@wfmu.org (201) 521-1416 x223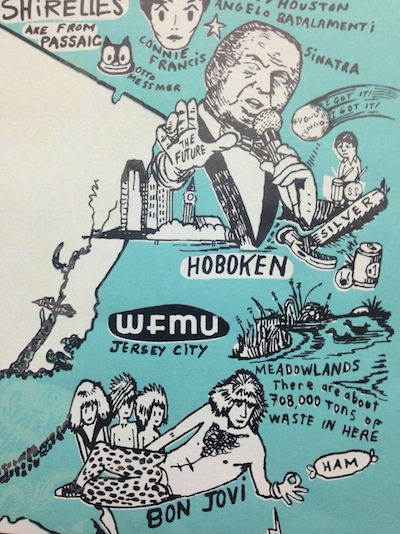 Heavy Airplay, January 26, 2014
NGOZI FAMILY - Day of Judgement (Now-Again)
TAKAKO MINEKAWA & DUSTIN WONG - Savage Imagination (Thrill Jockey)
RUDIGER LORENZ - Invisible Voices (Anthology)
KHUN NARIN ELECTRIC PHIN BAND - Khun Narin Electric Phin Band (Innovative Leisure)
BERNARD SZAJNER - Visions of Dune (Infine)
ARIEL KALMA - An Evolutionary Music (RVNG Intl.)
ABY NGANA DIOP - Liital (Awesome Tapes From Africa)
EX HEX - Rips (Merge)
QUEEN - Live at the Rainbow '74 (Hollywood)
UNKNOWN - I'm Gonna Destroy That Boy (Munster)
THE SPECIAL PILLOW - Infinite Regression (Zofko)
VARIOUS - Algo Salvaje: Untamed Beat and Garage Nuggets From Spain Vol. 1 (Munster)
MARY LATTIMORE AND JEFF ZEIGLER - Slant of Light (Thrill Jockey)
THE FATES - Furia (Finders Keepers)
VARIOUS - Spiritual Jazz 5 (Jazzman)
TONY ALLEN - Film of Life (Jazz Village)
PERE UBU - Carnival Of Souls (Fire)
SO COW - The Long Con (Goner)
CRIME - Murder By Guitar (Superior Viaduct)
SUN RA AND HIS ARKESTRA - In the Orbit of Ra (Strut)
HALF JAPANESE - Overjoyed (Joyful Noise)
THE FLIGHT REACTION - The Flight Reaction (13 O'Clock)
QUITTY & THE DONTS - Running Out of Time (Hidden Volume)
NORD - NG Tapes (P.C.P. Records)
THE POP GROUP - Cabinet of Curiosities (Freaks R Us)
SHELLAC - Dude Incredible (Touch and Go)
HAMISH KILGOUR - All Of It And Nothing (Ba Da Bing)
THE JUAN MACLEAN - In A Dream (DFA)
SADAHIRO YAMADA - OK To Exist Doing Nothing. (Selection)
VARIOUS - Rajasthan Street Music (Sublime Frequencies)
MIKE COOPER - Places I Know (Paradise of Bachelors)
VARIOUS - Neu Ist Zeit: Augsburg 1979-84 (Randstock)
GAME THEORY - Blaze Of Glory (Omnivore Recordings)
SPRAY PAINT - Cussin' (Upset! The Rhythm)
YOB - Clearing the Path To Ascend (Neurot Recordings)
YONATAN GAT - "Iberian Passage" EP (Self Released)
TOMASZ KRAKOWIAK - La Ciutat Ets Tu (Etude)
THE POSTMARKS - 1-12 By the Numbers (Unfiltered)
MICHAEL FENNELLY - Lane Changer (Epic)
THE FAUNTLEROYS - Below the Pink Pony (Plowboy )
NHK'KOYXEN - Dance Classics Vol. II (Pan)
WANDA DAVIS - Where Did You Sleep Last Night? (Secret Stash)
ZEEK SHECK - Joinus (Resipiscent Records)
OGRE YOU ASSHOLE - 100 (VAP Inc.)
ANJOU - Anjou (Kranky)

Medium Airplay
SHREDDED NERVE - Retention (Torn Light)
JOHN SCHOOLEY & WALTER DANIELS - Dead Mall Blues (12XU)
PELIROJA - Injusticia (Chulo)
UNITED WATERS - Sunburner (Bathetic)
TARWATER - Adrift (Bureau B)
COVES - Soft Friday (Nettwerk)
LIA ICES - Ices (Jagjaguwar)
TERROR OF THE DEEP - Death of the Gideon (Selection)
ELECTRIC BIRD NOISE - Kind Of Black (Silber)
INTELLIGENCE - Boredom and Terror / Let's Toil (In The Red)
WOODEN WAND - Farmer's Corner (Fire)
PETER JEFFERIES - Electricity (Superior Viaduct)
DEAR ELOISE - Castle (No Label)
IGNATZ / HARRIS NEWMAN - Bring You Buzzard Meat (Okraina)
DEAD MOON - Unknown Passage (M'lady's)
THE STROKE BAND - Green and Yellow (Anthology)
ENGLISH HERETIC - The Underworld Service (No Label)
SMALL CRUEL PARTY - Unroof the House of the Fishes (Harbinger Sound)
SOUNDTRACK (SINOIA CAVES) - OST: Beyond The Black Rainbow (Jagjaguwar)
MONIEK DARGE & GRAHAM LAMBKIN - Indian Soundies (Kye)
ZIGURI - Kolsch-Schickert-Erdenreich (Bureau B)
MATT NELSON - Lower Bottoms (Tubapede)
MICHAEL PSYCHO - Think (S-S)
VARIOUS - The Best Place To Go! Go! Amsterdam Beat Club 10th Anniversary (Munster)
FURSAXA - Kobold Moon (Syph)
HELADO NEGRO - Double Youth (Asthmatic Kitty)
KIM KI O - Bir, iki..,. (S-S)
BLACK SEA HOTEL - The Forest Is Shaking And Swaying (Self Released)
CONNECTIONS - Into Sixes (Anyway)
SAVAGE REPUBLIC - Aegean (Self Released)
CHRISTOPHER WILLITS - OPENING (Ghostly International)
THE VIBRATORS - Punk Mania: Back To the Roots (Cleopatra)
TARKUS - Tarkus (Vinilisssim)
B-LINES - Opening Band (Hockey Dad)
NILS FRAHM - Felt (Erased Tapes)
VARIOUS - Catch Action: The Sophisticated Boogie Funk of Sheridan House Records (Luv N' Haight )
TRICKY - Adrian Thaws (False Idols)
LA MECANICA POPULAR - La Mecanica Popular (Perumusic)
KING TUFF - Black Moon Spell (Sub Pop)
HOWARD EYNON - So What If Im Standing In Apricot Jam (Earth)
THE PARROTS - Loving You Is Hard (Bachelor)
BLUEBLUT - Hurts So Gut (Austromechana)
RALPH TOWNER - John Abercrombie (ECM)
ZUKANICAN - The Stumbling Block (Pickled Egg)
O' DEATH - Out of Hands We Go (Northern-Spy)
HIIRAGI FUKUDA - Me and My Marshall Amp (Selection)
VARIOUS - Tributo a Pentagram (Hueso)
EXILES FROM CLOWNTOWN - Tape Scissors Rock (Soft Abuse)
JENNIFER CASTLE - Pink City (No Quarter)
HAYVANLAR ALEMI - Gaga (003/MK2 Yapumcilik)
MAP 71 - Standing (Foolproof Projects)
DARK BLUE - Just Another Night With the Boys (Jade Tree)
MEATBODIES - Mud Gals (In the Red)
PEOPLE SKILLS - Tricephalic Head (Siltbreeze)
THE CONCUSSIONS - Break Up With (Double Crown)
THE ACID - Liminal (Infectious)
GAROTAS SUECAS - Feras Miticas (Vampisoul)
DANCER - Rootbeer Station (Chocolate Covered)
INTERPOL - Elpintor (Matador)
NICK MONACO - Mating Call (Soul Clap)
AFRIKA BAMBAATAA & TIMEZONE - Everyday People: The Breakbeat Party Album (Planet Rock)
THE BAD PLUS - Inevitable Western (Okeh)
BRUCE RUSSELL / GNARLOS - Ruined Again (L'esprit De L'escalier)
PERFUME GENIUS - Too Bright (Matador)
FREE TIME - Esoteric Tizz (Underwater Peoples)
THE ASTEROIDS GALAXY TOUR - Bring Us Together (Hot Bus)
LEONARD COHEN - Popular Problems (Columbia)
YANN TIERSEN - (infinity) (Mute)
AFRO LATIN VINTAGE ORCHESTRA - Pulsion (Ubiquity)
VIRGINIA WING - Measures of Joy (Fire)
ROMAN FLUGEL - Happiness is Happening (Dial)
GERARD LECKEY - As The Poles Shift (Indie Pool)
KASPER BJORKE - After Forever (HFN Music)
BLONDE REDHEAD - Barragan (Kobalt)
VVEREVVOLF GREHV - Zombie Aesthetics (Relapse)
PROTECT-U - Free USA (Future Times)
SUZI CHUNK AND GROOVY UNCLE - Barefoot in the Car Park (State)
OREN AMBARCHI/STEPHEN O'MALLEY/RANDALL DUNN - Shade Themes From Kairos (Drag City)
BUSDRIVER - Perfect Hair (Big Dada)

Light Airplay
PARASHI - Zone of Alienation (Kendra Steiner Editions)
THE BUG - Angels & Devils (Ninjatune)
SVEN LIBAEK - The Set O.S.T. (Votary)
SMOKE BELLOW - Blooming/Middling (20120 Records)
VINCENT BLACK LIGHTNING - Lay Your Rug EP (Eli )
HERE & HERE & HERE - Here & Here & Here (pfMentum)
DON ORR AND THE ORIGINAL ROCKETS / SONNY WALLACE - Split 7 (Norton)
THE LIMITS - The Early Daze 1965-1968 (Luxury)
SILVA / HIGUCHI / TOYOZUMI / TANIKAWA - Crimson Lip (Improvising Beings)
PRIMITIVE MAN / HEXIS - Split 10 (Halo of Flies)
SILVA - Ocean View (Six Degrees)
MODERN PETS - B.I.Y.S. (Secret Mission)
RADIOACTIVITY - Danger (Secret Mission)
SHINOBU NEMOTO - Flowers (Analog Path)
GRAVEL SAMWIDGE - Home Brand (No Label)
ALEXANDR VATAGIN - Shards (Valeot)
TASHI DORJI & FRANK MEADOWS - Number Six Is Sacred (Cabin Floor Esoterica)
TUNDE ADEBIMPE/BART HIGGINS/COURTNEY SMITH/IVAN NAVARRO - OIDO: An Experiment In Sound And Sculpture (Hueso Records)
LUKE WINSLOW-KING - Everlasting Arms (Bloodshot)
YOU. - Sunchaser (Dais)
PUBLIC HOUSING - Public Housing (Torn Light)
MOIRE - Shelter (Ninja Tune)
4T(REC)K - 6 (Self Released)
OLEKRANON - Aphelion (Inam)
RUSTIE - Green Language (Warp)
HOLY SONS - The Fact Facer (Thrill Jockey)
THE RINGLEADERS - Grind and Bare It (M-Pac!)
SIGNAL PROBLEMS - Signal Problems (pfMentum)
STOP MOTION ORCHESTRA - Instant Everything! (Egg Helmet Records)
HIGH TENSION WIRES - Midnight Cashier (Dirtnap)
WAND - Ganglion Reef (God?)
DYANE DONCK/DAISY BELL - Proverbs Of Hell (Worm)
COUNTER INTUITS - Get On...'The Right Side of History' (Loki)
KAREN O - Crush Songs (Cult)
DIALS - School Girl (Secret Mission)
THE CHROME CRANKS - Dirty Airplay (Bang!)
LOVE INKS - Exi (Self Released)
SEAN COLEMAN & THE QUASARS - I'm A Man (Nebula)
EPILEPTINOMICON - Nekrobukuro (Sleeping Giant Glossolalia)
THE ROLLO TREADWAY - The Rollo Treadway (Self Released)
LUCIERNAGA - Collected Works: 2008-2013 (Fabrica)
GEL SET / STACIAN - Voorhees (Moniker)
BOSTICH + FUSSIBLE - Motel Baja (Nacional)
THE GROWLERS - The Growlers (Everloving)
HEAVY WINGED - Infinite In Every Direction (No Label)
UNIVERSE PEOPLE - Are Coming To The Dance (Dragnet)
UV GLAZE - Environment (Bachelor)
RUINS / USNEA - Split 7 (Halo of Flies / Twisted Chords)
MOTORMOUTH MABEL - Permanent Vacation (Tick Tack)
FATE VS. FREE WILLY - Every Human Was a Child (If Society)
HOSSAM RAMZY - Sabla Tolo IV: Tak Raka Takum (Arc Music)
VARIOUS - Look Again To The Wind: Johnny Cash's Bitter Tears (Sony Masterworks)
MIKE DOUGHTY - Stellar Motel (Megaforce)
KEITH JARRETT AND DENNIS RUSSELL DAVIES - Ritual (ECM)
MFC CHICKEN - Solid Gravy! (Dirty Water)
MARKETA IRGLOVA - MVNA (Anti-)
BI-HOUR - Strawberry Licorice (No Label)
TRIPLE POINT (OLIVEROS/VAN NORT/BRAASCH) - Phase/Transitions (Pogus)
CHUCK SLEDGE / STEVE COOPER AND THE AVANTS - Split 7 (Norton)
MELTED MEN - Golf Ball Head (Nerve Rust)
ERIC BOROS - Desolation Sound (S.K.)
GOOD THROB - Live on WFMU (Muscle Horse)
MELTED TOYS - Melted Toys (Underwater Peoples)
MAURIZIO BIANCHI + ROADSIDE PICNIC - The Mind Is an Ancient Capital (Los Discos Enfantasmes)
SILVIA KASTEL / NINNI MORGIA / BREN'T LEWIIS - Found on Road, Dead (BUFMS)
THE LIMBOOS - Space Mambo (Pennimann)
BARKER/DUNMALL/DAHL - (Luddite) (New Atlantis)
MUKQS / MR. DOUG DOUG - Split Cassette (Hausu Mountain)
BEN VIDA - Patchwork (Autumn)
PSYCHIC BAGS - Our Friends Call Us Horse (Magnetic South)
ORLANDO JULIUS W/ THE HELIOCENTRICS - Jaiyede Afro (Strut)
JAMES WILLIAMSON - Re-Licked (Leopard Lady)
HAFEZ MODIRZADEH - In Convergence Liberation (Pi Recordings)
CAN CAN HEADS + MOHEL / FOLKLORE - Telakka (Kissankusi)
MC SUB-ZERO PERMAFROST & LYDSOD - My Brass Instrument (Lydsod)
TERRENCE HANNUM - Via Negativa (Utech)
ROSALIND HALL - Carriage of the Voice (Whatever)
THIS WILL DESTROY YOU - Another Language (Suicide Squeeze)
BILL ORCUTT - Why Four Strings? (Pallilalia)
HOMEBOY SANDMAN - Hallways (Stones Throw)
JOHNNY WINTER - Step Back (Megaforce)
BANKS - Goddess (Harvest)
SAM COFFEY AND THE IRON LUNGS - Gates of Hell (Southpaw)
MAMA ROSIN - Tu As Perdu Tohemin (Voodoo Rhythm)

7" Singles List
UNKNOWN - I'm Gonna Destroy That Boy (Munster)
SHREDDED NERVE - Retention (Torn Light)
QUITTY & THE DONTS - Running Out of Time (Hidden Volume)
SPRAY PAINT - Cussin' (Upset the Rhythm)
WANDA DAVIS - Where Did You Sleep Last Night? (Secret Stash)
DEAR ELOISE - Castle (No Label)
THE PARROTS - Loving You Is Hard (Bachelor)
MAP 71 - Standing (Foolproof Projects)
DARK BLUE - Just Another Night With the Boys (Jade Tree)
MEATBODIES - Mud Gals (In the Red)

RPM List
THE BUG - Angels & Devils (Ninjatune)
MOIRE - Shelter (Ninjatune)
PAUL WHITE - Shaker Notes (R&S)
BLACK RAIN - Dark Pool (Blackest Ever Black)
KODE 9 & THE SPACEAPE - Killing Season (Hyperdub)
APHEX TWIN - Syro (Warp)
ANDY STOTT - Faith In Strangers (Modern Love)
TRANSLLUSION - The Opening of the Cerebral Gate (Tresor)
VARIOUS - Hyperdub 10.4 (Hyperdub)
VARIOUS - Ten Cities (Soundway)

World List
NGOZI FAMILY - Day of Judgement (Now-Again)
KHUN NARIN ELECTRIC PHIN BAND - s/t (Innovative Leisure)
TONY ALLEN - Film of Life (Jazz Village)
VARIOUS - Rajasthan Street Music (Sublime Frequencies)
TARKUS - Tarkus (Vinilisssim)
KASA TESSEMA - Ethiopiques Vol. 29 (Heavenly Sweetness)
ABELARDO BARROSO - Cha Cha Cha (Nonesuch/World Circuit)
VARIOUS - The Afrosound of Colombia Vol. 2 (Vampisoul)
VARIOUS - Lagos Disco Inferno Vol. 2 (Voodoo Funk)

Loud List
CRIME - Muder By Guitar (Superior Viaduct)
NORD - NG Tapes (P.C.P.)
YOB - Clearing the Path To Ascend (Neurot Recordings)
TARKUS - Tarkus (Vinilisssim)
VVEREVVOLF GREHV - Zombie Aesthetics (Relapse)
SHREDDED NERVE - Retention (Torn Light)
PRIMITIVE MAN/HEXIS - Split 10" (Halo of Flies)
RUINS/USNEA - Split 7" (Halo of Flies)
GOOD THROB - Live on WFMU (Muscle Horse)
REALLY RED - Teaching You the Fear (Alternative Tentacles)

Jazz List
VARIOUS - Spiritual Jazz 5 (Jazzman)
SUN RA & HIS ARKESTRA - In the Orbit of Ra (Strut)
MAP 71 - Standing (Foolproof Projects)
HERE HERE HERE & HERE - s/t (pfMentum)
SILVA/HIGUCHI/TOYOZUMI/TANIKAWA - Crimson Lip (Improvising Beings)
KEITH JARRETT & DENNIS RUSSELL DAVIES - Ritual (ECM)
JOHN COLTRANE - Offering: Live at Temple University (Universal/Impulse)
VARIOUS - Black Fire! New Spirits! Radical and Revolutionary Jazz in the USA 1957-82 (Soul Jazz)
BOBBI BOYLE - A Day In the Life of Bobbi Boyle & the Trio (Mpls Ltd)
SONNY SIMMONS & MOKSHA SAMNYASIN - Nomadic (Svart)

Hip-Hop List
AFRIKA BAMBAATAA & TIMEZONE - Everyday People: The Breakbeat Party Album (Planet Rock)
BUSDRIVER - Perfect Hair (Big Dada)
HOMEBOY SANDMAN - Hallways (Stones Throw)
FLYING LOTUS - You're Dead! (Warp)
GHOSTFACE KILLAH - 36 Seasons (Salvation/Tommy Boy)
RUN THE JEWELS - 2 (Mass Appeal)
SLIMKID3 & DJ NU-MARK - s/t (Delicious Vinyl)
DJ QBERT - Xtraterrestria (Galactic Butt Hair)
DUB ESQUIRE - The Oddysey (Misfit Musick)
OPEN MIKE EAGLE - Dark Comedy (Mello)
Cassette List
HIIRAGI FUKUDA - Me and My Marshall Amp (Selection)
TASHI DORJI & FRANK MEADOWS - Number Six Is Sacred (Cabin Floor Esoterica)
COUNTER INTUITS - Get On...'The Right Side of History' (Loki)
MAURIZIO BIANCHI + ROADSIDE PICNIC - The Mind Is An Ancient Capital (Los Discos Enfantasmes)
GOOD THROB - Live on WFMU (Muscle Horse)
PSYCHIC BAGS - Our Friends Call Us Horse (Magnetic South)
CAN CAN HEADS + MOHEL/FOLKLORE - Talakka (Kissankusi)
BEN VIDA - Patchwork (Autumn)
MUKQS/MR. DOUG DOUG - Split (Hausu Mountain)
FILET MIGNON - s/t (The Flying Snail Co. Ltd.)
UPCOMING SPECIALS ON WFMU:
Jodi Lennon PLUS Walter Schreifels
Monday, January 26th, 9pm - Midnight
on
The Goddamn Dave Hill Show
Dave welcomes comedian/writer Jodi Lennon and musician Walter Schreifels (Quicksand, Gorilla Biscuits).
Sundance Edition: Bobby Johnston (City of Gold composer)
Tuesday, January 27th, 7pm - 8pm
on
Morricone Island with Devon E. Levins
Composer/multi-instrumentalist Bobby Johnston will be joining Morricone Island host Devon E. Levins this Tuesday, January 27th (7 pm ET) by phone from the Sundance Film Festival in Utah after the premiere of "City of Gold," the latest documentary directed by Laura Gabbert chronicling Pulitzer Prize-winning restaurant critic Jonathan Gold's relationship to his beloved Los Angeles. The film is the latest of over 25 films and documentaries Bobby has scored, including "Wristcutters: A Love Story," "No Impact Man," "Larry Clark's Marfa Girl," horror director Stuart Gordon's "King of the Ants," "Edmond and Stuck," and "Splat Pack" director Darren Lynn Bousman's "The Barrens" and "Mother's Day." Bobby's soundtracks have been released by Lakeshore, La-La Land, Citadel and Lionsgate Records and featured extensively in This American Life.
Joe Frank - "Obsessions"
Wednesday, January 28th, 3pm - 6pm
on
Irwin Chusid
One-hour dramas by Joe Frank air alternate Wednesdays at 4pm (Eastern) on Irwin's program. The episode "Obsessions," from Joe's Somewhere Out There series, airs Weds. January 28th. Joe becomes obsessed with women he meets at a party, in an elevator, at a diner. Joe describes an underwater hotel during a monsoon, a brothel where patrons are offered medical records of the prostitutes, and a woman who smears cake batter on her breasts and plays the piano. He also recounts how saying NO might be a more creative path than YES.
Mucca Pazza
Wednesday, January 28th, 9pm - Midnight
on The Evan "Funk" Davies Show
Mucca Pazza describe themselves as "a marching band that thinks it's a rock band," and that sums it up well. The Chicago outfit is making a return trip to WFMU (having successfully crammed all 30ish of its members inside our cozy Love Room back in 2009), and they'll be featuring songs from their latest album L.Y.A.! Their songs reflect a panoply of influences, from French yé-yé to Balkan brass bands to Henry Mancini, P.T. Barnum and The Stooges. Tune in Wednesday night, January 28, at 9pm and feast your ears AND eyes! That's right, you can watch a video simulcast of the performance at wfmu.org and in our free iOS and Android apps, so don't miss it!
Derek Bailey Special
Friday, January 30th, 3pm - 6pm
on Miniature Minotaurs with Kurt Gottschalk
A day after what would have been his 85th birthday, and a month after the 10th anniversary of his death, Miniature Minotaurs dedicates a full three hours to Derek Bailey, the grandfather of British free improvisation and one of the 20th Century's greatest guitar innovators.

Will Birch
Saturday, January 31st, 11am - 1pm
on Michael Shelley's show
Michael chats with Will Birch about the musician and author's book "No Sleep Till Canvey Island - The Great Pub Rock Revolution."

Tom Scharpling, Joe Pera, Jacqueline Novak, and Mikey Erg
Saturday, January 31st, 9pm - Midnight
on Prove it All Night with Pat Byrne
Pat kicks off his second live variety show from Monty Hall with a visit from Tom Scharpling, stand up comedy from Joe Pera and Jacqueline Novak, and music from Mikey Erg. Also, starting and ending the night will be a DJ set from Primitive Sound System.

Kerri LeBon
Tuesday, February 3rd, 3am - 6am
on Ning Nong Radio
California-based DJ/producer Kerri LeBon has released music on Nation and a mix CD on Jealous God. Following a set recently aired on Knekelhuis's program on Intergalactic FM, she will be DJing a live one-hour session on Ning Nong Radio.

Joan Jett biographer Dave Thompson
Saturday, February 7th, 11am - 1pm
on Michael Shelley's show
Michael chats with author Dave Thompson abut his book "Bad Reputation: The Unauthorized Biography of Joan Jett."

Topography of the Spleen
Tuesday, February 10th, 3pm - 6pm
on Brian Turner's show
Top form trio improvisation live on Brian's show today to celebrate legendary guitarist Henry Kaiser's residency at The Stone. Kaiser, who has been putting out a wildly diverse musical output since 1979, has played solo and with a stunning variety of musicians including Derek Bailey, Richard Thompson, David Lindley, Jim O'Rourke, John Oswald, and Fred Frith. In the last decade he's also dedicated a great amount of time deployed as a research diver in the Antarctic and has provided underwater camerawork to two Werner Herzog films to Oscar-nominated acclaim. Today on air, drummer Weasel Walter (Flying Luttenbachers/Cellular Chaos and currently of Lydia Lunch's Retrovirus) and saxophonist Chris Pitsiokos join in, playing as Topography of the Spleen; catch this lineup live also February 5th during Henry's Feb 3-8th Stone stint (located on Avenue C and 2nd Street).

Les Sans Culottes
Wednesday, February 11th, 9pm - Midnight
on The Evan "Funk" Davies Show
It's said that French is the language of love, so why not spend the Wednesday night before Valentine's Day with the plausibly French rock et rollers Les Sans Culottes? They'll be bringing their melange formidable of Dutronc, Duchamp and Dubonnet to the WFMU studios on Wednesday February 11 at 9pm, so be sure to tune in for some faux français fun with Brooklyn's enfants terrible de la musique! You can also catch them live at the Rock Shop in Brooklyn on Friday February 27 avec les Zambonis, and their latest album, The Gods Have Thirst, is out now on the band's own Disque Escargo-go label.

Put on your best beret, tear off a piece of baguette, and tune in to The Evan "Funk" Davies Show on WFMU Wednesday night, February 11 at 9pm for this très spécial soirée.

Friday the 13th Part You
Friday, February 13th, 3pm - 6pm
on Miniature Minotaurs with Kurt Gottschalk
For the seventh Miniature Minotaurs Friday the 13th special, we're asking you to create your own score. No Jason Vorhees or Thelonious Monk, this time it's just your own, personal soundtrack to your own, personal Friday the 13th. Submissions should be sent as wav or mp3 files to miniature[dot]minotaurs[at]gmail[dot]com by Monday, February 9. All submissions will also be made available for listener remixes to be played on Friday, March 13.

UPCOMING AT WFMU'S MONTY HALL (43 Montgomery Street, Jersey City)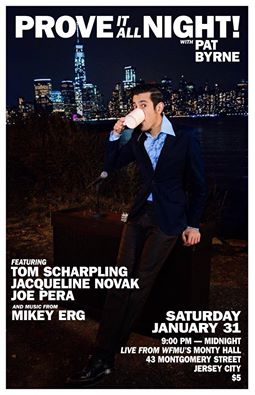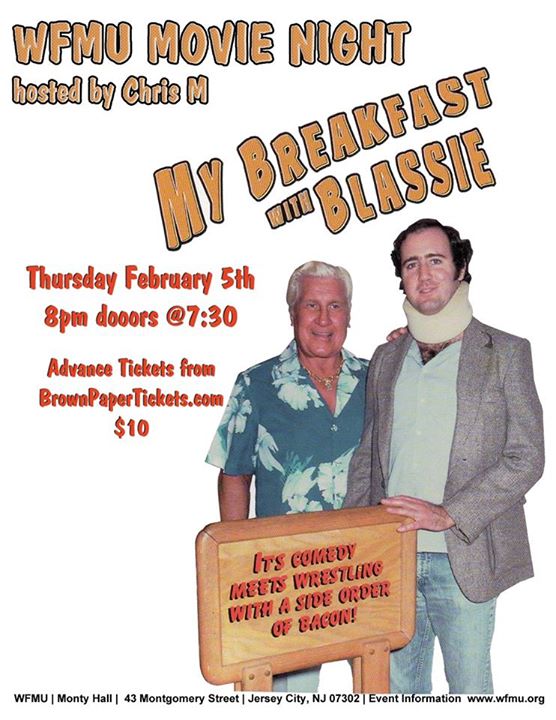 ALSO UPCOMING:
FRIDAY 2/20: SEVEN SECOND DELAY The Adults Only Show 8pm
WEDNESDAY 4/22: EX-HEX and openers TBA

Tickets available via: http://wfmu.org/montyhall