WFMU
PO Box 5101
Hoboken, NJ 07030
broadcasting from Jersey City 91.1 FM/90.1 FM
Audio Feed and Archives: www.wfmu.org
Podcasts: podcast.wfmu.org
Blog: blog.wfmu.org
Facebook: www.facebook.com/wfmuradio
Twitter: http://twitter.com/#!/wfmu
Brian Turner, Music Director, bt@wfmu.org (201) 521-1416 x223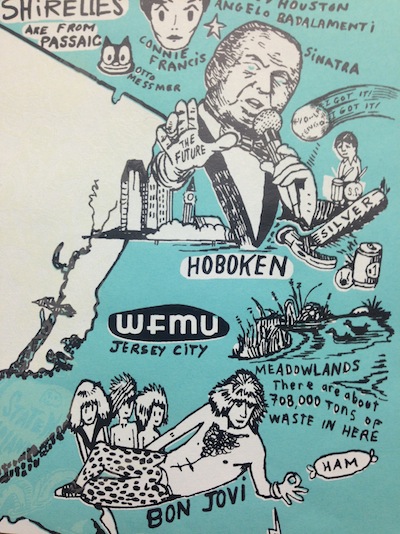 Heavy Airplay, September 9, 2015
KARIN KROG - Don't Just Sing: An Anthology: 1963-1999 (Light In the Attic)
CIRCUIT DES YEUX - In Plain Speech (Thrill Jockey)
MICHAEL CHAPMAN - Windows (Light In the Attic)
THOMAS LEER - Private Plane (Dark Entries)
KAMASI WASHINGTON - The Epic (Brainfeeder)
REMA-REMA - Entry/Exit (Inflammable Material)
R.A. CANTIUS - Playing In the Dirt (Feeding Tube)
VARIOUS - Remembering Mountains: Unheard Songs By Karen Dalton (Tompkins Square)
MIRIAM - The Hand Don't Fit the Glove (Norton)
NUDITY - Astronomicon (Iron Lung)
DIRTY FENCES - Full Tramp (Slovenly)
FALLOPIAN DISCO FORCE - Black Larvenroller (Ill Yacumama)
PRURIENT - Frozen Niagara Falls (Profound Lore)
TAPES - No Broken Hearts on this Factory Floor (EM)
JORDAN DE LA SIERRA - Gymnosphere: Song of the Rose (Numero Group)
THE EAST NASHVILLE TEENS - The Lonely Bull (Sundazed)
ELSE MARIE PADE / JACOB KIRKEGAARD - PADE (Important)
WHITE MANNA - Pan (Captcha)
VARIOUS - DJ Kicks: Actress (Studio K7)
CHAINSAW - See-Saw (No Good)
JEFF COWELL - Lucky Strike's and Liquid Gold (Numero Group)
WHITE EYES - White Eyes (Numero Group)
KAMURAN AKKOR - Kamuran Akkor (Pharaway Sounds)
MATT MV VALENTINE - Midden Mound (Child of Microtones)

Medium Airplay
VARIOUS - Living In a Shadow: Vacant Valley Sampler (Vacant Valley)
SYNTOMA - Syntoma (EM)
ANDY HUMAN & THE REPTOIDS - Andy Human & the Reptoids (S-S)
DADDY LONG LEGS - Rides Tonight (Norton)
THOMAS BRINKMANN - What You Hear (Is What You Hear) (Editions Mego)
CLIFFORD TORUS / GAUTE GRANLI - Split 12 (Drid Machine)
VARIOUS - A New Life: Private, Independent and Youth Jazz In Great Britain 1966-1990 (Jazzman)
THEE OH SEES - Mulilator Defeated At Last (Castle Face)
SHEER MAG - Fan the Flames (Katorga Works)
COLIN STETSON AND SARAH NEUFELD - Never Were The Way She Was (Constellation)
NATURAL CAUSES - Natural Causes (Snot Releases)
VARIOUS - Electroconvulsive Therapy Vol. 3: Obscure Singles Circa 83-86 (Medical Records)
MAD VIRGINS - I Am A Computer / F... & Suck (No Good)
TYONDAI BRAXTON - HIVE1 (Nonesuch)
TREDICI BACCI - The Thirteen Kisses EP (100% Breakfast / Feeding Tube)
GRAHAM LAMBKIN/MICHAEL PISARO - Schwarze Riesenfalter (Erstwhile)
MELT-BANANA - Return of the 13 Hedgehogs (A-Zap)
PADNA - Alku Toinen (Aagoo)
CONTAINER - LP (Spectrum Spools)
VARIOUS - Whiplash! Crude Unissued Jersey Rock & Roll (Norton)
ALCEU VALENCA - Molhado de Suor (Sol Re Sol)
ODESSEY & ORACLE - and the Caiotone Orchestra (Carton )
I-LP-O IN DUB (ILPO VAISANEN) - Communist Dub (Editions Mego)
VARIOUS - The Music City Sessions: Vol. 3: Soul Show (Omnivore Recordings)
VARIOUS - Hamburger Saignant: 15 Garage Bands from France and Belgium (Frantic City)
JOE CROW - Compulsion (Dark Entries)
PATRICK WATSON - Love Songs For Robots (Secret City )
PIP PROUD - Adrenaline & Richard (Superior Viaduct)
CHRIS FORSYTH & NATE WOOLEY - Third (Rekem)
VARIOUS - Music of Tanzania (Sublime Frequencies)
DEATH ALLEY - Black Magick Boogieland (Tee Pee)
SARAH MARY CHADWICK - 9 Classic Tracks (Siltbreeze)
HULK SMASH - The Hulk Smash Album (Hulk Smash Industries)
DEVIL WORSHIPPER - Devil Worshipper (Holy Mountain)
VYTAS BRENNER - La Ofrendo de Vytas (Munster)
SOUNDTRACK (DISASTERPEACE) - It Follows (Milan)
WUME - Maintain (Ehse)
SIMON MATHEWSON - Vault Age: 4-track Recordings 1989-1994 (Free Music Archive)
GORILLA ANGREB - Gorilla Angreb (Hjernespind)
GUANTANAMO BAYWATCH - Darling..It's Too Late (Suicide Squeeze)
THE FLESHTONES / LOS STRAITJACKETS - Split 7 (Norton)
GROUNDERS - Grounders (Nevado)
SCULPTURE - Membrane Pop (Software)
CINERAMA - Valentina (Scopitones)
WEI ZHONGLE - Raised High / Brought Low (Edible Onion)
HOUND - Out of Time (SRA Records)
DELPHINE DORA - Prés du Coeur Sauvage (Wild Silence)
DAVID KAUFFMAN & ERIC CABOOR - Songs From Suicide Bridge (Modern Classics Recordings/Light In the Attic)
ALAN COURTIS/AARON MOORE - Bring Us Some Honest Food (Dancing Wayang)
PALMEIRA - Palmeira (Pharaway Sounds)
IGNEOUS EYES / WRITHING SQUARES - Split Cassette (No Label)
FLYYING COLOURS - EP X 2 (Shelflife)
SARALEE - Saralee (Ride The Snake)
SUN BATHER - Waiting (Hjernespind)
R. HUNDRO - Invisible On Report (Wharf Cat)
STEVE REICH - Music For 18 Musicians: Ensemble Signal (Harmonia Mundi)
ALAN WATTS / JAS WALTONS - Face the Facts (Walton)
ELDER - Lore (Armageddon Shop)
SóLEY - Ask The Deep (Morr Music)
THE WILFUL BOYS - Anybody There? (Ever/Never)
WILLIAM BASINSKI - Cascade (2062)
THE FLESH WOUNDS - The Flesh Wounds (Snot Releases)
PILOCKA KRACH - Best of (Monika)
ELECTRIC EELS - Spin Age Blasters (Superior Viaduct)

Light Airplay
BJORK - Vulnicura (One Little Indian)
ANGELO NOCE SANTORO - For You (Pharaway Sounds)
CHUI WAN - Chui Wan (Maybe Mars)
MOONLESS - Calling All Demons (Hjernespind)
LAURA MARLING - Short Movie (Ribbon Music)
DAVID FIRST - The AM Radio Band (Robert & Leopold)
POWER MASTERS - Home of the Grave (Surveillance Investments)
MADE FOR CHICKENS BY ROBOTS - In A Semi-Mental Mood (Off Label)
CROCODILES - Boys (Zoo Music)
AUTISTIC BEHAVIOR - Shattered Cattle (SRA Records)
LE CLICHé - Consumer Behavior (Medical Records)
ULYSSES - The Casual Mystic EP (The Bunker New York)
PAUL WELLER - Saturns Pattern (Warner Brothers/Parlophone)
UNITED SLAVES - #2-3 (Improvising Beings)
CHEMICAL PEEL - Bike Thief (Ride The Snake)
KATH BLOOM - Pass Through Here (Chapter Music)
MOMOIRO CLOVER 7 - 5th Dimension (King Japan)
HIRS - The Second 100 Songs (SRA Records)
HOLLY HERNDON - Platform (4AD)
ANTZKILLA - Feel Me (Araca Recs)
FUNKA FIZE - Because You're Funky / No Words (Royce)
ALTERED TAPES - Savant Garde (Altered Tapes)
LAIR - Lair (Surveillance Investments)
SULT - Svimmelhed (Conrad Sound)
LEONARD COHEN - Can't Forget: A Souvenir of the Grand Tour (Columbia)
AJINAI - Synthesis (Zkewen)
MARCO SHUTTLE - Fanfara EP (The Bunker New York)
LAPALUX - Lustmore (Brainfeeder)
ITARU OKI / AXEL DORNER - Root of Bohemian (Improvising Beings)
THE NEW LINES - Fall In Line (Moon Glyph)
BAD WEED - Hillside (Bachelor )
LA MORTE YOUNG - La Morte Young (Ba Da Bing!)
PUIG DESTROYER - One Man, Five Tools (The Ghost Is Clear)
HAARE - Musta Magia (Heavy Meditation)
CHARLES LLOYD - Wild Man Dance (Blue Note)
HENRY HERTEMAN - Roule Ta Salive (Improvising Beings)
RIMBAUD - Rimbaud (Gusstaff)
XIBALBA - Tierra Y Libertad (Southern Lord)
TRISTAN PERICH - Surface Image (New Amsterdam)
INGENTING KOLLEKTIVA - Lost Beyond Telling (Oiseaux Invisibles)
XOME - Double Live Gonzo! (Love Earth Music)
BRYCE DESSNER & SO PERCUSSION - Music for Wood & Strings (Brassland)
CAPEECH CAPPUCCINO - Galacticstar Hip Hop (Elite Elephants)
VARIOUS - The Alchemist / Oh No present Welcome To Los Santos (Mass Appeal)
ELVIS DEPRESSEDLY - New Alhambra (Run For Cover)
BEAUTY SCHOOL - Residual Ugly (Humbler)
GLOOP NOX AND THE STIK PEOPLE - Continuing Where the Beatles Left Off... (Trubee)
THE CHEWERS - Dead Dad (No Label)
STEFAN WESOLOWSKI - Liebestodd (Important)
ESKORBUTO - Los Demenciales Chicos Acelerados (Munster)
LITTLE FLOWERS - Home (Araca Recs)
FLAG OF DEMOCRACY - Hate Rock (SRA Records)
EMMYLOU HARRIS & RODNEY CROWELL - The Traveling Kind (Nonesuch)
REGLER - Regel #4 (HNW) (At War With False Noise)

7" Singles List
MIRIAM - The Hand Don't Fit the Glove (Norton)
THE EAST NASHVILLE TEENS - The Lonely Bull (Sundazed)
CHAINSAW - See-Saw (No Good)
SHEER MAG - Fan the Flames (Katorga Works)
MAD VIRGINS - I Am a Computer (No Good)
THE FLESHTONES / LOS STRAITJACKETS - Split 7" (Norton)
SUN BATHER - Waiting (Hjernespind)
THE WILFUL BOYS - Anybody There? (Ever/Never)
ELECTRIC EELS - Spin Age Blasters (Superior Viaduct)
MADE FOR CHICKENS BY ROBOTS - In a Semi-Mental Mood (Off Label)

RPM List
VARIOUS - DJ Kicks: Actress (K7)
THOMAS BRINKMANN - What You Hear (Is What You Hear) (Editions Mego)
I-LP-O IN DUB (ILPO VAISANEN) - Communist Dub (Editions Mego)
WILLIAM BASINSKI - Cascade (2062)
LE CLICHE - Consumer Behavior (Medical)
ULYSSES - The Casual Mystic EP (The Bunker New York)
VARIOUS - Cargaa 1 (Warp)
CLARA MONDSHINE - Luna Africana (Fifth Dimension)
AFX - Orphaned Deejay Selek 2006-08 (Warp)
HAUNTOLOGISTS - Hauntologists (No Label)

Jazz List
KARIN KROG - Don't Just Sing: An Anthology 1963-1999 (Light in the Attic)
KAMASI WASHINGTON - The Epic (Brainfeeder)
VARIOUS - A New Life: Private, Independent, and Youth Jazz in Great Britain 1966-1990 (Jazzman)
UNITED SLAVES - #2-3 (Improvising Beings)
ITARU OKI/AXEL DORNER - Root of Bohemian (Improvising Beings)
CHARLES LLOYD - Wild Man Dance (Blue Note)
ROSCOE MITCHELL QUARTET - Celebrating Fred Anderson (Nessa)
VARIOUS - Jazz in Polish Cinema: Out of the Underground 1958-1967 (Jazz on Film)
DARIUS JONES QUARTET - Le Bebe de Brigitte (AUM Fidelity)
WILLIAM PARKER - For Those Who Are, Still (AUM Fidelity)

World List
KARIN KROG - Don't Just Sing: An Anthology 1963-1999 (Light in the Attic)
KAMURAN AKKOR - Kamuran Akkor (Pharaway Sounds)
ALCEU VALENCA - Molhado de Suor (Sol Re Sol)
VARIOUS - Music From Tanzania (Sublime Frequencies)
PALMEIRA - Palmeira (Phawaray Sounds)
ANGELO NOCE SANTORO - For You (Pharaway Sounds)
VARIOUS - Tropical Disco Hustle Volume 2 (Cultures of Soul)
AMARA TOURE - 1973-1980 (Analog Africa)
VARIOUS - Primitive Paradise: Early Exotica 1920-1947 (University of Vice)
MBONGWANA STAR - From Kinshasa (Nonesuch/World Circuit)

Loud List
NUDITY - Astronomicon (Iron Lung)
PRURIENT - Frozen Niagara Falls (Profound Lore)
CHAINSAW - See-Saw (No Good)
SHEER MAG - Fan the Flames (Katorga Works)
NATURAL CAUSES - Natural Causes (Snot Releases)
MELT-BANANA - Return of the 13 Hedgehogs (A-Zap)
HULK SMASH - The Hulk Smash Album (Hulk Smash Industries)
DEVIL WORSHIPPER - Devil Worshipper (Holy Mountain)
ELDER - Lore (Armageddon Shop)
PUIG DESTROYER - One Man, Five Tools (The Ghost Is Clear)
Hip-Hop List
ANTZKILLA - Feel Me (Araca Recs)
ALTERED TAPES - Savant Gardes (Altered Tapes)
CAPEECH CAPPUCCINO - Galactic Hip Hop (Elite Elephants)
GHOSTFACE KILLAH / ANDRIAN YOUNGE - Twelve Reasons To Die II (Linear Labs)
L'ORANGE & KOOL KEITH - Time? Astonishing! (Mello Music Group)
J. ROCC - Taster's Choice Disc 2 (Beat Junkie Sound)
CZARFACE - Every Hero Needs a Villain (Brick)
K-OS - Can't Fly without Gravity (Dine Alone)
SYMPATHETIC DETONATIONS - Diss 1 (Amoebic Industries)
PARIS - Pistol Politics (Guerilla Funk)

Cassette List
IGNEOUS EYES / WRITHING SQUARES - Split (No Label)
DAVID FIRST - The AM Radio Band (Robert & Leopold)
LA MORTE YOUNG - La Morte Young (BaDaBing)
HAARE - Musta Maglia (Heavy Meditation)
LARAAJI - All In One Place (Leaving)
WIMPS - Super Me (Kill Rock Stars)
ILHAN MIMOROGLU - Wings of the Delirious Demon and Other Electronic Works (Sanity Muffin)
CARL MATTHEWS - Aksu (Keep Tapes Alive)
ANDREA PAVONI BELLI + FEDERICA RUSSO - s/t (Sanity Muffin)
ID M THEFT ABLE - I Suck Am the Eye Suck the Sky Suck (Brise-Cut)

UPCOMING SPECIAL PROGRAMS ON WFMU:

Barrence Whitfield & the Savages
Wednesday, September 9th, 3pm - 6pm
on Irwin Chusid
Longtime station favorite Barrence Whitfield & the Savages perform a smokin' live set on Irwin's program, Weds. Sept. 9th at 4pm. Irwin and Barrence have been friends since 1975 when young Barry, then living in East Orange, was singing Gentle Giant songs in prog-rock bands. Whitfield's 13th album, "Under the Savage Sky," is on Bloodshot Records. After his WFMU set, Barrence and the boys head over to Brooklyn's Bell House to wreak havoc.

JM Van Eaton
Thursday, September 10th, 9pm - Midnight
on Music To Spazz By with Dave the Spazz
A crucial element to the Sun Records sound was former Little Green Man, JM Van Eaton, who manned the house drum kit behind hundreds of sessions, including Jerry Lee Lewis, Roy Orbison, Johnny Cash, Billy Lee Riley, Charlie Rich, Warren Smith, Onie Wheeler, Barbara Pittman, Sonny Burgess, Hayden Thompson, Narvel Felts and many, many more. Tune in as JM Van Eaton (in anticipation of his debut performance at this year's Ponderosa Stomp) spills the dirt on the reverb-drenched secrets behind the studio doors of 706 Union Avenue!

Put The Needle On The Final Summer Series Show
Friday, September 11th, 3pm - 6pm
on Put The Needle On The Record with Billy Jam
For the final episode in the extended 3 hour Friday afternoon summer series of WFMU's Put The Needle on the Record, DJs ALF, ADA, and Loop Skywalker will present a special tag team WFMU exclusive hip-hop megamix, political rappers Chuck D, Paris, and Boots Riley of the Coup will be interviewed by Billy Jam with Paris premiering more tracks from his new album "Pistol Politics" that will be released that same day, Irish correspondent to the show Ray Wingnut will interview unique Irish rapper Tommy KD, and Kimzilla will present a report on Burning Man.

The Pandoras
Saturday, September 12th, 11am - 1pm
on Michael Shelley's show
Michael welcomes the recently reformed queens of punk/garage/rock/paisley underground, The Pandoras for a live set! In town for gigs at 9/12 at The Marlin Room at Webster Hall and at WFMU's Monty Hall 9/13!

Ric Flair PLUS Irma Thomas
Saturday, September 12th, 3pm - 6pm
on Todd-o-phonic Todd's show
Todd-O-Phonic Todd welcomes two very special guests to his program on Saturday September 12th. Sixteen time World Champion Pro Wrestler, "The Nature Boy" himself, Ric Flair will be making what is sure to be a memorable appearance. To be the best you've got to interview the best! We will discuss Ric's use of "The Wanderer", the origination of "WHOO!" and many other important topics. Mr. Flair will be appearing as part of Big Time Wrestling events at The Glen Falls Civic Center on 9/18 and at Bethpage High School on 9/19.

Also appearing on this program will be The Soul Queen of New Orleans, the legendary Irma Thomas. Irma's great recordings include "Breakaway", "It's Raining", "Hittin' On Nothing" and the original version of "Time Is On My Side". She will be headlining the 2015 edition of Ponderosa Stomp on Saturday October 3rd in New Orleans. Irma has had a sensational career and is still going strong today.

To the best of anyone's knowledge, this is the first time Ric Flair and Irma Thomas will be appearing together!

Yo La Tengo
Sunday, September 13th, 5pm - 7pm
on Gaylord Fields's show
For 20 years and counting, during our annual fundraising marathon, Yo La Tengo graciously have been doing the musical bidding of you, the WFMU listener, and without complaint, despite some of your more curious song requests. However, for this appearance, coming off the recent release of their latest long-player Stuff Like That There, they have requested complete autonomy for once, so we struck a deal: What it means in practical terms is that they may sit for an interview, or they may spin some of their favorite records, or they may play a few songs live — or it could be any combination therein. Expect all those things, or perhaps none, or possibly something else entirely. This time, it really isn't up to us, and it's not up to you, either.

Chris Robinson from the Black Crowes
Monday, September 14th, 9pm - Midnight
on The Goddamn Dave Hill Show
Dave welcomes Chris Robinson from the Black Crowes this week.

Goddess
Tuesday, September 15th, 9pm - Midnight
on Irene Trudel's show
Experimental folk trio Goddess writes, as they describe it, "...songs about the dark places in our heads and pasts, influenced by madrigals, Bartok, nursery rhymes, Amish culture, Sandy Denny, the Polanski movie Fearless Vampire Killers, shamanic trance music, a deer organ we found in the woods, church hymns, showtunes and Krautrock." On their latest album, "Paradise," Fran, Tamalyn and Andy perform on their usual blend of unconventional instruments, which include a homemade horsehair fiddle, toystore guitar and keyboard, dulcimer and tree branch. Goddess brings their darkly beautiful music to the WFMU studios.

Joe Frank - "When She's Asleep She Looks Like An Angel"
Wednesday, September 16th, 3pm - 6pm
on Irwin Chusid
One-hour dramas by Joe Frank air alternate Wednesdays at 4pm (Eastern) on Irwin's program. An episode entitled "When She's Asleep She Looks Like An Angel," from Joe's Work in Progress series, airs Weds. September 16th. When his elderly psychoanalyst's husband dies suddenly, Joe's treatment is undermined by his ghoulish thoughts about the man's corpse. A Holocaust survivor tells of his "heroic" escape from a death camp. Joe and his girlfriend Carla, a forensic examiner, discover a lady's handbag on an oceanside cliff and explore the mystery of what happened to the woman.

Dan Melchior
Tuesday, September 22nd, 3pm - 6pm
on Brian Turner's show
The ever-soundshifting Dan Melchior returns to Brian's program today promising a set that gets back to his early vocal/guitar roots, augmented by his friend Tony Allman on assorted keyboards and devices. Dan has a NYC show the following night, September 23rd, at Trans Pecos sharing a bill with Nick Forte.

Spaghetti Eastern Music
Tuesday, September 22nd, 9pm - Midnight
on Irene Trudel's show
New York-based guitarist/keyboardist/vocalist Sal Cataldi creates charmingly melodic off-center music as his alter-ego Spaghetti Eastern Music. Cataldi mashes up, as he describes it, "ambient soundtracks a la Morricone/Fripp and clavinet-singed funky from the P-Funk playbook... (topping) it off with acoustic ballads where smiley melodies camouflage bitter lyricism about broken love..." The resulting music is filled with musical references from Sal's "Smithsonian-Sized" record collection. Spaghetti Eastern Music plays live on Irene's show.

Ultimate Painting
Wednesday, September 23rd, 9pm - Midnight
on The Evan "Funk" Davies Show
Ultimate Painting, the band formed last year by Jack Cooper (Mazes - the UK one) and James Hoare (Veronica Falls), returns to WFMU to play some songs from their latest album Green Lanes. This new LP finds Ultimate Painting continuing to amble down the same path of dreamy, melodic guitar pop that they laid out on last year's debut; fans of the Feelies, Parquet Courts, and even the G------- D--- will likely enjoy what they hear. Ultimate Painting is currently on tour across the US, including stops at Rough Trade NYC in Brooklyn on Sept 18, the Bearsville Theater on Sept 20, as well as Gonerfest in Memphis. If you can't catch them live then tune in to hear them on the Evan "Funk" Davies show Wednesday night, Sept 23, at 9pm.

Karin Krog
Tuesday, September 29th, 9am - Noon
on This Is The Modern World with Trouble
The jazz singer Karin Krog is a household name in her native Norway. But to many outside of Europe and Japan her unique interpretations are unheard. In town on Sept 1 for a show that week at Joe's pub, Karin will sit down with Trouble and talk about her new anthology on Light in the Attic and how she became one of Europe's most exciting jazz musicians.

John Lydon
Tuesday, September 29th, 3pm - 6pm
on Brian Turner's show
Former Sex Pistols singer and current ringleader of a revitalized Public Image Limited, John Lydon talks to Brian today on WFMU. On the cusp of his 60th birthday, it's somewhat impossible to even grasp the scope of Lydon's resume: guiding light of punk and post-punk experimentalism, fashion template, vehement critic of institutionalized government and religion, TV contestant, commercial ad and film star, Judge Judy plaintiff, shark cage diver, even King Herod in Broadway's Jesus Christ Superstar. He recently released a second autobiography called Anger Is an Energy: My Life Uncensored, and brings PiL to the Best Buy Theater in New York City on November 16th. PiL has also just self-released a new LP entitled What the World Needs Now, with his continued post-2009 lineup that features ex-members of the Slits, Pop Group, Mekons and Damned. Tune in!

Nick Garrie
Tuesday, September 29th, 9pm - Midnight
on Irene Trudel's show
After recording a Baroque pop masterpiece in the late 60's, "The Nightmare of J.B. Stanislas," Nick Garrie and the album seemingly disappeared when the distribution deal collapsed. But that is far from the end of Nick's story. He continued to write charmingly catchy songs, occasionally collaborating with songwriter Francis Lai, and eventually topped the charts in Spain with a tune in the 1980's. "Stanislas" was finally reissued in 2005, and Garrie tours here and there. Nick Garrie was in NYC for one of those rare shows and Irene brought him into the studio for some live performance and chat.

Joe Frank - "On the Edge"
Wednesday, September 30th, 3pm - 6pm
on Irwin Chusid
One-hour dramas by Joe Frank air alternate Wednesdays at 4pm (Eastern) on Irwin's program. An episode entitled "On the Edge," from Joe's Work in Progress series, airs Weds. September 30th. Joe gets a publisher's advance, rents a house, and settles down to write a book. But his concentration is interrupted by a neighbor's dog, who barks and howls every day, causing Joe to plot the dog's murder. Later Joe contemplates several scenarios of his own death and the heavenly aftermath of each — which instead turn into hellish eternities.

WFMU Broadcasts Live from the Ponderosa Stomp Festival in New Orleans
Saturday, October 3rd, 1pm - 6pm
on Todd-o-phonic Todd's show
WFMU/WWOZ live broadcast from Ponderosa Stomp headquarters! Join WFMU and our legendary sister station in New Orleans, WWOZ for 5 hours of live broadcasting from the lobby of The AC Hotel in New Orleans. The Ponderosa Stomp takes places Oct. 2nd and 3rd at The Rock'n'Bowl in New Orleans and features performances by Irma Thomas, Freddy Cannon, P.F. Sloan, Barbara Lynn, Roy Head and many others. Dave The Spazz and Todd-O-Phonic Todd will co-host with WWOZ on-air personalities. Countless special guests will be stopping by along with WFMU celebrities Sheila B., Joe Belock, Gaylord Fields, Matt Fiveash, Nate K., Amanda Nazario and Michael Shelley. Don't miss it!

Deaf Wish
Tuesday, October 13th, 3pm - 6pm
on Brian Turner's show
Despite being around for 8 years, Australia's excellent Deaf Wish have yet to become household names, though their latest release Pain has landed them on Sub Pop, which might change matters (stateside anyway). A democratic unit, Deaf Wish's songs vary in approach with no distinct trait to sum them up; they can alternate between evocative soundscapes to blizzards of guitar destruction with total seamlessness, melodies murdered and revived. Tune in to hear this great band live today on Brian's show.

Shannon and the Clams PLUS The Hooten Tennis Club
Saturday, October 17th, 3pm - 6pm
on Todd-o-phonic Todd's show
Shannon and The Clams come to town celebrating the release of their fantastic new album on Hardly Art, Gone By The Dawn. Check out their stirring update of golden AM radio era sounds. Catch them live at Music Hall Of Williamsburg on Friday Oct. 16th. Also joining the fun will be The Hooton Tennis Club, a brilliant new band from the U.K. performing such hits as "Kathleen Sat On The Arm Of Her Favourite Chair" and "P.O.W.E.R.F.U.L. P.I.E.R.R.E.".

Spray Paint
Tuesday, October 20th, 3pm - 6pm
on Brian Turner's show
This Austin trio (and former stars of WFMU's SXSW show in 2014) has already issued a slew of singles and LPs in their relatively short run, never short on ideas. Taking classic postpunk traits of the likes of The Urinals, The Fall, 1983-era Butthole Surfers and other paranoia-inducing art rockers, Spray Paint mesh equal parts economy and mastery of the sideways hook, and they promise to make a nice din over your afternoon today with Brian.

Holly Golightly and The Broke-Offs
Saturday, October 24th, 3pm - 6pm
on Todd-o-phonic Todd's show
Holly Golightly and The Broke-Offs join forces with Todd-O-Phonic Todd. Holly is riding high with her excellent LP on Damaged Goods, "Slowtown Now!" This radio show will begin her takeover of the Metropolitan area which will also include stops at 10th Ave. Burrito in Belmar, as well as The Mercury Lounge and Knitting Factory.
---
Want to see all the past events?
Go here
.
UPCOMING EVENTS AT WFMU'S MONTY HALL:
43 Montgomery Street, Jersey City
www.wfmu.org/montyhall
Sun 9/13: The Pandoras (8:30p, $15-18)
Thu 9/17: Thurston Moore Band / Clay Rendering (9p, $20)
Fri 9/18: WFMU Movie Night: Salad Days (DC doc, 8p, $10)
Sat 9/19: The Feelies (9p, $25, SOLD OUT)
Thu 9/24: Blake Schwarzenbach (ex-Jawbreaker) / Jared Hart (9p, $12)
Fri 9/25: Mr. Finewine Presents Soul Sock Hop Broadcast (8p, $5)
Sat 9/26: Pat Byrne Presents Prove It All Night (9:30p, $5)
Sat 10/3: Reggae Schoolroom Night (8p, $10)
Thu 10/15: Transpacific Sound Paradise Presents Honk in NYC! In NJ! International Brass Band Mayhem (7:30p, $10)
Sat 10/17: Wreckless Eric (9p, $10)
Sun 10/18: Michael Chapman / Steve Gunn / Bridget St. John (presented by John Allen's show, 8p, $12)
Thu 10/22: Kylesa / Inter Arma / Indian Handcrafts / Irata (presented by Diane Kamikaze, 8p, $20)
Fri 10/23: The Ex w/Ken Vandermark + 75 Dollar Bill (presented by Brian Turner's show, 8p, $15)
Sat 10/24: People Like Us (8p, $10)
Thu 11/5: Todd Barry (8:30p, $15)
Sat 11/21: Flamin' Groovies / The Ugly Beats (9p, $20)