WFMU
PO Box 5101
Hoboken, NJ 07030
broadcasting from Jersey City 91.1 FM/90.1 FM
Audio Feed and Archives: www.wfmu.org
Podcasts: podcast.wfmu.org
Facebook: www.facebook.com/wfmuradio
Twitter: http://twitter.com/#!/wfmu
Brian Turner, Music Director, bt@wfmu.org (201) 521-1416 x223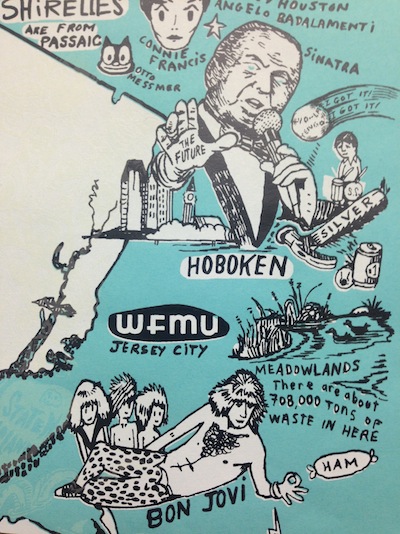 Heavy Airplay, April 6, 2016
VARIOUS - France Chebran: French Boogie 1981-1985 (Born Bad)
MASAHIKO SATO - Belladonna (Finders Keepers)
INTERSYSTEMS - Intersystems (Alga Marghen)
VARIOUS - Georgie Fame Heard Them Here First (Ace)
ANTHONY CHILD - Electronic Recordings From Maui Jungle Vol. 1 (Editions Mego)
ERIK GRISWOLD - Pain Avoidance Machine (Room40)
I KNOW I'M AN ALIEN - I Know I'm An Alien and I Want To Go Home Sometimes But Then I Remember That I Gotta Try and Understand (No Label)
THE BEACH BULLIES - We Rule the Universe (Manufactured Recordings)
RAMLEH - Circular Time (Crucial Blast)
KHWANTA FASAWANG - Lam Phaen Motorsai Tham Saeb: The Best of (EM)
VARIOUS - Greater Manchester Punk 1977-81 (Vinyl Revival)
VARIOUS - Jazz At Massey Hall: The 10-Inch LP Collection (Debut)
NADIA REID - Listen To Formation Look For the Signs (Spunk / Scissor Tail)
POWER - Electric Glitter Boogie (Cool Death)
MAMMAN SANI ABDOULAYE - Unreleased Tapes 1981-1984 (Sahel Sounds)
THE NOBLE KRELL - The Velvet You (13 O'Clock)
ZOMBI - Shape Shift (Relapse)
ATLANTIC THRILLS - Vices (Almost Ready)
VOLCANO THE BEAR - Commencing (Miasmah)
VARIOUS - Coxsone's Music: The First Recordings of Sir Coxsone the Downbeat 1960-62 (Soul Jazz)
FINGERS INC. - Another Side (Alleviated)
BERT JANSCH - Avocet (Earth)
VINCENT OVER THE SINK - 22 Coloured Bull Terriers (Another Dark Age)
HEATHER LEIGH - I Abused Animal (Ideologic Organ)
TOM CARTER - Long Time Underground (Three Lobed)
SK KAKRABA - Songs of Paapieye (Awesome Tapes From Africa)
JAMES HUNTER SIX - Minute By Minute (Daptone)
GEOFF KROZIER & THE GENERATOR - Tranceformer (Finders Keepers)
ALEX BLEEKER AND THE FREAKS - Country Agenda (Sinerlyn)
VARIOUS - Pekak! Indonesian Noise 1995-2015 (End of the Alphabet)
RAMMELLZEE VS. K-ROB - Beat Bop (RCA)
WOLFMANHATTAN PROJECT - Smells Like You (In the Red)
VARIOUS - Ultimate Bonehead! Volume 1 (Belter)
SUN RA AND HIS ARKESTRA - To Those of Earth...and Other Worlds (Strut)
STEVE MOORE - Cub OST (Relapse)
DIOS - Dios (F.A.N. Discos)
CRAZY & THE BRAINS - Brainfreeze (Baby Longhair)
TERRY ADAMS - Talk Thelonious (Clang!)
GUY BIRKIN & SUN HAMMER - Complexification (Entr'acte)
THE EDGE OF DAYBREAK - Eyes of Love (Numero Group)
K. LEIMER - Tape Recordings 1977-1980 (Vinyl On Demand)
FRAU - Mira (Frau)
NORMAN WESTBERG - 13 (Room40)
SOUNDTRACK - Jodorowsky's Dune (Cinewax / Light in the Attic)

Medium Airplay
UNKNOWN ARTIST - Untitled (Lost Treasures of the Underworld)
OCTAGRAPE - Aura Obelisk (Sounds Familyre)
LAURIE ANDERSON - Heart of a Dog (Nonesuch)
ROGER MILLER - Oh. Guitars, etc. (Feeding Tube)
JOSPEHINE FOSTER - No More Lamps in the Morning (Fire)
NORMIL HAWAIIANS - Return of the Ranters (Upset the Rhythm)
TERRY - Talk About Terry (Upset the Rhythm!)
GONCALO F CARDOSO & RUBEN PATER - A Study Into 21st Century Drone Acoustics (Discrepant)
BILLY SYNTH AND THE TURNUPS - Off the Deep End (Mind Cure)
THE THING & SHIT AND SHINE - Red River (Trost)
BILL ORCUTT & JACOB FELIX HUELE - Colonial Donuts (Pallilalia)
MUERTE - Muerte (Cintas Pepe / SPHC / Cabeza de Vaca)
DIRTY BEACHES - Stateless (Zoo Music)
LI'L BUB - Science and Magic (Joyful Noise)
LEJONSLAKTET - Vaderkvarn (Trouble In Mind)
FLUXMONKEY - Failure Cake (No Label)
MAD GENIUS - 2012 (Mad Manor Multimedia)
J DILLA - Dillatronic (Vintage Vibez)
THE TRASH TEMPLARS - 7 (Kuriosa)
SONNY VINCENT - Bizarro Hymns (Get Hip)
PETER STRINGER-HYE - Sunday Girls (Trouble In Mind)
JULIA WOLFE - Anthracite Fields (Cantaloupe)
VARIOUS - Library of Sound Grooves: Jazz Expressions from the Italian Cinema (1963-1975) (Semi-Automatic)
ROSCOE HOLCOMB - San Diego State Folk Festival 1972 (Tompkins Square)
CONDITION - Actual Hell (Iron Lung)
AKIRA RABELAIS - The Little Glass (No Label)
ERIC FEREMANS - The Antwerp Killer OST (Finders Keepers)
BILLY BAO - Lagos Sessions (Munster)
BUCK OWENS - Buck 'Em! Volume 2 1967-1975 (Omnivore Recordings)
KID CONGO AND THE PINK MONKEY BIRDS - Bruce Juice (In the Red)
NEGATIVE SCANNER - Negative Scanner (Trouble In Mind)
BOOK OF AIR - Fieldtone (Sub Rosa)
MED BLUE MADLIB - Bad Neighbor (Bang Ya Head)
GROSS POINTE - Bad Seed (HoZac)
JEFFREY LEWIS & LOS BOLTS - Manhattan (Rough Trade)
VARIOUS - Swedish Energies V (Ideal)
KOTSEN - Attack of the Savage Horde (Riot Rekord)
MEERCAZ AND THE VISIONS - Get Muzzled (Sweet Rot)
ODD HOPE - Brave and Olde (Fruits & Flowers)
E-MUSIKGRUPPE LUX OHR / HISKO DETRIA - Split LP (Svart)
UNHEARD INDONESIA - Pencak Silat Situbondo, East Java (Psychic Sounds)
THE INSOMNIACS - Today's the Way (Hidden Volume)
STEVEN STAPLETON & CHRISTOPH HEEMAN - Painting With Priests (Yesmissolga)

Light Airplay
MERCHANDISE - Red Sun (Sub Pop)
PRODROMES - Songs For Guitars (Fadensonnen)
NIGHT BIRDS - Mutiny at Muscle Beach (Fat Wreckords)
SUNN O))) - Kannon (Southern Lord)
LOS DADDYS - Baila Morena (Discos Mas)
ARMIN MIETH - VI - Raum 1 (Chocolate Monk)
CHARLIE TWEDDLE - Knee Deep Blues (Mighty Mouth)
SALAD BOYS - Scarce Tracks (Chunklet)
JANDEK - Brussels Saturday (Corwood Industries)
EX-CULT - Stick the Knife In (In the Red)
SCUBA DEATH - Nitrogen Narcosis (Further)
THE WHARVES - Naz (Upset the Rhythm)
DJ SANDJI - 100% Balani Show (Sahel Sounds)
DUPLEXX - Duplexx (Bolacha)
BROMP TREB - Shrinkage Tractor (Yeay! Tapes)
GOGGS - She Got Harder (In the Red)
DRONEZ - Corporate Funded Terro (Ryvvolte)
TIM ROSE - The Musician / The Gambler (RPM)
JON SPENCER BLUES EXPLOSION - Shake That Bat (In the Red)
SHINING - International Blackjazz Society (Spinefarm)
ANAAL NATHRAKH - Desideratum (Metal Blade)
ENBILULUGUGAL - The Day After (Glossolalia)
CATTLE DECAPITATION - The Anthropocene Extinction (Metal Blade)
EXTREME NOISE TERROR - Extreme Noise Terror (Agipunk)
WIKKID - Chapter 1 (No Label)
SNICKERS - On the Hi-Fi Vol. 2 (No Label)
RAZORCUTS - The World Keeps Turning (Manufactured Recordings)

7" Singles List
THE NOBLE KRELL - The Velvet You (13 O'Clock)
CRAZY & THE BRAINS - Brainfreeze (Baby Longhair)
WOLFMANHATTAN PROJECT - Smells Like You (In the Red)
TERRY - Talk About Terry (Upset the Rhythm!)
FRAU - Mira (Frau)
THE TRASH TEMPLARS - 7" (Kuriosa)
PETER STRINGER-HYE - Sunday Girls (Trouble In Mind)
THE THING & SHIT AND SHINE - Red River (Trost)
LEJONSLAKTET - Vaderkvarn (Trouble In Mind)
KID CONGO & THE PINK MONKEY BIRDS - Bruce Juice (In the Red)

RPM List
VARIOUS - France Chebron: French Boogie 1981-1985 (Born Bad)
ANTHONY CHILD - Electronic Recordings From the Maui Jungle Vol. 1 (Editions Mego)
FINGERS INC. - Another Side (Alleviated)
SCUBA DEATH - Nitrogen Narcosis (Further)
DUPLEXX - Duplexx (Bolacha)
LUMENLAB - They Are Killing Us (Aagoo)
FATIMA AL QADIRI - Brute (Hyperdub)
VARIOUS - DJ Kicks: Moodyman (K7)
SOMATIC RESPONSES - Folden Space (Hymen)
VENETIAN SNARES - Traditional Synthesizer Music (Timesig)

Loud List
RAMLEH - Circular Time (Crucial Blast)
POWER - Electric Glitter Boogie (Cool Death)
VARIOUS - Pekak! Indonesian Noise 1995-2015 (End of the Alphabet)
VARIOUS - Ultimate Bonehead Vol. 1 (Belter)
FRAU - Mira (Frau)
THE THING & SHIT AND SHINE - Red River (Trost)
MUERTE - Muerte (Cintas Pepe / SPHC / Cabeza de Vaca)
CONDITION - Actual Hell (Iron Lung)
KOTSEN - Attack of the Savage Horde (Riot Rekord)
MEERCAZ AND THE VISIONS - Get Muzzled (Sweet Rot)

Jazz List
VARIOUS - Jazz At Massey Hall: The 10-Inch LP Collection (Debut)
SUN RA AND HIS ARKESTRA - To Those of Earth...and Other Worlds (Strut)
SHINING - International Blackjazz Society (Spinefarm)
ICP ORCHESTRA - Restless In Pieces (ICP)
TEST - Always Coming From Love (Eremite)
POWERTRIO - Di Lontan (Clean Feed)
CHRIS McGREGOR & THE CASTLE LAGER BIG BAND - Jazz/The African Sound (Jazzman)WEASEL WALTER BIG BAND ENSEMBLE feat. HENRY KAISER - Igneity: After the Fall of Civilization (UgExplode)
PETER BROTZMANN / FRED HOPKINS / RASHIED ALI - Songlines (Trost)

World List
VARIOUS - France Chebron: French Boogie 1981-1985 (Born Bad)
KHWANTA FASAWANG - Lam Phaen Motorsai Tham Saeb: The Best of (EM)
MAMMAN SANI ABDOULAYE - Unreleased Tapes 1981-1984 (Sahel Sounds)
VARIOUS - Coxsone's Music: The First Recordings of Sir Coxsone the Downbeat 1960-62 (Soul Jazz)
SK KAKRABA - Songs of Paapieye (Awesome Tapes From Africa)
VARIOUS - Pekak! Indonesian Noise 1995-2015 (End of the Alphabet)
VARIOUS - Library of Sound Grooves: Jazz Expressions from the Italian Cinema (1963-1975) (Semi-Automatic)
UNHEARD INDONESIA - Pencak Silat Situbondo, East Java (Psychic Sounds)
DJ SANDHI - 100% Balani Show (Sahel Sounds)

Hip-Hop List
RAMMELLZEE VS. K-ROB - Beat Bop (RCA)
J DILLA - Dillatronic (Vintage Vibez)
MED BLU MADLIB - Bad Neighbor (Bang Ya Head)
ED BALLOON - No Smoking (Deathbomb Arc)
SAUL WILLIAMS - Martyr Loser King (Fader)
KENDRICK LAMAR - Untitled Unmastered (Aftermath/Interscope)
ANDERSON.PAAK - Malibu (Obe)
VARIOUS - Rubble Kings: The Album (Mass Appeal)
MYKKI BLANCO - Gay Dog Food (Ormolycka)
NXWORRIES - Link Up & Suede (Stones Throw)

Cassette List
BROMP TREB - Shrinkage Tractor (Yeay Tapes)
DJ SANDJI - 100% Balani Show (Sahel Sounds)
RAZORCUTS - The World Keeps Turning (Manufactured Recordings)
SNICKERS - On the Hi-Fi Vol 2 (No Label)
SINDRE BJERGA - Fugue States (Invisible City)
O MORIO - The Forest, the People, and the Spirits (Discrepant)
MAMIEDARAGON - Repasse Ta Bac Par Les Armes (No Lagos Musique)
THIS HEAT w/MARIO BOYER DIEKURROH / ALBERT MARCOEUR - Split Cassette (Tago Mago/Care In the Community)
HIMUKALT - Conditions of Acrimony (Helen Scarsdale Agency)
DEUTSCHLAND JERKY RAVE - s/t (Loki)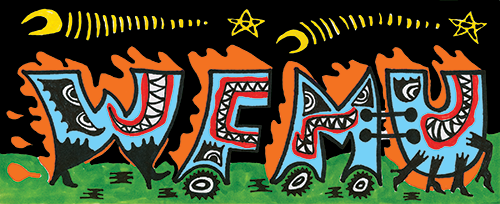 WFMU'S ANNUAL MARATHON THANKS!
Thanks to the many listeners, volunteers, and WFMU staffers who pledged to our 2016 Fundraising Marathon! Just a couple of days after the Marathon ended, WE HIT OUR GOAL!!! Thank you to the greatest community of listeners a radio station could ever dream of! Electronic payment forms will be sent out soon (followed by paper bills) to anybody who made an unpaid pledge. If you have any questions or concerns about your pledge, please contact Listener Services Honcho Joe McGasko (jmcgasko@wfmu.org) Swag will begin to be sent out later this Spring, but please be patient as it takes us months to send it all out. And if you missed out on the action, you can still make a pledge right here. Thank you to all the great labels and vendors who kindly provided prizes, and thanks to Yo La Tengo (below) for knocking it out of the park again for their annual cover request show.
Pledge link: https://wfmu.org/marathon-2016/
Facebook: https://www.facebook.com/events/1697744560508469/
Twitter: #wfmuthon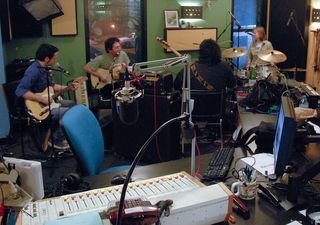 UPCOMING SPECIALS ON WFMU:
Wimps
Wednesday, April 6th, 9pm - Midnight
on The Evan "Funk" Davies Show
The Seattle three-piece Wimps​ , with members of Butts, The Intelligence, and Meth Teeth,​ return to The Evan "Funk" Davies show​ this coming Wednesday night! They're currently on tour ​supporting their latest album Suitcase (Kill Rock Stars), which has been described as "a 27-minute uprising of stupid fun," ​and you can expect more of the same when Wimps bring their angular deadpan punk sound back to the WFMU airwaves. Tune in to WFMU this coming Wednesday night at 9pm for a live set from Wimps!

Pakistani Sufi-rock guitar god Mekaal Hasan
Saturday, April 9th, 6pm - 9pm
on Transpacific Sound Paradise with Rob Weisberg
This week: A visit with Pakistani guitar god Mekaal Hasan. Hasan's Indo-Pakistani Sufi-rock band MHB - propelled by his smoldering guitar workouts and the power-packed vocals of Sharmistha Chatterjee - is on tour this month, with a stop at Joe's Pub on Friday night April 22.

Tacocat PLUS Jon Langford
Saturday, April 16th, 3pm - 6pm
on Todd-o-phonic Todd's show
Tacocat performs their incredibly catchy pop on the Todd-O-Phonic Todd show. Hanging out with Tacocat and listening to Tacocat are remarkably similar experiences, like the best party you've ever been to, where, instead of jostling for social position, everyone just wants to eat candy and talk about Sassy Magazine, sci-fi, cultural dynamic shifts, and bad experiences with men. Be sure and check out Tacocat's wonderful new album "Lost Time" out April 1st on Hardly Art and catch them at The Mercury Lounge on April 12th and Palisades on April 13th.

Jon Langford, equally talented as a musician, artist and beer drinker, returns to the WFMU Airwaves to shoot the breeze, play some records and perhaps hoist a few with Todd-O-Phonic Todd. Be sure and catch Jon's second most well-known band The Waco Bros. when they perform at Monty Hall later that same evening. And be sure to check out The Wacos excellent new release, Going Down In History, on Bloodshot Records.

Joe Frank - "Karma #1"
Wednesday, April 20th, 3pm - 6pm
on Irwin Chusid
One-hour dramas by Joe Frank air alternate Wednesdays at 4pm (Eastern) on Irwin's program. On Weds. April 20th we'll air an episode entitled "Karma #1," from Joe's The Other Side series. After Joe breaks up with his trophy girlfriend, an actress named Kate, he explains how he got involved with Kate in the first place. He then discloses unsavory incidents with other women that foreshadowed why his relationship with Kate was doomed, and invites listeners to pass judgment on his creepy behavior.

Dälek
Wednesday, April 20th, 7pm - 8pm
on DIFM (Do It For Me) with Pseu Braun
Special "420" Edition of the show with NJ's own experimental hip-hop group Dälek.

Audacity
Saturday, April 23rd, 3pm - 6pm
on Todd-o-phonic Todd's show
Only Todd-O-Phonic Todd would have the audacity to book Audacity. This Fullerton, California quartet celebrated their tenth anniversary as a band before they were old enough to rent cars. While becoming adults might mean having a more sophisticated worldview or more artistic discipline, it hasn't tempered Audacity's frenzied mishmash of garage rock, power pop, and proto-punk. Catch Audacity on Burger Records and in Brooklyn on 4/13 at Shea Stadium and 4/14 at Baby's All Right.

faUSt: Video and Audiocast live from Monty Hall
Tuesday, April 26th, 3pm - 6pm
on Brian Turner's show
In case you weren't able to attend, Brian Turner's program put together a night at WFMU's Monty Hall on March 28th headlined by experimental rock legends faUST, and he'll be airing the full set on his program today at 4PM ET along with streaming video document of this amazing show, right off of wfmu.org's homepage. "There is no group more mythical than Faust", said Julian Cope, and indeed, since 1971 the ensemble has created some revolutionary, inventive sounds that helped to firmly establish a German identity in the realm of psychedelic rock. Still active, the band headlined WFMU Fest at the Music Hall of Williamsburg in 2009, and on this return to the states, founders Jean-Herve Peron and Zappi Diermeier are joined for this set by Maxime Manac'h, Ysanne Spevack, and Robert Pepper. After the vidcast Brian will re-air his 2009 interview with Peron. Do not miss!

Jason Brewer of The Explorers Club
Saturday, April 30th, 11am - 1pm
on Michael Shelley's show
Michael welcomes Jason Brewer of The Explorers Club back to the show to talk about the band's brand new LP "Together" and to premiere a new #1 hit single!

The Moles - Live from the WFMU Record Fair
Saturday, April 30th, 3pm - 6pm
on Todd-o-phonic Todd's show
Australian singer-songwriter Richard Davies performs live on Todd-O-Phonic Todd's show from the WFMU Record Fair. Richard will be performing songs from his wonderful catalog dating back to The Moles and Cardinal, as well as more recent solo work. Take a break from trying to fill your want list at the Record Fair or tune in at home!

Peach Kelli Pop
Saturday, May 14th, 3pm - 6pm
on Todd-o-phonic Todd's show
The Todd-O-Phonic Todd cavalcade of stars continues with the illustrious Peach Kelli Pop! Formerly the drummer of ace combo The White Wires, Peach Kelli Pop is known for her catchy and tongue-in-cheek songs inspired by video games, Chinese food and conspiracy theorists, illustrating not only her playfulness but also her wit and her angst. Be sure and catch Peach and her ace combo on tour throughout the month of May including a stop at Palisades in Brooklyn on Friday May 13th.
---
Want to see all the past events?
Go here
.
All times listed are Jersey City time, EDT.
Questions? E-mail
Brian
or call (201) 521-1416
To report problems with this page,
e-mail
the page administrator.
Search the WFMU website (Google)

UPCOMING EVENTS AT WFMU'S MONTY HALL
43 Montgomery Street, Jersey City NJ
www.wfmu.org/montyhall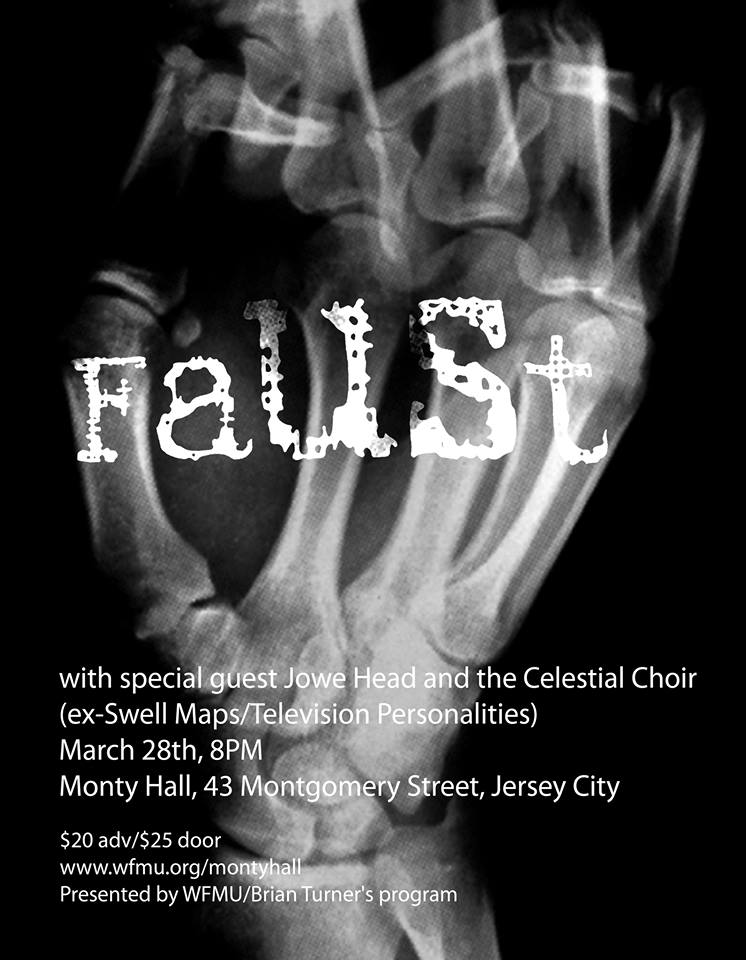 Fri 3/18: Hearty White of WFMU's "Miracle Nutrition" Show (8:00pm, $5)
Mon 3/28: Faust / Jowe Head & the Celestial Choir (8:00pm, $20-25, presented by Brian Turner's Show)
Sat 4/2: WFMU Movie Night w/Morricone Youth & "Battleship Potemkin" (1925) (8:00pm, $10)
Sat 4/16: The Waco Brothers / Glenn Morrow's Cry For HElp (8:30pm, $13-15)
Thu 5/5: Sheer Mag / Nude Beach / Lame Drivers (9:00pm, $10-12)
Fri 5/6: Burn Ruffians / On and On (9:00pm, $13-15)
Sun 5/8: Mirah / Jkerek Bischoff (8:30pm, $12)
---
Want to see all the past events? Go here.

All times listed are Jersey City time, EST.
Questions? E-mail Brian or call (201) 521-1416
To report problems with this page, e-mail the page administrator.