WFMU
PO Box 5101
Hoboken, NJ 07030
broadcasting from Jersey City 91.1 FM/90.1 FM
Audio Feed and Archives: www.wfmu.org
Podcasts: podcast.wfmu.org
Facebook: www.facebook.com/wfmuradio
Twitter: http://twitter.com/#!/wfmu
Brian Turner, Music Director, bt@wfmu.org (201) 521-1416 x223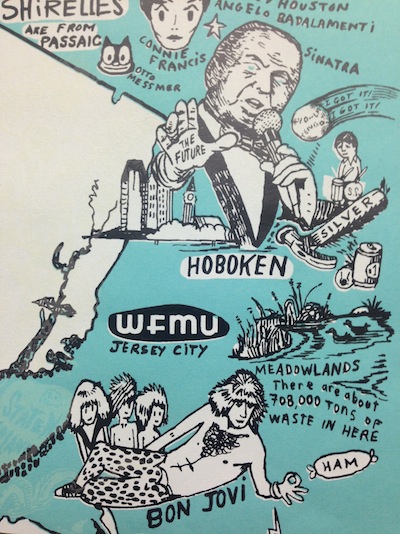 Heavy Airplay, September 1, 2016
AZNA DE L'ADER - Zabaya (Sahel Sounds)
VIVIEN GOLDMAN - Resolutionary (Staubgold)
MARISSA NADLER - Strangers (Sacred Bones)
HONEY RADAR - Blank Cartoon (Whats Yr Rupture?)
VARIOUS - Cosmic Machine: The Sequel (Because Music)
THE DANCING CIGARETTES - Dance Dogs Dance (Magnetic South)
LITHICS - Borrowed Floors (Water Wing)
SARAH LOUISE - VDSQ Solo Acoustic Vol 12 (Vin Du Select Qualitite)
SAND - North Atlantic Raven (Rotorelief)
LOS PEPES - Los Pepes (Vinilisssimo)
PEDER MANNERFELT - The Swedish Congo Record (Archives Interieures)
THE CACTUS BLOSSOMS - You're Dreaming (Red House)
VARIOUS - Scratch My Back! Pye Beat Girls 1963-1968 (Ace)
YTAMO - Mi Wo (Someone Good)
J.J. BURNEL - Euroman Cometh (United Artists)
KRISTIN THORA HARALDSDOTTIR - VDSQ Solo Acoustic Vol. 14 (Vin Du Select Qualitite)
FEDERICO DURAND - A Traves del Espejo (12k)
VARIOUS - Household Shocks (Dark Entries)
PRIMARY MINI-BAND - Kimamanahibi (Branco)
TWINKEYZ - Alpha Jerk (S-S)
SUSAN ALCORN - Evening Tales (Mystra)
THE ABOVE - There Is a Reason (Hidden Volume)
MIKE WAGGONER AND THE BOPS - The Kings of Minnesota Rock N' Roll (Norton)
ADNAN OTHMAN - Bershukor (Sublime Frequencies)
SAD LOVERS & GIANTS - Lost in a Sea Full of Sighs (Dark Entries)
SUZUKI JUNZO - Shark Infested Custard (Nod And Smile)
IRR. APP. (EXT.) - Materiaux Deplaces (Errata In Excelsis)
SPINNING COIN - Albany (Geographic / Domino)
HIGHER AUTHORITIES - Neptune (Domino)
VISITORS - Poet's End (Telephone Explosion)
DANA VALSER - Antiguo (Three:four Records)
LANDLINES - Problems 24/7 (Eggy)
EAST OF VENUS - Memory Box (Omnivore Recordings)
ASH KOOSHA - I AKA I (Ninja Tune)
WHITE MYSTERY - Outta Control (White Mystery)
THE FAMILY OF APOSTOLIC - The Family of Apostolic (Future Days / Vanguard)
CARLOS NINO AND FRIENDS - Flutes, Echoes, It's All Happening! (Leaving)
VARIOUS - Loma: A Soul Music Love Affair - Vol. 1: Something's Burning 1964-68 (Light in the Attic / Future Days)
WILD BILLY CHILDISH & CTMF - SQ1 (Damaged Goods)
DEUX FILLES - Silence & Wisdom (Dark Entries)
SUMAC - What One Becomes (Thrill Jockey)
VARIOUS - Eccentric Soul: Sittin' In the Park (Numero)
DRAME - Drame (Platinum)
VANGELIS PAPATHANASSIOU - Amore (Monster Melodies)
SOUPCANS - Soft Party (Telephone Explosion)
GIMMER NICHOLSON - Christopher Idylls (Light In the Attic)
HEAVY BIRDS - Drag (Moon)
CHRIS ABRAHAMS - Fluid To the Influence (Room 40)
KRANO - Requiescat In Plavem (Maple Death)
JD EMMANUEL - Electronic Minimal Music (Black Sweat)
ONO - Machines That Kill People (Galactive Archive)
VARIOUS - Loma: A Soul Music Love Affair - Vol. 2: Get In the Groove 1965-68 (Light in the Attic / Future Days)
THE CONEHEADS - L​.​P​.​1. Aka 14 Year Old High School PC​-​Fascist Hype Lords Rip Off Devo For The Sake Of Extortin (Erste Theke Tonträger)
JASON CRUMER - Stare at the Devil (Depravity Label)
DER MUSIKANT - Musikantenmusik 1980-84 (Vinyl On Demand)
CARLTON MELTON - Aground (Agitated)
EGISTO MACCHI - Il Deserto / Pittura Contemporanea / Pittura Moderna 1/2 (Ayna / Cinedelic)
MAHER SHALAL HASH BAZ - Hello New York (No Label)
BOB BROWN - The Wall I Built Myself (Tompkins Square)
VARIOUS - Brown Acid: The Second Trip (Riding Easy)
FRANCOIS DEROBAIX / BERNARD MAITRE - Les Onix: Enregistrements Méconnus Pour Marionnettes, Théâtre Et Télévision (1972-1976) (Biceps / Weme)
THE JAY VONS - It Was Wrong To Love You (Lacastanya)
SONNY & THE SUNSETS - Moods Baby Moods (Polyvinyl)
THE INDEPENDENTS - Just As Long: The Complete Wand Recordings 1972-74 (Kent Soul)
THE SENIOR SERVICE - The Girl in the Glass Case (Damaged Goods)
TERRY REID - The Other Side of the River (Future Days)
WILLIAM BELL - This Is Where I Live (Stax / Concord)
PHANTOM FORTH - The EEPP (Dark Entries)
METAL URBAIN - Panik (Alternative Tentacles)
SOUNDTRACK (JOHN CARPENTER) - Dark Star (We Release Whatever the Fuck We Want)
DIES IRAE - Dies Irae (Monster Melodies)
DANIELA CASA - Societa Malata (Dagored)
Medium Airplay
JOE WEAVER AND FRIENDS - The Wind in the Spumoni Trees (Branco)
DIE REGIERUNG - Supermüll & Tribute Album (Play Loud!)
OBN III'S - Rich Old White Men (12XU)
ARTHUR RUSSELL - Tower of Meaning (Audika)
DALEK - Asphalt For Eden (Profound Lore)
SO WHAT - Why Can't I See You Tonight (Just Add the Water)
MENDRUGO - More Amor (Fire)
IGNATZ - The Drain (Feeding Tube)
KINK GONG - Chang Fo Ji (Discrepant)
SUN DIAL - Mind Control (Sulatron)
JOHN ANGAIAK - I'm Lost In the City (Future Days)
CORINNE BAILEY RAE - The Heart Speaks In Whispers (Virgin)
JEAN-MICHEL JARRE - Electronica 2 (Sony / MAE)
YONI & GETI - Testarossa (Joyful Noise)
ROBERT ASHLEY - In Sara, Mencken, Christ And Beethoven There Were Men And Women (Cramps)
RED SQUARE - Rare and Lost 70's Recordings (Guerssen / Galactic Archive)
SCIENCE FICTION - Terrible Lizards (Stimulus Progression)
KAYTRANADA - 99.9% (XL)
HARRY TAUSSIG / KID MILLIONS - Beyond the Confession: Kid Millions Reworks Harry Taussig (Tompkins Square)
MACIUNAS ENSEMBLE - 1976 (Edition Telemark)
CIRCLE BROTHERS - Rust (Three:four Records)
SOUNDTRACK - Green Room (Milan)
GHOSTS OF THE HOLY GHOST SPERMIC BROTHERHOOD - Ghosts of the Holy Ghost Spermic Brotherhood (No Label)
CRAIG BELL - America Now (Violet Times)
YORKSTON / THORNE / KHAN - Everything Sacred (Domino)
VARIOUS - Coilectif: In Memory ov John Balance and Homage To Coil (Rotorelief)
FLORIAN MONDAY AND HIS MONDOS - Mondo Mondo! (Norton)
THE BO-KEYS - Heartaches By the Number (Omnivore Recordings)
TAYLOR DUPREE & MARCUS FISCHER - Twine (12k)
MARK PRITCHARD - Under the Sun (Warp)
UROCHROMES / WIZZARD SLEEVE - Two Mens Live at WFMU (Jeth-Row Records)
LIQUID LIQUID - Successive Reflexes (Superior Viaduct)
NEUTRAL - Neutral (OMLOTT)
RHINO 39 - Xerox (Munster)
ANIMA - Monte Alto (Play Loud!)
THE FALL - It's the New Thing (Superior Viaduct)
FAR CORNERS - Far Corners (Limited Appeal)
ELECTRIC MOON - Theory of Mind (Sulatron)
DIETERICH & BARNES - The Coral Casino (LM Dupli-Cation)
ANDREW BERNSTEIN - The Great Outdoors (Ehse)
JESSICA & THE FLETCHERS - Marble Fountain (Market Square)
VARIOUS - The Ladies of Too Slow To Disco (How Do You Are?)
LESA & ROSS - Lesa & Ross (Summersteps)
THOSE PRETTY WRONGS - Those Pretty Wrongs (Burger / Ardent)
SCUPPER - Everything (Ever/Never)
MACARTHUR - MacArthur (Out-Sider)
FLOATING POINTS - Elaenia (Luaka Bop)
MOUNTAINS AND RAINBOWS - Particles (Castle Face)
ORNETTE COLEMAN - To Whom Who Keeps a Record (Superior Viaduct)
RATHAUS - Rathaus (A Wicked Company)
LES AGAMEMNONZ - De A a Z (Kythibong / Green Cookie)
TUBE ALLOY - The Detection Of Subatomic Particle (Not On Label)
SYNTHETIC ID - Impulses (Castle Face)
CIRCLE - Ala Kysy Vaan Ota (Ektro)
ANDRE WILLIAMS - I Wanna Go Back To Detroit City (Bloodshot)
OLIMPIA SPLENDID - Nuttu Nurin (Fonal)
THE HUNCHES - The Hunches (Almost Ready)
TERRY ALLEN - Juarez (Paradise of Bachelors)
MIGUEL ANGEL CORIA - En Rouge et Noir (Cramps)
AWARDS BANQUET - If Not Now then Summer (Scioto)
DAVID BAZAN - Blanco (Barsuk)
RUBBER MATE - 7 (Saucepan)
BEVERLY - The Blue Swell (Kanine)
CLOUD BECOMES YOUR HAND - Rest In Fleas (Northern-Spy)
RAINER RIEHN - Chants de Maldoror (Edition Telemark)
KING CRIMSON - Live at the Pier, New York, August 2, 1982 (DGM Live)
PITA - Get In (Mego)
THE EX - How Thick You Think (Ex)
KING KHAN - America Goddamn (Khannibalism)
NURSE WITH WOUND - Chromanatron (Rotorelief)
SUMMER CANNIBALS - Full of It (Kill Rock Stars)
I KNOW I'M AN ALIEN - Still Alien, Still Dreaming (I am Hobo Shaman) (No Label)
CIVIL UNION - Seasick Lovedrunk (MIC)
ROBERT CURGENVEN - Climata (Dragon's Eye)
GNOD - Mirror (Rocket Recordings)
MALAWI MOUSE BOYS - Forever Is 4 You (Omnivore)
ZEBARGES - Putain D'Metal (No Label)
THE DEONTIC MIRACLE - Central Palace Music (Important)
ACRE - Better Strangers (Tectonic)
LUTHER DICKINSON - Blues And Ballads: A Folksinger's Songbook I & II (New West)
BUDAMUNK & ILL SUGI - Spirit of the Golden Era (Urbnet)
GENERATION X - Like at Sheffield (MUNSTER)
JENKS MILLER & ROSE CROSS NC - Blues From WHAT (Three Lobed)
TRUE SOUNDS OF THUNDER - Spoonful of Seedy Dudes (Jeth-Row)
SOUNDTRACK - The Terminator (Milan)
TIM HEIDECKER - In Glendale (Rado)
MOSS LIME - Moss Lime (Telephone Explosion)
W-2 - W-2 (No Label)
JUCIFER - District of Dystopia (Alternative Tentacles)
KALI Z. FASTEAU, KIDD JORDAN & L.M. ROZIE - Intuit (Flying Note)
NEW BOSS - Home Problems (No Label)
WOLF VOSTELL - Concert Fluxus Sara-Jevo (Edition Telemark / Tochnit Aleph)
PANTHA DU PRINCE - The Triad (Rough Trade)
FERAL OHMS - I Fall (Alternative Tentacles)
THEO CROKER - Escape Velocity (Okeh)
HENRI TEXIER - Les La-Bas (Bonobo Remix) (Ninja-Tune)

Light Airplay
PEACH KELLI POP - Halloween Mask (Lauren)
SAN KAZAKGASCAR - Twice-Baked Coma (Lather)
RITORNELL - If Nine Was Eight (Karaoke Kalk)
PATOIS COUNSELORS - Clean Skits (Negative Jazz)
M.B. (MAURIZIO BIANCHI) - Weltanschuung (Rotorelief)
SEVEN THAT SPELLS - Superautobahn (Sulatron)
JESSY LANZA - Oh No (Hyperdub)
JANE SIBERRY - Ulysses' Purse (Sheeba Music)
EZ MINZOKU - Foodman (Noumenal)
ATTALLA - Attalla (Shadow Kingdom)
RICHARD BERESIS - Indonesian Sounds (No Label)
TAKAAAKI - Netsu (Rotorelief)
THE APAGYA SHOWBAND - Tamfo Nyi Ekyir (Mr. Bongo)
ERNESTO DIAZ-INFANTE - Tunnels (Kendra Steiner Editions)
MISSION OF BURMA / METZ - Split 7 (Sub Pop)
AMY GASSNER - Brown Sugar (Summersteps)
ALLYSEN CALLERY - M.T. Mix (Mystra)
WILLIAM S. BURROUGHS - Call Me Burroughs (Superior Viaduct)
C.W. STONEKING - Gon' Boogaloo (King House)
ELLIOTT SCHWARTZ & BIG BLOOD - Ant Farm (Feeding Tube)
SEKTEMTUM - Panacea (Osmose Productions)
SU SOUS TOULOUSE EN ROUGE - Il N'y a Pas de Texte Externe (Su Sous Toulouse en Rouge)
VIGUELA - Temperamento: Traditional Music From Spain (Arc Music)
FRUIT BATS - Absolute Loser (Easy Sound)
RED TRIO & JOHN BUTCHER - Summer Skyshift (Trem Azul)
NORMAN WESTBERG - MRI (Room 40)
ANOHNI - Hopelessness (Secretly Canadian)
SEX CHURCH - Flowers (Limited Appeal)
JT WHITFIELD - JT Whitfield (Rural Isolation Project)
RATKILLER - Odor Orienting (Crash Symbols)
STRONG / FLEISENBERG - Belly Mechanique (No Label)
SOUNDTRACK (KRENG) - Cooties (Milan)
AKI KUMAR - Aki Goes to Bollywood (Little Village Foundation)
TEDDY FIRE - Chastity Revolution & the Submachine Girl (Feeding Tube)
FOG - For Good (Totally Gross National Product)
JOHNNY MOPED - It's a Real Cool Baby (Damaged Goods)
DOUG SEIDEL / TODD TUTTLE - The Boy in the Barley Bag (No Label)
MARCOS VALLE / ROBSON JORGE & LINCOLN OLIVETTI - Split 7 (Mr. Bongo)
SHIVERING WINDOW - Days I've Lost (Rok Lok)
MR. STRESS BLUES BAND - Live at the Brick Cottage 1972-1973 (Smog Veil)
SOUNDTRACK (PATRICK NETTESHEIM) - Coven (Forever Midnight)
NICHOLAS EMMERT - Unclouded Cerebration (Stimulus Progression)
IGNEOUS EYES - Igneous Eyes (No Label)
MARIYA MAY - Call Me Back If You Can Dig the Music (Ten Dollar Recording Co.)
ROBERT RICH - What We Left Behind (No Label)
BLACK WHISPERS - Shades of Bleakness (Symbol of Domination / Prison Tatt / Outer Line)
BLUE IV - Triangulum (Love Earth Music)
ALLEN GINSBERG - The Last Word on First Blues (Omnivore)
NICK AND THE JAGUARS - Ich-I-Bon #1 (Tamla / Third Man)
REVEREND RAYMOND BRANCH - The Rainbow Gospel Hour...On the Air (Kendra Steiner Editions)
BLACK RANDY & HIS ELITE METRO SQUAD - Idi Amin (Munster)
AESOP ROCK - The Impossible Kid (Rhymesayers)
THE SWINGING TIGERS - Snake Walk (Tamla / Third Man)
SULA BASSANA - Live at Roadburn Festival 2014 (Sulatron)
CHILL - Take It From the Blind Side (Jeth-Row / Rhinestone)
OLLI AARNI - Muovia (Preservation)
NICHOLAS MOHANNA - Mantis (Preservation)
SHANA FALANA - Sings Herself To Sleep (No Label)
LOTTE ANKER / FRED LONBERG-HOLM & DAVE JACKSON / DIRK SERRIES - Two Duos (Astral Spirits)
WATERY LOVE - Nine Songs With Meg Drumming (Richie)

7" Singles List
THE JAY VONS - It Was Wrong To Love You (Lacastanya)
OBN III's - Rich Old White Men (12XU)
SO WHAT - Why Can't I See You Tonight (Just Add the Water)
CRAIG BELL - America Now (Violet Times)
SCUPPER - Everything (Ever/Never)
JESSICA AND THE FLETCHERS - Marble Fountain (Market Square)
THE EX - How Thick You Think (Ex)
RUBBER MATE - 7" (Saucepan)
CIRCLE - Ala Kys Vaan Ota (Ektra)
KING KHAN - America Goddamn (Khannibalism)

RPM List
PEDER MANNERFELT - The Swedish Congo Record (Archives Interieures)
YTAMP - Mi Wo (Someone Good)
ASH KOOSHA - I AKA I (Ninja Tune)
DANIELA CASA - Societa Malata (Dagored)
JEAN-MICHEL JARRE - Electronica 2 (Sony/MAE)
MARK PRITCHARD - Under the Sun (Warp)
PITA - Get In (Mego)
ACRE - Better Strangers (Tectonic)
HENRI TEXIER - Les La-Bas (Ninja Tune)
RITORNELL - If Nine Was Eight (Karaoke Kalk)

Jazz List
CARLOS NINO AND FRIENDS - Flutes, Echoes, It's All Happening! (Leaving)
RED SQUARE - Rare and Lost 70's Recordings (Guerssen/Galactic Archive)
ORNETTE COLEMAN - To Whom Keeps a Records (Superior Viaduct)
KALI Z. FASTEAU, KIDD JORDAN , & L.M. ROZIE - Intuit (Flying Note)
RED TRIO & JOHN BUTCHER - Summer Skyshift (Trem Azul)
LOTTE ANKER / FRED LONBERG-HOLM & DAVE JACKSON / DIRK SERRIES - Two Duos (Astral Spirits)
FULL BLAST - Risc (Trost)
ARASHI - Semikujira (Trost)
BROTHER AH & THE SOUNDS OF AWARENESS - Key To Nowhere (Manufactured)
FIRE ORCHESTRA - Ritual (Rune Grammofon)
Loud List
SUZUKI JUNZO - Shark Infested Custard (Nod and Smile)
SUMAC - What One Becomes (Thrill Jockey)
SOUPCANS - Soft Party (Telephone Explosion)
JASON CRUMER - Stare at the Devil (Depravity Label)
OBN III's - Rich Old White Men (12XU)
UROCHROMES / WIZZARD SLEEVE - Two Mens Live at WFMU (Jeth-Row)
RATHAUS - Rathaus (A Wicked Company)
RUBBER MATE - 7" (Saucepan)
GNOD - Mirror (Rocket Recordings)
ZEBARGES - Putain D'Metal (No Label)

World List
AZNA DE L'ADER - Zabaya (Sahel Sounds)
LOS PEPES - Los Pepes (Vinilisssimo)
ADNAN OTHMAN - Bershukor (Sublime Frequencies)
KINK GONG - Chang Fo Ji (Discrepant)
MALAWI MOUSE BOYS - Forever Is 4 U (Omnivore)
MONEY CHICHA - Money Chicha (Vampisoul)
VARIOUS - Digital Zandoli (Diggers Digest)
DERRICK HARRIOTT - Rock Steady 1966-1969 (Dub Store)
ELZA SOARES - The Woman at the End of the World (Mais Um Discos)
SENYAWA & ARRINGTON DE DIONYSO - s/t (No Label)
Hip-Hop List
DALEK - Asphalt For Eden (Profound Lore)
BUDAMONK & ILL SUGI - Spirit of the Golden Era (Urbnet)
AESOP ROCK - The Impossible Kid (Rhymesayers)
VARIOUS - Boombox 1: Early Independent Hip-Hop, Electro and Disco Rap 1979-82 (Soul Jazz)
DJ SHADOW - The Mountain Will Fall (Mass Appeal)
TRUE NEUTRAL CREW - Soft Rules (Deathbomb Arc)
ATMOSPHERE - Fishing Blues (Rhymesayers)
SHABAZZ PALACES - Live at Third Man Records (Third Man)
CLIPPING - Wriggle (Sub Pop)
INVISIBL SKRATCH PIK
LZ - The 13th Floor (Galactic Butt Hair)

Cassette List
W-2 - W-2 - (No Label)
FOODMAN - EZ Minzoku (Noumenal)
NICHOLAS EMMERT - Unclouded Cerebration (Stimulus Progression)
IGNEOUS EYES - Igneous Eyes (No Label)
WATERY LOVE - Nine Songs With Meg Drumming (Richie)
OLLI AARNI - Muovia (Preservation)
CHILL - Take It From the Blind Side (Jeth-Row/Rhinestone)
NICHOLAS MOHANNA - Mantis (Preservation)
FRANCISCO LOPEZ - 1980-82 (Nowhere Worldwide)
BAD AURA - Animus (Winning Sperm Party)

****************************************************************************
WFMU's Fall Schedule Effective September 12
(running until June 2017)

****************************************************************************
UPCOMING SPECIALS ON WFMU
Jeff Feuerzeug, Director of: Author: The JT LeRoy Story
Saturday, September 3rd, 9pm - Midnight
on Prove It All Night! with Pat Byrne
This Saturday, Pat welcomes documentary filmmaker, Jeff Feuerzeug on Prove It All Night for a special interview as he gears up for the premier of his latest film: "Author: The JT LeRoy Story," which premiers next Friday September 9th at the Sunshine Theater. They'll also discuss Jeff's other great works including: "The Devil and Daniel Johnston," "The Real Rocky", and it's upcoming narrative adaptation, "The Bleeder!"

Kaz Mirblouk
Tuesday, September 6th, Noon - 3pm
on Liz Berg's show
Kill those end-of-summer blues as the warming sounds of Kaz Mirblouk's laid back, surf-laden pop with punk/garage overtones washes over you. Hailing from California, the band has just released a new album called "Imitate, Intimidate" on Lolipop Records.

Brix Smith Start
Tuesday, September 6th, 3pm - 6pm
on Brian Turner's show
Brix Smith Start returns to Brian Turner's show a little more than a year after his marathon 6-hour radio extravaganza on The Fall, where the band's former guitarist and former Mrs. Mark E. Smith first appeared on WFMU. Since then, Brix has released her memoir, The Rise, The Fall, and the Rise (Faber Books) chronicling her American upbringing and eventual relocation to Manchester to help guide the 1980's version of The Fall into a new realm and higher public profile. The book documents her rollercoaster period of success and turmoil before landing on her feet in Britain's TV and fashion world (and a recent cameo in the Ab Fab movie!). Last month, Brix invited Brian to visit her London home she shares with her husband and her pugs Pixie and Gladys, where they sat down and talked about her long strange trip, and current return to rock with her new band The Extricated. We'll also be playing some Adult Net, live Extricated, and more live Fall material.

Jo Tanz of the Tanzprocesz label
Friday, September 9th, 9pm - Midnight
on Daniel Blumin's show
Jo Tanz is a French artist who's created deliriously skewed DIY noise and electronic soundscapes as Fusiller, Opera Mort (with Elg), DMZ, Popeye Placenta, and the mighty Reines d'Angleterres (with Elg & Ghédalia Tazartès). Jo also runs his own label and since 2003 Tanzprocesz has released the likes of Kommissar Hjuler and Mama Baer, Joke Lanz, Smegma, Robedoor, Kevin Shields, and Ghédalia Tazartès. Tune in for an interview and a guest dj set filled to the gills with music from across the Atlantic, unreleased Jo Tanz nuggets and upcoming Tanzprocesz releases!

Baby Shakes Guest DJ set
Saturday, September 10th, 3pm - 6pm
on Todd-o-phonic Todd's show
New York's sweetest glam pop quartet The Baby Shakes will be spinning some of their favorite glam, power pop and rock'n'roll sounds, both old and new, on the Todd-O-Phonic Todd show. This quartet is so high energy they will force Todd to turn it up a notch or two. Don't miss Baby Shakes at Berlin Friday September 16th with Cozy and The Jeanies!

Real Numbers
Tuesday, September 13th, Noon - 3pm
on Liz Berg's show
Minneapolis power pop powerhouse Real Numbers stop by the WFMU studios to melt our cold, jaded hearts. After years of releasing hit 7" singles, the band is finally dropping a full length LP called "Wordless Wonder" next month. Catch them Fri Sept 9th at Cake Shop and don't miss their set on WFMU: you'll be holding someone's hand by the time they're done.

Oh Boland
Sunday, September 18th, 6am - 9am
on Burn It Down! with Nate K.
It wouldn't be inaccurate to locate Oh Boland somewhere on the spectrum between their Emerald Isle counterparts of yore in the Belfast Good Vibrations scene and the shambolic aesthetic of the TVPs and their ilk. But, more important, this Irish trio makes it clear just how exciting and fresh the here and now is for fans of DIY kitchen-sink punk, indie, and all points in between. The band drops by Burn It Down! for a live set on Sunday, September 18, en route to Memphis for Gonerfest. You can also catch them at the Cake Shop on Friday, September 16.
---
Want to see all the past events? Go here.
UPCOMING AT WFMU'S MONTY HALL
43 Montgomery Street, Jersey City NJ
www.montyhall.ticketfly.com

Thu 9/8 Titus Andronicus / Bueno SOLD OUT (9:00pm, $20)
Fri 9/9 Party For Peace: A Benefit for Jersey City Anti-Violence Coalition w/Overlake, Crazy & the Brains, Owl, Jim McGreevy (7:30pm, $10)
Sat 9/10 Dirty Little Secrets World Tour (8:30pm, $5)
Sat 9/17 Pat Byrne's Prove It All Night (9:30pm, $5)
Sat 9/24 Dressy Bessy / Pylon Reenactment Society (9:00pm, $10-12)
Wed 9/28 Death Valley Girls / PMS & the Mood Swings (9:00pm, $10)
Thu 9/29 The Scenics / Coy Kids / Dentist (8:30pm $8-10)
Sat 10/1 Barrance Whitfield & the Savages / The Piggies (9:00pm, $10-12)
Fri 10/7 Julianna Barwick / Mary Lattimore (9:00pm, $15)
Sun 10/9 Get Up Kids (8:00pm $27-30) SOLD OUT
Tue 10/11 Merchandise / Public Memory / Flasher (8:30pm, $10-12)
Sat 10/13 Honk NYC in NJ! (7:30pm, $10)
Wed 10/19 Eugene Chadbourne / Sunwatchers / Ryan Sawyer (8:30pm, $10-12)
Thu 10/27 Dan Adriano in the Emergency Room (8:00pm, $13-15)
Tue 11/1 Survive (8:30pm, $12-14)
Sat 11/5 Silver Apples / American Watercolor Movement (9:00pm, $15-17)
Search the WFMU website (Google)