WFMU
PO Box 5101
Hoboken, NJ 07030
broadcasting from Jersey City 91.1 FM/90.1 FM
Audio Feed and Archives: www.wfmu.org
Podcasts: podcast.wfmu.org
Facebook: www.facebook.com/wfmuradio
Twitter: http://twitter.com/#!/wfmu
Brian Turner, Music Director, bt@wfmu.org (201) 521-1416 x223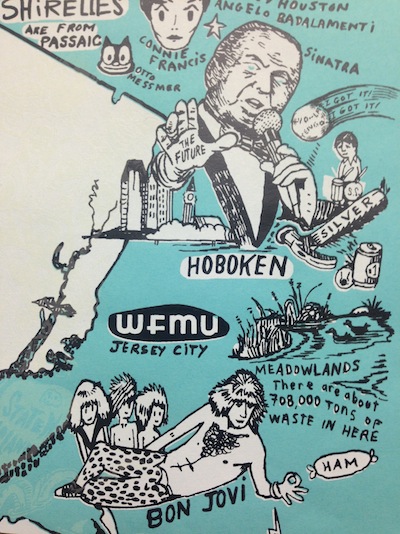 Heavy Airplay, September 29, 2016
75 DOLLAR BILL - Wood/Metal/Plastic/Pattern/Rhythm/Rock (Thin Wrist)
DAVID NANCE - More Than Enough (Ba Da Bing!)
GIUDA - Speaks Evil (Burning Heart)
PRINCESS FLOWER AND THE MOON RAYS - Dreaming the Magic of Your Maya / Pataphysical Orchestra (Wah Wah)
THE MYSTERY LIGHTS - The Mystery Lights (Wick)
VARIOUS - When Sharpies Ruled: A Vicious Selection (Festival / Warner Australia)
1-800-BAND - High Beams (Almost Ready)
MRS. MAGICIAN - Bermuda (Swami)
VARIOUS - Studio Ganaro Space Oddities 1972-1982 (Born Bad)
WILLIAM TYLER - Modern Country (Merge)
JODY REYNOLDS - The Complete Demon & Titan Masters (Ace)
STEVE GUNN - Eyes on the Lines (Matador)
THE HIGHER STATE - Volume 27 (13 O'Clock)
VARIOUS - Anxious Color (Mississippi)
ROSALI - Out of Love (Siltbreeze)
VARIOUS - Hawai'i Authentic: The Pre-War Era Vol. 1 (1925-1936) (Asherah)
SWANS - Love of Life (Young God)
TERRY RILEY / DON CHERRY / KARL BERGER - Koln: February 23, 1975 (Modern Silence)
KUPARILINNA - Kuparilinna (Palatsi)
PYLON - Live (Chunklet Industries)
FAUN FABLES - Born of the Sun (Drag City)
VARIOUS - Sky Girl: Compiled by Julien Dechery and DJ Sundae (Efficient Space)
IDRIS ACKAMOOR & THE PYRAMIDS - We Be All Africans (Strut)
SONIC YOUTH - Spinhead Sessions (Goofin')
SUZANNE CIANI - Buchla Concerts 1975 (Finders Keepers)
VARIOUS - Danger! La France a Peur! Inedits Punk Francais 1976-1980 (Danger)
TALA A.M. - African Funk Experimentals 1975-1978 (Africa Seven)
AHMED MALEK - Musique Originale De Films (Habibi Funk)
DAN PENN - Close To Me: More Fame Recordings (Ace)
USELESS EATERS - Relaxing Death (Castle Face)
EGGS OVER EASY - Good N Cheap: The Eggs Over Easy Story (Yep Roc)
ARIEL KALMA - Musique Pour Le Reve et L'amour (Black Sweat )
BRIGID MAE POWER - Brigid Mae Power (Tompkins Square)
THE LINES - Hull Down (Acute)
GAP DREAM - This Is Gap Dream (Burger)
TREVOR WHITE - Crazy Kids (Just Add Water)
VARIOUS - Boombox 1: Early Independent Hip Hop, Electro, and Disco Rap 1979-82 (Soul Jazz)
BLOODSHOT BILL - Guitar Boy (Norton)
KVELERTAK - Nattesferd (Roadrunner)
G.W. SOK - Listen To the Painters (Tractor Notown)
VEKTOR - Terminal Redux (Earache)
CIRCLES - More Circles (Mental Experience)
BREN'T LEWIIS ENSEMBLE - Harvester of Eyes (BUFMS)
JOU COGRA - Hammond Explosion (Wah Wah)
THE WAILING WAILERS - The Wailing Wailers (Studio One)
VARIOUS - Goin' Up the Country (Bindlestiff Record Company)
THE GARBAGE AND THE FLOWERS - The Deep Niche (Grapefruit)
BZ BZ UEU - Tapes & Vinyls (Music a la Coque)
LEE HAZLEWOOD - Lee Hazlewoodism - It's Cause And Cure (Light In the Attic)
FREE TIME - In Search of Free Time (Bedroom Suck)
VARIOUS - Space Echo: The Mystery Behind the Cosmic Sound of Cabo Verde Finally Revealed (Analog Africa)

Medium Airplay
HAROLD BUDD - Perhaps (Root Strata)
SPRAY PAINT - Feel the Clamps (Goner)
DURAND JONES & THE INDICATIONS - Durand Jones & The Indications (Colemine)
DEERHOOF - The Magic (Polyvinyl)
THE REPLACEMENTS - The Early Mats (Dogbreath)
PSYCHIC ILLS - Inner Journey Out (Sacred Bones)
CRAP DETECTORS - Media the Victim (Brain Transplant)
ANDREW TUTTLE - Fantasy League (Self Released)
MUSHROOM - Psychedelic Soul on Wax (Little Mafia)
ALICJA-POP - Rats (Certified PR)
VARIOUS - Mainstream Modern Soul 1969-1976 (Kent Soul)
VARIOUS - Vanity Case Reality Tunnel Volume Three (Vanity Case)
MOURN - Ha, Ha, He. (Captured Tracks)
ERIOKA CON ANIMAC PLANETICO - Hi-Speed (Creativeman Disc)
THE GOTOBEDS - Blood // Sugar // Secs // Traffic (Sub Pop)
TASHI DORJI - VDSQ Solo Acoustic Vol. 13 (VDSQ)
EFFETTO JOULE - Mechanic Soldier (Medical )
FRANCOIS HARDY - L' Amite (Future Days / Light in the Attic)
MICHAEL CHAPMAN - VDSQ Solo Acoustic Vol. 11: Homages (VDSQ)
LIZZY MERCIER DESCLOUX - Zulu Rock (Light In the Attic )
SEVERED HEADS - Stretcher (Medical)
PAT TODD & THE RANKOUTSIDERS - Blood & Treasure (Hound Gawd)
SPECTRUM - Live Chronicles Volume 1 (Space Age Recordings)
VARIOUS - Greg Belson's Divine Disco: American Gospel Disco 1974-1984 (Cultures of Soul)
MOGWAI - Soundtrack: Atomic (Temporary Residence Ltd.)
THE RAMONES - Judy Is A Punk (1975 Demo) (Norton)
PIERRE VASSILIU - Ils (OST) (Born Bad)
RAZZ - No Time (Warm Wet)
GONZO - Dies Irae (Discrepant)
TESTPATTERN - Apres-Midi (Yen)
THE MAD - Mask / Eyeball / Devil (Brain Transplant)
HEAVY TIMES - Dancer (Randy)
MORRICONE YOUTH - The Adventures of Prince Achmed (Country Club)
ZACH COOPER - The Sentence (U.S. Recs)
BRITTA PHILLIPS - Luck or Magic (Double Feature)
RUSALNAIA - Rusalnaia (Feeding Tube)
VARIOUS - Bluesin' by the Bayou (Ace)
XENO & OAKLANDER - Topiary (Ghostly International)
GLENN BRANCA - Symphony No. 13: Hallucination City for 100 Guitars (Atavistic)
GUIDED BY VOICES - Please Be Honest (Guided By Voices Inc.)
NITE JEWEL - Liquid Cool (Gloriette)
HASHISH - A Product of Hashish (Subliminal Sounds)
ERIK FRIEDLANDER - Rings (Skipstone)
WOODS / ULTIMATE PAINTING - Split 7 (Trouble In Mind)
TACKLE - Benzedrine (Another Dark Age)
ANDY MOOR / YANNIS KYRIAKIDES - Rebetika (Unsounds)
THE COURETTES - Boom! Dynamite (Bachelor )
VARIOUS - Twisted Tales From the Vinyl Wasteland Vol. 1 (Trailer Park)
THE HIGH CURBS - Marcelo Cleveland (Sick)
FUJIYA & MIYAGI - Fujiya & Miyagi (Impossible Objects of Desire)
KONSTRUKTIVISTS - A Dissembly (Dark Entries)
ROBERT WOOD AND WOODLANDS - Live at Lons le Saulnier, 1974 (Monster Melodies)
BLOOD STEREO / HAIR & TREASURE - Split LP (Discrepant)
THE MONKEES - Good Times (Rhino)
LEVITATION ROOM - Ethos (Burger)
SAVAK - Best of Luck In Future Endeavors (Comedy Minus One)
SHREDDED NERVE - In the Shadow of What Never Was (Chrondritic Sound)
HONEY RADAR - Ignore The Bells (Chunklet Industries)
SUICIDE - Dream Baby Dream (Superior Viaduct)
MESSAGES - Mirage (Root Strata)
VARIOUS - Modernism (Kent / Ace)
VARIOUS - Heavy Psych Sounds (Heavy Psych Sounds)
KONDI BAND - Belle Wahallah (Strut)
TYLL - Sexphonie (Mental Experience)
MALE GAZE - King Leer (Castle Face)
HOWARD WERTH - Obsolete (Munster / Dangerhouse)
GIORGIO MURDERER - Holographic Vietnam War (Pelican Pow Wow)
FRANCISCO LOPEZ - Untitled #300 (Taiga)
TIGUE - Peaks (New Amsterdam)
DERIVATIVES - Forwards, Futures, and Options (Medical Records)
BUN E. CARLOS - Greetings from Bunezuela! (E One)
BOB DYLAN - Fallen Angels (Columbia)
RHYS CHATHAM - Pythagorean Dream (FOOM)
PALE COCOON - 青空の実験室 / Secret Sounds (Pafe)
ROUGH KIDS - Rough Kids (Sorry State)
CONNIE ACHER - For Giving (Golden Lab)
ULAAN PASSERINE - Light In Dust (Worstward)
MARCIA BASSETT AND SAMARA LUBELSKI - 110 Livingston (Golden Lab)
CURRENT 93 - Swastikas for Noddy (The Spheres)
ALMENDRA - Singles + Album (Being Weird Isn't Enough)
CONNECTIONS - Midnight Run (Anyway)
URBAN SAX - Urban Sax 1 (Wah Wah)
BATTLE TRANCE - Blade of Love (New Amsterdam)
VARIOUS - The Ruptured Sessions, Vol. 4 (Ruptured)
CELLULAR CHAOS - Diamond Teeth Clenched (Skin Graft)
CHROME REVERSE - You Say You Love Me (Bachelor )
MARCOS BALTER / GREG SAUNIER - Dal Niente / Deerhoof (New Amsterdam)
RITUAL HUMOR - In the Forests of the Night (No Label)
KILLING JOKE - Pylon (Spinefarm)
MATT 'MV' VALENTINE - Blazing Grace (Time-Lag)
B-BALL JOINTS - Untitled (Dog In The Night)
BKGD AUDIO - Round One (BKGD Audio)
PELUQUERíA CANINA - Jovenes Promesas (Going Underground)
MATT CARLSON / MICHAEL STIRLING / DOUG THERIAULT - Aakash (Root Strata)
VARIOUS - Iron Fists Chronicles: Episode 1 Deep Soul (Universal/Stax)
REGLER - Regel #8 (Metal) (At War With False Noise)
SISSY SPACEK - First Four (Helicopter)
KING GOBLIN - Cryptozoology (Bonten)
BLACKHOUSE - Ignite Blackhouse Youth (No Emb Blanc)
TRACY BRYANT - Subterranean (Burger)
THE EVERYMEN - These Mad Dogs Need Heroes (Self Released)
DEATH FACTORY - Noctural Dimension (Prison Tatt)
EMPTY AIRSPACE - Tomorrow Already Forgotten (RBM)
DOCTOR NOD - Doctor Nod (Clean Nice Quiet)
BACHIKABURI - Bachikaburi (Nagomu)
TROLLER - Graphic (Crucial Blast)
THE BIBS - From the Fish Houses (Soft Abuse)
THE GEROGERIGEGEGE - Moenai Hai (Eskimo)
TENNISCOATS - Tokinouta (テニスコーツ* ‎– ときのうた) (Majikick)
MACHO MAN RANDY SAVAGE - Macho Madness: Savage on the Stick (Loki)
TWIN PEAKS - Down in Heaven (Grand Jury)

Light Airplay
LYDIA LUNCH, MARC HURTADO - My Lover the Killer (Munster)
PERSON OF INTEREST - Call This Number (Long Island Electric Systems)
NATE HALL - Electric Vacuum Roar (HCB)
M/R - Let That Shit Breathe (Long Island Electrical Systems)
JOSEPH BERTOLOZZI - Tower Music / Musique De La Tour (Innova Recordings)
TWISTED - Utopia (Art For Blind / Specialist Subject)
FASENUOVA - Aullidos Metalicos (Humo)
KEN MOORE - Early Progressive Works 1972-1975 (Vinyl On Demand)
MIRAMAR - Dedicated to Sylvia Rexach (Barbes)
NORMAN WESTBERG - The All Most Quiet (HallowGround)
NIGHT CONTROL - Mind Control (No Label)
THE KILLS - Ash & Ice (Domino)
MINOR VICTORIES - The Debut Album (Fat Possum)
GOLD PANDA - Good Luck and Do Your Best (City Slang)
FLOWERING INFERNO - 1000 Watts (Tru Thoughts)
EARTHLESS / HARSH TOKE - Split EP (Tee Pee)
VAL DENHAM - I Saw Myself In Your Dreams Last Night (Vanity Case)
LEWIS PESACOV - The Edge of Forever (The Industry Records)
TORBEN SNEKKESTAD - Plateau (Ilk Music)
VARIOUS - Congo Traditional 1952 & 1957 (SWP)
DWARVES - Radio Free Dwarves (Riot Style / Greedy)
LE SYNDICAT & SEKTOR 304 - Geometry of Chromium Skin (Rotorelief)
ZIG-ZAGS - Running Out of Red (Castle Face)
THEE JEZEBELS - Mover and a Groover (State)
ALARIC - End of Mirrors (Neurot Recordings)
PASCAL NIGGENKEMPER - Talking Trash (Trem Azul)
SANDRA BELL - Aureole (Thokei Tapes)
CHERUBS - Fist In the Air (Brutal Panda)
ULTIMATE PAINTING - Live at Third Man Records (Third Man)
C. STROM - Pastoral Underground (Self Released)
BEN JOHNSTON - String Quartets Nos. 6, 7, 8 (New World)
SUN RA & HIS ASTRO-INFINITY ARKESTRA - The Intergalactic Thing (Roaratorio)
DROSE - Boy Man Machine (Orange Milk)
STA. - Goma (Humo)
NOLLS - Strange Attitude (LOT)
EXTENDED ORGAN - I Hate You All So Much (Extended Organ)
TONY JOE WHITE - Rain Crow (Yep Roc)
AARON DILLOWAY / ROBERT TURMAN - Blizzard (Fabrica)
ELVIS DEPRESSEDLY - Holo Pleasures / California Dreamin' (Run For Cover)
SCHIMPFLUCH-COMMUNE INT. - Schimpfluch-Commune Int. (Nihilist)
CHRISTIAN FENNESZ / JIM O'ROURKE - It's Hard For Me To Say I'm Sorry (Editions Mego)
BRUME - Xerxes (Rotorelief)
BEAT DETECTIVES - Climate Change (Not Not Fun)
STEFAN CHRISTENSEN & FRIENDS - Empty Plateaus (Loki)
MULATU ASTATKE - Yegelle Tezeta (Mr. Bongo)
GROWING - Disorder (No Label)
MUJERCITAS TERROR - Fiesta Muda (Stereo Neg)
MARC HURTADO, ALAN VEGA - Sniper (Munster)
BUTTERFLY BANDAGE - Songs To Carry in Ur Pocket As U Face To the Void (Amoebic Industries)
TOM HAMILTON - City of Vorticity (Pogus Productions)
ZOOS OF BERLIN - Taxis (No Label)
BLACK SPIRITUALS - Black Tape (Astral Spirits)
MARK CONE - Sings (Nicey)
THE HIPSHAKES - Snake (Art For Blind )
BOY DIRT CAR & BUMBLE BE - Wheels Cleveland 351 (After Music Recordings)
NEKRASOV - Negative Temple (No Label)
SAM JACOBS - Dreamin' Rap Music (No Label)
THE CONFORMISTS - Divorce (Aagoo)
NEIL YOUNG & PROMISE OF THE REAL - Earth (Reprise)
MARK KOZELEK - Lost Verses: Live (Caldo Verde)
MATTHEW DE GENARRO - Spark & Flame (Soft Abuse)
NURSE - The Anchor (Scavanger of Death)
JOKE LANZ / SHELLEY HIRSCH - Berlin + Brooklyn (Rossbin)
CLIPPING - Wriggle (Sub Pop)
COUGH - Still They Pray (Relapse)
SNICKERS / DYLAN SHEARER / RICHARD YOUNGS - Kichert Mit Freunden split 7" (No Label)
ORNAMENT - Protest Music (Ideal)
LA MAQUINA INSULAR - Somos La Plena (Vampisoul)
LUME - Xabregas 10 (Trem Azul)
DARIO DELL'AERE - Eagles In the Night (Dark Entries)
USE - Chien d'la Casse (Born Bad)
DEN MEDITERANDE UTTERN - Livet E Slut Vid 19 (Mediterande)
NADJA - Sv (Essence Music)
FOUND FOOTAGE - As Far As Far (Dust House)
KID MILLIONS + JIM SAUTER - 7 (Feeding Tube)
ELLIOTT SHARP - Tranzience (New World)
KAPPA CHOW - Punk As Fuck (Big Tomato)
CHRIS KNOX - KnoxTraxFine (Thokei Tapes)
SHABAZZ PALACES - Live at Third Man Records (Third Man)
LOVELY LITTLE GIRLS - Glistening Vivid Splash (Skin Graft)

7" Singles List
TREVOR WHITE - Crazy Kids (Just Add Water)
THE RAMONES - Judy Is a Punk (Demo) (Norton)
PIERRE VASSILU - Ils (OST) (Born Bad)
RAZZ - No Time (Warm Wet)
WOODS/ULTIMATE PAINTING - Split 7" (Trouble In Mind)
HEAVY TIMES - Dancer (Randy)
SUICIDE - Dream Baby Dream (Superior Viaduct)
HONEY RADAR - Ignore the Bells (Chunklet Industries)
THE COURETTES - Boom! Dynamite (Bachelor)
HOWARD WERTH - Obsolute (Munster/Dangerhouse)

RPM List
SUZANNE CIANI - Buchla Concerts 1975 (Finders Keepers)
TACKLE - Bendezrine (Another Dark Age)
B-BALL JOINTS - Untitled (Dog in the Night)
PERSON OF INTEREST - Call This Number (Long Island Electrical Systems)
M/R - Let That Shit Breathe (Long Island Electrical Systems)
DARIO DELL'AERE - Eagles in the Night (Dark Entries)
THE AVALANCHES - Wildflower (Modular/Astralwerks)
VARIOUS - BIS 001-020 (RVNG/Beats In Space)
PLAID - The Digging Remedy (Warp)
VARIOUS - Permanent Vacation 4 (Permanent Vacation)
Jazz List
TERRY RILEY/DON CHERRY/KARL BERGER - Koln: Fenruary 23, 1975 (Modern Silence)
IDRIS ACKAMOOR & THE PYRAMIDS - We Be All Africans (Strut)
ERIK FRIEDLANDER - Rings (Skipstone)
BATTLE TRANCE - Blade of Love (New Amsterdam)
TORBEN SNEKKESTAD - Plateau (Ilk Music)
PASCAL NIGGENKEMPER - Talking Trash (Trem Azul)
SUN RA & HIS ASTRO-INFINITY ARKESTRA - The Intergalactic Thing (Roaratorio)
BLACK SPIRITUALS - Black Tape (Astral Spirits)
BOBBY KAPP / MATTHEW SHIPP - Cactus (Northern Spy)
FIRE! ORCHESTRA - Ritual (Rune Grammofon)

Loud List
VARIOUS - Danger! La France a Peur! Inedits Punk Francais 1976-1980 (Danger)
KVELERTAK - Nattesferd (Roadrunner)
VEKTOR - Terminal Redux (Earache)
THE MAD - Mask/Eyeball/Devil (Brain Transplant)
SHREDDED NERVE - In the Shadow of What Never Was (Chrondritic Sound)
CELLULAR CHAOS - Diamond Teeth (Skin Graft)
THE GEROGERIGEGEGE - Meonai Hai (Eskimo)
KING GOBLIN - Cryptozoology (Bonten)
DEATH FACTORY - Nocturnal Dimension (Prison Tatt)
SISSY SPACEK - First Four (Helicopter)

World List
75 DOLLAR BILL - Wood/Metal/Plastic/Pattern/Rhythm/Rock (Thin Wrist)
KUPARILINNA - Kuparilinna (Palatsi)
VARIOUS - Hawai'i Authentic: The Pre-War Era Vol. 1 (!925-1936) (Asherah)
TALA A.M. - African Funk Experimentals 1975-1978 (Africa Seven)
AHMED MALEK - Musique Pour le Reve et L'amour (Black Sweat)
THE WAILING WAILERS - The Wailing Wailers (Studio One)
VARIOUS - Space Echo: the Mystery Behind the Cosmic Sound of Cabo Verde Finally Revealed (Analog Africa)
ERIOKA CON ANIMAC PLANETICO - Hi-Speed (Creativeman Disc)
KONDI BAND - Belle Wahallah (Strut)
MIRAMAR - Dedicated to Sylvia Rexach (Barbes)

Hip-Hop List
VARIOUS - Boombox 1: Early Independent Hip-Hop, Electro and Disco Rap 1979-82 (Soul Jazz)
BKGD AUDIO - Round One (BKGD Audio)
CLIPPING - Wriggle (Sub Pop)
SHABAZZ PALACES - Live at Third Man (Third Man)
DJ SHADOW - The Mountain Will Fall (Mass Appeal)
SOUNDTRACK - Broad City (Milan/Comedy Central)
MNDSGN - Body Wash (Stones Throw)
VARIOUS - DJ Kicks: Dam-Funk (Studio K7)
ATMOSPHERE - Fishing Blues (Rhymesayers)
TRUE NEUTRAL CREW - Soft Rules (Deathbomb Arc)
Cassette List
MACHO MAN RANDY SAVAGE - Macho Madness: Savage On a Stick (Loki)
DOCTOR NOD - Doctor Nod (Clean Nice Quiet)
SANDRA BELL - Aureole (Thokei Tapes)
EXTENDED ORGAN - I Hate You All So Much (Extended Organ)
STEFAN CHRISTIANSEN AND FRIENDS - Empty Plateaus (Loki)
BLACK SPIRITUALS - Black Tape (Astral Spirits)
DEN MEDITERANDE UTTERN - Livet E Slut Vid 19 (Mediterande)
CHRIS KNOX - KnoxTraxFine (Thokei Tapes)
SOMATICAE - Somaticae (Tanzprocesz)
BAD AURA - Animus (Winning Sperm Party)

UPCOMING SPECIALS ON WFMU
Peter Greenberg and Barrence Whitfield
Saturday, October 1st, 3pm - 6pm
on Todd-o-phonic Todd's show
Peter Greenberg and Barrence Whitfield of the world's most racuous r'n'b combo, Barrence Whitfield & The Savages, join Todd-O-Phonic Todd to blast 45's and swap stories prior to their appearance later that evening at Monty Hall (they will also be performing Sunday 10/2 at The Mercury Lounge).

Field Recording Twofer: Ian Brennan (Grammy-nominated Zomba Prison Project, Khmer Rouge Survivors and more) + Rob's recordings of Merasi Musicians of Rajasthan
Saturday, October 1st, 6pm - 9pm
on Transpacific Sound Paradise with Rob Weisberg
We kick off by meeting Ian Brennan, who started out as a rock writer and producer but really has gotten the itch for far-flung field recording, especially in places where people are living or have lived under very challenging circumstances. His first of two recently released Zomba Prison Project albums, recorded at a maximum security a prison in Malawi, is nominated for a Grammy. (He already has one Grammy to his name for producing Tinariwen's Tassili LP.) He also has a new album out of recordings by artists who survived the Khmer Rouge's purge of artists, They Will Kill You If You Cry. He's released albums recorded with artists in war-torn South Sudan and much more. And he has new book - How Music Dies (or Lives): Field Recording and the Battle for Democracy in the Arts. Ian will talk about the book and his mission to share unheard music in a free event at the New School's music building Thursday evening October 6th and on our show this week.

Later: In early 2014 Rob met a poor but talented and determined community of Merasi minority musicians in the Thar desert region of Rajasthan, India. Now some of the finest musicians from that community, the Merasi Master Musicians of Rajasthan, are touring North America, with area shows October 6th and 7th at Baryshnikov Arts Center plus a very special appearance to open our third annual HONK NYC! concert spectacle Thursday October 13th at WFMU's Monty Hall. Rob field-recorded a session with musicians from the community in Rajasthan and we'll hear it on tonight's show.

Mike Stax, author of "Swim Through The Darkness"
Sunday, October 2nd, 8pm - 9pm
on The Whig Out with Glynis GirlGroupGirl and Richard W (on Rock & Soul Ichiban stream)
Author and Musician Mike Stax will be talking about the mystery of the Maitreya Kali, or Craig Smith - the once famous and then obscure musician who recorded two highly prized albums of psychedelia. In his early career Craig Smith was a well known and genial folk and pop musician of Chris and Craig and The Penny Arkade - then a sudden turn in his personality left Craig alone and invisible in LA. Writer Mike Stax talks about "Swim Through The Darkness" - his new book documenting his search for Craig Smith, and a life forgotten on the Whig Out! Sunday Oct. 2nd 8pm Rock'n'Soul Ichiban Stream.

Allen Callaci
Sunday, October 2nd, 8pm - 10pm
on Gaylord Fields's show
In advance of his upcoming performance on October 4, the Refrigerator frontman drops by our Jersey City studio to discuss his new book, Heart Like a Starfish, and regale listeners with a few songs, accompanied by Franklin Bruno (Nothing Painted Blue) on guitar. Callaci's memoir, published by Pelekenesis, chronicles, among other things, the Shrimper Records mainstay's recent heart transplant.

A portion of the $10 suggested admission from Tuesday's performance of Allen Callaci and the Human Hearts, at the Hifi Bar, in Manhattan, will go to Cedars-Sinai Heart Research Institute, in Los Angeles, which performed his surgery.

Tyler Keith
Monday, October 3rd, Noon - 3pm
on Three Chord Monte with Joe Belock
Author William Boyle describes Tyler's new LP, "Do It For Johnny," as "gritty and raw and muscled up, punk country noir at its best." Tyler's journey through darkness, which has taken him through the Neckbones, the Preacher's Kids and now his current band the Apostles, brings him back to WFMU for the first time in 12 years.

Death Valley Girls live at Monty Hall
Tuesday, October 4th, 6am - 9am
on 100% Whatever with Mary Wing
Think of Death Valley Girls as an acid-tripping science experiment that's been buried alive and resurrected as a sexually liberated dystopian chain-gang. Their second album, Glow in the Dark, out now on Burger Records, includes 10 tracks of bluesy, electric rock that's both danceable punk and oozing with psychedelic slime; like a doped-up Elvis if had he been an alien and a member of L.A. garage rock pioneers The Seeds. See them on tour throughout October, and hear their frenzied live set recorded at WFMU's Monty Hall on Mary Wing's show on Tuesday, October 4th at 8 am!

Alex Somers
Tuesday, October 4th, 7pm - 8pm
on Morricone Island with Devon E. Levins
Composer and visual artist Alex Somers joins Devon in the studio to discuss his first feature-length film score for 2016 Cannes Un Certain Regard selection "Captain Fantastic," starring Viggo Mortensen, directed by Matt Ross (aka "Gavin Belson" in the HBO series "Silicon Valley"). Baltimore-native Alex currently resides in Reykjavik, Iceland where he maintains his studio and has engineered, mixed and produced records for the likes of Death Vessel, Julianna Barwick, Briana Marela and Sigur Ros. He also co-composed for the television series "Manh(a)ttan" and his bands Parachutes, Riceboy Sleeps and Jonsi & Alex.

Heroes of Toolik
Tuesday, October 4th, 9pm - Midnight
on Irene Trudel's show
Friends with storied musical pasts make up the collective known as Heroes of Toolik. In the 1980's Guitarists Arad Evans and Robert Poss, Drummer Billy Ficca and Bassist Ernie Brooks met through their associations with Rhys Chatham, Glenn Branca, Television, The Modern Lovers and Gods and Monsters. Add trombonist John Speck and Painter Art-critic /Singer /Violinist Jennifer Coates and the collective is complete. Their new album, "Like Night," is filled with drifty, hypnotic, post-Velvet Underground groovyness. Heroes of Toolik play live on WFMU.

Helado Negro
Thursday, October 6th, 9am - Noon
on This Is The Modern World with Trouble
Celebrating the release of his new record "Private Energy", Helado Negro returns to This is the Modern World. Roberto Lange is a one man band, crafting songs that ooze with a sensuous boom and a contemporary mix of electronica vibes. Tune in between 9 and noon on October 6 and feel the love.

Extreme Metal Casual Lunch
Thursday, October 6th, Noon - 3pm
on Imaginary Radio with Chris M.
Continuing where the Extreme Metal Formal Brunch left off, three hours of Death metal, Black metal and Sludge! Classics and hidden gems from 1992 - 1995. Wear comfortable clothes that you don't mind getting bloody.

The return of mastering engineer Greg Calbi
Saturday, October 8th, 11am - 1pm
on Michael Shelley's show
When Creg Calbi was a guest on Michael's show in June the plan was to talk and play some examples of Greg's exemplar work (Beatles, Dylan, Ramones, Bowie, etc.) – but the stories were so good Michael & Greg just talked for a solid hour – no music: so, as promised, Greg returns – and this time the pair will do their best to spin some Greg's work between hearing another batch of Greg's great stories.

October Surprise: Surface Noise Random Pull Special
Monday, October 10th, 9am - Noon
on Surface Noise with Joe McGasko
WFMU DJs take a lot of pride in their role as curators who carefully select what they play every week. But what if a WFMU DJ suddenly decided to pull a bunch of random music from the record library that the DJ didn't know and had never heard before? Random Pull is what this game is called, a game in which DJ and listeners hear something for the first time at the same time. Today on Surface Noise, your DJ (and possibly a guest or two) will risk a full three hours of records that may be brilliant or may be terrible, but we'll find out together!

The World
Tuesday, October 11th, Noon - 3pm
on Liz Berg's show
Fans of Essential Logic, Delta 5, and saxophones, take note: Oakland's post-punk dance heroes The World are coming to a radio station near you. Expect paranoid grooves, punky beats, disaffected lady vocals, and a primal urge to get off your butt and shake it. Catch The Wold live at Silent Barn on Oct 10th or Baby's All Right on Oct 11th.

Record Label Special: Elektra Records
Monday, October 17th, 9am - Noon
on Surface Noise with Joe McGasko
One of the first and greatest independent labels of the rock era was Elektra Records, which started out primarily as a folk music label in the 1950s but would go on to release rock, country, and world music to great success into the early 70s. Today Surface Noise salutes this unique record label by featuring music from a wide range of its artists, some more well known than others. Part of the show will include a spotlight on the Nonesuch label, the Elektra offshoot that did so much to introduce music from around the world to a wide audience.

Singles Going Early
Thursday, October 20th, Noon - 3pm
on Imaginary Radio with Chris M.
Surprise! It's the Singles Going Steady show but a week early! It's going to be a big mess.

Guest DJ set by Trumpeter Steve Bernstein
Saturday, October 22nd, 9am - 11am
on Bob Brainen's show
While best known for The Millennial Territory Orchestra and Sex Mob, Steve has covered a lot of ground in concerts and studios around the world, worked on film scores and various other projects with a long list of collaborators. Today he'll be guest D.J. and we'll mix works by his favorite artists with some of his own recordings including some rarities. Join Us!

Kaminsky Kamoutsky with Jesse
Sunday, October 23rd, 2pm - 8pm (on Give the Drummer Radio stream)
At 2pm on Sunday, October 23rd, Jesse Kaminsky will perform a public reading of the book Tanstaafl! in collaboration with Gang Clan Mafia at the Mobius Artists Group gallery in Cambridge, MA. The event will be broadcast live on WFMU's Give the Drummer Radio from 2pm until it is finished. (It will surely last six hours, but maybe eight or even longer.) The book Tanstaafl! was created by John Osorio Buck and is comprised of 5,300 anagrams for the phrase "Art and Money."

Two Sevens Clash: Singles Going Steady with Special Guest Matt Fiveash
Monday, October 24th, 9am - Noon
on Surface Noise with Joe McGasko
For the third year in a row, Give the Drummer Radio's Matt Fiveash drops by Surface Noise to go toe-to-toe with Joe on the turntable mat. Watch the 45s fly! (Note: Joe will also join Matt on his show on Oct 27th between 2-4pm on Give the Drummer Radio.)

Halloween 4: The Return
Thursday, October 27th, Noon - 3pm
on Imaginary Radio with Chris M.
A haunted afternoon of scary music, occult references and eldritch horrors. Sit alone in the dark and eat candy, slowly going mad! Or just enjoy listening to it, whatever. #demogorgon

John Strausbaugh: City of Sedition
Wednesday, November 9th, 3pm - 6pm
on Irwin Chusid
Journalist/historian John Strausbaugh returns to Irwin's program on Wednesday November 9 to discuss his new book, "City of Sedition: The History of New York City During the Civil War" (published by Twelve Books). The work chronicles the localized conflicts between New York constituent groups and how their respective actions helped or hampered President Lincoln's war effort. No city raised more men, money, and materiel for the war, and no city raised more hell against it. New York was a city of patriots, war heroes, and abolitionists, but also a city of antiwar protest, draft resistance, and sedition. Strausbaugh is a foremost authority on the history of New York City. He is a former editor of New York Press, and has written for the New York Times, the Washington Post, and many other publications. His previous books include "The Village: 400 Years of Beats and Bohemians, Radicals and Rogues," "E: Reflections on the Birth of the Elvis Faith," "Black Like You," and "Sissy Nation."

Amy Rigby
Saturday, November 12th, 11am - 1pm
on Michael Shelley's show
Amy Rigby drops by to play a few songs & to celebrate the 20th anniversary of the release of her debut masterpiece "Diary Of A Mod Housewife" and it's recent vinyl debut. She's on tour now, with a stops at NYC's HiFi Bar November 16 & 17th.

Straight Arrows
Saturday, November 12th, 3pm - 6pm
on Todd-o-phonic Todd's show
Sydney quartet Straight Arrows kick out the jams on The Todd-O-Phonic Todd show. Maybe the best Aussie combo since The Missing Links! Don't miss them on tour with Thee Oh Sees.

The Stompin' Riff Raffs
Saturday, November 19th, 3pm - 6pm
on Todd-o-phonic Todd's show
One of Japan's greatest exports, The Stompin' Riff Raffs perform live on the Todd-O-Phonic Todd show. These masters of mayhem are known for their crazed performances and boundless energy. Nao sings and Rie, Mikou and Saori scream! Be sure and catch The Stompin' Riff Raffs at The Bowery Ballroom with The King Khan & BBQ Show on 11/22.

---
Want to see all the past events? Go here.


UPCOMING AT WFMU'S MONTY HALL
43 Montgomery Street, Jersey City
http://montyhall.ticketfly.com/
Thu 9/29 The Scenics / Coy Kids / Dentist (8:30pm, $8-10)
Sat 10/1 Barrance Whitfield & the Savages / The Piggies (9:00pm, $10-12)
Fri 10/7 Julianna Barwick / Mary Lattimore (9:00pm, $15)
Sun 10/9 Get Up Kids (8:00pm $27-30) SOLD OUT
Tue 10/11 Merchandise / Public Memory / Flasher (8:30pm, $10-12)
Sat 10/13 Honk NYC in NJ! (7:30pm, $10)
Wed 10/19 Eugene Chadbourne / Sunwatchers / Ryan Sawyer (8:30pm, $10-12)
Thu 10/27 Dan Adriano in the Emergency Room (8:00pm, $13-15)
Sat 10/29 Pat Byrne's Prove It All Night (9:00pm, $5)
Tue 11/1 Survive (8:30pm, $12-14)
Wed 11/2 Quintron and Miss Pussycat (9:00pm, $10)
Sat 11/5 Silver Apples / American Watercolor Movement / Bernardino Feminielli (9:00pm, $15-17)
Fri 11/11 Natural Child (9:00pm, $10)
Mon 11/14 Honus Honus (8:30pm, $12)
Thu 11/17 Jonathan Richman feat. Tommy Larkins (9:00pm, $20)
Sat 11/19 SAD13 / Vagabon / Sam Evian (8:30pm, $10)
Fri 12/16 Jon Langford & Walter Salas-Humara's Bumper Holiday Sing-Song (8:30pm $15)
Search the WFMU website (Google)