WFMU
PO Box 5101
Hoboken, NJ 07030
broadcasting from Jersey City 91.1 FM/90.1 FM
Audio Feed and Archives: www.wfmu.org
Podcasts: podcast.wfmu.org
Facebook: www.facebook.com/wfmuradio
Twitter: http://twitter.com/#!/wfmu
Brian Turner, Music Director, bt@wfmu.org (201) 521-1416 x223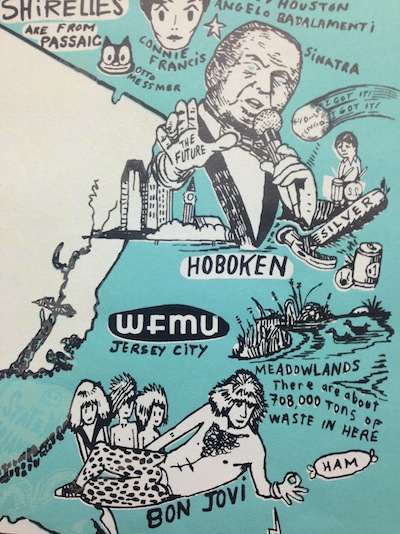 Heavy Airplay, May 4, 2017
GROUP DOUEH & CHEVEU - Dakhla Sahara Session (Born Bad)
TIM EVANS - Wretched Wings (Ever/Never)
VARIOUS - Music of the Banhar People from the Central Highlands of Vietnam (Sublime Frequencies)
JOHN BENDER - Plaster Falling (Superior Viaduct)
CARLA DAL FORNO - You Know What It's Like (Blackest Ever Black)
THIGH MASTER - Early Times (Bruit Direct Disques)
ANNIE ANXIETY - Soul Possession (Dais)
MARK FEEHAN - M.F. II (Richie)
DEAN MCPHEE / MARY ARCHES - Devon Folklore Tapes Vol V: Orinthology (DFTV / Folklore Tapes)
VARIOUS - Togo Soul 70 (Hot Casa)
THE SHIFTERS - Creggan Shops (It Takes Two)
PLATH - Plath (Mannequin)
JOSE MAURO - Obnoxius (FarOut Recordings)
ANTHONY CHILD - Electronic Recordings From the Maui Jungle Vol. 2 (Editions Mego)
THE PROPER ORNAMENTS - Foxhole (Slumberland)
SO WHAT - Hard Gum (Just Add Water / Surfin' Ki)
GR - Propel Tension on Polyester Base (Opaque Dynamo)
VARIOUS - Sri Lanka: The Golden Era of Sinbalese and Tamil Folk-Pop Music (Akuphone)
MICHAEL CHAPMAN - 50 (Paradise of Bachelors)
MIMINOKOTO - Otomejima No Otome (Plunk's Plan)
VARIOUS - Synthesize the Soul: Astro-Atlantic Hypnotica from the Cape Verde Islands 1973-1988 (Ostinato)
FEATURES - Features (Flying Nun)
SANTIAGO - 22 Somerset Dr. 1976-1978 (Manufactured Recordings)
REBEL KIND - Just For Fools (Urinal Cake)
OVERTONE ENSEMBLE - Overtone Ensemble (Important)
SPARROW STEEPLE - Steeple II (Richie)
JAM MONEY - A Gathering Kind (Alien Transistor)
MORDECAI - Abstract Recipe (Richie)
EMPTYSET - Borders (Thrill Jockey)
JOHN WESLEY COLEMAN - Microwave Dreams (Super Secret)
CHROME REVERSE - They Wanna Fight! (Mag Wheels)
STEVE ADAMYK BAND - Graceland (Dirtnap)
SWIMMING IN BENGAL - Garden of Idle Hands (Baggage Claim)
SARAH DAVACHI - Vergers (Important)
BLUE ORCHIDS - Awefull (Tiny Global Productions)

Medium Airplay
VARIOUS - Nigeria Soul Fever (Soul Jazz)
SOLANGE - A Seat at the Table (Saint / Columbia)
ROBERT QUINE / RICHARD HELL - Robert Quine / Richard Hell (The Sound of White Columns)
HORFORSTAELSE - Listening Comprehension 1980-1982 (Manufactured Recordings)
RAJAYTTAJAT - Raja Elektrik Millenium (Ektro)
ONEIDA & RHYS CHATHAM - What's Your Sign? (Northern Spy)
BREN'T LEWIIS ENSEMBLE - Harvester of Eyes (Butte County Free Music Society)
YXIMALLOO - OGI Hz (Sakura)
SUZUKI JUNZO - La Course Du Lievre A Travers Les Champs (Plunk's Plan)
VARIOUS - Text Sound Compositions 8: Stockholm 1971 (Fylkingen)
ROARING LION - Cairi Calypso: 1930-1939 (Asherah)
VARIOUS - Musique Concrete: Groupe de Recherches Musicales de la RTF (Cacophonic / Finders Keepers)
VARIOUS - Chocolate Soup For Diabetics (Particles)
BERT JANSCH - Living In the Shadows (Earth)
COZY - Denim Child (Surfin' Ki)
ATTILIO MINEO - Man In Space With Sounds (Modern Harmonic)
KEDR LIVANSKY - January Sun (2MR)
MALCOLM MOONEY - Malcolm Mooney (The Sound of White Columns)
JOHN CAGE MEETS SUN RA - The Complete Concert, June 8, 1986 Coney Island NY (Modern Harmonic)
SYSTEMA SOLAR - Rumbo A Tierra (Nacional)
ACID MOTHERS TEMPLE & THE MELTING PARAISO UFO - Wake To A New Dawn of Another Astro Era (Important)
THIS KIND OF PUNISHMENT - Radio Silence (Superior Viaduct)
RISK RELAY - As We Descend (Nefarious Industries)
TOMMY JAY - Tall Tales of Trauma (Assophon)
HARTLEY C. WHITE AND FRIENDS - Something Better (OSR)
VARIOUS - Community 4: A Compilation of Hobart Music (Rough Skies)
SAM KOGON - Psychic Tears (Beyond Beyond Is Beyond)
THE POP GROUP - The Boy Whose Head Exploded (Freaks R Us)
GARETH DICKSON - Orwell Court (12k)
DJ FEMALE CONVICT SCORPION - Clash-Ups 5 (No Label)
THE ISLEY BROTHERS - The RCA Victor & T-Neck Album Masters (1959-1983) (Legacy)
MARK EITZEL - Hey Mr Ferryman (Merge)
MARK LYKEN - The Terrestrial Sea (Important)
HARRY BERTOIA - Clear Sounds b/w Perfetta (Sonambient)
CIRCLE - Kummitus (Full Contact)
TYLER KEITH AND THE APOSTLES - Do It For Johnny (No Label)
LEE MORSE - Sweeping the Cobwebs: Selected Recordings 1924-1930 (Asherah)
REV. SAMUEL DIXON / THE VOICES OF FREEDOM - My Soul Says Yes (Asherah)
VIOLENT CHANGE - 3 (Melters / It Takes Two)
GHOSTWRITER - Ghostwriter (S-S)
ALI DINEEN - Light Comes In (No Label)
LOS DANDY'S - Lindo Amorcito (Pharaway Sounds)
THE REBEL SET - 45 Extended Play (Hidden Volume)
SENDAI - Ground and Figure (Editions Mego)
MEN WITH CHIPS - Attention Spent (Homeless)
GAEL SEGALEN - L'ange le Sage (Erratum Musical)
MY CAT IS AN ALIEN - Re-Si-Sten-Za! (Opax)
ALAN COURTIS - Los Galpones (Fabrica)
ELI KESZLER - Last Signs of Speed (Empty Editions)
ELOAH - Os Orixias (Mr Bongo)
DUTCH FUTURISMO - Festival of Misfits (Ektro)
JODI - Pops de Vanguardia (Out-Sider)
WILLIAM TYLER - Live at Third Man Records (Third Man)
SICK HYENAS - Like A Cramp (Six Tonnes de Chair)
LOST SYSTEM - No Meaning No Culture (Neck Chop)
THE CREATION FACTORY - Let Me Go (Market Square)
VARIOUS - Tommy Stewart's Disco Love Affair (Cultures of Soul)
ASHTRAY NAVIGATIONS - To Make a Fool Ask, and You Are the First (Blackest Ever Black)
NIGHTMARES ON WAX - Ground Floor (Warp)
NED MILLIGAN - Continental Burns (Florabelle)
PEOPLE SKILLS - Gunshots at Crestridge (Blackest Ever Black)
MOONDOGS - When Sixteen Wasn't So Sweet (Mighty Mouth)
JOHN E. TINSLEY - Country Blues Roots Revived (Manufactured / Steady Sounds)
DON RICH AND THE BUCKAROOS - Guitar Pickin' Man (Omnivore)
KIM MYHR / LASSE MARHAUG - On the Silver Globe (Sofa Music)
THE LAST SHADOW PUPPETS - The Dream Synopsis EP (Domino)
SETE STAR SEPT - Beast World (SPHC)
JIMMY GIUFFRE 3 - Bremen & Stuttgart 1961 (Emanem)
CLOUD NOTHINGS - Life Without Sound (Carpark)
DUCK BAKER - Outside (Emanem)
PAOLO CONTE - Amazing Game (Platinum SRL / Decca)
CHERRY GLAZERR - Apocalipstick (Secretly Canadian)
MUDDERSTEN - Karpatklokke (Sofa Music)
RYAN HUBER - Rule From Shadows (Inam)
SOUNDTRACK - Walkabout (Roundtable)
BOB DYLAN - The Real Royal Albert Hall 1966 Concert (Legacy)
LOREN CONNORS - The Departing of a Dream Vol. VI (Family Vineyard)
SONIC AVENUES - Disconnector (Dirtnap / Blow the Fuse)
TAK SHINDO - Mganga! (Modern Harmonic)
MAYHEM - De Mysteriis Dom Sathanas Live (Mayhem)
MATTHEW P. HOPKINS - W's (Albert's Basement)
FRANCOIS VIROT - Marginal Spots (Born Bad)
WAH - Travellers Station (Assophon)
KID KOALA - Music To Draw To : Satellite (Arts & Crafts)
CHORA(S)SAN TIME-COURT MIRAGE - Live at Issue Project Room (Important)
EBO TAYLOR & UHURU YENZU - Conflict (Mr Bongo)
MARK KOZELEK - On Tour: A Documentary - The Soundtrack (Caldo Verde)
JOKE LANZ & CHRISTIAN WEBER - Berlin Tapes (Blossoming Noise)
UROCHROMES - Night Bully EP (Wharf Cat)
IRENE REID / CUPPY RECORDS' STUDIO BAND - Split 7 (Cultures of Soul)
MR. ONDIOLINE - 7 (Finders Keepers / Cacophonic)
J.D. BUHL - Little Victories 1981-1985 (Mighty Mouth)

Light Airplay
TEE MAC - Night Illusion (Soul Jazz)
GORGUTS - Pleiades Dust (Season Of Mist)
MICROTUB - Bite of the Orange (Sofa Music)
HONEY RADAR - Sunrise Alphabet (It Takes Two)
THADEUS NELSON JR. - Dance Record (S.U.S. Records)
THURSTON MOORE / PHIL X. MILSTEIN - Songs We Taught the Lord Vol. 1 (Feeding Tube)
NEIL YOUNG - Peace Trail (Reprise)
ROBIN HAYWARD - Stop Time (Important)
JOYCE MORENO - Cool (FarOut Recordings)
EARTHMONKEY - Samsara Tsunami (E Decodings)
VARIOUS - Kwangkay: Funerary Music of the Dayak Benuaq of Borneo (Sublime Frequencies)
FOODMAN - Shokuhin (Orange Milk)
WOODS - Live at Third Man Records (Third Man)
TOBIN SPROUT - The Universe and Me (Burger)
FRANCK VIGROUX & REINHOLD FRIEDL - Tobel II (Monotype)
DAVE SOLDIER - The Eighth Hour of Amduat (Mulatta)
SPONTANEOUS MUSIC ORCHESTRA - Search & Reflect (Emanem)
STEVE LACY QUINTET - Last Tour (Emanem)
I KNOW I'M AN ALIEN - Meditations (No Label)
CLUB SOUND WITCHES - Untitled (Breakdance the Dawn)
TROPICAL SKIN BYRDS - Hedonism (Wharf Cat)
THE PIP SQUEEKS - My Baby's Cruel (Get Hip)
S-21 - Year Zero (World Gone Mad / Slug Salt)
CEREAL KILLERS - Demos (Neck Chop / Anti-Fade)
BARNEY KESSEL - Live at the Jazz Mill 1954 (Modern Harmonic)
BLACK BANANAS - Spyor Brain (OSR)
THOLLEM / OLIVEROS / CLINE - Molecular Affinity (Roaratorio)
YABBY YOU & MICHAEL PROPHET - Meets Scientist at the Dub Station (King Tubbys) (Yabby U.)
MOTELLI SKRONKLE - Juna (Ektro)
MATTHEW SHIPP TRIO - Piano Song (Thirsty Ear)
EWEN - SMITH - WALTER - Live in Texas (Balance Point Acoustics)
ERROR MASSAGE - Nonaggress (Tape Drift)
VARIOUS - Breakdancing the Dawn Volume 10 (Breakdance the Dawn)
ELEKTRO HAFIZ - Dubmix Version (Pharaway Sounds)
SCHARPLING & WURSTER - Live at Third Man Records (Third Man)
KING KHAN FEATURING NATALIA AVELON - Bandit Queen (Moon Studios)
RUTH GARBUS & FRIENDS - Hello Everybody (OSR)
KOOL 100'S - Slow Boat (Goodbye Boozy)
THE STACHES - Total Commitment (Six Tonnes de Chair)
ORIGINAL BLACK SHEEP OF THE FAMILY - Heaven Must Have Made You Go (Cultures of Soul)
BIZNAGA - Sentido Del Espectacule (Slovenly)
SARAH MARY CHADWICK - Roses Always Die (Rice Is Nice )
STICKMEN WITH RAYGUNS - Property of Jesus Christ (12XU)
VARIOUS - Styles Upon Styles 2016 Sampler (Styles Upon Styles)
SAINT VITUS - Live Vol. 2 (Season Of Mist)
INQUISITION - Bloodshed Across the Empyrean Altar Beyond the Celestial Zenith (Season Of Mist)
LEATHER NUNN - Take the Night (Wyln)
DUET FOR THEREMIN AND LAP STEEL - 10 (No Label)
CHRISTOF MIGONE - Greatest Hits (Squint Press)
AZYMUTH - Fenix (FarOut Recordings)
BLACK VIRGIN II - Black Virgin II (Adult Fantasy)
VARIOUS - Nagasaki Nightrider (No Label)
VARIOUS - Crack! Gozira Records Complete Collection (Gozira Records)
ROVA ORKESTROVA - No Favorites! (New World)
ANTHONY BRAXTON & DEREK BAILEY - First Duo Concert (Emanem)
TRISTAN PERICH - Active Field (Physical Editions)
JUXTAVOICES - Warning: May Contain Notes (Discus)
VARIOUS - Monstre_Compilation (Zamzam)
LENA CIRCUS WITH ITARU OKI - Zanshin (Improvising Beings / Mimimi)
PHOENIX AFROBEAT ORCHESTRA - PAO! (No Label)
WEASEL WALTER / DAVID BUDDIN - Quodlibet (No Label)
YARN/WIRE - Yarn/Wire/Currents Vol. 3 (No Label)
I'D M THEFT ABLE - Teeth Teething (Piednu)
PAULINE OLIVEROS + CONNIE CROTHERS - Live at the Stone (Important)
ZAVALA - Fantasmas (Fake Four Inc)
POWERTAKE0FF / MULTICULT - Split 7 (Learning Curve)
JIM HAYNES - Flammable Materials From Foreign Lands (Elevator Bath)
MASAMI AKITA - Wattle (Elevator Bath)
RAVIOLI ME AWAY - Living Is a Myth (Upset the Rhythm)
VIOLENCE CREEPS - Soul Narc (Digital Regress)
ICECLAW - Iceclaw (Iceclaw)
WHEELCHAIR SPORTS CAMP - No Big Deal (WSC )
FINAL EXIT - Seasons Are Going and Going... (SPHC)
JANDEK - New Orleans Monday (Corwood Industries)
UNHOLY TWO - Tongan Death Grip USA 2016 - Live Action (Loki)
CHOCOLAT - Recontrer Looloo (Beyond Beyond Is Beyond)
ARRINGTON DE DIONYSO - PIERO SPITILLI - JACOPO ANDREINI - For Arthur Doyle (No Label)
SUN RA | MERZBOW - Strange City (Cold Spring)
SANDY EWEN & HENRY KAISER - Lake Monsters (Balance Point Acoustics)
ANTHONY GUERRA, BILL SHUTE - Subtraction (Kendra Steiner Editions)
THE TOMB WEAVERS - So Alone (GET HIP)
SAKSET - Lahja (Full Contact)

7" Singles List
THE SHIFTERS - Creggan Shops (It Takes Two)
CIRCLE - Kummitus (Full Contact)
COZY - Denim Child (Circle Ki)
THIS KIND OF PUNISHMENT - Radio Silence (Superior Viaduct)
SIX HYENAS - Like a Cramp (Six Tonnes de Chair)
LOST SYSTEM - No Meaning No Culture (Neck Chop)
THE CREATION FACTORY - Let Me Go (Market Square)
THE REBEL SET - 45 Extended Play (Hidden Volume)
UROCHROMES - Night Bully EP (Wharf Cat)
MATTHEW P. HOPKINS - W's (Alberts Basement)

RPM List
ANTHONY CHILD - Electronic Recordings From the Maui Jungle Vol. 2 (Editions Mego)
DJ FEMALE CONVICT SCORPION - Clash Ups 5 (No Label)
VARIOUS - Tommy Stewart's Disco Love Affair (Cultures of Soul)
NIGHTMARES ON WAX - Ground Floor (Warp)
THADEUS NELSON JR. - Dance Record (S.U.S.)
FOODMAN - Shokuhin (Orange Milk)
ZAVALA - Fantasmas (Fake Four Inc)
VARIOUS - Future Sounds of Jazz 13 (Compost)
DEMDIKE STARE - Wonderland (Modern Love)
BONOBO - Migration (Ninja Tune)
Jazz List
JIMMY GIUFFRE 3 - Bremen & Stuttgart 1961 (Emanem)
DUCK BAKER - Outside (Emamen)
WAH - Travellers Station (Assophon)
STEVE LACY QUINTET - Last Tour (Emanem)
BARNEY KESSEL - Live at the Jazz Mill 1954 (Modern Harmonic)
MATTHEW SHIPP TRIO - Piano Song (Thirsty Ear)
ROVA ORKESTROVA - No Favorites! (New World)
SUN RA - Singles: the Definitive 45s Collection 1952-1991 (Strut)
DICKEY/MANERI/SHIPP - Vessel In Orbit (AUM Fidelity)
JEAN-BRICE GODET - Lignes de Cretes (Clean Feed)

World List
GROUP DOUEH & CHEVEU - Dahhla Sahara Session (Born Bad)
VARIOUS - Music of the Banhar People From the Central Highlands of Vietnam (Sublime Frequencies)
VARIOUS - Togo Soul 70 (Hot Casa)
VARIOUS - Sri Lanka: The Golden Era of Sinbalese and Tamil Folk-Pop Music (Akuphone)
VARIOUS - Synthesize the Soul: Astro-Atlantic Hypnotica from the Cape Verde ISlands 1973-1988 (Ostinato)
VARIOUS - Nigeria Soul Fever (Soul Jazz)
ROARING LION - Cairi Calypso 1930-1939 (Asherah)
SYSTEMA SOLAR - Rumbo A Tierra (Nacional)
LOS DANDY'S - Lindo Amorcito (Pharaway Sounds)
ELOAH - Os Orixias (Mr Bongo)

Loud List
SETE STAR SEPT - Beast World (SPHC)
MAYHEM - De Mysteriis Dom Sathanas Live (Mayhem)
UROCHROMES - Night Bully EP (Wharf Cat)
GORGUTS - Pleiades Dust (Season of Mist)
S-21 - Year Zero (World Gone Mad/Slug Salt)
CEREAL KILLERS - Demos (Neck Chop/Anti-Fade)
STICKMEN WITH RAYGUNS - Property of Jesus Christ (12XU)
SAINT VITUS - Live Vol. 2 (Season of Mist)
BLACK VIRGIN II - Black Virgin II (Adult Fantasy)
ECSTATIC VISION - Raw Rock Fury (Relapse)

Hip-Hop List
KID KOALA - Music To Draw To: Satellite (Arts & Crafts)
A-TRAK - In the Loop: A Decade of Remixes (Fools Gold)
RUN THE JEWELS - RTJ3 (Run the Jewels Inc)
WHY? - Moh Lhean (Joyful Noise)
A7PHA - A7pha (Anticon)
PORTER RAY - Watercolor (Sub Pop)
KUTMAH - Smile Beat Tape (No Label)
FOCUS THE TRUTH - Q85 (Success Over Sleep)
MARQUEE - Femme Fatale (Marvel)

Cassette List
FOODMAN - Shokuhin (Orange Milk)
YABBY YOU & MICHAEL PROPHET - Meets Scientist At the Dub Station (Yabby U)
BLACK VIRGIN II - Black Virgin II (Adult Fantasy)
VARIOUS - Nagasaki Nightrider (No Label)
VARIOUS - Crack! Gozira Records Complete Collection (Gozira)
VARIOUS - Monstre Compilation (Zamzam)
TOWN (ARTO LINDSAY/SAM HILLMER) - Live at Trans-Pecos (Atlantic Rhythms)
COMFORT LINK - The Sedate Tones of (Spleen Coffin)
YANNICK DAUBY - Magicien/Rouch (Tanuki)
GARY WILSON & TREDICI BACCI - Live at WFMU (NNA Tapes)
UPCOMING SPECIALS ON WFMU:

Don Bryant
Saturday, May 6th, 11am - 1pm
on Michael Shelley's show
Michael chats with Memphis soul music legend Don Bryant whose recording career started in 1958 and includes classic recordings with Willie Mitchell on the Hi Records label, a songwriting catalog that includes titles recorded by Solomon Burke, Albert King, Fontella Bass, Otis Clay, Etta James and his wife Ann Peebles' biggest hit "I Can't Stand The Rain". Don's upcoming album ''Don't Give Up On Love" is out May 12 on Fat Possum, and features performances by The Hi Rhythm Section, and The Bo-Keys.

Black Lips
Saturday, May 6th, 3pm - 6pm
on Todd-o-phonic Todd's show
Black Lips will make for an even more chaotic Todd-O-Phonic Todd show than usual. Atlanta's finest are releasing their latest opus, "Satan's Graffiti or God's Art?" the day before. Produced by Sean Lennon, the album is the group's most musically evolved to date, while still staying true to their original blistering take on fuzzy, dirty rock n' roll. Catch Black Lips at Webster Hall on Friday May 5th.

Mokoomba: Electrifying New Sounds from Zimbabwe
Saturday, May 6th, 6pm - 9pm
on Transpacific Sound Paradise with Rob Weisberg
Mokoomba is an ebulliant young band from Victoria Falls, Zimbabwe making a big splash on the international scene with an electrifying blend of Afro-rock, traditional sounds and lots more. On tour now in support of their excellent new album, Luyando (on Outhere Records), area gigs include a stop at Subrosa in NY's Meat Packing District on Wednesday night May 3rd as well as atThe Falcon up in Marlboro NY on Wednesday night May 17th. And we're thrilled to bring Mokoomba to the Garden State airwaves with a live session on WFMU!

The Amazing Kreskin, Will Miles, Patti Harrison, Tim Platt, Special Surprise Music Guests and More!
Saturday, May 6th, 9pm - Midnight
on Prove It All Night! with Pat Byrne
Saturday May 6th marks the return of Pat Byrne's Prove It All Night! variety show to Montgomery Hall. This show will feature talk show legend and famous mentalist The Amazing Kreskin! Comedy from: Will Miles, Patti Harrison, and Tim Platt! Plus, live music from TWO very special surprise musical guests! Check the WFMU homepage and the Prove It All Night playlist page for live video of the show starting between 9 and 9:30. If you're local, swing by Montgomery Hall for fun starting at 9pm with Primitive Sound System! $10 suggested donation with all money going to benefit WFMU radio, but if your feeling cheap, $5 will still get you in.

Jed Kurzel (Alien: Covenant)
Tuesday, May 9th, 7pm - 8pm
on Morricone Island with Devon E. Levins
Jed Kurzel discusses his most recent score for the sixth installment of Ridley Scott's Alien series "Alien: Covenant," the soundtrack of which will be released this month by Milan Records. Jed is the singer/guitarist of Australian garage duo The Mess Hall, getting his feature length film scoring start on his director brother Justin Kurzel's true crime drama "Snowtown." He also scored the critically-acclaimed directorial debuts for Jennifer Kent's horror thriller "The Babadook" and John Maclean's western "Slow West."

Tom Wilson's Music Factory #16 - Appletree Theatre
Wednesday, May 10th, 3pm - 6pm
on Irwin Chusid
In 1967 and '68 the charismatic record producer Tom Wilson hosted a free-form radio program called "The Music Factory," sponsored by MGM-Verve Records. The series has been gone from radio ever since, but Irwin is airing episodes on alternate Wednesdays at 4pm (Eastern). On May 10th, Tom Wilson welcomes to the Factory John Boylan, one-half of the two-brother band Appletree Theatre. In addition to presenting tracks by Appletree from their album "Playback," Wilson spins tunes by Jimmy Smith, Ultimate Spinach, the Blues Project, and Pat Williams. Also in the program, Wilson and Pauline Rivelli, editor of Jazz & Pop magazine, discuss the increasing confluence of jazz and rock, name-checking Cecil Taylor, Archie Shepp, Zappa, Sun Ra, and John Coltrane along the way.

White Hills
Wednesday, May 10th, 9pm - Midnight
on The Evan "Funk" Davies Show
Brooklyn-based heavy psych duo White Hills return for their third appearance on The Evan "Funk" Davies Show, and fourth appearance on WFMU overall! Their latest album Stop, Mute, Defeat (Thrill Jockey) was mixed by Martin Bisi and finds the band in a somewhat more experimental/industrial place, and still every bit as vital and compelling than their previous records. They're playing at Union Pool on Thursday May 11 before heading off on a European tour, to be followed by US dates later this summer. Tune in Wednesday night, May 10, to hear White Hills live on WFMU!​

Borzoi
Tuesday, May 16th, 3pm - 6pm
on Brian Turner's show
In what Brian hopes to be the kickoff of a series of live guests named after Russian dogs, today's program welcomes the trio known as Borzoi out of Austin, Texas. Kicking up a blitzkreig of noise combined with a more subtle leaning towards hooks, the band's fast and furious squall has made itself evident on 7" singles on Pau Wau and most recently 12XU Records. See them live May 20th at Pet Rescue, on a bill with Language and Rathaus.

Steve Keene
Saturday, May 20th, 11am - 1pm
on Michael Shelley's show
Michael chats with Brooklyn based Steve Keene, who for many years has been selling his paintings at WFMU Record Fairs for under $5, and has been called "The World's Most Prolific Painter." They'll discuss why & how Steve does what he does and the details behind his show at New York's Marlborough Gallery, whcih opens May 25th.

Quadruple header! Featuring So What, Holly Macve, RMBLR, and Bash & Pop
Saturday, May 20th, 3pm - 6pm
on Todd-o-phonic Todd's show
The Big Combo Series mounts a comeback as three bands appear on the Todd-O-Phonic Todd Show:

So What are a brand spanking new glam and high energy power pop band from the Bay Area. Their first full-length on Just Add Water is an explosion of hooks and melodies. Heavily influenced by The Equals, it is fitting that they are Equals' vocalist Derv Gordon's backing band for his shows at Monty Hall on Friday 5/19 and Baby's All Right Saturday 5/20. They will also be doing their own set each night.

In their four star review of her eponymous debut, Record Collector says Holly Macve is like "an ethereal offspring of Nick Cave blessed with the stark musical backdrop of Johnny Cash's American series, 21 year-old Macve turns country music on its head." Check out her new album on Becca Union and see her perform at Rough Trade on May 17th.

RMBLR is the rambunctious brain-child of former Dino's Boys frontman Chase Tail. Beer soaked and gin fueled rock'n'roll is what you would expect and what you get and you'll be damn happy about that. These good ole Southern Boys have a sizzling 7" EP on Fat Possum and will be playing with So What, Daddy Long Legs and Derv Gordon at Baby's All Right on Saturday 5/20.

"Anything Could Happen," the recent album by Bash & Pop is one of 2017's best albums and rivals front man Tommy Stinson's work with The Replacements. Look forward to hearing songs from this great release performed live and perhaps some stories of rock'n'roll debauchery. Bash & Pop perform at The Bell House on May 18th.

Cool Ghouls
Monday, May 22nd, Noon - 3pm
on Three Chord Monte with Joe Belock
The San Francisco quartet responsible for one of 2016's best albums, the scary-good "Animal Races" brings its jangling guitars and great songs to WFMU.

The Mighty Manfred (of the Woggles) PLUS Tiger! Tiger! (Matt M. fills in for Todd-o-phonic Todd)
Saturday, May 27th, 3pm - 6pm
on What's Happening?!?! with Matt M
While Todd-o-phonic Todd is soaking up the Jersey sun, Matt continues the cavalcade of stars! He welcomes The Mighty Manfred of the legendary Woggles for a chat about their upcoming local shows. Also on the show will be a live set from Atlanta garagers "Tiger! Tiger!" who will be playing at Gold Sounds in Brooklyn that night.

Marshall Crenshaw
Saturday, June 3rd, 3pm - 6pm
on Todd-o-phonic Todd's show
Pop purveyor Marshall Crenshaw hangs out with Todd-O-Phonic Todd to play some of his favorite records and chat about his illustrious career as musician, DJ, and fan. This one is going to be a treat!

---
Want to see all the past events? Go here.

UPCOMING AT WFMU'S MONTGOMERY HALL
43 Montgomery Street, Jersey City
http://montyhall.ticketfly.com/

Sat 5/6 Prove It All Night w/Pat Byrne (9:00pm, $5)
Thu 5/11 Savoy Motel (9:00pm $10-12)
Fri 5/12 Spoonful of Lovin'-Celebrating the Music of the Lovin Spoonful (8:30pm, $10)
Sat 5/13 The Everymen / No Ice / Rock N Roll Hi Fives (8:30pm, $10)
Fri 5/19 Derv Gordon (The Equals) / So What / Baby Shakes (9:00pm)
Wed 5/24 Skeptech: Tales From the Dark Side of Tech (6:30pm, $20)
Thu 6/8 Giuda / Wyldlife / Battery Electric (9:00pm $15)
Fri 6/9 Elvis Depressedly (8:30pm, $14-16)
Sun 6/18 Gates (8:00pm $12-14)
Fri 6/23 Shana Falana / The Sloppy Heads (9:00pm, $10)
Sun 6/25 Pronoun (8:00pm, $10-12)
Sat 7/8 Electric Six ($13-15)
Wed 8/9 Jeff Rosenstock / Laura Stevenson (8:00pm, $15)
Search the WFMU website (Google)