WFMU
PO Box 5101
Hoboken, NJ 07030
broadcasting from Jersey City 91.1 FM/90.1 FM
Audio Feed and Archives: www.wfmu.org
Podcasts: podcast.wfmu.org
Facebook: www.facebook.com/wfmuradio
Twitter: http://twitter.com/#!/wfmu
Brian Turner, Music Director, bt@wfmu.org (201) 521-1416 x223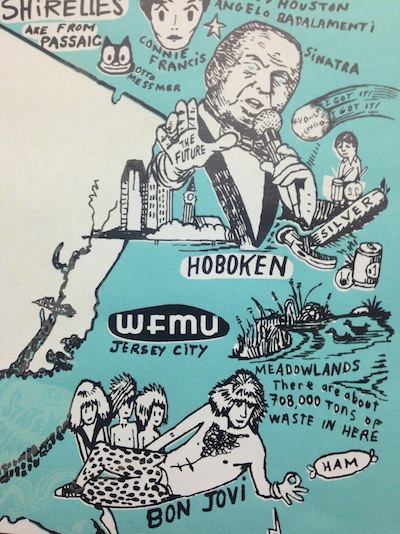 Heavy Airplay, July 17, 2017
VARIOUS - The Hired Hands: A Tribute To Bruce Langhorne (Scissor Tail)
GERRY AND THE HOLOGRAMS - Gerry and the Holograms (Cache Cache)
PHEW - Light Sleep (Mesh-Key)
RICK TOMLINSON - Phases of Daylight (Voix)
SNEAKS - It's a Myth (Merge)
NON BAND - Non Band (Talmusic)
COLIN NEWMAN - Provisionally Entitled The Singing Fish (Sentient Sonics)
GRUPPO DI IMPROVVISAZIONE NUOVA CONSONANZA - The Feed-Back (Schema)
DANIEL MENCHE - Sleeper (Sige)
VARIOUS - The Gospel Soul of Detroit: Sanctified Sounds From the Motor City (Detroit Gospel Reissue Project)
VARIOUS - Ishq Ke Maare: Sufi Songs From Sindh and Punjab, Pakistan (Sublime Frequencies)
THE ARMS OF SOMEONE NEW - Susan Sleepwalking (Dark Entries)
THE FLYWHEELS - I'm For the Flowers (Modern Lawn Music)
FEEDTIME - Gas (In the Red)
IDRISSA SOUMAORO ET L'ECLIPSE DE L'I.J.A. - Le Tioko-Tioko (Mississippi)
EDUARDO POLONIO - Acaricia La Manana (Vinilissimo)
SCREAMIN' JAY HAWKINS - The Planet Sessions (Ace)
VARIOUS - Text-Sound Compositions: Stockholm 1972 (Fylkingen)
CLUSTER - 1971-1981 Compiled by John McEntire (Bureau B)
THE PACIFICS - Quadrafenians (Mistkafer)
VARIOUS - Magnetband: Experimenteller Elektronik Underground DDR 1984-1989 (Bureau B)
FERAL OHMS - Feral Ohms (Silver Current)
VARIOUS - Lord Have Mercy: The Soulful Gospel of Checker Records (Playback)
THE NEW PORNOGRAPHERS - Whiteout Conditions (Collected Works/Concord)
GEORGE BARNES - Country Jazz (Modern Harmonic)
STEFANO MARCUCCI - Tempo Di Demoni, Papi, Angioli, Incensi E Gilici (Finders Keepers)
BARNEY WILEN - Moshi (Souffle Continu)
MIDORI TAKADA - Through the Looking Glass (Palto Flats / We Release Whatever the Fuck We Want)
DAMAGED BUG - Bunker Funk (Castle Face)
BANTEAY AMPIL BAND - Cambodian Liberation Songs (Akuphone)
VARIOUS - Pied Piper Finale (Kent Soul)
TAMING POWER - Twenty-One Pieces (Early Morning)
MAKO SICA - Plays Invocation (Feeding Tube)
TIM BUCKLEY - Wings: The Complete Singles 1966-1974 (Omnivore Recordings)
EMEL - Ensen (Partisan)
CHICANO BATMAN - Freedom Is Free (ATO)
SCHATTEN UNTER EIS - We Might As Well Be Dead (Randstock)
DIAMANDA GALAS - At Saint Thomas the Apostle Harlem (Intravenal Sound Operations)
JULIAN COPE - Drunken Songs (Head Heritage)
ULAN BATOR - Stereolith (Bureau B)
VARIOUS - Rock and Roll Music: The Songs of Chuck Berry (Ace)
SMOKEY AND MIHO - The Two EPs (Varese Sarabande)
COHELMEC ENSEMBLE - Next (Souffle Continu)
CAT-IRON - Sings Blues and Hymns (Exit Stencil)

Medium Airplay
VARIOUS - Lovin' Mighty Fire: Nippon Funk Soul Disco 1973-1983 (BGP/Ace)
CHAIN TAPE COLLECTIVE - CT-Great Speeches: A Chain Tape Collective Project Coordinated By Fabio Anile (No Label)
HARETON SALVAVANINI - SP/73 (Mr. Bongo)
SOUNDTRACK - Gimme Danger: The Story of the Stooges (Rhino)
ANJOU - Epithymia (Kranky)
ADULT - Detroit House Guests (Mute)
LUSINE - Sensorimotor (Ghostly International)
BLANK SQUARE - Animal I (Castle Face)
BARBATUQUES - Ayu (Mr. Bongo)
GUIDED BY VOICES - August By Cake (GBV Inc.)
JANKA NABAY - Build Music (Luaka Bop)
YASMINE HAMDAN - Al Jamilat (Ipecac)
FIN - Ice Pix (Hausu Mountain)
JAKE XERXES FUSSELL - What In the Natural World (Paradise of Bachelors)
THE JOHNSON SPRITUAL SINGERS - Don't Let the Devil Ride (Detroit Gospel Reissue Project)
ROLLING BLACKOUTS C.F. - The French Press (Sub Pop)
ANDRE WILLIAMS - Don't Ever Give Up (Pravda)
MEATBODIES - Alice (In the Red)
SAND - Sylph Ballet (Rotorelief)
33.10.3402 - Mecania No. 1 (Long Island Electrical Systems)
JEFF BURCH - Jeff Burch (The Spring Press)
SLEAFORD MODS - English Tapas (Rough Trade)
SUZUKI JUNZO - If I Die Before I Wake (Utech)
SANDOZ - Sandoz (Mute)
SKULLFLOWER - The Black Iron That Fell From the Starts, To Swell Within (Bear It Or Be It) (Nashazphone)
BAXTER STOCKMAN - Haul (Full Contact)
THE CARETAKER - Everywhere At the End of Time (History Always Favours the Winners)
SUN RA AND HIS ARKESTRA - At Inter-Media Arts, April 1991 (Modern Harmonic)
MARK ERNESTUS / OBADIKAH - April (Honest Jon's)
THUNDERCAT - Drunk (Brainfeeder)
SERENITY - Piece of Mind (Beat Ball Music)
CHET IVEY - A Dose of Soul: The Sylvia Funk Recordings 1972-75 (BGP/Ace)
MARK SULTAN - BBQ (In the Red)
VARIOUS - The Sound of Cologne Zwei (Kuturamt Koln)
OMNI - Fever Bass (Chunklet Industries)
THE ASTEROID NO. 4 - Ticking Time Bomb (13 O'Clock)
SLIME - Controversial (Damaged Goods)
TROPICAL TRASH - Decisions' Empty Nest (Sophomore Lounge)
DAN JOSEPH - Electroacoustic Works (XI)
LUCIERNAGA - Tile III (No Label)
SALTLAND - A Common Truth (Constellation)
BULENT AREL - Electronic Music 1960-1973 (Sub Rosa)
PHARMAKON - Contact (Sacred Bones)
TYPHONIAN HIGHLIFE - The World of Shells (Kraak)
JOWE HEAD - Cabinet of Curios (Munster)
RED BARAAT - Bhangra Pirates (Rhyme & Reason)
VARIOUS - Love's Been Good To Me: The Songs of Rod McKuen (Ace)
KING GIZZARD & THE LIZARD WIZARD - Flying Microtonal Banana (ATO)
MARC RIBOT / THE YOUNG PHILADELPHIANS - Live In Tokyo (Yellowbird )
MICHAEL HOLM - Mendocino (Ariola)
ANTHONY - My Pharoah, My King (Feeding Tube)
DARES - Beta EP (No Label)
GARY LUCAS / TONI DEZSO - Gary and Toni Go Nuts (Rare Lumiere)
GERMAN ARMY - Diaspora of Intolerance (Dub Dutch Picnic)
FIRE-TOOLZ - Drip Mental (Hausu Mountain)
STEVE BACZKOWSKI / CHRIS CORSANO / PAUL FLAHERTY - The Dull Blade (Feeding Tube)
SCORPION VIOLENTE - The Stalker (Bruit Direct Disques)
BLACK SABBATH - Paranoid (Expanded Edition) (Rhino / Warner Brothers)
NACE / CORSANO / FLAHERTY - These (Open Mouth)
KIM RANCOURT - Plum Plum (Clown Heroes)
VARIOUS - Pajtas Dalojunk X: Magyar Punk 1982-1986 (Biem / Trottel)
COMBO LOS YOGAS - Canabrava (Vampisoul)
KARRIEM RIGGINS - Headnod Suite (Stones Throw)
SOFT CHEEK - Not Just a Demonstration (Lumpy)
FULLY GLAZED - Country Ham (No Label)
TARTU POPI JA ROKI INSTITUUT - Sfararide Muusika (Minty Fresh)
CFM - Home Grown Paranoia (In the Red)
ORTHODOX - Supreme (Utech)
ARBORETUM - Song of the Rose (Thrill Jockey)
SHADOW - Sweet Sweet Dreams (Analog Africa)
SLEEP - The Clarity (Southern Lord)
THE MOONLANDINGZ - Interplanetary Class Classics (Chimera Music)
KITCHEN PEOPLE - Trendoid (Oops Baby)

Light Airplay
PAUL RUTHERFORD TRIO - Gheim (Emanem)
KENT CARTER - Oratorios and Songs (Emanem)
TREDICI BACCI - Amore Per Tutti (Nna Tapes)
TOOG - The Prepared Public (Karaoke Kalk)
HIGH PLAINS - Cinderland (Kranky)
JAWORZYN / NYOUKIS / GLASS - My Disgusting Heart (Chocolate Monk)
BOBBY DARIN & JOHNNY MERCER - Two of a Kind (Omnivore)
SUN KIL MOON - Common As Light and Love Are Red Valleys of Blood (Caldo Verde)
WARMBODIES - 7 (Neck Chop )
BLOODSHOT BILL - Sings Charles Plymell (Feeding Tube / Bottle of Smoke)
THE BEAU BIENS - Times Passed (Malibu)
JAMES ARTHUR'S MANHUNT - Staring At the Sun (Spacecase)
DAVID ARVEDON - The White Album (Mighty Mouth)
MY CAT IS AN ALIEN / JEAN-MARC MONTERA - Union of Supreme Light (Starlight Furniture Co.)
BATTLE TRANCE - Blade Of Love (Antenna Farm)
FRANK ZANDER - Wahnsinn (Hansa)
VERTONEN - Fait A La Machine (CIP / Ratskin)
VIKI VIKTORIA - New Victorian (Midwich)
GARY WILSON & TREDICI BACCI - Live at WFMU (NNA Tapes)
DIE REIHE - Die Reihe (NNA )
WILLIAM PARKER & STEFANO SCODANIBBIO - Bass Duo (AUM Fidelity)
BLUE SABBATH BLACK CHEER - Burning Witches (Mondo Anthem)
MORDECAI - What Is Art (Sophomore Lounge)
KING CHAMPION SOUNDS - Fool Throttle (Tractor Notown)
ON AND ONS - Hard To Say Goodbye (Get Hip)
SHETAHR - Beans (Kraak)
BLANCK MASS - World Eater (Sacred Bones)
KASSEL JAEGER / JIM O'ROURKE - Wakes On Cerulean (Editions Mego)
VARIOUS - The Wire Tapper Vol. 43 (The Wire)
VARIOUS - OTT Select! Vol. 1 (OTT Select)
ETANT DONNES - Royaume / Aimant + Aimant - (Penultimate Press)
SCOUT PARE-PHILLIPS - Door Left Open (Dais)
FUSILLER - Architecteurs Decapitees & Amours Souterraines (Population)
ALVARO - Live In Brussels (Feeding Tube)
LOVELY HONKEY - Completely Wastes Your Time (Chocolate Monk)
DAN MELCHIOR - Seaslime (Chocolate Monk)
BASTARD NOISE - Dedicated To Koji Tano (KPR)
VERYAN WESTON - Discoveries On Tracker Action Organs (Emanem)
ROSCOE MITCHELL - Four Ways (Nessa)
LANGSTON HUGHES - The Dream Keeper (Mode)
DONA ONETE - Banzeiro (Mais Um Discos)
SOUNDTRACK - Halt and Catch Fire (Lakeshore / Fire)
PALLBEARER - Heartless (Profound Lore)
SNAKEHOLE - Interludes of Insanity (Wharf Cat)
BILLIE JOE SPEARS - Her Greatest Tracks (Nub Country)
UNEARTH NOISE - Another Dimension (Unearth Noise)
ARRINGTON DE DIONYSO & SAN(S) KAZAKGSACAR SOLO - Tired Minds Improvised (Lather)
VIEUX FARKA TOURE - Samba (Six Degrees)
JOHN RUSSELL - With... (Emanem)
BRENT CASH - The New High (Marina)
TOBIAS REBER - Backup Aura (Hyperfunction/Iapetus)
WHY? - Moh Lhean (Joyful Noise)
ANDREW CALHOUN - Rhymer's Tower (Waterbug)
MR. WAX - 7 (Lumpy)
UV-TV - Glass (Deranged)
I PLACCA - La La Vitea (Tutore Burlato)
FLOCCULI - Gara Delle Facce (Tutori Burlato)
IT HURTS - The Thing That Stings (Albert's Basement)
DICKEY / MANERI / SHIPP - Vessel In Orbit (AUM Fidelity)
THE BARON FOUR - I Don't Mind (Get Hip)
THOSE WHO WALK AWAY - The Infected Mass (Constellation)
JASON LESCALLEET - To the Teeth (Glistening Examples)
DANIEL CARTER / GEORGE LYLE / FRITZ WELCH - KY 276: So Long Farwell Repair Live at the Glad Cafe (Iorram)
W. ZABARKAS - The Origin of Dreams (Glistening Examples)
A7PHA - A7PHA (Anticon)
MOKOOMBA - Luyando (Out Here)
KLEISTWAHR - Music For Zeitgeist Fighters (Nashazphone)
KASEY CHAMBERS - Dragonfly (Essence)
PONTIAK - Dialectic of Ignorance (Thrill Jockey)
OLSON / CASE / HARDIMAN - March of the Mutilated Vol. 1 (Tape Drift)
YANNICK DAUBY - Magicien / Rouch (Tanuki)
DENNIS YOUNG - 12/31/1982 (Stimulus Progression)
THE JUAN MACLEAN - Can You Ever Really Know Somebody (DFA)
SLIM WILLET - Texas Oil Patch Songs (Modern Harmonic)
SELFFISH - He She Them Us (Serein)
TRAPPIST AFTERLAND BAND - Like a Beehive, the Hill Was Alive (Pointy Little Heads)
THURSTON MOORE / PHIL X. MILSTEIN - Songs We Taught the Lord Vol. 2 (Feeding Tube)
DAVID KENNETH NANCE - Half Assed For Posterity (Unread)
DREN MCDONALD - Gunman Taco Truck: The Original Game Soundtrack (Nerdtracks)
REN WALTERS / CLINTON GREEN / MICHAEL MCNAB - At the Salt Museum (Shamefile Music)
PORTER RAY - Watercolor (Sub Pop)
MAX COOPER - Emergence (No Label)
BLEEDING GUMS - 7 (Neck Chop)
URCHIN - How To Make Napalm (Roachleg)
BARGHEST - Born of Tooth and Talon (Elder Magick)
CAREER SUICIDE - Machine Response (Deranged)
OLD HEAD - Old Head (Omentum)
EXTRAFOXX - Pierre Le Rat (Albert's Basement)
COACHWHIPS - Night Train (Girlsville)
SHORT EYES - Short Eyes (Loki)
TOWN (ARTO LINDSAY/SAM HILLMER) - Live at Trans-Pecos (Atlantic Rhythms)
ERNEST DAWKINS NEW HORIZONS ENSEMBLE - Transient Takes (Malcom)
PKWST / ENBILULUGUGAL - Split CD (No Label)
DOWNER CANADA - Ares (Power Moves Library)
XWAVE - Xwave (C/Site)
JESTERS OF DESTINY - The Sorrows That Refuse To Drown (Full Contact)
SAFE - Safe (Breakdance the Dawn)
I KNOW I'M AN ALIEN - Brain Terror (No Label)
MICHAEL BERTHEL - Randradau (Chocolate Monk)
DMZ - Carex Boreal (Tanzprocesz)
THE SHA - The Sha (C/Site)
FLANCH - Flanch (Darling)

7" Singles List
THE PACIFICS - Quadrafenians (Mistkafer)
OMNI - Fever Bass (Chunklet Industries)
THE ASTEROID No. 4 - Ticking Time Bomb (13 O'Clock)
SLIME - Controversial (Damaged Goods)
TROPICAL TRASH - Decisions' Empty Nest (Sophomore Lounge)
DARES - Beta EP (No Label)
CFM - Home Grown Paranoia (In the Red)
SOFT CHEEK - Not Just a Demonstration (Lumpy)
BLUE SABBATH BLACK CHEER - Burning Witches (Mondo Anthem)
SHETAHR - Beans (KRAAK)

RPM List
EDUARDO POLONIO - Acaricia La Manana (Vinilissimo)
STEFANO MARCUCCI - Tempo Di Demoni, Papi, Angioli, Insensi E Gilici (Finders Keepers)
ADULT - Detroit House Guests (Mute)
LUSINE - Sensorimotor (Ghostly International)
33.10.3402 - Mecania No. 1 (Long Island Electrical Systems)
SANDOZ - Sandoz (Mute)
MARK ERNESTUS / OBADIKAH - April (Honest Jon's)
DIE REIHE - Die Reihe (NNA)
EKOPLEKZ - Bioprodukt (Planet Mu)
CARL CRAIG - Versus (Infine)

Jazz List
BARNEY WILEN - Moshi (Souffle Continu)
COLHEMIC ENSEMBLE - Next (Souffle Continu)
SUN RA AND HIS ARKESTRA - At Inter-Media Arts, April 1991 (Modern Harmonic)
MARC RIBOT / YOUNG PHILADELPHIANS - Live In Tokyo (Yellowbird)
STEVE BACZKOWSKI / CHRIS CORSANO / PAUL FLAHERTY - The Dull Blade (Feeding Tube)
PAUL RUTHERFORD TRIO - Gheim (Emanem)
KENT CARTER - Oratorios and Songs (Emanem)
BATTLE TRANCE - Blade of Love (Antenna Farm)
WILLIAM PARKER & STEFAN SCODANIBBIO - Bass Duo (AUM Fidelity)
ROSCOE MITCHELL - Four Ways (Nessa)

World List
VARIOUS - Ishq Ke Maare: Sufi Songs From Sindh and Punjab, Pakistan (Sublime Frequencies)
BANTEAY AMPIL BAND - Cambodian Liberation Songs (Akuphone)
VARIOUS - Lovin' Mighty Fire: Nippon Funk Soul Disco 1973-1983 (BGP/Ace)
HARETOBN SALVAVANINI - SP/73 (Mr. Bongo)
BARBATUQUES - Ayu (Mr. Bongo)
YASMINE HAMDAN - Al Jamilat (Ipecac)
RED BARAAT - Bhangra Pirates (Rhyme & Reason)
COMBO LOS YOGAS - Canabrava (Vampisoul)
SHADOW - Sweet Sweet Dreams (Analog Africa)
DONA ONETE - Banzeiro (Mais Um Discos)

Loud List
FEEDTIME - Gas (In the Red)
FERAL OHMS - Feral Ohms (Silver Currant)
SKULLFLOWER - The Black Iron That Fell From the Starts, To Swell Within (Bear It Or Be It)
BAXTER STOCKMAN - Haul (Full Contact)
TROPICAL TRASH - Decisions' Empty Nest (Sophomore Lounge)
VARIOUS - Pajtas Dalojunk X: Magyar Punk 1982-1986 (Biem/Trottel)
SLEEP - The Clarity (Southern Lord)
VERTONEN - Fait a la Machine (CIP/Ratskin)
BLUE SABBATH BLACK CHEER - Burning Witches (Mondo Anthem)
BASTARD NOISE - Dedicated To Koji Tano (KPR)

Hip Hop List
THUNDERCAT - Drunk (Brainfeeder)
WHY? - Moh Lhean (Joyful Noise)
A7PHA - A7PHA (Anticon)
MUX MOOL - Implied Lines (Young Heavy Souls)
BROTHER ALI - All the Beauty In This Whole Life (Rhymesayers)
SHABAZZ PALACES - Quazarz Vs Jealous Machines (Sub Pop)
KENDRICK LAMAR - Damn - (Interscope)
SIXO - The Odds of Free Will (Fake Four Inc)
CHOP CLARK - Reconstruction (Chopworks Media)
SOUNDTRACK - Baby Driver (Columbia)
Cassette List
FULLY GLAZED - Country Ham (No Label)
GARY WILSON & TREDICI BACCI - Live At WFMU (NNA Tapes)
DIE REIHE - Die Reihe (NNA Tapes)
I PLACCA - La La Vitea (Tutore Burlato)
FLOCCULI - Gara Della Facce (Tutore Burlato)
IT HURTS - The Thing That Stings (Albert's Basement)
YANNICK DAUBY - Magicien / Rouch (Tanuki)
DENNIS YOUNG - 12/31/1982 (Stimulus Progression)
DAVID KENNETH NANCE - Half Assed For Posterity (Unread)
TOWN (ARTO LINDSAY + SAM HILLMER) - Live At Trans-Pecos (Atlantic Rhythms)

UPCOMING SPECIALS ON WFMU

Ánde Somby
Friday, July 14th, 9pm - Midnight
on Daniel Blumin's show
Having performed both traditional and original yoiks since 1974, in 2016, Ánde Somby released the stunning Yoiking with the Winged Ones (Ash International), an LP produced by famed sound artist and former member of Cabaret Voltaire Chris Watson. On the album, Somby pushes his voice as sounds of animals howling, wailing, and moaning come to life in his mesmerizing yoiks. For centuries yoiking, an element of pre-Christian Sámi culture, was condemned and banned as attempts were made to Christianize the Sámi people, but yoiking has survived not only this effort but also the cultural suppression and policies of forced assimilation of the Sámi. Tune in as Somby visits WFMU to yoik and to talk about the culture of the Sámi, the northernmost indigenous people of Europe!

You can also catch Ánde Somby live at the free Prismatic Park events from July 11th to the 16th at Madison Square Park!

John Schnall's Midnight Matinee returns with "Less Miserable"
Saturday, July 15th, Midnight - 3am
on Inflatable Squirrel Carcass with Rich Hazelton
Just in time for Bastille Day, Midnight Matinee lets them eat cake on the airwaves with Less Miserable. Host John Schnall will take a certain overblown movie musical and make it... well, maybe not tuneful, but at least somewhat Less Miserable. Here's a taste. At the stroke of midnight on Saturday July 15th on Rich Hazelton's The Inflatable Squirrel Carcass. WARNING: Russell Crowe sings; we can't help that.

Marshall Crenshaw PLUS Los Vigilantes
Saturday, July 15th, 3pm - 6pm
on Todd-o-phonic Todd's show
Pop purveyor Marshall Crenshaw hangs out with Todd-O-Phonic Todd to play some of his favorite records and chat about his illustrious career as musician, DJ, and fan. This one is going to be a treat!
Los Vigilantes are a screaming rock'n'roll band hailing from San Juan. One listen to the live set they will be performing on Todd's show will display beyond a doubt why they are the greatest Puerto Rican musical export since The Sunsets of "Theme One" fame. Don't miss their great Slovenly releases.

Paíto and the Gaiteros of Punta Brava - Keeping Afro-Colombian Traditions Alive
Saturday, July 15th, 6pm - 9pm
on Transpacific Sound Paradise with Rob Weisberg
Sixto "Paíto" Silgado carries on traditions born in palenques - settlements started by escaped slaves on Colombia's Atlantic coast. He's master of the "Gaita Negra" - black "gaita" style. (The gaita is a traditional end-blown flute.) Paito lives in an isolated village and still thinks of himself as a farmer. He didn't start recording and touring until well into his 60s. But when he did, people took notice: Paito's 2006 debut album Gaita Negra was selected by Semana magazine as one of the 25 most important albums in the history of Colombian music. Don't miss this rare live session with a true cultural treasure, Paíto and the Gaiteros of Punta Brava!

A Tribute to St. John Coltrane
Monday, July 17th, 3am - 6am
on Circle Time with Mark R.
On July 17, 1967, the world lost one of its true musical giants, a revolutionary in every way--physical, spiritual, emotional--when John Coltrane passed away at the age of 43 from liver cancer. Our July 17th edition of Circle Time will be a three-hour tribute to a person many believe was the greatest virtuoso musician of the 20th century, regardless of genre. While a mere three hours show barely allows us to scratch the surface of Trane's immense and diverse catalogue, we'll touch on his early days with Miles Davis, some of his most important recordings with the "classic" quartet, and his later, wide-ranging experiments in pure sound exploration.

Marc Johnson
Monday, July 17th, 9am - Noon
on Surface Noise with Joe McGasko
This year saw the reissue of a neglected folk-pop classic: Marc Johnson's Years. Released in 1972 when Marc was only 21 years old, the album was atypical for its day in its emphasis on arrangements and texture over the sparse, singer-songwriter template of the James Taylors of the time. The album didn't sell and Marc wouldn't be heard from again for almost 20 years, when he returned with the power-pop classic 12 in a Room. Today on Surface Noise, we hear from both sides of Marc Johnson, the folkie and the power-popper, in a live set and interview recorded exclusively for the show.

Champagne Superchillin
Monday, July 17th, Noon - 3pm
on Three Chord Monte with Joe Belock
Break out the bubbly! French ex-pat Juliette Shultz brought her Francoise Hardy-influenced style across the pond to Music City, where she has teamed up with group of hep rock and roll and blues Nashville cats to form Champagne Superchillin.

Gwilly Edmondez
Monday, July 17th, 6pm - 7pm
on Do or DIY with People Like Us
Gwilly Edmondez is all over the place yet usually in the wrong place at the right time. As an improvisor and recording artist he tries to play as often as possible with anyone who's game, or solo if no one is about. What he uses mostly is his voice, but is always searching for things to go with it, like samples, tapes and beats. Anything could happen, which is why Gwilly prefers to act at the very fringes of proper. He has collaborated with all sorts of people but his primary non-solo projects at the moment are YEAH YOU (with Elvin Brandhi), Kleevex (with Faye MacCalman) and Impossibility Knox (with Odie Ji Ghast and sometimes THF Drenching).

Flying Lotus
Tuesday, July 18th, 7pm - 8pm
on Morricone Island with Devon E. Levins
Steven Ellison aka producer Flying Lotus joins Devon to discuss his feature length directorial debut "Kuso," co-written by Ellison and David Firth and starring Tim Heidecker, Hannibal Buress, Anders Holm and George Clinton with a soundtrack by FLyLo himself, Aphex Twin, Thundercat, Kamasi Washington and Akira Yamaoka. The film, which depicts the aftermath of LA's worst earthquake nightmare, premiered at Sundance this year and will be released on July 21st by online horror streaming service Shudder with select theater screenings that day. The two will also get into Ellison's sampling of soundtracks in his music, his 2010 live score of Harry Smith's "Heaven and Earth Magic" and the gratitude he owes to his Motown-songwriting grandmother Marilyn McLeod (Freda Payne/Diana Ross) and great aunt Alice Coltrane.

The Old Codger fills in for the Antique Phonograph Music Program
Tuesday, July 18th, 8pm - 9pm
on Old Codger with Courtney T. Edison
The Old Codger, who spins 78 rpm records "like they're going outta style," fills in for the Antique Phonograph Music Program on Tuesday July 18th from 8–9pm Eastern. The Codger, who makes rare appearances on the WFMU airwaves, is a nasty piece of work made up of many smaller pieces of nastiness. Behold his bluster when he commandeers the mic and the hand-cranked turntables on July 18th at 8pm Eastern.

Tom Wilson's Music Factory #21 - Harumi
Wednesday, July 19th, 3pm - 6pm
on Irwin Chusid
In 1967 and '68 the charismatic record producer Tom Wilson hosted a free-form radio program called "The Music Factory," sponsored by MGM-Verve Records. The series quickly came and went, but Irwin is reviving the series on alternate Wednesdays at 4pm (Eastern). On our July 19th episode, Wilson welcomes to the Music Factory the eclectic Japanese one-album wonder Harumi. Wilson features tracks from Harumi's self-titled debut double album, which Wilson produced, along with tunes by Appletree Theatre, Dave Van Ronk, and the Beacon Street Union. Wilson also interviews Claude Hall of Billboard magazine about the raging controversy over the B-side of Paul Mauriat's hit instrumental "Love Is Blue."

Ultimate Painting
Wednesday, July 19th, 9pm - Midnight
on The Evan "Funk" Davies Show
England's Ultimate Painting returns for their third appearance on The Evan "Funk" Davies Show! The band is working on their fourth full-length, following last year's outstanding Dusk (Trouble In Mind) -- EFD's album of the year! -- but they're taking a break for a brief US/Canada tour that includes a Central Park Summerstage appearance with Yo La Tengo on Monday the 17th. Tune in to WFMU Wednesday night, July 19th, to hear the latest from Ultimate Painting!

Peer Pressure Guest, Tombs' Mike Hill
Thursday, July 20th, Noon - 3pm
on Diane's Kamikaze Fun Machine
Starting at 1pm this Thursday, Diane welcomes Mike Hill, founder of NY's TOMBS to the Peer Pressure segment! The band has recently released it's 4th full length, "The Grand Annihilation" and just come off tour, so Mike will have plenty to share with us. He will be live, so listeners will be able to ask him questions via the comments board. Tombs' music is hard to classify, and over their progression, they have been "labeled" anything from Post Rock to Black Metal, Goth and Industrial. Mike will clue us in on the growth of the band's sound, we'll definitely hear some cuts from the new record and Mike will dip into a playlist of favorites! Tune in to see if his picks are crowd pleasers or deep cuts!

Evie Sands
Friday, July 21st, 3pm - 6pm
on Sophisticated Boom Boom with Sheila B.
Dusty Springfield once called Evie Sands her "favorite female singer." She also found favor with musical legends like Gladys Knight and Barbara Streisand as well as indie darlings' Beth Orton, Beck, and Belle & Sebastien, all who covered her blue-eyed soul songs. Evie Sands had a flawless 60s catalog, and cut the first versions of monster hits like "I Can't Let Go" and "Angel Of the Morning." She scored her biggest hit with "Any Way That You Want Me" in 1969, and then evolved into a guitarist, songwriter, and producer in the 70s. In anticipation of her upcoming headline appearance at the Ponderosa Stomp, October 5-7th in New Orleans, Evie will speak to Sheila B. about her earliest records, the unfortunate circumstances surrounding her near-hit single "Take Me For A Little While," and the evolution from 60s soul singer to songwriter and producer.

Innov Gnawa
Saturday, July 22nd, Midnight - 3am
on Inflatable Squirrel Carcass with Rich Hazelton
Based in New York, Innov Gnawa is a group of musicians specializing in the sounds of Gnawa music, the ritual trance music of Morocco. Founded by Samir LanGus and featuring Hassan Ben Jaafer, a master gnawa musician originally from Fes, Morocco, they have been performing the last several years at venues such as Barbes, Nublu, Lincoln Center, and recently played Coachella as special guests of Bonobo. Now they find themselves at WFMU on the Inflatable Squirrel Carcass and we are honored to have them. Innov Gnawa have several performances during the month of July where you can see them live including Sunday, July 16 at Pier 1 as part of Summer on the Hudson; Friday, July 21 at Prospect Park with Amadou & Mariam; and Saturday, July 29 in Lowell, Massachusetts as part of the Lowell Folk Festival. They have previously appeared on WFMU during one of Rob Weisberg's Barbes events which you can access here.

Ural Thomas & The Pain PLUS Gary U.S. Bonds PLUS Billy Bragg
Saturday, July 22nd, 3pm - 6pm
on Todd-o-phonic Todd's show
Ural Thomas is Portland, Oregon's Pillar Of Soul. He has shared the stage with the likes of James Brown, Johnny "Guitar" Watson, Otis Redding and "Little" Stevie Wonder and was also involved in the sixties Northwest garage scene. After performing 44 times at The Apollo Theater, Ural took a long hiatus from New York but recently wowed the crowd at The Soul Clap 10th Anniversary Show and will be performing at Madison Park in Manhattan on Wednesday July 19th. Don't miss Ural Thomas & The Pain soul stomping live on the Todd-O-Phonic Todd show!

Buy U.S. Bonds! Gary U.S. Bonds talks to Todd-O-Phonic Todd about his amazing career. Gary's records like "Quarter To Three", "School Is Out", "New Orleans" and "I Wanna Holler" are among the most raucous and joyous singles ever. He will be performing the first weekend in October at The Ponderosa Stomp in New Orleans, backed by Los Straitjackets.

Billy Bragg visits Todd-O-Phonic Todd to discuss his new book, Roots, Radicals and Rockers: How Skiffle Changed The World. Skiffle was a politically aware working class sensation of 1950's Britian that influenced so much of what was to come musically. Almost unknown in the States, this passionate and well-researched books aims to change that. Billy is of course well known for his own musical career.

Karaoke All Night! The Prove It All Night 3-Year Anniversary Show! Live from Montgomery Hall
Saturday, July 22nd, 9pm - Midnight
on Prove It All Night! with Pat Byrne
Karaoke All Night: The Prove It All Night 3-Year Anniversary Show broadcasts LIVE from Monty Hall, Saturday July 22nd. Former guests return to sing their guts out in a no holds barred live band karaoke showdown! Featuring: Giulia Rozzi, Ike Ufomadu, Patti Harrison, Mary Houlihan, Jason Gore, Kristen Bartlett, Robert Dean, Mike Abrusci, Christi Chiello, surprise guests and much more! Opening the show will be a guest DJ set from: Primitive Sound System! You can watch live video of the show over at the WFMU.org homepage from 9:30 - midnight. The video will also appear on the WFMU phone apps, and Pat's playlist page. Or, if you're in the area- swing by Montgomery Hall and see the show in person! This event is a WFMU benefit with a suggested donation of $10, $5 will get you in otherwise. Support the show and the station!

Is@s@
Monday, July 24th, 9am - Noon
on Surface Noise with Joe McGasko
Is@s@ (pronounced "ee-sa-sa") is Conrado Isasa, a guitarist and composer based in Madrid, Spain. Inspired by American Primitive guitar pickers like John Fahey and the late Jack Rose, Is@s@ has developed his own unique style, which is relaxed, atmospheric, and highly spiritual. Tune in to Surface Noise today for a special set of Is@s@'s beautiful guitar music performed live at WFMU in advance of his American tour.

The Old Codger fills in for the Antique Phonograph Music Program
Tuesday, July 25th, 8pm - 9pm
on Old Codger with Courtney T. Edison
The Old Codger, whose radio career at WFMU began in 1928, fills in for the Antique Phonograph Music Program on Tuesday July 25th from 8–9pm (Eastern). His music is archaic, his mic breaks crude, and his manners are toxic. His bile is so pure a sample is kept under a bell jar in the National Institute of Standards. Tune in July 25th at 8pm Eastern to catch a whiff of one of Western Civ's worst role models. The music will redeem this broadcast, somewhat.

Joe Frank - "At Last"
Wednesday, July 26th, 3pm - 6pm
on Irwin Chusid
One-hour dramas by Joe Frank air alternate Wednesday afternoons at 4pm (Eastern) on Irwin's program. On Weds. July 26th, we'll present "At Last" from Joe's "The Other Side" series. In this episode, Larry's son Zach gets busted at school for pot-smoking, which incites Larry's paranoia about whether he's an abusive parent. Joe gets an intriguing wrong number call, which leads to a troubling encounter with a young woman who begins to stalk him. Debi spends an evening with her drunk girlfriend who wants to have one last fling before getting married.

Norbert Putnam
Saturday, July 29th, 11am - 1pm
on Michael Shelley's show
Michael chats with studio bass player/producer Norbert Putnam about his new book "Music Lessons" which covers his 60 year career making music and documents some of the 9,000 songs his work can be heard on, including 100s of Elvis Presley sessions, The Vogues' "Five O'clock World," Tony Joe White's "Poke Salad Annie," The Newbeats "Bread And Butter," Arthur Alexander "You Better Move On" and tons more!

Three Chord Monte Turns 21 - live remote from Union Pool in Brooklyn!
Saturday, July 29th, 3pm - 6pm
on Three Chord Monte with Joe Belock
Yes, the Three Chord Monte show is finally legal, and we're throwing the party of the summer to celebrate! Join in the fun in the rockin' backyard at Brooklyn's best venue, Union Pool (484 Union Ave), where there will be booze, a taco truck and of course a killer band lineup:

Dany Laj & the Looks - Montreal's finest purveyors of bubble-hockey, not bubblegum, rock n roll
Baby Shakes - NYC's top combo, combining '77 punk and '60s pop hooks and giving it all a swift kick in the butt into the 21st century
The Rubinoos - These original Beserkley Chartbusters and true power-pop legends are better than ever. Do not miss them!

Alejandro Jodorowsky
Tuesday, August 8th, 3pm - 6pm
on Brian Turner's show
A rare, in-person interview between Brian and one of the most iconoclastic and psychedelic filmmakers in the world: Chilean-born, 87-year-old, Alejandro Jodorowsky. Touted as godfather of midnight movies with the advent of 1970's El Topo and later epics The Holy Mountain and Santa Sangre, Jodorowsky talks to WFMU right on the heels of the initial release of his brand new film Endless Poetry. This is the second of three installments in which the director chronicles his own life and upbringing among Chilean poets and artist friends, as well as his tumultuous family relationships. Throughout his life, Jodorowsky has approached every multi-faceted artistic avenue with ferocity, passion and defiance; studying mime with Marcel Marceau and enacting surrealist plays and events during his tenure in Paris, then migrating to Mexico to begin his journey into filmmaking, tarot, comic art, and psychomagic. His near-miss in creating an otherworldly screen rendition of Dune was well-recounted in a recent critically-heralded documentary. He even has an asteroid named after him. Decades of stunted distrubution due to hassles with Allen Klein's Abkco organization finally ceased in 2007 when his movies became majorly available again, and finally Jodorowsky's mindblowing aesthetic has seeped into more mainstream consciousness and inspired a whole new breed of artists and fans worldwide. Meanwhile, he has simultaneously loaded the decks for a myriad of current and future projects, which will all be discussed today. Also, there will be talk of music from his films, most recently composed by his son Adan (who also portrays his father in the new Endless Poetry).

Tony Ferretti - The "Sabu" Cassette
Wednesday, August 9th, 3pm - 6pm
on Irwin Chusid
Tony Ferretti was born in 1939 and raised in Jersey City. Under the name "Sabu," he had a long and successful career in Las Vegas as a celebrity impersonator, specializing in Sinatra, Dean Martin, and Tony Bennett. In 1972, he mailed a lo-fi cassette letter to his childhood buddy DK, who was in a Jersey City hospital. Crooning in Sinatra's style and radiating affection, Ferretti reminisced about growing up with DK in Jersey City and about the characters on Brunswick Street. In the 1990s, unbeknownst to Ferretti, that charming, one-of-a-kind cassette made it onto the WFMU airwaves thanks to DK's nephew, the late WFMU DJ Frank Balesteri (a.k.a. The Vanilla Bean). Now, 45 years after he created this historic artifact as a favor to a beloved friend, Tony Ferretti visits Irwin's program on August 9th to talk about the tape, and to reflect on the former greatness of Jersey City.

Apache PLUS Andy Blade of Eater
Saturday, August 12th, 3pm - 6pm
on Todd-o-phonic Todd's show
Being a band that smokes their weight in weed and spends more time in the hospital than the studio can take its toll. Apache knows it won't last forever, but after watching them play, you will quickly realize THEY DON'T CARE. Like musicians on the Titanic, they're going down, playing to the cold bitter end. Long story short, Apache is the cockroach family in your floorboards. Try and kill them all you want, but honestly you are probably better off moving or setting the building on fire. The Bay Area bozos rip it up live on the Todd-O-Phonic Todd show.

Eater were one of the first wave of British punk bands, beginning their career in the golden year of 1976. Acts like The Buzzcocks, The Damned and Sham 69 opened for them. They received a lot of notoriety for being the youngest band on the block (their ages at the time were 14-17). The band's second single "Thinking Of The U.S.A." is classic. Eater appeared on the Live At The Roxy compilation alongside The Adverts, Wire, X-Ray Spex and more. Andy will be performing a set of Eater songs backed by an all-star band featuring J. Mascis and members of Daddy Longlegs at The Meltasia festival at The Blackthorne Resort in East Durham, New York September 8th through the 10th.

W-2
Tuesday, August 15th, 3pm - 6pm
on Brian Turner's show
W-2 are the duo of Sam Weinberg and Flying Luttenbachers member Chris Welcome, who for the last couple of years have been purveyors of the more splattery end of Brooklyn's DIY/No-Jazz movement. On tenor sax and synthesizer respectively, W-2 blur the lines of sound in an almost electroacoustic realm, making their instrumentation sound like anything but its traditional application. Their latest release is an LP on Astral Sounds entitled Fanatics.

Winfield Parker
Saturday, August 19th, 11am - 1pm
on Michael Shelley's show
Michael welcomes soul singer, songwriter and saxophonist Winfield Parker to discuss his 60th year in show business - which has included backing a slew of artists (including Little Richard) at Carr's Beach, a segregated summer resort near Annapolis, and recording great soul sides for Ru-Jac, Spring, Wand, Calla, ATCO, GSF, P&L and Arctic and his upcoming October gig in New Orleans at The Ponderosa Stomp.

Needles//Pins
Saturday, August 19th, 3pm - 6pm
on Todd-o-phonic Todd's show
Needles//Pins are a ferocious trio hailing from Vancouver. Their hellacious new album "Good Night, Tomorrow" is out on the renowned Mint label and is sure to make this summer even hotter. Combine heavy riffage with incredibly catchy songs and you can't lose! Don't miss Needles//Pins at Diviera Drive in Brooklyn later that same evening.

Guest DJ Tom Lax from Siltbreeze Records
Tuesday, August 22nd, 3pm - 6pm
on Brian Turner's show
The annual visit from our pal Tom Lax, bringing up yet another assortment of obscuro and extremely special 7" singles wax from Siltbreeze headquarters in Philadelphia. If you've checked out this special in past years you know that you will certainly be hearing a lot of DIY/post-punk and general oddball stuff you will probably not hear anywhere else (and see as well, as we will be posting the sleeve art on the playlist page live). Not to be missed!

Tropical Trash
Tuesday, August 29th, 3pm - 6pm
on Brian Turner's show
Not to be confused with the waste disposal agency in Hilton Head, South Carolina, the Louisville version of Tropical Trash liquify the proceedings with their unique blend of fried hardcore and no-wave trailerpark anthems. They play live today on the heels of their new Sophomore Lounge single and expect to headline The Rock's Presidential Victory concert in 2020.

James Hand
Saturday, September 2nd, 11am - 1pm
on Michael Shelley's show
Michael chats with one of the world's greatest songwriters, Texas legend James Hand, who developed hid utterly unique style in a forty year career spent mostly in smoky dives and dancehalls performing for a slowly widening circle of admirers.


---
Want to see all the past events? Go here.

UPCOMING AT WFMU'S MONTGOMERY HALL
43 Montgomery Street, Jersey City
http://montyhall.ticketfly.com/

Fri 7/14 Morricone Youth presents Mad Max Movie Night (8:00pm, $10)
Sat 7/22 Prove It All Night w/Pat Byrne (9:30pm, $5)
Thu 7/27 Night Birds / Western Addiction / Moral Panic (8:30pm, $10-12)
Fri 7/28 The Rubinoos / The Jeanies (8:30pm, $15-20)
Sun 7/30 David Nance / The Mad Scene / Fully Glazed (8:00pm, $10)
Wed 8/2 Lee Bains III & the Glory Fires / Desir Decir (8:30pm, $10-12)
Fri 8/4 Laetitia Sadier Source Ensemble / Art Feynman (9:00pm, $13-15)
Wed 8/9 Jeff Rosenstock / Laura Stevenson (8:00pm, $15), Sold Out
Thu 8/10 John Doe / Vagabond Mantra (8:30pm, $15-20)
Thu 8/17 John Maus (8:30pm, $13-15) Sold Out
Sat 8/26 Bob Schneider (solo) (8:30pm, $22-25)
Fri 9/8 A Giant Dog / The Rock N Roll Hi Fives / Pat Byrne's They Live (9:00pm, $10)
Sat 9/9 Secret Chiefs 3 (9:00pm, $20)
Fri 9/15 Protomartyr / The Gotobeds (9:00pm, $13-15)
Thu 10/5 Crocodiles / Saint Pe (8:30pm, $10-12)
Thu 10/26 Skiptech 2: Tales From the Darkside of Tech (7-9pm, $25)
Search the WFMU website (Google)