WFMU
PO Box 5101
Hoboken, NJ 07030
broadcasting from Jersey City 91.1 FM/90.1 FM
Audio Feed and Archives: www.wfmu.org
Podcasts: podcast.wfmu.org
Facebook: www.facebook.com/wfmuradio
Twitter: http://twitter.com/#!/wfmu
Brian Turner, Music Director, bt@wfmu.org (201) 521-1416 x223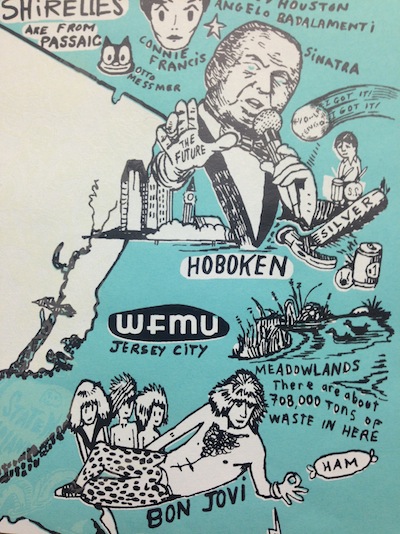 Heavy Airplay, October 3, 2017
OISTER - 1973-1974 Teac Tapes (HoZac)
HAPPY VALLEY BAND - Organvm Perceptvs (Indexical)
THE RUBS - Impossible Dream (HoZac)
BABY SHAKES - Turn It Up (Martin Bliley)
VARIOUS - Bingo! French Punk Expoitation 1978-1981 (Born Bad)
ASPHIXIATION - What Is This Thing Called Disco? (Chapter Music)
CAN - The Singles (Mute / Spoon)
COLIN POTTER - The Ghost Office (Deep Distance)
RICHARD DAWSON - Peasant (Weird World)
MARK MCGUIRE - Ideas of Beginnings (VDSQ)
JEAN-JACQUES PERREY - Jean-Jacques Perrey et Son Ondioline (Forgotten Future)
MARC BARRECA - Music Works For Industry (Palace Of Lights)
TALSOUNDS - Love Sick (BaDaBing!)
QUIN GALAVIS - The Battery Line (Super Secret)
ANAHITA - Tourmaline (Three Four)
GUERILLA TOSS - GT Ultra (DFA)
VOIGT/465 - Slights Unspoken (Guerssen/Unanimous Weld Enunciations)
CIRCLE - Terminal (Southern Lord)
SCHOOL DAMAGE - School Damage (Chapter Music)
HAPPYNESS - Write In (Bar/None)
LOUIE LOUIE - Friend of a Stranger (Born Losers)
TERRY FOX - 55 Steps Through 11 Pairs of Strings (Editions Telemark)
VARIOUS - Turn On, Tune In (Lullabies For Insomniacs)
CLINIC / SEX SWING - Tape For Jase / Night-Time Worker (God Unknown)
CHUCK JOHNSON - Balsams (VDSQ)
ANTHONY PASQUAROSA - Abbandonato da Dio Naxione (VDSQ)
KIKAGAKU MOYO - Stone Garden (Gurugurubrain)
MILK MUSIC - Mystic 100s (Dom America)

Medium Airplay
HELADO NEGRO - Private Energy (RVNG International)
BLACK SUN PRODUCTIONS - Dies Juvenalis (Hallow Ground)
PETER BEHRENDSEN - Nactflug / Atem des Windes (Editions Telemark)
LE FRUIT VERT - Paon Perdu (Three:four Records)
ELLEN ALLIEN - Nost (Bpitch Control)
OBNOX - Niggative Approach (12XU)
VISIBLE CLOAKS - Reassemblage (RVNG International)
THE SNEETCHES - Form of Play: A Retrospective (Omnivore)
HEATHER TROST - Agistri (LM Dupli-Cation)
EN ATTENDANT ANA - Songs From The Cave (Nominal)
SEX TIDE - Possession Sessions (Feeding Tube)
ROE ENNEY - Glare (Root Strata)
DALE CORNISH - Aqal (Entr'acte)
AL MASSRIEEN - Modern Egyptian Music (Habibi Funk)
RIDE - Weather Diaries (Wichita)
ROYA - Roya (Burger)
CHRIS CORSANO & BILL ORCUTT - Live at Various / Various Live (Palilalia)
DER PLAN - Unkapitulierbar (Bureau B)
QUENTIN TOLIMIERI - Prepared Piano (401 CD)
STEVE YOUNG - Seven Bridges Road: The Complete Recordings (Ace)
JEFF STONEHOUSE - On Returning (The Sublunar Society)
THE HONKIES - How Do We Prevent The Advance Of The Desert? (Music a la Coque)
BRANDON SEABROOK - Die Trommel Fatale (New Atlantis)
AINE O'DWYER - Gegenschein (Penultimate Press)
ZODIO DOZE - Halcyon Daze (No Label)
NICK HAKIM - Green Twins (ATO)
NAG - No Flag b/w Patterns (Space Taker Sounds)
US WEEKLY - US Weekly (Night Moves)
ORVAL CARLOS SIBELIUS - Ordre et Progrès (Born Bad)
ORCHESTRA OF THE UPPER ATMOSPHERE - θ2 (Discus)
TERRY RILEY - Songs for the Ten Voices of the Two Prophets (Beacon Sound)
HORSE LORDS - Mixtape IV (No Label)
TARA JANE O'NEIL - Tara Jane O'Neil (Gnomonsong)
THE SECRET SISTERS - You Don't Own Me Anymore (New West)
TONY THE LONELY SMOKER AND HIS ONLY LONELY FRIENDS - Short Attention Plans (Baboso Recording Co.)
HAMISH JAMES HAWK - Aznavour (HJH Music)
HOOP - Super Genuine (Decency Den)
TRAMPOLINE TEAM - Drug Culture b/w I Don't Play Games (Space Taker Sounds)
SIKORA - Holzwurm (KLANG)
JUNIE - The Complete Westbound Recordings 1973-76 (Ace/Westbound)
ADAM ASNAN - Mythcigc II (Entr'acte)
JAD FAIR & KRAMER - The History of Crying (Shimmy Disc)
KOSMISCHER LäUFER - Live In Graz EP (Unknown Capability Recordings)
B-BOYS - Dada (Captured Tracks)

Light Airplay
ALLEN GINSBERG - The Complete Songs of Innocence and Experience By William Blake (Omnivore)
MOIRE - No Future (Ghostly International)
THE VAN PELT - Sultans Of Sentiment (La Castanya)
DELMORE FX - Toke Picabia (Das Andere Selbst)
REINIER VAN HOUDT - Paths of the Errant Gaze (Hallow Ground)
ARCADEA - Arcadea (Relapse)
VARIOUS - National Crime History (Silken Tofu/Idiosyncratics)
WAVVES - You're Welcome (Ghost Box)
SABRINA MALHEIROS - Clareia (Far Out Recordings)
CHILDISH GAMBINO - Awaken, My Love! (Glassnote)
SWISSAIR - Viimeinen kutsu 1982 (Ruton)
NATURAL CAUSES - Natural Causes (Sorry State)
MOPE GROOVES - Joy (See My Friends)
WICCANS - Sailing a Crazy Ship (Dull Tools)
HENGE - Henge (God Unknown)
MUDBOY - Night Eyes (Ehse)
ETHAN DANIEL DAVIDSON - Crows (Seeds to the World)
JACKIE-O MOTHERFUCKER - Flags Of The Sacred Harp (Textile)
TARAB - An Incomplete Yet Fixed Idea (Aposiopese)
LA PETITE PAIRE DES PEUPLES - La Petite Paire des Peuples (No Lagos Musique)
COLOSSAL YES - Exposed Prehistorics (Ba Da Bing!)
SMEGMA & BLACK LEATHER JESUS - Smegma Vs. Black Leather Jesus (Axis Mundi)
DEAD MOON - What A Way To See the Old Girl Go (Voodoo Doughnut)
EARTH JERKS - File #09 aka (Computer Tapes)
TRIPTEDES - Afterglow (RPUT)
KASPER T. TOEPLITZ - AMAS (Pogus Productions)
DIRE WOLVES - Oceans Of Green (Feeding Tube)
VLADIMIR VYSOTSKY - Vladimir Vysotsky v Zapisakh Mikhaila Shalyapina (Maramant)
TRYYO - Flying Box (pfMentum)
ANTON NIKKILä - New Constructivist Moment (Ruton)
EMS + JEM - Back at Home (Sleeping Giant Glossolalia)
SKEMATA - Bright Shining Hell (Sorry State)
KAVRA - Nekuon Kataethneoton (Prison Jazz)
LE GROS - Cher Ami (No Lagos Musique)
JANDEK - Austin Tuesday (Corwood Industries)
GRAHAM REYNOLDS - A Scanner Darkly (Original Motion Picture Soundtrack) (Lakeshore)
LA BANQUE DE JEU DE PHARAON - Renivellement Par le Bas Vol.1 (No Lagos Musique)
EXCESSIVE CRUELTY - Excessive Cruelty (Sorry State)
GARGOYLE - Reborn In Blasphemy (Shadow Kingdom)
THE FAT DUKES OF FUCK - A Compendium of Desperation Morality and Dick Jokes (No Label)
VENENUM - Trance of Death (Sepulchral Voice)

7" Singles List
CLINIC / SEX SWING - Split 7" (God Unknown)
NAG - No Flag (Space Taker)
TRAMPOLINE TEAM - Drug Culture (Space Taker)
ROB NOYES / ALEXANDER - Split 7" (C/S)
NEON - Neon (Static Age)
SUZANNE CIANI & THE BUCHLA BOARD - Fish Music (Finders Keepers)
LUKE AND WENDY - Tony Conrad (Meeuw Muzak)
HOTHEAD - Snake Song (Richie)
EN KERNAGHAN BAND - Experience Banned (Ever/Never)
PREENING - Beaters (Digital Regress)

RPM List
ELLEN ALLIEN - Nost (Bpitch Control)
MOIRE - No Future (Ghostly)
VARIOUS - Monika Werkstaff (Monika)
HANNU KARJALAINEN - A Handful of Dust In a Desert (Karaoke Kalk)
ARCA - Arca (XL)
PHILIPPE HALLAIS - An American Hero (Modern Love)
DANNY DAZE & SHOKH / PATRICE BAUMEL - Speicher 98 (Kompakt)
ZULI - Numbers (UIQ)
PORTER RICKS - Anguilla Electrica (Tresor)
MOUNT KIMBIE - Love What Survives (Warp)
GREY HOUSE- New Beats the House (Dark Entries)

Jazz List
ORCHESTRA OF THE UPPER ATMOSPHERE - 02 (Discus)
KUHN FU - Kuhnspiracy (Unit)
ABDULLAH IBRAHIM - Ancient Africa (Sackville)
JEFF PARKER - The New Breed (International Anthem)
JAMES BLOOD ULMER with THE THING - Baby Talk (Trost/The Thing)
STEVE LACY - Free For a Minute (Emanem)
DON CHERRY - Music, Wisdom, Love 1969 (Finders Keepers/Cacaphonic)
TAKUYA KURODA - Zigzagger (Concord)
BONESHAKER - Thinking Out Loud (Trost)
DAVID S. WARE TRIO - Live in New York 2010 (AUM Fidelity)

World List
AL MASSRIEEN - Modern Egyptian Music (Habibi Funk)
SABRINA MALHEIROS - Clareia (Far Out Recordings)
VLADIMIR VYSOTSKY - Vladimir Vysotsky v Zapisakh Mikhaila Shalyapina (Maramant)
ERASMO CARLOS - Carlos, Erasmo... (Light In the Attic)
VARIOUS - Charles Duvelle, Hisham Miyat: The Photographs of Charles Duvelle (Sublime Frequencies)
BABA MARAIRE - Wona Baba Mamaire (Hearth)
LOS WEMBLER'S DE IQUITOS - Ikarp Del Amor (Barbes)
UMOJA - 707 (Awesome Tapes From Africa)
TRIO DA KALI & KRONOS QUARTET - Ladilikan (Nonesuch/World Circuit)
SONGHOY BLUES - Resistance (Fat Possum)

Loud List
CIRCLE - Terminal (Southern Lord)
SEX TIDE - Possession Sessions (Feeding Tube)
NAG - No Flag (Space Taker)
ARCADEA - Arcadea (Relapse)
NATURAL CAUSES - s/t (Sorry State)
HENGE - s/t (God Unknown)
SKEMATA - Bright Shining Hell (Sorry State)
EXCESSIVE CRUELTY - s/t (Sorry State)
GARGOYLE - Reborn In Blasphemy (Shadow Kingdom)
VENENUM - Trance of Death (Sepulchral Voice)

Hip-Hop List
OBNOX - Niggative Approach (12XU)
VARIOUS - Boombox 2: Early Independent Hip-Hop, Electro, and Disco Rap 1979-83 (Soul Jazz)
SHABAZZ PALACES - Quararz Vs. the Jealous Machines (Sub Pop)
PUBLIC ENEMY - Nothing Is Quick In the Desert (Public Enemy)
E. GRIZZLY - How To Destroy Everything (Aha)
ODD NOSDAM - Lif (Bunco)
CAREER CROOKS - Good Luck With That (Urbnet)
L'ORANGE - The Ordinary Man (Mellow Music)
SEAN PRICE - Imperius Rex (Duck Down)
CHUUWEE - Purgator (Below System)
Cassette List
VARIOUS - Natural Crime History (Silken Tofu/Idiosyncratics)
SWISSAIR - Viimeinen kutsu 1982 (Ektro)
COLOSSAL YES - Exposed Prehistorics (Ba Da Bing)
EARTH JERKS - File #09 (Computer Tapes)
ANTON NIKKILA - New Constructivist Moment (Ektro)
EMS + JEM - Back At Home (Sleeping Giant Glossolalia)
LA BANQUE DE LA JEU DE PHARAON - Renivellement Par le Bas Vol.1 (No Lagos Musique)
DIDAKTISCHE EINHEIT - Dosis 6 (ZZK)
VARIOUS - There Is No Music From China (End of the Alphabet)
KATE MOHANTY - The Double Image (GP Stripes)

UPCOMING SPECIALS ON WFMU
(www.wfmu.org/upcoming)

Paul Roessler
Thursday, October 5th, Noon - 3pm
on Diane's Kamikaze Fun Machine
Paul Roessler is a punk icon, Paul Roessler may not necessarily sleep. His list of achievements is monstrous. Ranging from being a member of the legendary Screamers, to playing with Dez Cadena in DC3, part of of Geza X and the Mommymen, founder of Twisted Roots, keyboardist of 45 Grave, and many more - he also has produced a huge amount of music over the years; Josie Cotton and Nina Hagen come to mind. Paul is outputting music at a very high rate at this stage of the game and we will have Paul on for an extra large segment of Peer Pressure to let him show what a crazy workaholic he is! Paul will be live and listeners can ask him questions on the playlist! Tune In!

Good "Buy" Columbus!
Saturday, October 7th, Midnight - 3am
on Inflatable Squirrel Carcass with Rich Hazelton
At the stroke of midnight October 6/7, as Friday turns to Saturday, Midnight Matinee presents a special, one-hour only sales event, Good "Buy", Columbus! Huge savings on our entire inventory, everything must go! A celebration of Columbus and consumerism for your listening pleasure. Host John Schnall will entertain your ears while rotting your mind.

Lloyd Price in studio
Saturday, October 7th, 11am - 1pm
on Michael Shelley's show
Michael welcomes "Mr. Personality" Lloyd Price to the WFMU studios for an in-person chat. From his millions sellers "Personality" and "Lawdy Miss Clawdy" to his brand new album, there will be plenty to discuss.

Live from New Orleans' Ponderosa Stomp, with Dave the Spazz (1-3pm) and Todd (3-6pm)
Saturday, October 7th, 1pm - 6pm
on Todd-o-phonic Todd's show
WFMU and our sister station in New Orleans, WWOZ join forces again for a remote broadcast from New Orleans to celebrate The 2017 Ponderosa Stomp. Dave The Spazz and Todd-O-Phonic Todd join forces with Swamp Boogie and The Boudin Man and a cast of thousands to create mayhem and mirth, both musical and otherwise. Stomp performers include Gary U.S. Bonds, The Mummies, Roky Erickson, Barbara Lynn, Carla Thomas, The Gories and many more! The mischief takes place at The Ace Hotel, if you are in the neighborhood feel free to stop by!

Brass Band special ahead of next Thursday's HONK NYC! at Monty Hall
Saturday, October 7th, 6pm - 9pm
on Transpacific Sound Paradise with Rob Weisberg
Tonight TSP returns to one of our favorite themes, global brass band music! Our excuse: We wanna get you psyched for our all-ages brass band extravaganza, HONK NYC! in NJ! Thursday night October 12th at our own Monty Hall. This year for the first time our Monty Hall collaboration with the fabulous HONK NYC! festival includes NY's first and foremost street brass juggernaut, the legendary Hungry March Band. Plus Damas de Ferro, a dynamic all-women's band from Brazil, superb NOLA second line outfit New Creations and more. We'll hear the stars of our show and much more brass mania from around the world. And it's a big week at Monty Hall - we're also hoping to have a chat with Group Doueh, the remarkable psychedelic desert band from Western Sahara that's playing (with 75 Dollar Bill opening) Saturday night (October 7th) at Monty (and recorded for broadcast on Brian Turner's show here on FMU).

The Hipshakes and Proto Idiot live on Burn it Down!
Sunday, October 8th, 6am - 9am
on Burn It Down! with Nate K.
Burn It Down! with Nate K. is excited to present its first double-band extravaganza, with a twofer from Manchester, England. Legends in the making the Hipshakes offer a rowdy, pitch-perfect blend of raucous '60s frat rock and fuzzed-out punk, while Proto Idiot present a more stripped-down, "Wirey" flip side to that same classic coin. The two bands are touring the States together and will both be appearing at Gonerfest 14 (Sept. 28 - Oct. 1).Tune in Sunday, October 8, from 6 to 9 am to hear the ruckus.

It's Johnny's Birthday!
Monday, October 9th, 3am - 6am
on Circle Time with Mark R.
Monday, October 9th, 2017, marks the 77th anniversary of the birth of John Lennon. We're going to devote a full hour of our program exclusively to the music of John Lennon, with and without the Beatles, and we're inviting you, the listeners, to participate with your suggestions. As a special Into the BlackI October Fundraiser bonus, anyone who becomes a Swag-for-Life member or ups their existing Swag-for-Life pledge, can request two (2) songs, which Mark GUARANTEES will be played on the air, even if that means playing nothing but John Lennon's music for a whole month. You can even make me play that one where John just plays guitar while Yoko looks for her hand in the snow. Celebrate Johnny's birthday and help WFMU get Into the Black, too!

Bob Mehr
Monday, October 9th, Noon - 3pm
on Three Chord Monte with Joe Belock
Bob Mehr (pronounced Mare) is the author of 'Trouble Boys: The True Story of The Replacements', the amazing story of one of America's best bands that established a new high standard for rock and roll bios. After writing the definitive book on the band, Bob has now produced the definitive live document on The 'Mats - 'For Sale: Live At Maxwell's 1986' double LP. We're honored to welcome Bob back to the program to give us the behind-the-scenes story of how this essential concert recording eventually saw the light of day!

Wire
Tuesday, October 10th, 3pm - 6pm
on Brian Turner's show
A return to the program six years since their last visit, Wire perform live in studio on WFMU. Formed in 1976, the group immediately staked its place as one of Britain's most celebrated exports of art-punk whose first three records (Pink Flag, 154, and Chairs Missing) are universally regarded as picture-perfect documents of innovative experimentation in songcraft. Traversing the lines between raw minimalist punk and complex experimentations, they've influenced everyone from Minor Threat to My Bloody Valentine, and continue to create new soundways with their latest release Silver and Lead. Wire's 40 years have been marked by constant flux, side projects, regrouping and reinvention, yet they have been without fail pushing their futuristic ideas into the present, never resting on past laurels. The current lineup of Colin Newman, Graham Lewis, Robert Grey and Matthew Simms visit Brian Turner while in town for a three-night, sold out stand at Baby's All Right in Brooklyn from September 28-30.

Osman Murat Ertel (of BaBa ZuLa)
Tuesday, October 10th, 7pm - 8pm
on Morricone Island with Devon E. Levins
Osman Murat Ertel, co-founder of Istanbul-based psych/Turkish folk/electronic band BaBa ZuLa, discusses his latest soundtrack to director Imre Azem's documentary "Turkey On The Edge" about Turkey's struggle in the current divisive state, post-failed alleged 2016 coup attempt with the recent erosion of liberties and consolidation of power into Erdogan's hands. The score features the Turkish instrument saz played acoustically and amplified with effects creating electronic sounds from a minimal sound source. BaBa ZuLa as a band has also composed for film, television and documentary since its inception in 1996 including "Somersault In A Coffin," "Ice Cream, I Scream," "Biz Size Asik Olduk," "Hyena" and "Mustang."

Adrian Crowley
Tuesday, October 10th, 9pm - Midnight
on Irene Trudel's show
Irish songster Adrian Crowley writes some of the most darkly beautiful tunes and fantasmigorical lyrics you'll ever come across. Crowley's songs unfold like musical novella or like the soundtrack to Brothers Quay film. On his 8th album, "Dark-Eyed Messenger," Thomas Bartlett aka Doveman produced, adding antique-sounding touches to Adrian's music. Adrian Crowley recorded a live set for WFMU when he visited NYC this past May.

J-Zone and Pablo Martin visit the Duane Train
Wednesday, October 11th, Noon - 3pm
on Duane Train
Hip Hop villain and Duane Train wacky neighbor, J-zone is BACK! This time with Pablo Martin, his partner in his instrumental funk band the Du-Rites. They have a brand new album coming out this week, and they'll drop by to chat about it.

Joe Frank - "Silent Sea"
Wednesday, October 11th, 3pm - 6pm
on Irwin Chusid
One-hour dramas by Joe Frank air alternate Wednesday afternoons at 4pm (Eastern) on Irwin's program. On Weds. October 11th, we'll present "Silent Sea" from Joe's "The Other Side" series. Joe dreams of reuniting with Kate—by stalking her. T.S. Eliot reads from his work. Debi celebrates a drunken Halloween in New York and meets an Italian man who gives her the best kiss of her life. Joe questions Debi's approach to achieving world peace and curing cancer.

Jake Burns of Stiff Little Fingers
Thursday, October 12th, Noon - 3pm
on Diane's Kamikaze Fun Machine
Diane speaks with Jake Burns, founding member, guitarist of Stiff Little Fingers. The band just recently completed a US tour, and Diane asks Jake about the future, the band's past, John Peel, and what made original punk rock great. Interview at 1pm!

The Thunderroads
Thursday, October 12th, 9pm - Midnight
on Music To Spazz By with Dave the Spazz
Tokyo's own Thunderroads return to Music To Spazz By to perform a live set of their jet-fueled, high-powered rock 'n' roll! PLUS: Spazz Comes Alive! The Greatest Live Show in the Universe from your favorite Music To Spazz By favorites!

Steven Warwick
Friday, October 13th, 9pm - Midnight
on Daniel Blumin's show
On the heels of a brand new mix for The Fader magazine, the premiere of Elevator to Mezzanine, a multi-media project with New Yorker DeForrest Brown Jr. on view in Brooklyn, a book with Nora Khan titled Fear Indexing The X-Files and several U.S. concert dates to go, busy-as-a-bee Berlin-based British musician/author/artist Steven Warwick aka Heatsick returns to WFMU for a rare radio session. In the last year, Steven has released "Nadir", an excellent mixtape album on the PAN label and "Die Blaue Stunde", a dreamlike collaboration with UK electronicist Bass Clef, so expect songs brimming with drum machine rhythms, electronic hum and whirr, and a dollop of dayglo flutter! And what better way to close out Friday the 13th than by discussing fear indexing via Scully & Mulder??? Don't miss! Catch Steven Warwick live: October 4 @ The Lab, San Francisco October 5 @ Yale Union, Portland October 11 @ Le Laboratoire, Boston

Glenn Dicker, co-founder of Yep Roc Records
Saturday, October 14th, 11am - 1pm
on Michael Shelley's show
Michael chats with Glenn Dicker, co-founder of Yep Roc Records, about the label's twentieth anniversary and the ups and downs of their "release-what-you-love" approach to business.

Protomartyr live encore broadcast from Montgomery Hall
Sunday, October 15th, 6am - 9am
on Burn It Down! with Nate K.
Simpy put, Detroit's Protomartyr are one of the most dynamic rock bands working today. Let's make it even simpler, they're one of the best. The band's dark, anthemic post-punk, combined with frontman Joe Casey's literary sing-speak vocals, will bring to mind certain UK acts from that formative, much-worshiped era just after '77, but Protomartyr's sound remains 100 percent in line with the twenty-first-century US of A, a necessary and vaguely triumphant soundtrack to counteract the festering decay and descent into oblivion swirling around us. The band recently played an astounding set at Montgomery Hall, and Burn It Down with Nate K. is very excited to present an encore broadcast of that show. It will be followed by a brief interview with singer Joe Casey.

The Music of Shooby Taylor
Monday, October 16th, 7pm - 8pm
on Vocal Fry with Dan Bodah
William "Shooby" Taylor called himself "The Human Horn" and turned up on the fringes of the 70s and 80s New York jazz scene playing "air saxophone." Few took him seriously, so Taylor paid for studio time to record himself scatting over his favorite records, or with live accompanists. He achieved belated renown when WFMU discovered one of his tapes in the 1990s. Taylor even visited the station in 2002, shortly before passing away at age 73. Two years later, WFMU Wednesday afternoon host, Irwin Chusid, acquired dozens of Shooby's master tapes. Irwin recently issued two digital volumes featuring 45 tracks of Taylor's strange vocalizing via Bandcamp and iTunes. Irwin visits Vocal Fry on Monday October 16th to showcase the fascinating legacy of Shooby Taylor, the Human Horn, and maybe even share a few exclusive tracks with us.

Singles Going Soundtrack
Tuesday, October 17th, 7pm - 8pm
on Morricone Island with Devon E. Levins
Morricone Island host DJ Devon E. Levins spins some of his favorite 7" OSTs. Expect some hits from Schifrin, Goldsmith, Mancini and, of course, Morricone.

All B-Sides All Night Long
Thursday, October 19th, 9pm - Midnight
on Music To Spazz By with Dave the Spazz
This Singles Going Steady Week Dave the Spazz will once again be plugging the wrong side of the record. Often the forgotten underbelly of a 45 was usually more rockin' and crazier than its more illustrious flip, but you knew that already. Turn on, tune in, flip out!

Alvvays and Richard Gottehrer
Saturday, October 21st, 3pm - 6pm
on Todd-o-phonic Todd's show
Alvvays (pronounced Always) bring their magical brand of pop to Saturday afternoon. The Toronto group has really hit their stride on their second album for Polyvinyl, "Antisocialites". Alvvays continues to grow in popularity and will be headlining Brooklyn Steel on October 7th.

Richard Gottehrer chats with Todd-O-Phonic Todd about his amazing career as writer, performer, producer and industry magnate. Many of Richard's greatest numbers can be heard on the newly released Ace cd, "Smash Boom Bang!: The Songs and Productions of Feldman-Goldstein-Gottehrer". Get the lowdown on such great tunes as "Right Hand Man" and "Cara-Lin" directly from the source!

BLAHA
Monday, October 23rd, Noon - 3pm
on Three Chord Monte with Joe Belock
BLAHA is the solo project of Mike Blaha from intense Minneapolis surf-psych band The Blind Shake. New album The Art of Not (Wet Bridge Records) and EP Fresh Horse (Slovenly) out now.

Scott Williams 20th Anniversary show!
Monday, October 23rd, 3:01pm - 6pm
on Scott Williams's show
Scott's been on WFMU for 20 years! Help him celebrate this milestone on the radio, because he sure doesn't know how to do it.

Fabio Frizzi (the Italian soundtrack legend returns!)
Tuesday, October 24th, 7pm - 8pm
on Morricone Island with Devon E. Levins
Italian horror soundtrack legend Fabio Frizzi returns to Morricone Island in anticipation of his first ever New York City performances at the Music Hall of Williamsburg on October 29th (a live score of director Lucio Fulci's "The Beyond" by the Frizzi 2 Fulci Orchestra) and October 30th (a tribute to Frizzi's close friend and collaborator Fulci who passed away in 1996 which will include suites with visuals from Zombi 2, Seven Notes in Black, The Beyond, City of the Living Dead and Manhattan Baby). Il Maestro will also be in attendance for a Q&A at Nitehawk Cinema's November 2nd screening of Fulci's "City of the Living Dead." Reacquaint yourself to Frizzi's work by revisiting Morricone Island's archive of its two-part 2015 Frizzi special here: Pt. 1 (the music primer) and Pt. 2 (the interview).

Philip Lewin
Tuesday, October 24th, 9pm - Midnight
on Irene Trudel's show
In 1975, Philip Lewin released a charming homebrew of an album, all of 300 copies worth. "Am I Really Here All Alone?" was barely noticed outside of Toronto where it was created. In time, Lewin's album was sought after by collectors, fetching a premium price for this collection of melancholic folk with a mildly psychedelic tone. Tompkins Square rescued Philip's album from obscurity, and he's been touring in support of the re-release. Philip Lewin stops by to play a few tunes for WFMU.

Texas Women In Punk - Mydolls
Thursday, October 26th, Noon - 3pm
on Diane's Kamikaze Fun Machine
A discussion featuring members of Mydolls, a female fronted punk band formed in 1978 in Houston, Texas. We'll talk about their experiences as a predominantly female band in the infancy of the Texas punk scene, and celebrate their new EP, "It's Too Hot For Revolution".

Halloween Spazztacular!
Thursday, October 26th, 9pm - Midnight
on Music To Spazz By with Dave the Spazz
Count Spazzula and Bingo the Gorilla bid you welcome for another dark house ride on the spooky side of the street. Tricks, Treats and Zombie Tex Antoine await you if you dare!

Ian Hunter
Saturday, October 28th, 3pm - 6pm
on Todd-o-phonic Todd's show
Todd-O-Phonic Todd chats with Ian Hunter about his life and wild times with Mott The Hoople, his illustrious solo career, David Bowie and much more. From his early days, Ian has been one of the sharpest and most observant rockers out there. Tune in to hear Todd mercilessly exploit his knowledge and kindness. Ian Hunter performs at Outpost In The Burbs in Montclair on November 17th.

It's Halloween!
Monday, October 30th, 3:01pm - 6pm
on Scott Williams's show
It's Halloween, it's Halloween, it's Halloween...

A Halloween Spook-tacular!
Tuesday, October 31st, 9pm - Midnight
on Irene Trudel's show
Since Halloween falls on a Tuesday this year, Irene gets to spin a spooky sonic web to transport you through the darkness to the midnight hour.

The Proletariat
Thursday, November 2nd, Noon - 3pm
on Diane's Kamikaze Fun Machine
Diane welcomes members of Boston band The Proletariat to the Fun Machine! They will be enroute to their performance that night at the Brighton Bar in Long Branch, NJ, and will stop by for some talk and to spin some great tunes. Although not a hardcore-by-the-numbers band, they were at heart of the Boston hardcore scene from the 80's, and the band reformed a couple of years ago and have been playing gigs to reviews of being tirelessly energetic and poignant, Diane is happy to bring them to the listeners November 2. Go see them and tune in!

Chris Difford
Saturday, November 4th, 11am - 1pm
on Michael Shelley's show
Michael chats with Chris Difford , co-founder and lyricist or the band Squeeze. We'll find out about what Squeeze is up to and Chris' new autobiography "Some Fantastic Place - My Life In And Out Of Squeeze"

Greg Ashley
Saturday, November 4th, 3pm - 6pm
on Todd-o-phonic Todd's show
Greg Ashley performs live on The Todd-O-Phonic Todd show. A seminal part of the burgeoning Oakland scene back to his days with The Cuts and Gris Gris, Greg has embarked on a fabulous and prolific solo career. HIs latest album on Trouble In MInd, Pictures Of Saint Paul Street, continues Greg's exploration of the dark underbelly of everyday life in a way that would make both Charles Bukowski and Tom Waits proud. Don't miss Greg at Montgomery Hall on November 3rd.

Group Doueh (video and audiocast from Montgomery Hall)
Tuesday, November 7th, 3pm - 6pm
on Brian Turner's show
Full video and audiocast of the October 7th visit to WFMU's Montgomery Hall from one of the most blasted psychedelic Western Saharan combos to hit American shores. Founded in the 1980's, headmaster and guitarist Doueh's raw distorted electric guitar stylings juxtapose western elements of Hendrix and James Brown with the poetry of Hassania language in Saharawi folk tradition, all centered around a big band environment that includes two vocalists. "Unhinged virtuosity" is a common phrase attributed to the sound of Group Doueh, truly a spectacle to behold, and thanks to some high profile releases on the Sublime Frequencies imprint, the band's audience has grown greatly. The full concert will stream on wfmu.org home page November 7th on Brian's program, but listeners are strongly encouraged to attend! Tickets are on sale at Monty Hall's site, and the October 7 show, presented by Brian Turner's program, also features NYC's excellent 75 Dollar Bill supporting. A rare and not-to-be-missed stateside event!

The Crystal Robots
Saturday, November 11th, 11am - 1pm
on Michael Shelley's show
Michael welcomes The Crystal Robots in person to talk about their new album & play a few songs live in the studio!

Macho Blush plus Gaute Granli
Tuesday, November 14th, 3pm - 6pm
on Brian Turner's show
A twofer of live sonic disruption on the program with a US-tour pitstop at WFMU's studios. Macho Blush is the project of Austin, Texas artist Gina Probst, whose sound alchemy transcends the normal noise and collage zones, creating otherwordly atmospheres broken up and reconstructed before your very ears. She's on tour with Norwegian guitarist Gaute Granli whose past combos have included Freddy the Dyke and Skadne Krek. His set promises some further abstractions, or as once eloquently stated by Sound Projector: "riffs like a baboon casting coconuts from a tree, and percussion effects that stumble blindly about the room like a hooded goblin."

Matt Lucas
Saturday, November 18th, 11am - 1pm
on Michael Shelley's show
Michael welcomes powerhouse singer, drummer, and songwriter Matt Lucas, best known for his crazy rocked-up 1963 version of Hank Snow's "I'm Movin' On".

Pere Ubu
Tuesday, November 21st, 3pm - 6pm
on Brian Turner's show
Pere Ubu follow up their 2016 performance program with a grand return, while on tour to support their latest release "20 Years In a Missile Silo". Undoubtedly one of the most important bands in the history of the American underground, Pere Ubu emerged from Cleveland in 1975 to challenge art and rock music to step outside its well-trodden '70s safety zone. They're often credited with being thee missing link between the Velvet Underground and the late 70's punk explosion, but have also established a solid discography of records way beyond that continuing into the modern era, continually reinventing their own identity and always looking forward. Pere Ubu plays the Music Hall of Williamsburg November 12th, and we're honored to have them back on the program.

Paul Karasik
Saturday, November 25th, 11am - 1pm
on Michael Shelley's show
Michael chats with co-authors Mark Newgarden, Paul Karasik about their new long awaited book "How To Read Nancy" (with forward by Jerry Lewis)

The Rebel
Tuesday, November 28th, 3pm - 6pm
on Brian Turner's show
Inhabiting the strange zone somewhere in between William Burroughs, The Fall, George Jones and The Residents, The Rebel AKA Ben Wallers has existed as the solo (and more prolific) extension of London's beloved-slash-undernourished Country Teasers. Through countless recordings, Wallers' songs of whimsy and dripping societal observations and indictments have made for a solid catalogue of true English outsider greatness; in fact his 2008 visit to Brian's show with band in tow resulted in the great live LP "Northern Rocks Bear Weird Vegetable" on the Sacred Bones label. Wallers visits the program on the heels of a European tour with Austin pals Spray Paint, and his latest LP release "Poems With Water Triology" is out on Texan imprint Monofonus Press.

---
Want to see all the past events? Go here.

UPCOMING AT WFMU'S MONTGOMERY HALL
43 Montgomery Street, Jersey City
http://montyhall.ticketfly.com/

Thu 10/5 Crocodiles / Saint Pe (8:30pm, $10-12)
Fri 10/6 The Proper Ornaments / Kyle Forester (9:00pm, $10)
Sat 10/7 Group Doueh / 75 Dollar Bill (8:30pm, $20-25, presented by Brian Turner's show)
Thu 10/12 Honk NYC! In NJ! (7:30pm, $10, presented by Transpacific Sound Paradise)
Sat 10/14 WFMU Live Band Karaoke Benefit (8:00pm, $5)
Sun 10/15 WFMU Movie Night w/Night of the Living Dead, live score Morricone Youth (7:30pm, $10)
Fri 10/20 Jon Langford's Four Lost Souls (8:30pm, $15)
Sat 10/21 NJ Electorama (8:00pm, $10)
Thu 10/26 Skeptech 2: Tales From the Dark Side of Tech (8:00pm, $25)
Sun 10/29 Shannon and the Clams (8:30, $20-22)
Thu 11/2 The Woggles / Black Flamingos / Greg Ashley (8:30pm, $10)
Sat 11/4 Howe Gelb (8:30pm, $15-20)
Fri 11/10 Shilpa Ray (8:30pm, $10)
Wed 11/15 Eyelids / Jay Gonzales & the Guilty Pleasures / Low Doses (8:30pm, $8-10)
Fri 11/17 Luna/Chris Forsyth & The Solar Motel Band (9:00pm, $30-35) SOLD OUT
Fri 12/1 A. Savage (Parquet Courts) (8:30pm $10-12)
Tue 12/12 McCafferty / Heart Attack Man (8:00pm, $12)
Search the WFMU website (Google)