WFMU
PO Box 5101
Hoboken, NJ 07030
broadcasting from Jersey City 91.1 FM/90.1 FM
Audio Feed and Archives: www.wfmu.org
Podcasts: podcast.wfmu.org
Facebook: www.facebook.com/wfmuradio
Twitter: http://twitter.com/#!/wfmu
Joel St. Germain, Music Director, musicdept@wfmu.org (201) 521-1416 x223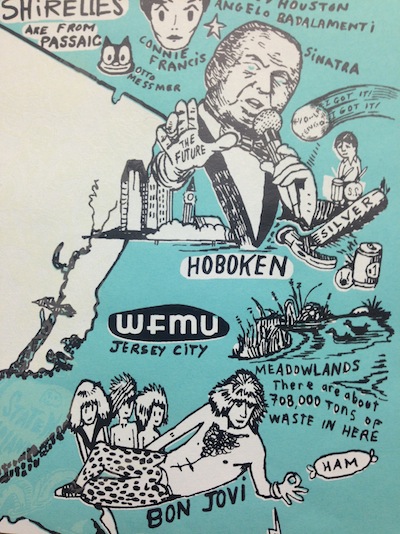 Heavy Airplay, April 7, 2018
BRIGID MAE POWER - The Two Worlds (Tompkins Square)
UUUU - s/t (Editions Mego)
ROBERT HAIGH - Creatures of the Deep (Unseen Worlds)
KHAN JAMAL CREATIVE ART ENSEMBLE - Dum Dance to the Motherland (EREMITE)
KOEN HOLTAMP - Voice Model (Umor Rex)
GRAHAM GOULDMAN - Listen People (Ace)
CYMBELINE - 1965-1971 (Guerssen)
BI-HOUR - Regional Indifference (No Label)
CALCIUM - Calcium (Monster Melodies)
ZAZOU/BIKAYE/CY1 - Noir et Blanc (Crammed Discs)
EMILIO APARICIO MOOG - Expansion Galactica (Mental Experience)
ARMANDO SCIASCIA - Impressions In Rhythm & Sound (Roundtable/OMNI)
SHELLS - 2 (Gingko)
TANDAAPUSHI - Borromean Rings (Jvtlandt)
SANDWATCHERS - What We Found Along the Way (Chant Records)
GROOVY MOVIES - Groovy Movies (Hidden Volume)
F. AMPISM - The Unstruck Sound Centre (Ikuisuus)
BONS - Gras H'utsi (Spillage Fete)
THE TRANSCENDENCE ORCHESTRA - Modern Methods For Ancient Rituals (Editions Mego)
BARDO POND - 8 (Fire)
KING SALAMI & THE CUMBERLAND THREE - Goin' Back To Wurstville (Off the Hip)
JACKIE SHANE - Any Other Way (Numero)
RICHARD YOUNGS - This Is Not A Lament (Fourth Dimension)
Medium Airplay
VARIOUS - Abaton Book Company 20th Anniversary Compilation (Abaton Book Co.)
TELEVISION PERSONALITIES - Beautiful Despair (Fire Records)
CONTRIBUTORS - Contributors (Monofonus Press)
PIERRE BASTIEN - The Mecanocentric Worlds of Pierre Bastien (Discrepant)
CHIE MUKAI + JUSTIN SIMON - 日 月 (Mesh-Key)
PSYCHICK TV - Allegory And Self (Sacred Bones)
THE REMAINS - Live 1969 (Sundazed)
BERT JANSCH - A Man I'd Rather Be (pt 1) (Earth Recordings)
VARIOUS - Tuning Into the World: Slovenia (Sigic)
SOILED / MARCUS H - Phonic Grafts (Elm Lodge Records)
ALEXANDRA ATNIF - Rhythmic Brutalism Vol. 2 (EM Records)
TONALIENS - Tonaliens (Sonic Acts)
FELIX KUBIN - Takt der Arbeit (Editions Mego)
TAROTPLANE - 358 Oblique (Lullabies For Insomniacs)
THE MONOCHROME SET - 1979–1985: Complete Recordings (Tapete)
VARIOUS - Northern Soul's Classiest Rarities 6 (Kent)
DES DEMONAS - s/t (In The Red)
SHIT AND SHINE - Hamburger (Gang of Ducks)
STRESOVICKA KRAMLE - After The Wedding (No Label)
FUNKADELIC - Reworked By Detroiters (Westbound)
MEADOW HOUSE - This Should Not Be Happening. (Feeding Tube)
VARKENSHOND - Hargawaan Por Shail (Aquirre)
BRENT GUTZEIT - Pop Music (LuvSound)
D.F. - Snowshell (Shaking Box)
VARIOUS - 80s Underground Cassette Culture (Contort Yourself)
PINKCOURTESYPHONE - Idelicate Slices (Room 40)
KA BAIRD - Sapropelic Pycnic (Drag City)
VARIOUS - Sing it High, Sing It Low: Tumbleweed Records (Light In the Attic)
ULTIMATE SPINACH - s/t (Sundazed)
PHIL SEYMOUR - Prince Of Power Pop (Ace)
PREENING - Beaters (Digital Regress)
SPARROW STEEPLE - A Aardvark (Ever/Never)
THOMAS MüLLER - Not A Bird / Transcarnation One (Edition Telemark)
ALIEN SEX FIEND - Fiendology: 1982-2017 A.D. and Beyond (Cherry Red)
KING GIZZARD & THE LIZARD WIZARD - Polygondwanaland (ATO Records)
QUARTER MILE THUNDER - Bucking The Tiger (Big Star)
WILL FABER - Electricity Solo Guitar (No Label)
LARS FINBERG - Moonlight Over Bakersfield (In The Red)
THE GREEN CHILD - s/t (Upset the Rhythm)
CHERRY - Dumbness (Lame-O)
50 FOOT HOSE - Cauldron (Aguirre)
C. LAVENDER - Vanishing Light (Hot Releases )
THE ODYSSEY CULT - Volume Two (Silver Current)
HAROLD LAND - A New Shade of Blue (Mainstream)
AZONIC - Prospect Of The Deep Volume One (Indivisible Music)
GUN OUTFIT - Out Of Range (Paradise of Bachelors)
HAND & LEG - s/t (Black Gladiator / Slovenly )
JEAN-BAPTISTE FAVORY - Things Under (Feeding Tube)
ODD HOPE - s/t (Fruits and Flowers)
THE OVAL LANGUAGE - Hibernation (Edition Telemark)
O MORTO - The Forest, The People And The Spirits (Discrepant)
WIZARDS OF OI - Wot It Is Not (Chocolate Monk)
DAVID NANCE - Doug Sahm And Band Do 90%... (No Label)
JAMES CARR - The Best of (Kent Soul)
MELVIN SPARKS - I'm Funky Now (Westbound)
LEE HAZELWOOD - Requiem For An Almost Lady (Light In the Attic)
ISLAJA - Tarrantula (Svart)
JAGUWAR - Ringthing (Tapete)
MARK FOSSOM - Solo Guitar (Drag City)
LIBRARY OF SANDS - Odd Hourglass/Wavy Heat (Wild Sages)
SCARCITY OF TANKS - Garford Mute (Total Life Society)
CLARENCE CARTER - Testifyin'/Patches (Kent Soul)
USUFRUCT - Windfall (Vauxflores Industrial)
CARLOS CASAS - Pyramid Of Skulls (Discrepant)
NIILOL SMEDS - Once You Were A Baby (Gold Stain)
Light Airplay
JOEL GION - Joel Gion (Beyond Beyond Is Beyond)
HALF JAPANESE - Why Not? (Fire Records)
DOUGLAS EWART AND INVENTIONS CLARINET CHOIR - Angles of Entrance (Arawak)
THE BRAIN - Too Much To Dream (High Fashion Industries)
VILAYAT HKAN & BISMILLAH KHAN - Duets (His Master's Voice / EMI)
RAZOR BOYS - 1978 (HoZac)
VIEWER - True Friend Record (Feeding Tube)
LOKE RAHBEK & FREDERIK VALENTIN - Buy Corals Online (Editions Mego)
DEATH OF LOVERS - The Acrobat (Dais Records)
L.A. LAW - Law & Order (Burger Records)
FRANCE - Occitanie (Aguirre)
CHARLEMAGNE PALESTINE - STTT THOMASSS ''''"'"DINGGGDONGGGDINGGGzzzzzzz ferrrr TONYYY'''''''' (Blank Forms)
SNAKE UNION - Danger's Rainbow (Birdfriend)
COHELMEC ENSEMBLE - 5 Octobre 1974 (Souffle Continu)
PAUL LANSKY/GWENDOLYN DEASE - Marimba (Bridge)
FALTER BRAMNK - Glassical Music (Circum-Disc)
BOB BELLERUE - Yamaha Deluxe (Ideal)
WEI ZHONGLE - The Operators (Self Sabotage)
TOMAS BARFORD - Paloma (Friends Of Friends)
DAN MELCHIOR - Born Under A Grey Sign (Monofonus Press)
TODD W. EMMERT - So Sick Of Dying (Therapy Tapes)
NOVO LINE - Dyad (Ecstatic)
BLACK DEATH - s/t (Hell's Headbangers)
SIINAI - Syki (Svart)
NUN WITH ENDERIE - Immersion (Not On Label)
VAISU LUKSUS - s/t (Lal Lal Lal)
JENNY Q CHAI - New York Love Songs (ArpaViva)
PLASTIC - s/t (No Label)
JIM JAMES - Tribute to 2 (ATO Records)
CIRITH UNGOL - King of the Dead: Ultimate Edition (Metal Blade)
KROOTCHEY - Qu'est-ce Qu'ila (Dark Entries)
CUNEYT SEPETCI - Bulgar Gaydas (LM Dupli-Cation)
PAUL NINI - My Chequered Past (Old 3c)
VARIOUS - Your Ass: The Musical (Wheelchair Full of Old Men)
VIVENZA - Realite De L'Automantion Directe (Rotorelief)
SAM WEINBERG - Canards (Renfusa)
VARIOUS - Harper Valley P.T.A. OST (Varese Sarabande)
DEREK BAILEY/GREG GOODMAN - Extracting Fish-Bones From The Back of the Despoiler (The Beak Doctor)
BEAR BONES, LAY LOW - Calle Ciego (Les Albums Claus)
UNI - What's the Problem? (Chimera Music)
LETTUCE VULTURES - $ (Wheelchair Full of Old Men)
SNICKERS - On The Hi-Fi III (Stimulus Progression)
BRIAN RURYK/ROBERT RIDLEY SHACKLETON - split (No Label)
Jazz List
KHAN JAMAL CREATIVE ART ENSEMBLE - Dum Dance to the Motherland (Eremite)
ARMANDO SCIASCIA - Impressions In Rhythm & Sound (Roundtable/OMNI)
GOSPEL OF MARS - s/t (Amish)
PHAROAH SANDERS - Jewels of Thought (Anthology)
PHAROAH SANDERS - Tauhid (Anthology Recordings)
SUN RA AND HIS ASTRO INFINITY ARKESTRA - My Brother the Wind (Cosmic Myth Records)
DR. LONNIE SMITH - All In My Mind (Blue Note)
DOUGLAS EWART AND INVENTIONS CLARINET CHOIR - Angles of Entrance (Arawak)
ARIHA BRASS QUARTET - Ariha Brass Quartet (Discrepant)
COHELMEC ENSEMBLE - 5 Octobre 1974 (Souffle Continu)
Loud List
UUUU - s/t (Editions Mego)
HOUSE OF LOW CULTURE/CAUSTIC TOUCH/DANIEL MENCHE/EMS - 4 way split (Accident Prone)
NEIL CAMPBELL & RICHARD YOUNGS - Six Scores (Shaking Box)
BRENT GUTZEIT - Pop Music (LuvSound)
NO BALLS - More Is More (8MM)
C. LAVENDER - Vanishing Light (Hot Releases )
WORMWOOD - Mooncurse (Translation Loss)
USUFRUCT - Windfall (Vauxflores Industrial)
BLIND IDIOT GOD - Undertow (Indivisible Music)
BOB BELLERUE - Yamaha Deluxe (Ideal)
World List
ZAZOU/BIKAYE/CY1 - Noir et Blanc (Crammed Discs)
VARIOUS - Tuning Into the World: Slovenia (Sigic)
CANZONIERE GRECANICO SALENTINO - Canzoniere (Ponderosa Music Records)
LES AMAZONES D'AFRIQUE - Republique Amazone (Real World)
VARIOUS - Sounds of Sisso (Nyege Nyege Tapes)
VARKENSHOND - Hargawaan Por Shail (Aquirre)
LES FILLES DE ILLIGHADAD - Eghass Malan (Sahel Sounds)
VARIOUS - Metaphors: Selected Soundworks from the Cinema of Apichatpong Weerasethakul (Sub Rosa)
CUNEYT SEPETCI - Bulgar Gaydas (LM Dupli-Cation)
VARIOUS - Outro Tempo: Electronic and Contemporary Music From Brazil (Music From Memory)
RPM List
EMILIO APARICIO MOOG - Expansion Galactica (Mental Experience)
VARIOUS - Lost Library (Fire Records)
BJORK - Utopia (One Little Indian)
JONO MA & DREEMS - Can't Stop Dreaming (Of You) (Kompakt)
RABIT - Les Fleurs Du Mal (Halcyon Veil)
ELECTRIC SEWER AGE - Moon's Milk In Final Phase (Soleilmoon)
PROFLIGATE - Somewhere Else (Wharf Cat)
LAWRENCE LUI - Retroism EP (No Label)
ABRA - Rose (Ninja Tune)

UPCOMING SPECIALS ON WFMU
Erik Friedlander
Tuesday, April 10th, 7pm - 8pm
on
Morricone Island with Devon E. Levins
Cellist and composer
Erik Friedlander
joins Devon to discuss his recent soundtracks for director Cory Finley's "Thoroughbreds" and Atsuko Hirayanagi's "Oh Lucy!," both currently in theaters. As a veteran of NYC's downtown experimental music scene, Erik has been a frequent collaborator of John Zorn (Filmworks, Masada, The Big Gundown), Laurie Anderson, Ikue Mori and Cyro Baptista. In addition to releasing over 20 albums as a leader, including the upcoming "Artemisia" 3-vinyl LP, Erik has composed for film, documentaries and dance works and performed on countless soundtracks, including those for Carter Burwell, Terrence Blanchard and Teho Teardo. A record release show for Artemisia takes place on April 11 at
Dixon Place
with Uri Caine, Ches Smith and Mark Helias.
Kendra Morris
Wednesday, April 11th, Noon - 3pm
on Duane Train
Kendra Morris recalls singers who straddled soul and rock during the early '70s, such as Ruth Copeland and Chaka Khan. After touring with legendary guitarist Dennis Coffey and releasing a series of singles which included "Concrete Waves," whose b-side was remixed by DJ Premier, Morris released the album Banshee (2012) on Wax Poetics. In 2013, Morris returned with the covers album Mockingbird.
2018 will mark the release as of yet untitled full-length studio album on Peter Agoston's new imprint PAPI. The lead-single a winding, uptempo progressive-narrative 'Nothing' came out in Feb and her 2nd single 'Playing Games' b/w 'Virgin' boasts appearances from both Dam-Funk and hip-hop legend Greg Nice (Nice & Smooth). Duane Train is excited to have Kendra and her band do a live performance and interview in anticipation of this stellar release.
Marc Gaffney of Gozu
Thursday, April 12th, Noon - 3pm
on
Diane's Kamikaze Fun Machine
Marc Gaffney of GOZU joins Diane the day before the release of the Boston band's newest effort: Equilibrium. He talks about the albums leading up to this one, producers, and vocal influences, among other things. Marc has submitted a song list for Diane to play for the audience, and she'll be airing some Gozu tracks, so it will be a rocking time for sure! Marc's segment starts at 1pm, and has been pre-recorded.
Les Lullies
Saturday, April 14th, 3pm - 6pm
on
Todd-o-phonic Todd's show
Les Lullies-
Les Lullies- Sacre bleu! Todd-O-Phonic Todd presents the sizzling punk sounds of the French combo Les Lullies. Hot off their wild "Don't Look Twice" EP on Slovenly, these wildmen hit the U.S. for shows including the Mercury Lounge on Tuesday April 4th and Debauch-A-Reno the next weekend.
Tin Foil
Sunday, April 15th, 6am - 9am
on
Burn It Down! with Nate K.
Second time's a charm! Lined up for a live set last summer that never happened, Detroit's Tin Foil are back and ready for the big time (or, at the very least, a live set on WFMU). Hitting an unexpected sweet spot somewhere between the acid-tinged guitar noodling of the Meat Puppets and a more traditional sort of garage-punk stomp, Tin Foil make a sound that's just perfect for what we're aiming for here at Burn It Down!
Tony Crane of The Merseybeats
Saturday, April 21st, 11am - 1pm
on Michael Shelley's show
Michael chats with Tony Crane who formed The Merseybeats in 1962, came up through the same club circuit as The Beatles, and landed eight singles on the British top 40 charts including ""Wishin' and Hopin' ", "Last Night (I Made A Little Girl Cry)", "I Stand Accused" and "Really Mystified" - The Merseybeats morphed into The Merseys who had a huge hit with their version of "Sorrow" - and they're still at it, 55 years after their formation.
Plates of Cake
Sunday, April 22nd, 6am - 9am
on
Burn It Down! with Nate K.
Every description or review of Plates of Cake seems to reference a different music style, genre, or scene from the next. You'll get British Invasion references; then the Soft Boys and Nick Lowe; the maybe post-punk, new wave, or glam; George Harrison or Television. Sure, they're all accurate to one degree or another. But if these somewhat disparate descriptions, in the end, tell you little to nothing about this Brooklyn band, don't worry, you can check them out and come up with your own questionable and limiting elevator pitch when they drop by Burn It Down!
Hurry, Jonathan Toubin and Wreckless Eric LIVE from the WFMU Record Fair!
Saturday, April 28th, 3pm - 6pm
on
Todd-o-phonic Todd's show
Hurry
are a Philadelphia trio playing pop music of the highest order. The great new album is called Every Little Thought and features some of the best Philly songwriting since Gamble and Huff!
Jonathan Toubin a.k.a.
The New York Night Train
has redefined what it means to be a dj. His Soul Claps are the stuff of legend and his Friday night weekly dance party "Shakin' All Over Under Sideways Down" at Home Sweet Home is one of the longest running parties in the Big Apple. Jonathan will offer a teaser of what he will be spinning at Diviera Drive later that evening and at The
Monty Hall Soul Clap
on Saturday May 5th!
Plus,
Wreckless Eric!
Wreckless Eric burst onto the pop scene with the unforgettable "Whole Wide World" in 1977. And he has been a thorn in the side of polite society ever since! His new album Construction Time & Demolition is another wonderful notch on the belt of a remarkable career. Don't miss him performing live at The WFMU Record Fair or May 3rd at Berlin in The East Village.
Tom Staley of N.R.B.Q.
Saturday, May 5th, 11am - 1pm
on Michael Shelley's show
Michael chats with N.R.B.Q.'s original drummer Tom Staley about his life and career, and the making of the band's newly re-released self titled 1969 debut album - for the very first time on cd!
The Harlem Gospel Travelers
Saturday, May 5th, 3pm - 6pm
on
Todd-o-phonic Todd's show
Are you ready to testify? You better be! The Harlem Gospel Travelers were brought together by Eli Paperboy Reed when he was mentoring them as part of gospel class he was teaching. You can hear the glorious results on their debut 45 for Colemine Records and also at
Monty Hall
on Saturday May 5th as part of Jonathan Toubin's Soul Clap.
Eli Paperboy Reed
meets
The High and Mighty Brass Band-
The High and Mighty Brass Band brings to New York the great buoyant sounds of New Orleans. Eli Paperboy Reed brings them the tunes! Don't miss them live April 26th at The Brooklyn Bazaar and pick up a copy of their debut Yep Roc album on Record Store Day!
Del McCoury
Saturday, May 19th, 11am - 1pm
on Michael Shelley's show
Michael chats with Bluegrass legend Del McCoury about his 50+ year career, his new album "Del McCoury Still Sings Bluegrass," and The Del McCoury Band's upcoming June 7th show in New York's Symphony Space.
---
Want to see all the past events? Go here.
UPCOMING AT WFMU'S MONTY HALL
43 Montgomery Street, Jersey City NJ
www.montyhall.ticketfly.com
Sat Apr 14 – The Goddamn Dave Hill Show Art Show |door
Thu Apr 19 – Indie Rock History!!! The Jersey City & Hoboken Chapter | FREE
Fri Apr 20 – Cults / QTY | tickets
Fri Apr 27 – WFMU Record Fair 3 Day Pass w/early admission | tickets
Fri May 4 – Weeding Out The Stoned Comedy Night | tickets
Sat May 5 – New York Night Train's Soul Clap & Dance Off / The Harlem Gospel Travelers | tickets
Sun May 6 – Here to be Heard: The Story of the Slits Documentary | tickets
Fri May 11 – Music For Enophiles / Wygalator | tickets
Sat May 12 – WFMUrovision | FREE
Fri May 18 – 'One October' Movie Night with Clay Pigeon | tickets
Sat May 19 – Lou Barlow | tickets
Fri June 15 – Ron Gallo / Sit N' Spin | tickets
Tue June 26 – White Denim / Uni | tickets
Fri June 29 – The Sadies / C.R. & The Degenerates | tickets
Tue July 17 – Chuck Prophet & The Mission Express | tickets
Wed July 18 – Electric Six | tickets
Subscribe to our Monty Hall e-mail list to get the latest show announcements and updates.
Search the WFMU website (Google)