LITHICS - Tower of Age (Trouble In Mind)
SPECIAL INTEREST - The Passion Of​.​.​. (Thrilling Living)
VARIOUS - Make More Noise! Women in Independent UK Music 1977-87 (Cherry Red)
LEE FIELDS & THE EXPRESSIONS - Big Crown Vaults Vol. 1 (Big Crown)
OPTIC SINK - Optic Sink (Goner)
MERIDIAN BROTHERS - Cumbia Siglo XXI (Bongo Joe)
CUB SCOUT BOWLING PINS - Heaven Beats Iowa (Guided By Voices Inc.)
HOT 8 BRASS BAND - Take Cover (Tru Thoughts)
LAMPS - People With Faces (In the Red)
QUINTRON AND MISS PUSSYCAT - Goblin alert! (Goner)
PALBERTA - Palberta5000 (Wharf Cat)
LONNIE HOLLEY - National Freedom (Jagjaguwar)
KHRUANGBIN - Mordechai (Dead Oceans)
VARIOUS - Strum & Thrum: The American Jangle Underground 1983-87 (Captured Tracks)
EMMA SWIFT - Blonde on the Tracks (Tiny Ghost)
GWENIFER RAYMOND - Strange Lights Over Garth Mountain (Tompkins Square)
RICHARD HELL AND THE VOIDOIDS - Destiny Street Complete (Omnivore Recordings)
SPIRES THAT IN THE SUNSET RISE - Psychic Oscillations (Fpe)
ARCHAEAS - s/t (Goner)
LEENALCHI - Sugungga (Zanpar)
RÜSTƏM QULIYEV - Azerbaijani Gitara (Bongo Joe)
PAUL MCCARTNEY - McCartney III (Capitol)
BIPOLAR EXPLORER - Deux Anges (Slugg Records)
NAHAWA DOUMBIA - Kanawa (Awesome Tapes From Africa)
ANGEL BAT DAWID - Transition East (International Anthem)
KID CONGO & THE PINK MONKEY BIRDS - Swing From The Sean DeLear (In the Red)
UNIVERSITY CHALLENGED - Oh Temple! (Hive Mind Records)
NAILAH HUNTER - Spells (Leaving Records)
AQUILES NAVARRO & TCHESER HOLMES - Heritage of the Invisible II (International Anthem)
DEE DEE BRIDGEWATER - Afro Blue (Mr Bongo)
JONATHAN KANE AND DAVE SOLDIER - February Meets Soldier String Quartet (EEG Records)
KIWI JR - Cooler Returns (Sub Pop)
OOF - Is This Really Happening? (Fuzzy Warbles Cassettes)
ELA ORLEANS - Lost (La Station Radar)
GITKIN - Safe Passage (Wonderwheel)
KIYOAKI IWAMOTO - Sougi​+​ (EM Records)
BODY DOUBLE - Milk Fed (Zum)
PEDRO LIMA - Maguidala (Bongo Joe)
THE BUDOS BAND - Long In The Tooth (Daptone)
THE MENTALLY ILL - Gacy's Place (Starbeat Session) (Almost Ready)
ROBERT HOOD - Mirror Man (Rekids)
MELAINE DALIBERT - Infinite Ascent (Elsewhere)
PIGMY - Manifestación (Guerssen)
LEYDEN JARS - Gone (Outer Reaches)
WENDY EISENBERG - Auto (Ba Da Bing!)
ALLYSEN CALLERY - Ghost Folk (Self Released)
ANDRAS - Joyful (Beats In Space)
FACS - Void Moment (Trouble In Mind)
SPIRAL WAVE NOMADS - First Encounters (Twin Lakes / Feeding Tube)
DEAD SEA APES - Night Lands (Cardinal Fuzz / Feeding Tube)
LAURA GROVES - A Private Road (Bella Union)
ROBBIE BASHO - Selections From Songs Of The Avatars (Tompkins Square)
TOMAS TELLO - Cimora (Discrepant)
VARIOUS - What Is This That Stands Before Me? (Sacred Bones)
VARIOUS - La Locura de Machuca 1975​-​1980 (Analog Africa)
GEN KEN / SEIEN JACK - EC Split 12 (Electronic Cottage)
GUIDED BY VOICES - Styles We Paid For (Guided By Voices Inc.)
THE FIRESIGN THEATRE - Dope Humor of the Seventies (Stand Up! Records)
TREES SPEAK - Ohms (Soul Jazz)
VARIOUS - Birdsong From The Lower Branches (Hypnagogic Tapes)
HAILU MERGIA - Yene Mircha (Awesome Tapes From Africa)
MARTIN GORE - The Third Chimpanzee (Mute)
MATTHEW SWEET - Catspaw (Omnivore Recordings)
STILL CORNERS - The Last Exit (Wrecking Light)
PRIZED PIG - Ppep (Tomothy)
ADULKT LIFE - Book of Curses (What's Your Rupture?)
GILA - Energy Demonstration (Lex Records)
JOHNNY THUNDERS - Live From Zurich 1985 (Chunklet Industries)
JOSEY REBELLE - Josey In Space (Beats In Space)
MAC BLACKOUT - Love Profess (Trouble In Mind)
MICHAEL HURLEY - Blue Navigator (Feeding Tube)
THE SHIVVERS - s/t (Rerun)
THE SILVERY BOYS - The Silvery Boys (Vampisoul)
ACRYLICS - Sinking In (Iron Lung)
GEORGE BARNES AND HIS OCTET - Guitar In Velvet (Modern Harmonic)
PIPYU - S/t (Bitter Lake Recordings)
THE CLANDESTINE QUARTET - One For The Fossa, Two For The Wolverine (33-33)
WHIRLYWIRLD - Complete Discography 1978-80 (HoZac)
ZENOBIA - Halak Halak (Crammed Discs)
FRAYLE - 1692 (Aqualamb)
JURG FREY - l'air, l'instant - deux pianos (Elsewhere)
THE RIVIERAS - The Coed Singles (Omnivore)
IRAN - Aemilia (Aagoo)
JAMES RUSHFORD - Música Callada / See the Welter (Unseen Worlds)
BOCINAS - Todo Está Permitido (Fringe Biology)
STURGILL SIMPSON - Cuttin' Grass Vol. 1: The Butcher Shoppe Sessions (High Top Mountain)
KALBELLS - Mothertime (Nna Tapes)
CELEBRATORS - Wipeout! / Ex​​-​​Explorer (Tomothy)
DREIHASENBILD - Verikuu Sulkavan Yli (Wet Barbed Wire)
CHAI - Donuts Mind If I Do b/w Plastic Love (Sub Pop)
PSYCHIC ILLS - Never Learn Not To Love / Cease To Exist (Sacred Bones)
JEFF TWEEDY - Love Is The King (dBpm)
JOÃO LOBO - Simorgh (les albums claus)
LEAD - 2 (Radical Documents)
R.E. SERAPHIN - A Room Forever (Mt. St. Mtn.)
THE NUTLEY BRASS - Ramones Songbook, As Played By (Modern Harmonic)
TRUE SONS OF THUNDER - It Was Then That I Was Carrying You (Total Punk)
BRILLEJESUS - Husker du? (Kari Recordings)
ERIK HALL - Music For 18 Musicians (Steve Reich) (Western Vinyl)
VARIOUS - Garland Records: Pacific Northwest Snuff Box (Beat Rocket)
TAMAR APHEK - All Bets Are Off (Kill Rock Stars)
MIKI YUI - Aperio! (Hallow Ground)
BEC PLEXUS - Sticklip (New Amsterdam)
LOVE TRACTOR - Love Tractor (Hhbtm)
DELVON LAMARR ORGAN TRIO - I Told You So (Colemine)
SAM BURTON - I Can Go With You (Tompkins Square)
LEVINSON / MAHLMEISTER - Shores (Trouble In Mind)
LE VILLEJUIF UNDERGROUND - Les Huitres A Cancale (Born Bad)
CATHERINE CHRISTER HENNIX - Unbegrenzt (Blank Forms Editions)
THE HASKELS - Taking The City By Storm (Bachelor)
A B - South Shore (Richmond County Archives)
COLOURED BALLS - Liberate Rock - Singles and More 1972-1975 (Just Add Water)
LOREN CONNORS & OREN AMBARCHI - Leone (Family Vineyard)
NICHOLAS CARRAS - She Demons OST (Modern Harmonic)
RICHARD ROSE - Radiation Breeze (In the Red)
THE PRIME MOVERS - Blues Band (Modern Harmonic)
THIRD EAR BAND - Music From Macbeth (Munster)
ANTI-WESTERNS - Glass Bottom Boat Ride (Western Revisions)
DEAD SEA APES & BLACK TEMPEST - The Sun Behind The Sun (Cardinal Fuzz / Feeding Tube)
JUDITH HAMANN - Shaking Studies (Blank Forms Editions)
RITZ CARLTON - Is Now Inside You (Cacophonic)
TREASURE MAMMAL - Grammy Nominated (Related Records)
FLAVOR CRYSTALS - Five (mpls ltd)
PODIUM - Podium (Slovenly)
DJ FEMALE CONVICT SCORPION - DJ Female Convict Scorpion & The Magic Band (Self Released)
GIANMARIA APRILE - Rain, ghosts, one dog and empty woodland (We Insist!)
MIKADO KOKO - Nekomata EP (No Label)
RADIAC - Agitato (Self Released)
REYNOLS - Gona Rubin Ranesa (Outlier Communications)
VARIOUS - Happy Times: Songs of Dan Penn & Spooner Oldham, Vol. 2 (Ace)
SHIRA LEGMANN / MICHAEL PISARO - Barricades (Elsewhere)
BROOKLYN RAGA MASSIVE - In D (Self Released)
LE MAKEUP - Slight Fever (EM Records)
STRFKR - Future Past Life (Polyvinyl)
TV PRIEST - Uppers (Sub Pop)
L. EUGENE METHE - What is an Audience (Unread)
C. ALBERT BLOMQUIST - C. Albert Blomquist (Self Released)
MICHAEL R. BERNSTEIN - Slower Learn (Feeding Tube)
STEVE BACZKOWSKI/BILL NACE - Success (Notice)
AL CHEM - 777 (Meakusma)
THE TRUSTY KNIFE - The Trusty Knife (Dusty Medical Records)
FREELOVE FENNER - The Punishment Zone (Moone Records)
BETWIXT - The Salty Tang (Woodside Records)
MODIFICACION - S/t (Munster)
PERCEPTION - Mestari (Souffle Continu)
PROTAGONISTS - 1983-1985 (Alona's Dream)
REVEREND JOHN WILKINS - Trouble (Goner Records)
THE BONGOLOIDS - the BARN (ShanGORIL La)
TWIN TRANCES - Chains EP (Dirty Slacks)
LETHA RODMAN MELCHIOR - Tretetam (Feeding Tube)
MELKBELLY - Pith (Wax Nine / Carpark)
NEW AGE - Transformation (Dark Entries)
THE MIDWEST BEAT - Incantations (Dusty Medical Records)
MARCIA BASSETT, MARGARIDA GARCIA, MANUEL MOTA - Survival of Laments (American Head)
OORBEEK - Kavel (Blowpipe)
SABIR MATEEN, CHRISTOPHER DELL, CHRISTIAN RAMOND, KLAUS KUGEL - Creation (577 Records)
TOLD SLANT - Point The Flashlight and Walk (Double Double Whammy)
DREW CITRON - Free Now (Park the Van)
TED HEARNE / SAUL WILLIAMS - Place (New Amsterdam)
OOF - Is This Really Happening? (Fuzzy Warbles Cassettes)
LEYDEN JARS - Gone (Outer Reaches)
KALBELLS - Mothertime (Nna Tapes)
STAFFERS - In The Pigeon Hole (Ever/Never)
THE MIDNIGHT STEPPERS - Isolation Drives (Radical Documents)
LEVINSON / MAHLMEISTER - Shores (Trouble In Mind)
L. EUGENE METHE - What is an Audience (Unread)
C. ALBERT BLOMQUIST - C. Albert Blomquist (Self Released)
MICHAEL R. BERNSTEIN - Slower Learn (Feeding Tube)
STEVE BACZKOWSKI/BILL NACE - Success (Notice)
ANGEL BAT DAWID - Transition East (International Anthem)
PRIZED PIG - Ppep (Tomothy)
CELEBRATORS - Wipeout! / Ex​​-​​Explorer (Tomothy)
CHAI - Donuts Mind If I Do b/w Plastic Love (Sub Pop)
DREIHASENBILD - Verikuu Sulkavan Yli (Wet Barbed Wire)
PSYCHIC ILLS - Never Learn Not To Love / Cease To Exist (Sacred Bones)
LE VILLEJUIF UNDERGROUND - Les Huitres A Cancale (Born Bad)
AL CHEM - 777 (Meakusma)
COLOURED BALLS - Flash b/w Dave The Rave (Just Add Water)
JEFF TWEEDY - susquehanna River b/w I'd Rather Be Alone (dBpm)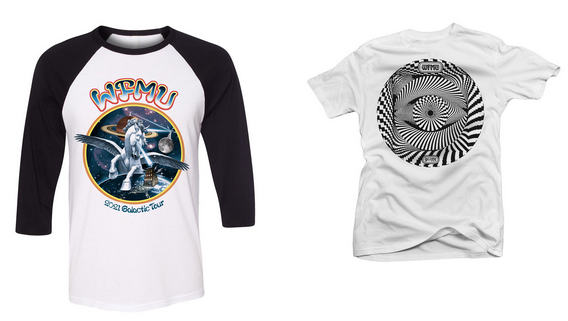 We have a whole array of new swag coming your way for 2021,
including the new Eyeclops shirt designed by Robert Beatty and
the new 2021 Galactic Tour T designed by Tremendous Graphics.
These tees, our new Bandanarama! Bandana, the WFMU
Chorduroy cap, and more goodies can be seen on our website
here
.
In addition to all the awesome prizes we'll be giving away during our 2021 WFMU Fundraising Marathon, we also have these special events coming up:

• The one and only Yo La Tengo will be making their annual appearance during the fundraising marathon to play songs for pledges on the Todd-o-phonic Todd show on Sat, March 13th, 3–6pm. Always a not-to-be-missed-or-dismissed event.

• Finale karaoke party – According to long-standing tradition, we will finish up the marathon on Sun, March 21st with the 5-hour Hoof 'N' Mouth Sinfonia special, which features a fearless ensemble of WFMU DJs playing the songs that make the whole world sing while your favorite DJs sing them. This year, because of that darn COVID, the singing will be online instead of in situ, which should make for some interesting intersections of songcraft and technology.

To check out our great new swag click here.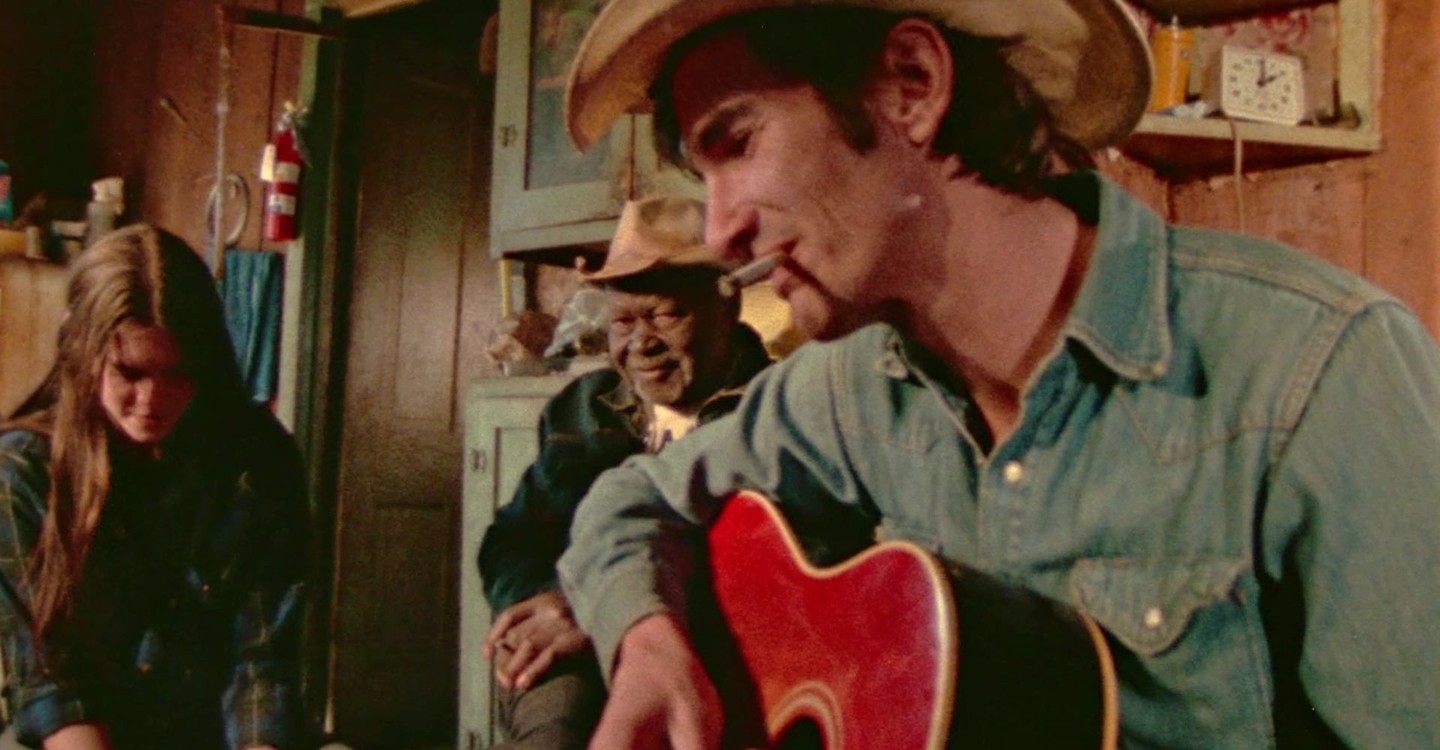 Just Added –

Heartworn Highways
WFMU has started a virtual movie house! With our performance space closed, we are adding films to rent online here. 50% of the proceeds benefit the station, which always needs a little help.

Available for rent: