Talk About "Fucking"
(Interview with Big Black)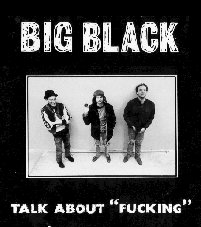 Insert Notes:
CHAT 2
INTERVIEW SCRIPT FOR BIG BLACK INTERVIEW LP
IMPORTANT: READ QUESTIONS EXACTLY AS WRITTEN AND IN ORDER!
*WOULD YOU TELL US, PLEASE APPROXIMATELY HOW MUCH MONEY
YOU EACH MAKE OFF OF BIG BLACK? STEVE, DO YOU GET MORE IN
ROYALTIES SINCE IT WAS YOUR IDEA TO START THE BAND?
*DO YOU CONSIDER THE BAND PRIMARILY A SOCIAL OUTLET, OR
A CREATIVE ONE?
*YOU HAVE BEEN ACCUSED OF PIRATING OTHER MUSICAL STYLES,
NOT IN THE TRADITIONAL SENSE OF STEALING STYLISTIC ELEMENTS,
BUT BY USING THEIR THEMES, LYRICAL CONVENTIONS AND MUSICAL
SIGNATURES. IS THIS A VALID CRITICISM?
*DAVE AS THE NEWEST MEMBER OF BIG BLACK, DO YOU TAKE A LOT
OF "RIBBING?" DO YOU OFTEN HAVE TO "PERFORM TRICKS" FOR
STEVE AND SANTIAGO?
*EXCUSE ME, YOU ARE PLACING THE LEG OF YOUR CHAIR ON MY FOOT.
THAT IS QUITE PAINFUL. WOULD YOU LIKE TO STOP THAT NOW, OR
SHALL I SUMMON A CONSTABLE?
*MAI THAIS, ANYONE?
*THAT RUBBING NOISE COMING FROM UNDER THE TABLE IS QUITE
TELLING. DO THE THREE OF YOU OFTEN CIRCLE-JERK DURING THESE
INTERVIEWS?
*SANTIAGO, WHAT DID YOU MEAN WHEN YOU OFFERED TO "THROW A
JOHNSON MY WAY?"
*STEVE, YOUR PHYSICAL PRESENCE IS QUITE POWERFUL. DO YOU LIFT
WEIGHTS? DOES SOMEONE "DO" YOUR SKIN FOR THAT APPEARANCE?
*SANTIAGO AND DAVE, HOW DO YOU LIKE BEING REFERRED TO IN
THE MEDIA AS "THE TALENTLESS DRUNKEN ONES?" IS THERE ANY
REASON WE SHOULD NOT BLAME YOU FOR HOLDING STEVE BACK FROM
REACHING THE ZENITH OF HIS CREATIVE POTENTIAL?
*WILL YOU PLEASE STOP THAT? I REALLY MUST INSIST.
*THE THREE OF YOU SEEM QUITE DEPENDANT ON MORPHINE. THE
BULK OF YOUR MUSIC DEALS WITH THE ISSUE OF DEPENDANCY, EITHE
DEPENDANCE ON A DRUG OR THOSE FUZZY BLUE BUNNY SLIPPERS YOU
CLING TO LIKE SMALL CHILDREN. DOES HE ALWAYS DRIP OUT OF THE
MOUTH THAT WAY?
*THE SIGHT OF YOUR ACNE, STEVE, IS QUITE REVOLTING. WILL YOU
COVER YOURSELF WITH THIS CLOTH SO I MAY SPARE MYSELF?
TURN THIS PAGE OVER FOR THE QUESTIONS FOR SIDE TWO
SIDE TWO:
*OH, HONESTLY, THIS CHILDISH "I CAN BE GROSSER THAN YOU" SHTICK
IS TIRESOME. WILL YOU NEVER GROW OUT OF THE "POOP-OBSESSIVE"
PHASE?
*IS THAT THING LOADED?
*NO, YOU MAY NOT. MAY I REMIND YOU, SIR, THAT IN A FREE COUNTRY
THE DOINGS OF TWO CONSENTING ADULTS IN THE PRIVACY OF THEIR
COMMON BEDCHAMBER IS THEIR BUSINESS AND THEIR BUSINESS ALONE?
*OH, A LITTLE LOWER PLEASE. NOW MORE TO THE RIGHT. YES, RIGHT
THERE. THAT'S THE SPOT. THAT FEELS WONDERFUL. THESE CARDIGANS
ARE SO ITCHY
*OH! DELIGHTED! I SIMPLY ADORE TRIFLE. MY AUNT MADE A SAUCY
LITTLE NUMBER WITH ABOUT A HALF BOTTLE OF COGNAC. JESUS, DEAR
ME, IT WOULD BLOW THE TOP OF YOUR HEAD OFF. "GO-SAUCE," WE USED
TO CALL IT.
*THE TENDEREST PART! NO, RIGHT THERE BY THE SHOULDER JOINT.
*WOULD THE THREE OF YOU LIKE TO STEP OUT TO THE PISS AND
THISTLE FOR A QUICK HALF PINT OF MY SPECIAL BITTERS?
*THE LARGEST? FOR ME? OH, ABOUT YEA LONG. YOU KNOW, ABOUT
A FOOT AND SOME. NOT TOO THICK THOUGH. THAT'S WHAT REALLY
HURTS, IS THICKNESS.
*YES, I DO OWN IT. NOBODY RENTS ANYMORE.
MOMMY, CAN WE GO TO THE ZOO? IF I"M EXTRA SPECIAL GOOD AND EAT
MY PEAS AND CARROT SQUARES? IF I DON'T CRY NOT EVEN A LITTLE
BIT IN CHURCH? CAN WE GO? HUH, CAN WE?
*NOT NEARLY AS PWERFUL AS ATOMIZER, YOU OUGHT TO KNOW. SORT
OF A SHITTY LITTLE RECORD, ACTUALLY, IF YOU ASK ME. NOTHING
TO IT AT ALL. COMPLETE FLUFF.
*DON'T HIT ME, I WORK HERE.
*I'VE HAD JUST ABOUT ENOUGH OF THIS. I'M NOT GETTING PAID
NEARLY ENOUGH TO HAVE TO PUT UP WITH THIS SHIT. YOU SNOTTY
LITTLE FUCKS CAN JUST WIND IT UP BY YOURSELVES, AS FAR AS I'M
CONCERNED. YEAH? WELL KISS MY ASS YOURSELF, YOU LITTLE
BULLSHIT STUFFED STUMP-HUMPER.
Back Cover:
THE INCREDIBLY CORPORATE WHORISH
BIG BLACK INTERVIEW ALBUM
AN ALBUM FOR THOSE OF YOU
UNLUCKY ENOUGH TO HAVE MISSED
YOUR CHANCES TO INTERVIEW THE
MOST BRILLIANTLY ELOQUENT
GROUP OF MUSICAL STATESMEN IN
THE WORLD.
QUESTIONS WRITTEN BY BRYON
COLEY, GOATEED MUSIC WRITER
FROM BOSTON
INTERVIEW CONDUCTED BY DANIEL
"PYTHON SKINNER" O'GRADY,
PREMIER MUSIC WRITER FROM THE
LONE STAR STATE, TEXAS
INTRODUCTION READ BY DAME
MYRA HESS
INTERVIEWED BAND MEMBERS:
DAVE RILEY, SANTIAGO DURANGO,
STEVE ALBINI
STEREO ENGINEERED FOR YOUR
CONVENIENCE. ORIGINAL INTER-
VIEWER IS IN LEFT CHANNEL, BAND
RESPONSES ARE IN RIGHT
CHANNEL, BACKGROUND MUSIC IS
IN BOTH CHANNELS. TO REPLACE
ORIGINAL INTERVIEWER WITH YOUR
OWN ANNOUNCER, SEE ENCLOSED
SCRIPT.
RECORD PROVIDED BY BLAST FIRST in association with mute


<![if !supportLineBreakNewLine]>
<![endif]>